10 Editable Women's Day Invitation Card Examples
Do You Want to Make Your Own Women's Day Card to Show Your Greetings?
EdrawMax specializes in diagramming and visualizing. Learn from this article to know everything about women's day card, women's day card templates and so on. Just try it free now!
Every year on March 8, we celebrate International Women's Day, reflecting on women's immense contribution to our society in both professional and personal endeavors. From the frontline workers to business heads to mothers keeping homes running amidst trying times, this is the day we commit to showing appreciation for the incredible things they do.
One of the best ways to celebrate women's day is to hold a special event to celebrate women's achievements, honor and recognize the contributions and accomplishments of women from all walks of life. Moreover, a Women's Day invitation card is a necessity for such an event.
Through a Women's Day invitation card, you will be able to add a touch of formality to the event. They show that the host has put effort into planning the event and wants the guests to feel special and valued. It may be a grand gesture or a small thank-you note.
In this article, we will present you with some of the creative Women's Day invitation card templates created in EdrawMax. All these templates are fully customizable and can easily be downloaded and edited per your requirements.
1. 10 Different Design Options for Women's Day Party Invitation Cards
EdrawMax is a powerful diagramming tool that offers a wide range of Women's Day invitation card templates. Check out some renowned Women's Day party invitation card templates and download the one closest to your current requirements.
1.Editable Women's Day Invitation Card
Need to create a special party invitation for this Women's Day? Look no further - customize and download this free editable Women's Day invitation card to make your event special. Add your chosen text, photos, or artwork to create the perfect invitation for your gathering.
Show all the amazing women around you how much they mean to you with this fun, festive card! With EdrawMax, you can easily import creatives from your system and edit this invitation card template as required.
2.Flower Women's Day Invitation Card
Celebrate Women's Day in style by sending an elegant flower-themed invitation card! This Women's Day invitation card is perfect for any special occasion, whether inviting loved ones to an intimate dinner or gathering friends and family to celebrate.
Choose from various floral designs and colors offered by EdrawMax, each as lovely and unique as the women in your life. Use the tool's export feature to export the flower-themed Women's Day invitation card in any format.
3.Green Women's Day Invitation Card
Spread the celebration of women's strength and unity with this inviting Green Color Women's Day Invitation Card! Featuring a lovely hue of green, this editable invitation card template is perfect for inviting everyone to join in on the festivities and show their support for women everywhere.
With EdrawMax sharing options, you can easily bring all strong and empowering women together with this beautiful Women's Day invitation card today!
4.International Women's Day Invitation Card
Celebrate the special women in your life by creating a custom invitation card to commemorate International Women's Day! With the built-in features provided by EdrawMax, design an inspirational and meaningful invitation that celebrates the beauty of womanhood and showcases your appreciation for their accomplishments.
Customize and share this meaningful international Women's Day invitation card with everyone you know to celebrate diversity, equality, and female empowerment.
5.Invitation Letter for Women's Day
This invitation letter for Women's Day template can be the perfect starting point if you invite your family and friends to celebrate Women's Day. The design features bold colors and imagery that convey a powerful message, reinforcing that we are all stronger when we unite.
Write your beautiful words or customize our text and send out this eye-catching invitation letter on Women's Day to invite your fellow beings. This Women's Day template is fully-customizable, and you can add and modify the content per your event's theme.
6.Invitation Card for Women's Day Celebration
Create an invitation letter to celebrate Women's Day using this editable Women's Day card template. This beautiful and meaningful design will show how important you think it is to recognize and honor the women in your life.
Customize this lovely template with bright colors, meaningful words, and inspirational images to show how much you care about your wonderful female friends and family.
7.Women's Day Celebration Invitation Card
Celebrate the amazing women in your life on International Women's Day with an invitation card! Whether inviting one special woman or a group of inspiring ladies, this Women's Day invitation card template is the perfect way to acknowledge and show appreciation for their contributions to society.
You can add meaningful quotes and images to this great-looking invitation card. With EdrawMax, you can even change the background image and make it relatable to the theme of your event.
8.Women's Day Invitation Card for Business
Send out an invitation card to recognize the amazing woman in your company! Celebrate this special day by highlighting the achievements of women and appreciating their efforts. Invite them to join in on an activity or event to recognize and support their important role as part of your business.
Edit this women's day invitation card for business by adding relevant details of your company. You can add your company's logo, add event details, and even share it right from the software with your employees.
9.Women's Day Party Invitation Card
Make Women's Day 2023 one to remember with your personalized invitation card! Create a beautiful, unique design that will excite everyone about the party. With EdrawMax's built-in invitation card template, show off your creativity by using colors, illustrations, fonts, and other elements to craft the perfect card.
10.Cute Women's Day Invitation Card
Let's show our appreciation and celebrate the amazing women in our lives with a fun and creative Women's Day invitation card! So put on your crafty gloves and prepare to design something special for them.
As seen in this cute Women's Day invitation card, you can use funny-looking animals to create an invitation card that will be remembered for a long time. Remember, the gesture matters when inviting your family, friends, or colleagues to the Women's Day event. So, go ahead and customize this template and add the details.
2. Guidelines on How to Design Your Women's Day Invitation Cards
There can be several ways to create international Women's Day invitation cards. Unlike other graphic designing software that requires extensive editing knowledge, EdrawMax provides a wide range of editable templates that you can customize per your event or party's theme.
EdrawMax Desktop
Create over 280 types of diagrams
Windows, Mac, Linux (runs in all environments)
Professional inbuilt resources and templates
On-premises software for business
Enterprise-level data security
EdrawMax Online
Create over 280 types of diagrams online
Access diagrams anywhere, anytime
Team management and collaboration
Personal Cloud and Dropbox Integration
If you plan to have a costume party during Women's Day, you can add those details using the import options provided by EdrawMax. If you plan a simple get-together with your colleagues at the office, you can use the formal tones and fonts offered by this diagramming tool.
Check out the easiest way to design your Women's Day invitation card using EdrawMax.
Step1
Access Templates
EdrawMax comes with user-generated templates and also offers pre-built invitation card templates. Head to the "Design" diagramming type and click on "Card." Here, you will find different pre-built card categories, like "Business Card," "Thank You Card," "Carnival," and more. Click on "Invitation Card" to avail free invitation card templates ready to be customized.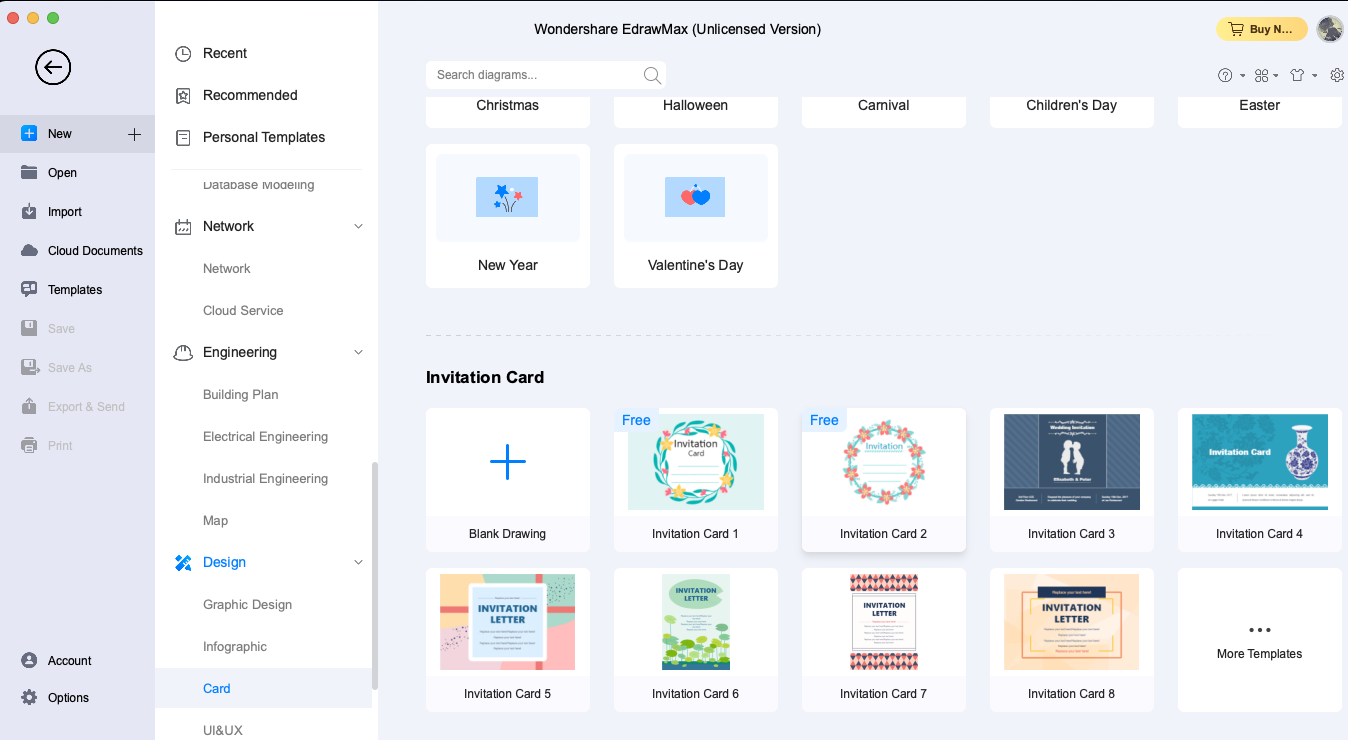 Additionally, you can check out the "Templates" section on the left panel to see some of the creative user-generated invitation card templates. Check from the wide range of invitation card templates and click on "Use Immediately" to the one that comes close to your requirements.
Step2
Add Background
Once you have imported the template, it's time to customize it. Head to the "Design" option from the top bar and click "Background Picture." From this section, you can easily modify the invitation card background.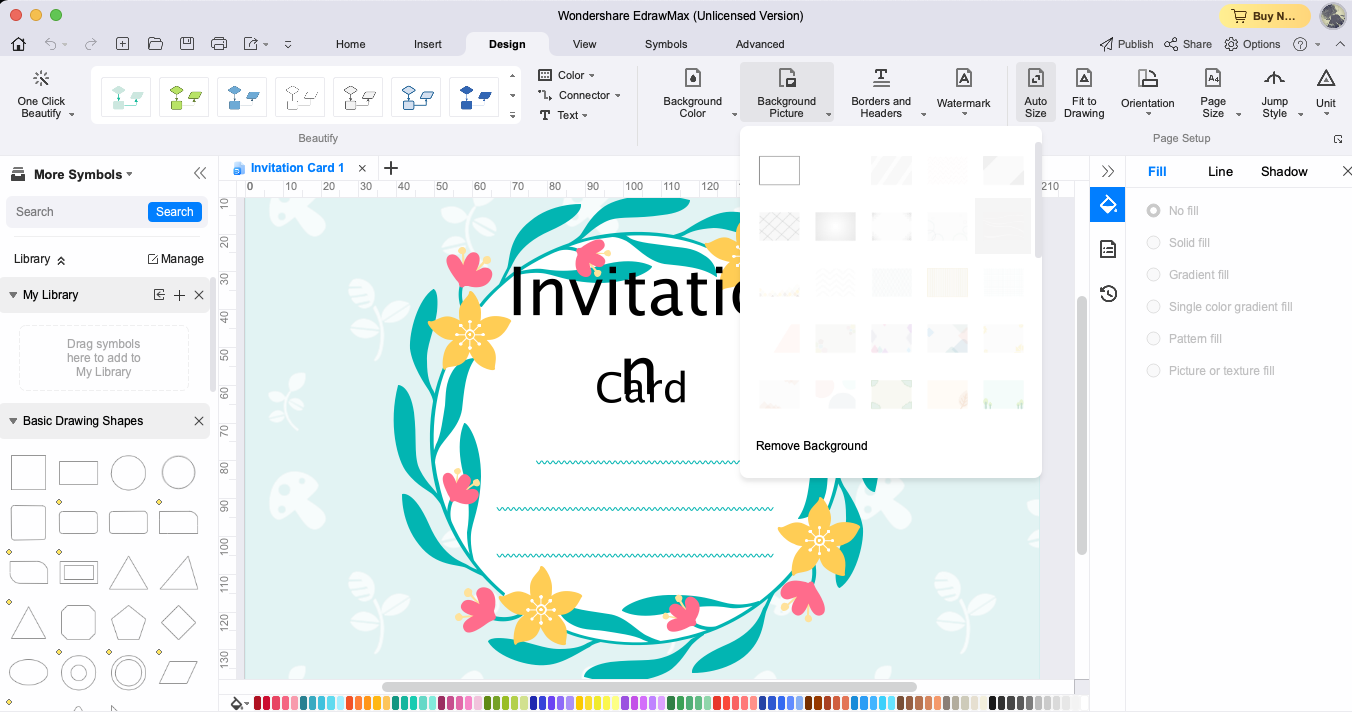 Step3
Add Clip Art & Images
EdrawMax has 20,000+ cliparts and allows you to import images from your system. With cliparts and images, you can customize your invitation card to the fullest.
Step 3.1 Add Pre-Made Clip Arts
Head to the "Insert" tab, followed by "Clipart," to access all the predefined cliparts. In this section, you will find cliparts for sports, media, transportation, tourism, religion, holiday, food, and more. Select the one that you plan to import into your design.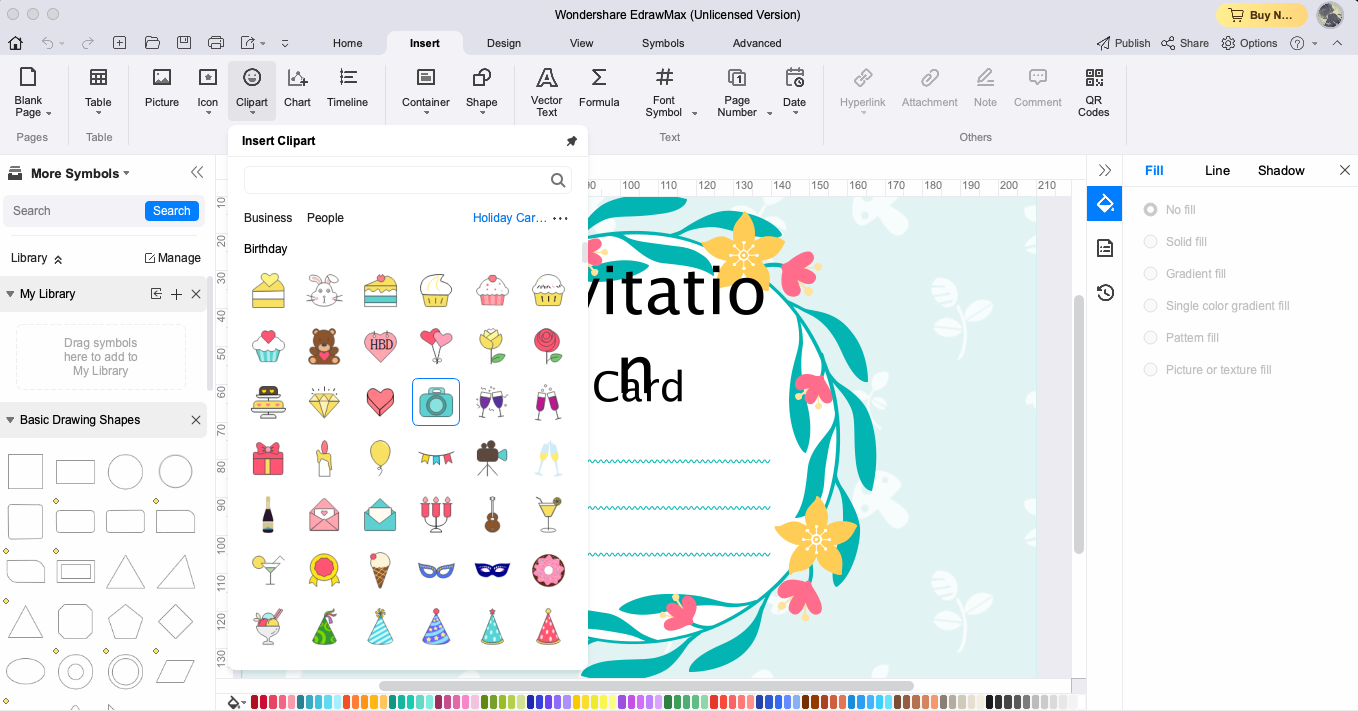 Head to the "Symbols" tab and click on "Pen tool" or "Pencil Tool" to create a personalized design of your choice. The created design will be in a vector format, allowing you to easily reorganize it per your needs.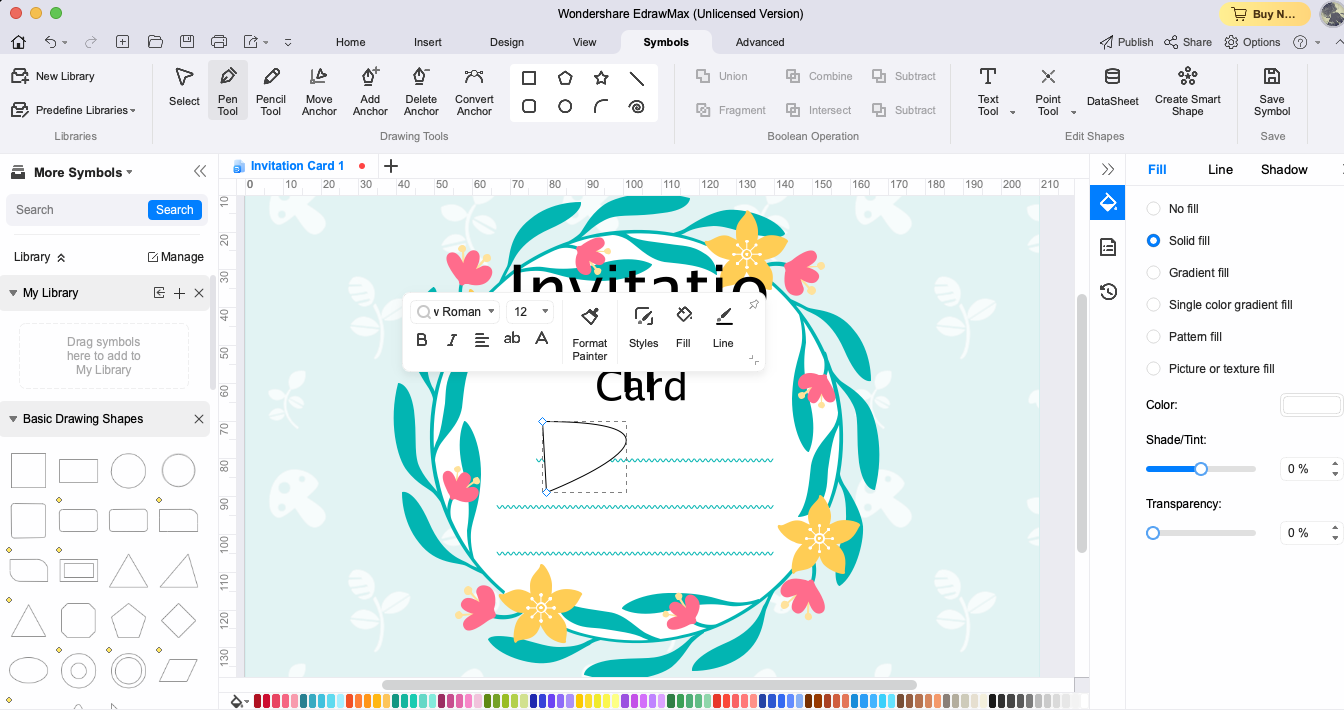 We recommend adding images if you plan to make the Women's Day invitation card more personalized. Head to the "Insert" tab, followed by clicking on the "Picture" tab to import images from your system. Once imported, you can place them on your invitation card wherever you want.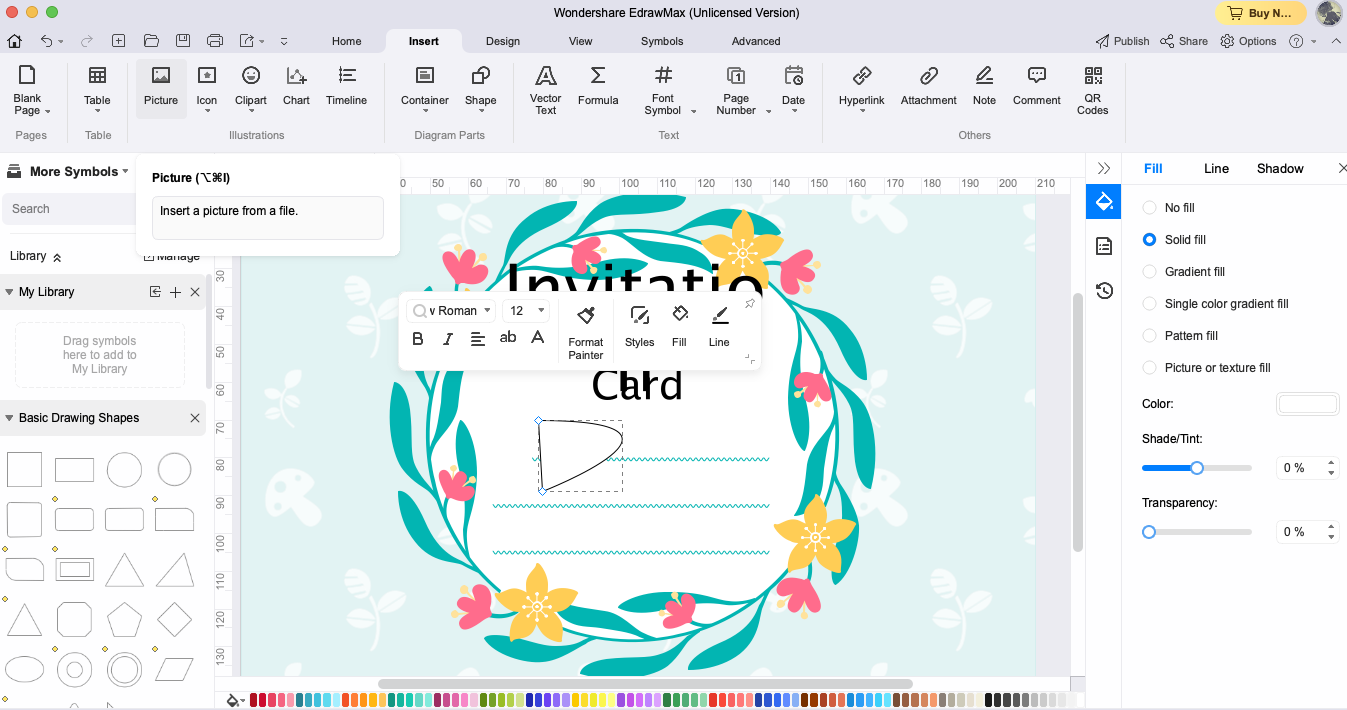 Step4
Add Text
Any invitation card is incomplete without some meaningful text. Insert a Text Box anywhere in your design and type whatever you wish to add. In EdrawMax, you will find various options for adding fonts, styles, and colors. Go creative with your texts by adding gradient colors to them.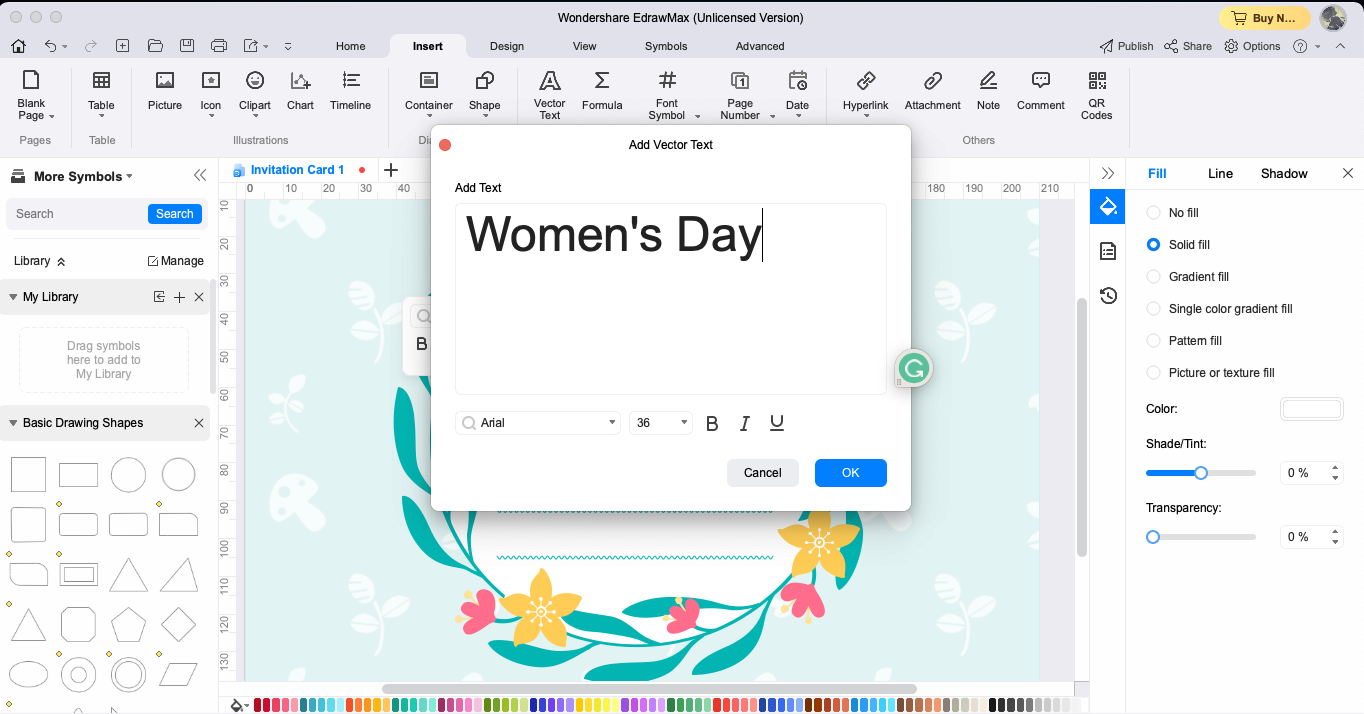 Step5
Export
Once you have finalized the Women's Day invitation card, it's time to share it with all the notable females in your life. Export the invitation card template in Graphics or PDF format, or go ahead and use the Email option to directly mail the invitation card to your friends, family, or colleagues.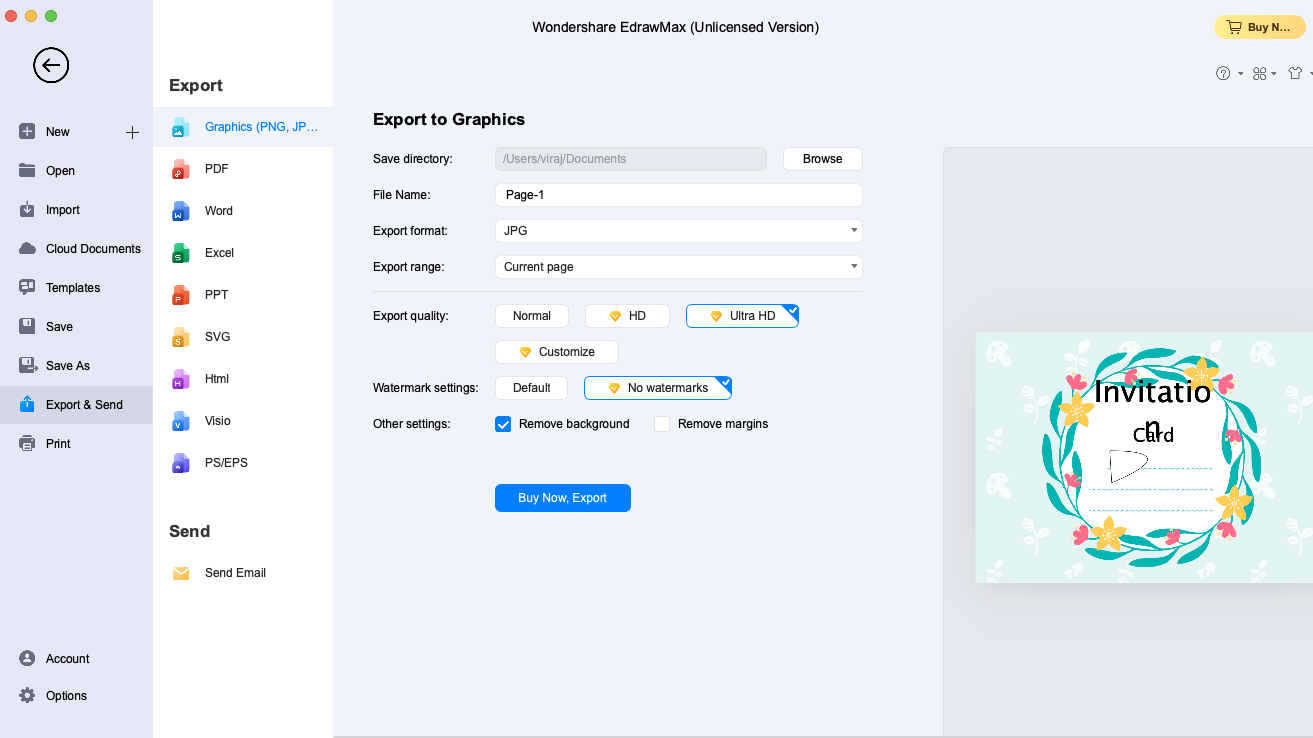 3. Ways to Personalize Women's Day Invitation Card
When crafting your message for Women's Day, keep it light and festive but meaningful. Consider what you'd like to say and how you'd like to express it. Use simple language that can be quickly understood, and avoid overly complex words or phrases.
Use humor or anecdotes to make the message more engaging. Ultimately, ensure the message has an emotional impact that makes your special woman feel appreciated and loved.
Some of the great ways to personalize Women's Day invitation cards are:
Add personal photographs or photographs from some past event. This way, you can commemorate their significance.
By using the Text options provided by EdrawMax, create personalized messages and add them to your invitation card. Note: It's best to keep the message short, between 4 and 10 sentences.
Remember to focus on what makes them valuable - their contributions, support, and care. Finally, end the card with a warm note of good wishes for a wonderful Women's Day celebration.
4. Tips on Creating a Memorable Women's Day Message and Invitation Wording With ChatGPT
The Internet is filled with some memorable Women's Day messages. A simple Google search will help you with some Women's Day quotes that you can directly use in your invitation cards. Some of the most loved Women's Day quotes that can be found online are:
"Woman is a mother, sister, wife, daughter or friend deserves nothing less than the best and utmost reverence and respect from us."
"The beautiful smile can cut thousands of negativity around; remember, you walk with a smile whenever you walk. Happy Women's day!"
That being said, you can create some unique and highly personalized Women's Day quotes using OpenAI's ChatGPT tool. As you can see from the following screenshot, ChatGPT can easily create some great Women's Day quotes for you that you can use in your invitation cards.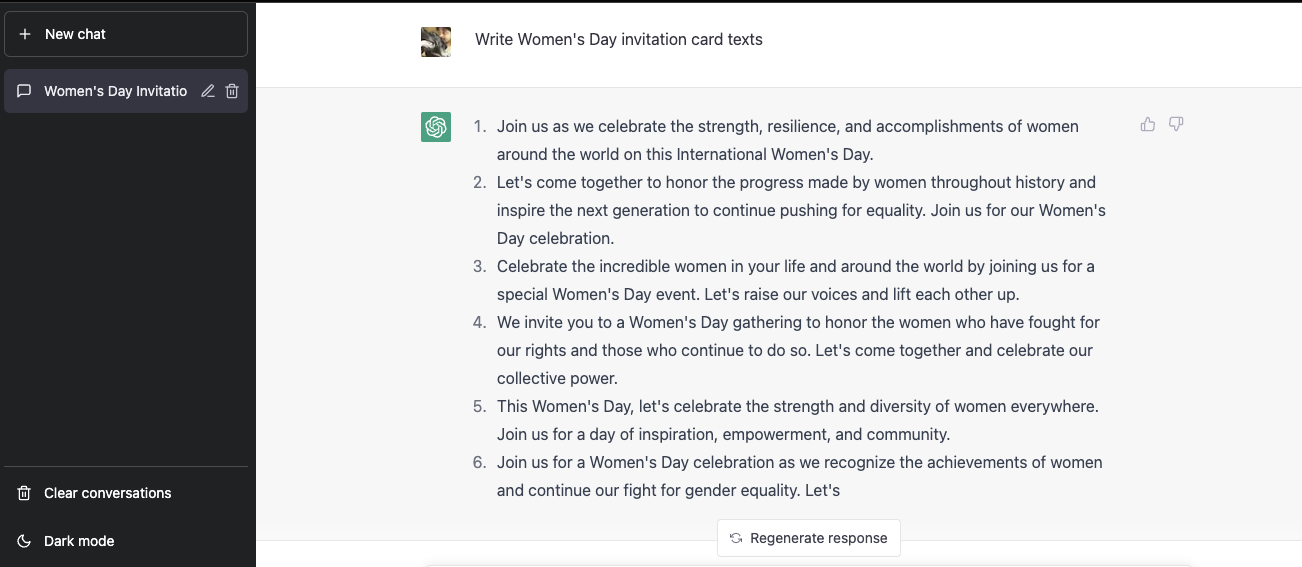 5. Conclusion
Everyone celebrates International Women's Day on March 8 to commemorate women's strength, resilience, and accomplishments worldwide. You can easily create customized content by creating invitation cards using the free templates provided by EdrawMax.
With free templates, symbols, cliparts, and other customizable options, EdrawMax lets you create some wonderful invitation cards. With ChatGPT, you can quickly create and add texts to these Women's Day invitation cards and personalize them!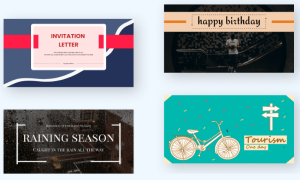 Card Maker
Check this introduction to know everything about EdrawMax as Card Maker. Not just Mother's Day greeting card templates, but Christmas cards, Happy Birthday cards and more.