10 Free Project Timeline Templates You Can Use To Plan Your Work
Do You Want to See More Project Timeline Templates?
EdrawMax specializes in diagramming and visualizing. Learn from this article to know everything about what is the project timeline and free project timeline templates!
If you're like me, setting up a project timeline for your next deadline might be complicated and confusing for you too. Of course, the main problem is getting a sense of your target date, and that's about it. But, even with a clear vision, you still need something visual to base your work on. That's why I found these project timeline templates that will help you visualize your workload in a way that makes sense.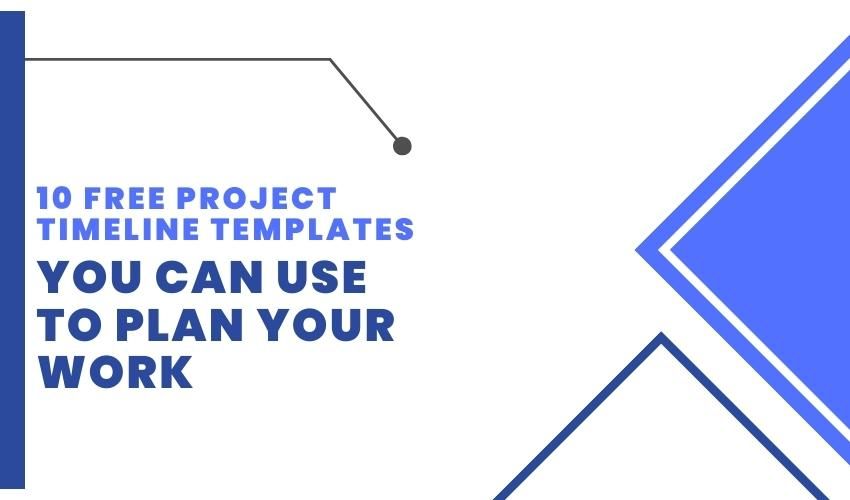 We know project timelines can be a pain to create. They're often quite complicated and require a lot of space on your website, which is only sometimes convenient. There are many different ways to do this, but we've found the top 10 project timeline templates you can use as alternatives to the classic timecards method.
1. 10 Editable Project Timeline Templates
In general words, project timeline charts are a list of events placed in chronological order. That means it visualizes the gradual flow of activities in a project. Moreover, we can specify that this chart is ideal for a distinct community of companies based on project management. Therefore, it is better to understand its analytical assessment before jumping in.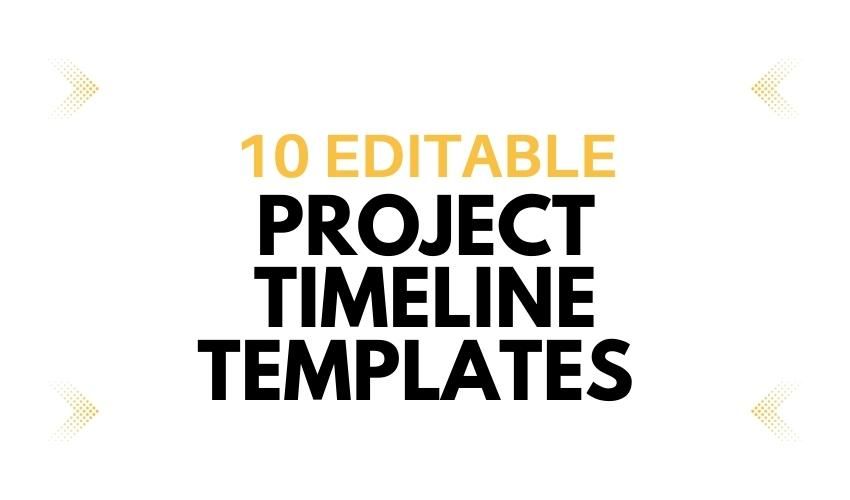 The best way to do so is through several project timeline chart templates. These templates are perfect examples for quickly judging the importance of a project timeline diagram. You'll see 10 different project timeline chart templates, each with benefits. Plus, each one of them has its user directory. Typically, all ten come under three basic fundamental project timeline chart types.
1.1 Project Gantt Chart
This chart shows project activities' timelines and member responsibilities on a single screen. These charts help assess your project span and let you invest your resources in the right place at the right time. Besides that, you can specifically target a distinct set of tasks with its help. However, the example shown here has its boundaries limited to several weeks.
These charts limit only by your creativity. You can use this editable template to adjust the period per your criteria.
1.2 Project Calendar Chart
It is another primary yet effective type of project timeline sample chart. As the name indicates, this chart is ideal for people with monthly task management. The project calendar charts are just the simple interface of a regular calendar with actual timeline markings entitled in them.
Example 1: Project Calendar Example
Example 2: Project Planning Timeline
Example 3: The Project Calendar
1.3 Basic Project Timeline Template Charts
These do not include single interfaced diagrams. Instead, it has an extensive collection of project timeline charts. Each has a specific interface similar in function and appearance to the basic layout to some extent.
Example 1: Project Management Timeline Charts
Example 2: Project Development Timeline Charts
1.4 Basic Project Timelines
This chat is a managing and monitoring visualization focused on a timespan. Of course, it isn't just a single timespan. But it is specially oriented to represent the timelines of departmental activities. Moreover, this chat is ideal for assessing an entire year, making it a long-lasting solution. Moving onto the project development timeline charts, you can judge that it targets a particular project. That means it isn't a perfect choice for the collective observation and assessment of projects. However, it makes the chart highly specific and ideal for the developmental analysis of a particular project with similar activities.
Simply put, the project development timeline chart is an annual symbolization of the project and its evolution. Remember, it will not go into deep details. Instead, the chart will briefly inspect the journey that the chart came through in all its years of completion. Lastly, the basic chart templates include weekly, monthly, and yearly assessments of the project timeline. Besides, it includes a project litigation timeline chart that focuses on individual milestones in the project's journey. Some of the examples in this classification category are listed below:
Example 1: Project Timeline (Weekly)
Example 2: Project Timeline (Daily)
Example 3: Project Litigation Timeline
Example 4: Project Timeline (Yearly)
All these templates are much more than you can ask for. But what if you had to make a project chart timeline template yourself? Well, we have that answer in the store for you! The well-known EdrawMax solves all your problems regarding project timeline chat creation. Do you want to create your chart in a snap with minimum effort? EdrawMax is the way to go! Check it yourself by downloading the program from EdrawMax Free Download.
EdrawMax Desktop
Create over 280 types of diagrams
Windows, Mac, Linux (runs in all environments)
Professional inbuilt resources and templates
On-premises software for business
Enterprise-level data security
EdrawMax Online
Create over 280 types of diagrams online
Access diagrams anywhere, anytime
Team management and collaboration
Personal Cloud and Dropbox Integration
2. What Should Be Included in the Project Timeline
Having all aspects of your work, from the initial idea to the final product, is essential. As a result, that will help you see how much time it will take to complete the project.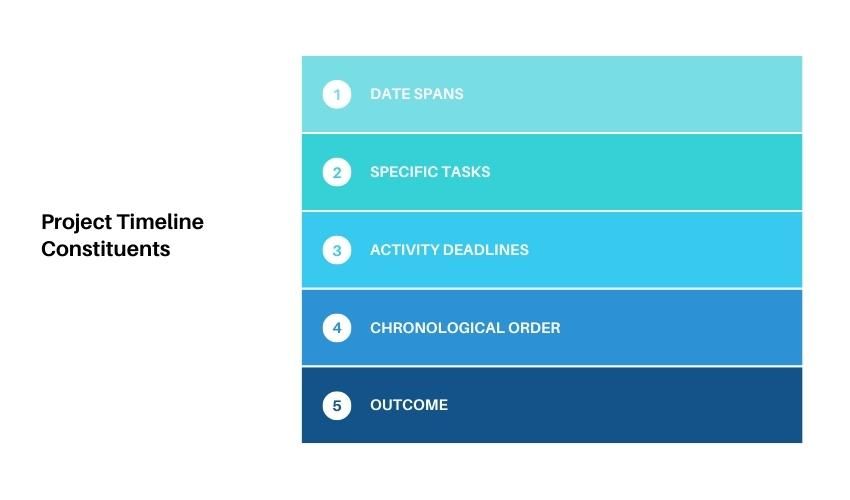 The timeline should also include any milestones to help you track where you are in your process. Plus, it helps to assess what needs to happen once they are reached. For example, if there is a deadline for submitting an application or software update, it should be included on this chart so that everyone involved knows when it needs to be done.
Moreover, the project milestone chart can consist of one or more vertical bars running from left to right, each representing a month. The chart breaks down the bars into smaller sections called [milestones] that show when each task will occur. Milestones should be listed in chronological order starting with the earliest possible date until the latest practicable date, at which point they all must have been completed.
Furthermore, you can also break the chart down into small phases, each with its milestone. Besides that, each phase should include several sub-phases. For example, the first phase of a project could be [Research], which would include several sub-phases such as [Gather information], [Locate resources], and [Make plans].
3. Practical Tips for Building Project Management Timeline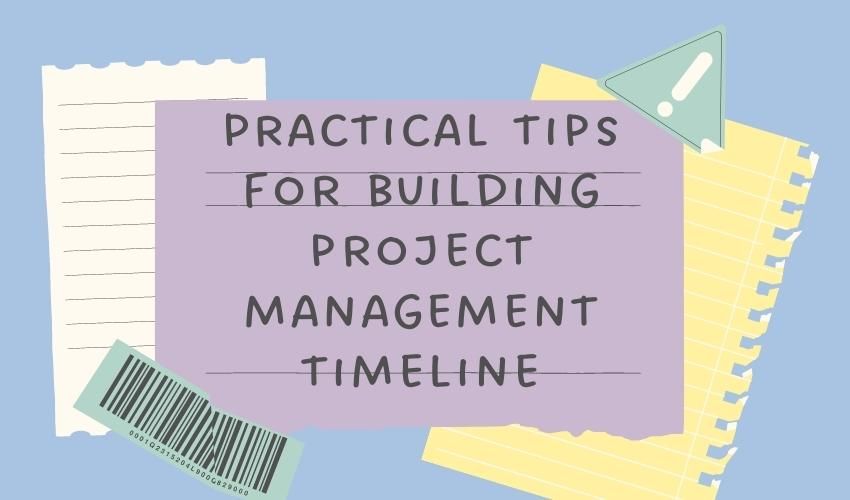 If you want to create a project timeline template for your business, there are a few things you need to keep in mind.
The first step is to list the tasks you need to accomplish in the shortest time possible. If you are unsure about that, it is better to list all your tasks chronologically.
You can use any chart you want as long as it is straightforward and easy to understand. You should also ensure that this chart contains all the main tasks you need to accomplish during the project development process.
You should also include deadlines for each task and ensure that they are realistic and achievable by your team members or clients.
Ensure you give departments a timeline copy at the end of every week. In that way, they can share it with their team members and the contractor's team, if necessary. That will help ensure that your team members know there will be a deadline for each stage of the project and that they need to meet it!
4. Wrapping Up
Project timeline templates have come a long way from large cardboard cards with colorful yarn. But these templates are still underused. As for their beneficiary aspect, they help you see where your time is going and ensure you get the most value from your work. This post looks at ten different templates that you can use today.
Whether you're creating a project timeline for work or personal use, these templates will give you plenty of options to choose from. Some are highly detailed, offering many different options for their fields, and others are less in-depth. However, that's the beauty of a template-you only get as much or as little detail as you need.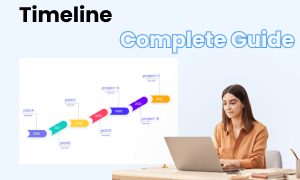 Timeline Complete Guide
Check this complete guide to know everything about the timeline, like timeline types, timeline symbols, and how to make a timeline.