10 Perfect Women's Day Card Templates To Show Your Greetings
Sending alluring women's day greeting cards is the most adorable way to express affection, solidarity, and sympathy to women.
Do You Want to Make Your Own Women's Day Card to Show Your Greetings?
EdrawMax specializes in diagramming and visualizing. Learn from this article to know everything about benefits of sending women's day card, women's day card templates and so on. Just try it free now!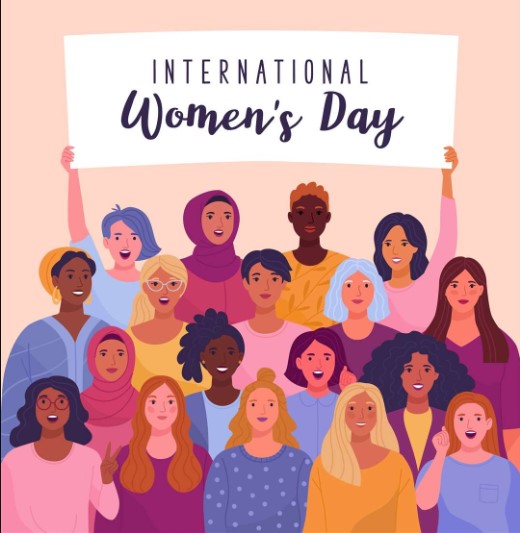 The whole world acknowledges 8 March as International Women's Day (IWD) to celebrate and acclaim the incredible achievements of women in every walk of life. People from different corners of the world rally for gender equality & women empowerment and exchange insightful cards to reveal their warm feelings for their females.
Given this context, we have provided unique and innovative ideas to embellish your Women's Day cards to make your day memorable, including a few valuable tips. Additionally, you will learn how to fashion your personalized Women's Day wishes card using thought-provoking templates from a cutting-edge application like EdrawMax.
1. Benefits of Sending a Happy Women's Day Card
Women deserve the utmost respect, care, and affinity because they make countless sacrifices to uplift our living standards, whether they're mothers, sisters, wives, or daughters. Most women around the world are devoid of fundamental human rights, such as education.
According to a 2012 UNESCO Report, 2/3 of illiterate adults around the world are women. The same situation prevails in other walks of life, such as employment, food, resources, security, etc.
Such circumstances mandate us to take steps to uplift women from these terrible conditions. We can fund them or protest for their rights, but as the famous quote says, "charity begins at home" we must initiate this reformative campaign from our homes. Here are the reasons why we should offer Women's Day greeting cards:
Appreciating Their Struggle:
Such circumstances mandate us to take steps to uplift women from these terrible conditions. We can fund them or protest for their rights, but as the famous quote says, "charity begins at home" we must initiate this reformative campaign from our homes. Here are the reasons why we should offer Women's Day greeting cards:
A Silent Way to Express Love:
We can present our females the greeting cards because cards are a token of love for whom the one cares. If you nicely present your happy Women's Day greeting cards, it will create an unforgettable impact on the mind of your recipient.
Encouragement for Future Horizons:
Greeting cards can be an encouraging campaign for future activities and accomplishments; we can assure our ladies that they can mark excellence in every life aspect with their perseverance, resolution, and courage. Additionally, it will propagate a message that they are not inferior to men; they teem with the spirit that bestows them resilience to attain what they want in life.
2. Templates & Ideas for Creating a Meaningful an International Women's Day Card
If you're looking for striking and impactful templates to personalize your 8 March greeting cards, look no further than EdrawMax. Presenting a vast inventory of fascinating templates, EdrawMax proves itself as the most exquisite platform for greeting card customization.
We have profoundly illustrated some of the most adorable EdrawMax Women's Day templates, indicating which factors make them super splendid and unique.
#1. Elegant Women's Day Card
This card delivers a glimpse of artistic appeal, with a peachy pink background which has white floral patterns on the top and bottom panels. The middle text contains caramel brown colored text "Happy Women's Day", containing a text box under it for writing your favorite greeting quote or wishes for your endeared one.
#2. Creative Women's Day Card
The sophisticated presentation of this card makes it distinguishable from others; the template carries a lavender background on which alluring text of purple and white are carved. The above text box is colored red; you can mention the recipient's name or Women's Day slogan there.
Happy Women's Day is written in the middle as the most prominent mantra. The last row of the text box contains the small-sized fonts in purple for writing your best wishes to the receiver.
#3. Beautiful Women's Day Card
This particular card meets the true definition of "Beautiful" because of its heart-winning elegant presentation. The card is beautified with multiple colorful elements, including a violet-colored pseudo-rectangular shape in which "Happy Women's Day" is written in stylish fonts. Two floral patterns of peach and violet color on the diagonals of the rectangle look charismatic.
There are semi-circles of grey, aqua, and pink colors, painted against a silvery background for a clear spectacle.
#4. A Bouquet of Flowers Women's Day Card
This simple yet thought-provoking template arrests attention instantly because of its decent outlook. The template is fabricated on a white canvas, containing a bouquet in a hexagon at one corner and a blank pink hexagon at the other, a butterfly to depict freedom symbolically, and Happy Women's Day written in the center. The right bottom contains colorful square boxes for beautification.
#5. Cute Happy Women's Day Card
The combination of light green and aqua impart this card an enticing appearance. An aqua-colored box is drawn against the light green background, which contains the main textual body and the text box for typing your preferred greeting message.
A charming flower is embedded above the rectangle, which glorifies the whole card. Two faded twigs are also painted along the sides for a tantalizing outlook.
#6. Rose Women's Day Greeting Card
You can present this greeting card to your life partner to convey your love feelings to her. The entire card is designed artistically to signify warmth; the light-pinkish background, fuchsia twigs, red rose, and white & aqua-colored text are all complimenting one another.
#7. Heart 8 March Card
This card will instantly grab your attention because of its exciting color concoctions, appealing elements, and, super especially, its heart-shaped text container. Blue hearts are patterned against a mustard background, housing an orange-colored heart for adding wishes text. Happy Women's Day is printed in pink color beneath the heart.
#8. Pink Women's Day Card
If you or your recipient is a pink lover, this card is a perfect pick as the Women's Day present. The card paints skin-colored floral patterns against an old pink background. Two textboxes are placed in the center, one with mustard and the other with skin-colored fonts.
#9. Women's Day Greeting Card to Mom
This card will surely express your sentiments if the recipient is your mother. The card possesses a ripe-aged woman figure on the right side, while the left side paints a cute daughter. There is a textbox at the bottom for the customized greeting text, whereas the upper textbox carries "Happy Women's Day". A flower dangles in the center, symbolically depicting the beauty of the mother-daughter relationship.
#10. Green Women's Day Greeting Card
Green is the color of prosperity, achievement, solidarity, and empathy. The card mentioned above will capture the receiver's attention, especially if she is a liberal lady. It houses an arc-shaped twig in navy blue color, which wraps the whole body of text. The background carries rare white and pink dots on a sea-green canvas. The text boxes are comprehensive, allowing you to fully express your feelings for the recipient.
3. How To Design Your Own Women's Day Card
E-cards have driven the audience's attention because they are easy to constitute, inexpensive, and don't require physical material to craft them. Additionally, they don't necessitate moving to the exact address for exchanging the card; instead, you can send them digitally to your family, friends, or colleagues.
For digital Women's Day wishes greeting cards, it is recommended to use a state-of-the-art application, like EdrawMax, that could provide you with maximum customization choices.
EdrawMax Desktop
Create over 280 types of diagrams
Windows, Mac, Linux (runs in all environments)
Professional inbuilt resources and templates
On-premises software for business
Enterprise-level data security
EdrawMax Online
Create over 280 types of diagrams online
Access diagrams anywhere, anytime
Team management and collaboration
Personal Cloud and Dropbox Integration
Step1

Adding an appropriate background is the first step to commence making your greeting card. You can start by customizing your background with color or picture. Click the "Design" option from the menu bar and choose the "Background Color" option.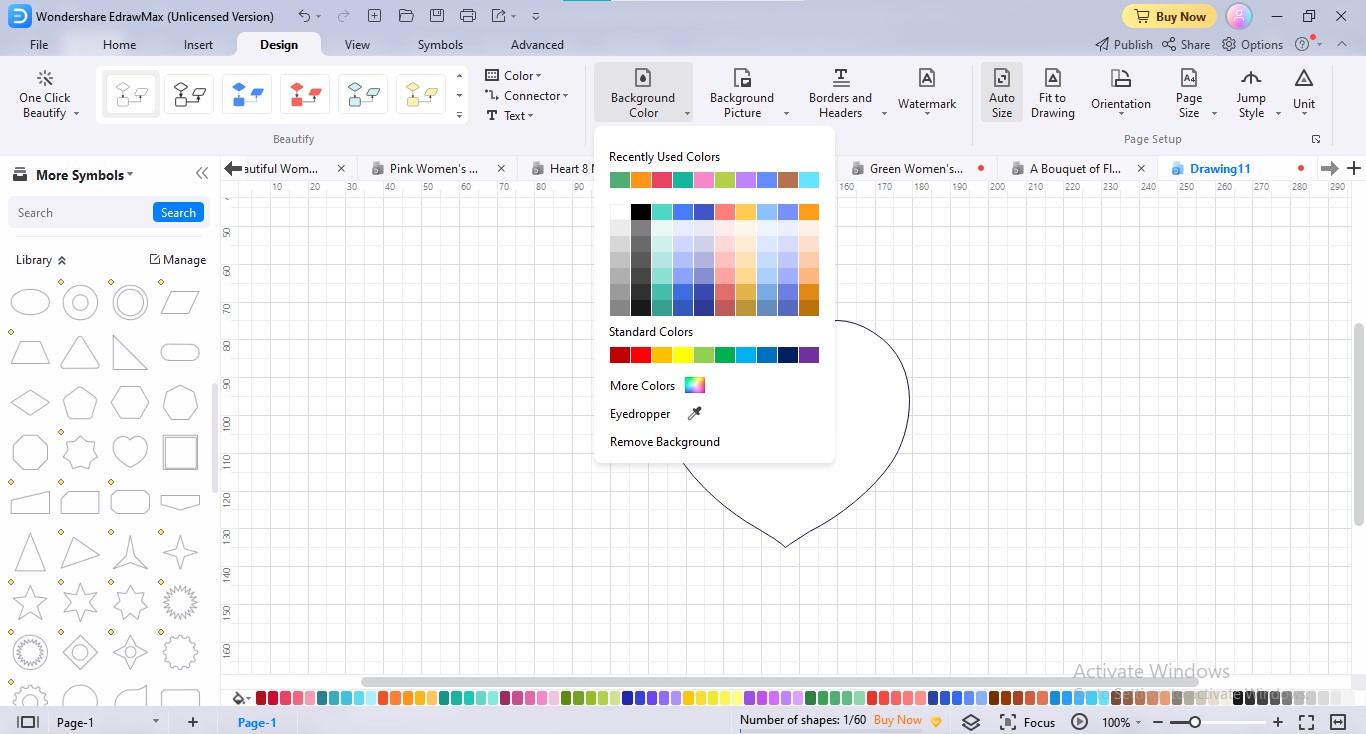 Step2

Add icons or clipart to forge your diagram into a greeting card after making the foundation or base for the card. You can use pre-existing clipart, icons, and shapes or fabricate a new one with the drawing pencil.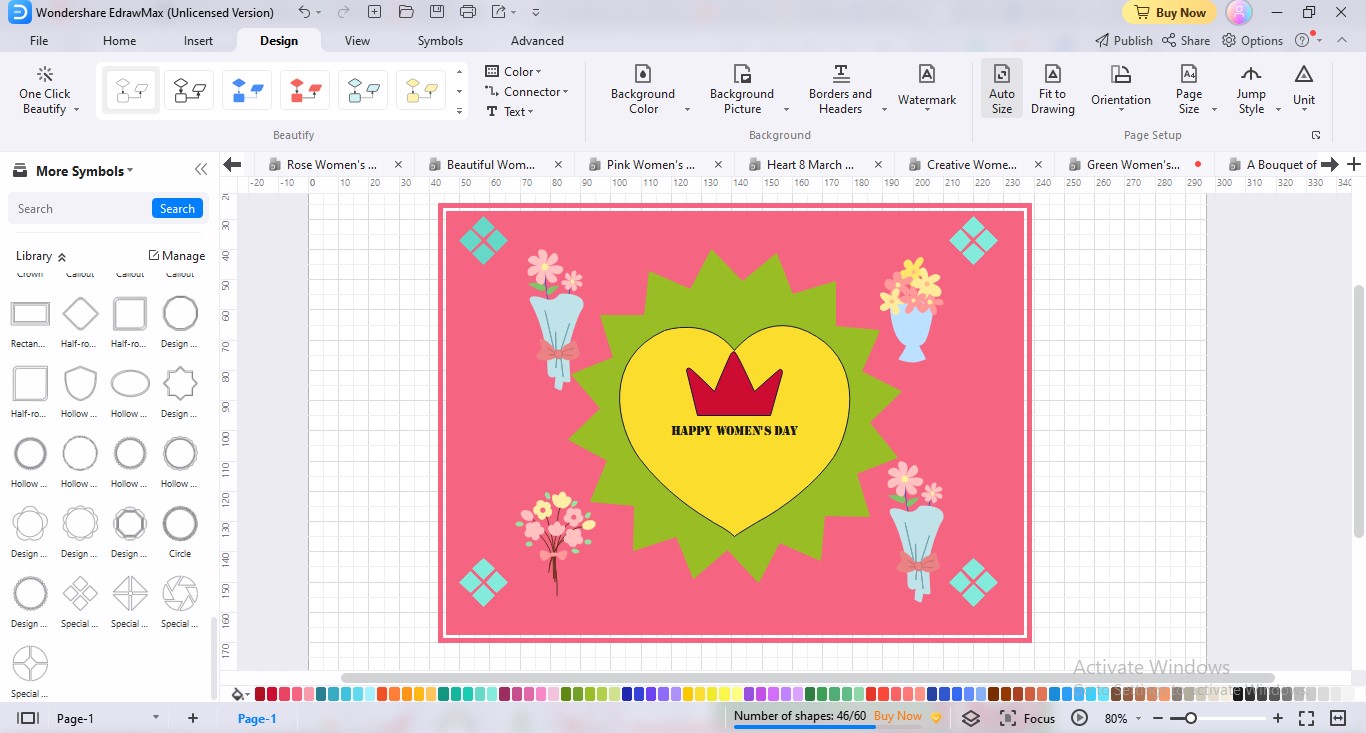 Step3

Add the images of whom you want to send the Women's Day greeting card; you can also select your favorite image container to paste your image onto the card.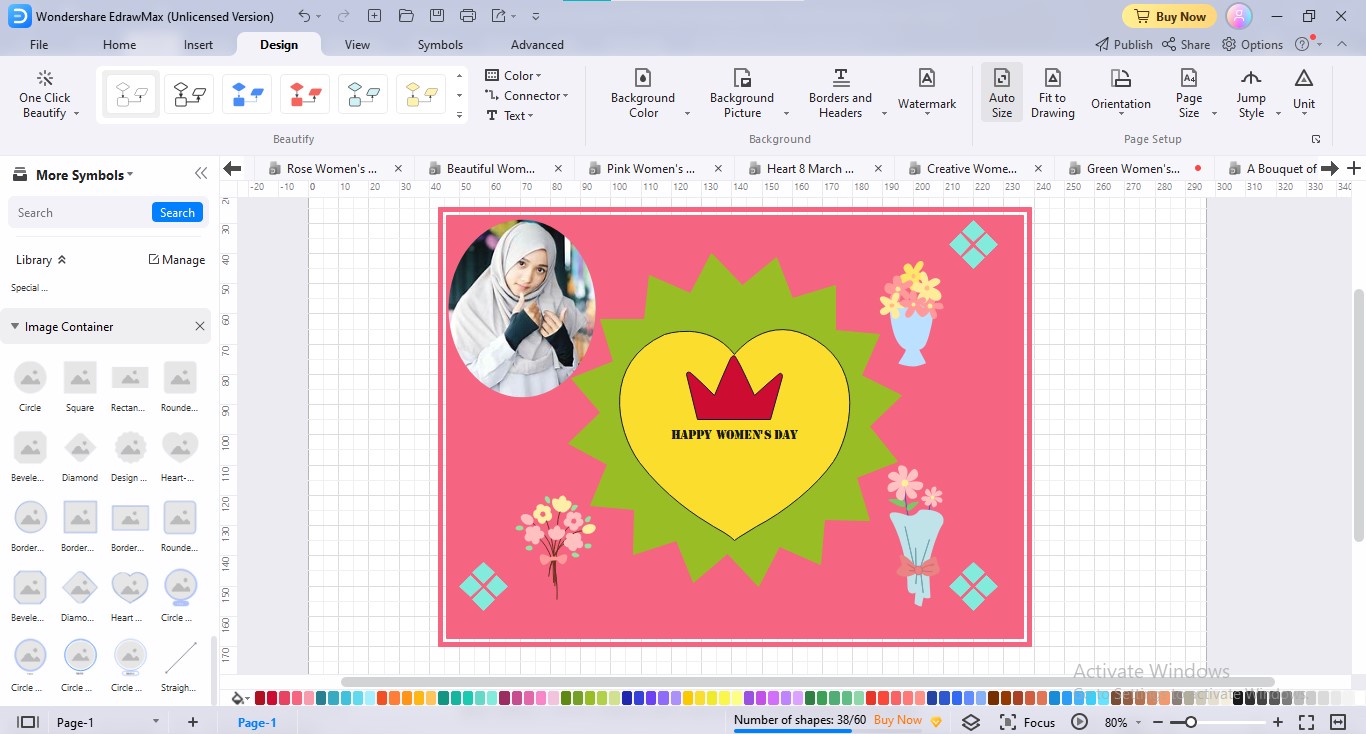 4. Other Types of Women's Day Greeting Cards
As diligently-crafted things appeal more to the recipient because of put endeavors, we have decided to describe some other types of handmade Women's Day cards. You can manually craft these 8 March greeting cards to show tremendous love to your lovable ladies. Some of the manually-created Women's Day greeting wishes cards are presented below:
Hand-Made Cut-Out Women's Day Card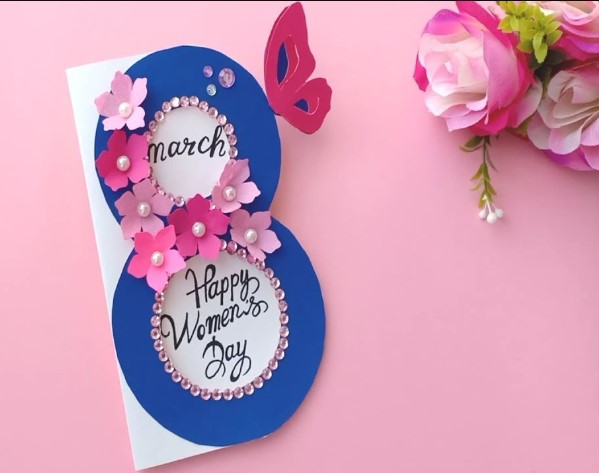 Cut-out cards allow you to cut the greeting card in your desired shape. This card is gorgeously designed, die-cutting in an 8 shape and adorning it with flowers, pearls, and a butterfly. The color 8 has been devised as blue, signifying innovation and freedom.
Folded Happy Women's Day card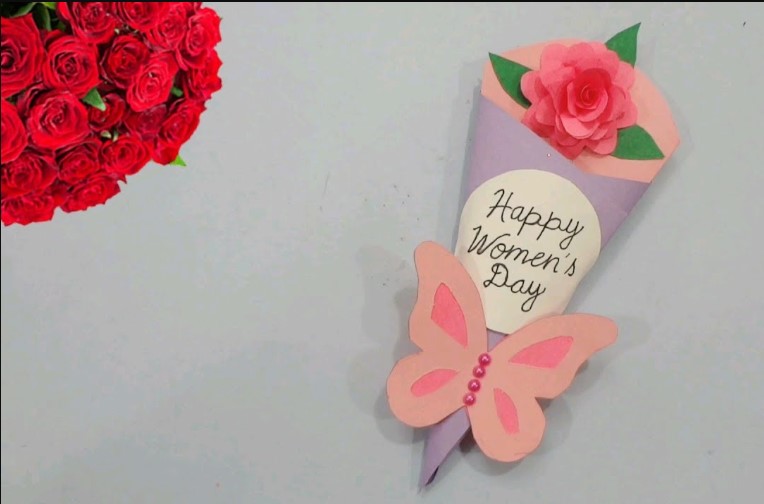 Folded cards are groundbreaking ideas to wish happy Women's Day, expressing your heartfelt feeling and unconditional love. The following card contains a lavender-colored folded rigid sheet on which pink-colored floral designs are pasted. You can also emplace the greeting letter within the folded design card.
Flat Women's Day Greeting Card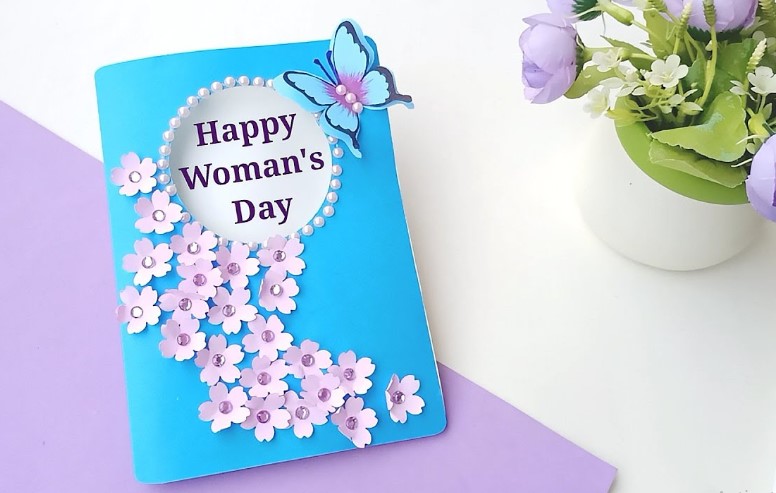 Flat cards are the simplest yet the most attractive presentation cards if crafted assiduously. The card presented above is a masterpiece, containing an aqua background, a cut-out for greeting messages, and decorating florets for an exclusively spellbinding outlook.
Popup Women's Day Card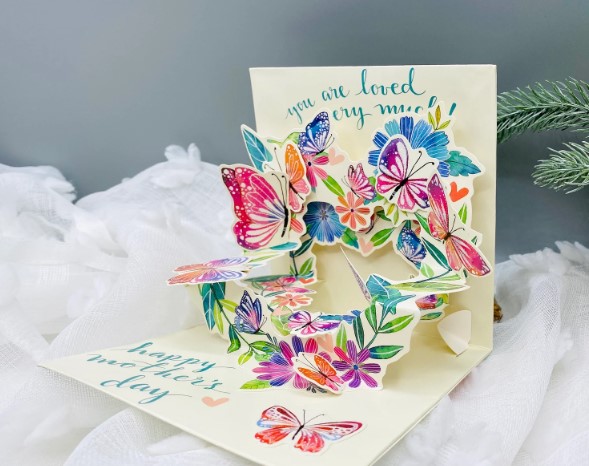 If you want to plan something exceptional for your loved lady, a popup card is the best solution. Popup cards contain multiple layers of paper, creating a 3-dimensional outlook rather than a flat 2-dimensional appearance. The above card is embellished with colorful flowerets and butterflies, endowing it with an aggrandized look.
Fabric Women's Day card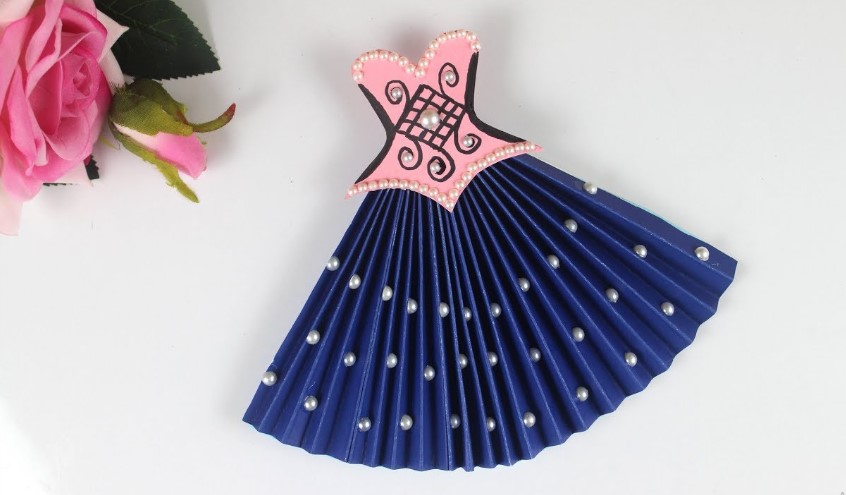 Fabric cards are designed to assign them a dress-like appearance. You can send a fabric greeting card to your lover to articulate your affection to her. Fabric cards look amazing because of their unique style. The above image is designed in the gown shape, with an exciting color combination of blue and pink.
Button Women's Day Card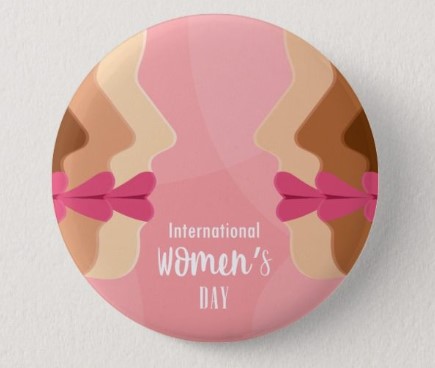 These types of cards are constructed in button shape, as you can see in the above image. Button cards are a revolutionizing style to exhibit innovation, liberty, and gender equality. The above image contains pink-colored button background on which the artistic portrayal is shown through women's lips.
5. Tips on Designing a Women's Day Card Template
If you want to design a unique, heart-throbbing international Women's Day card for your relative, colleague, or friend, we have devised a few tips that will facilitate you in various ways.
Forming a Well-Organized Base: Creating a flawless greeting card requires forming a well-matched foundation for your desired theme. If your background doesn't suit the theme or foregrounded elements, your card will likely look less attractive.
Choosing the Right Color Combinations: The color combination is the most important factor whenever it comes to designing a card. If you're not good at making appropriate color concoctions, you can employ the pre-built color schemes to tint your card.
Adding Relevant Elements: You can incorporate the image of the recipient, greeting messages, and Emojis to express the specific feeling you possess for that individual. The added elements should correlate with the background to create a fabulous harmony.
Incorporating Stickers, Clipart, and Icons: Every card is incomplete without clipart or embellishing elements; exciting stickers augment the cards' appeal, making them super expressive and attention-grabbing.
Editing a Pre-Designed Template: Customizing a pre-built template brings several benefits to you; they don't require fabricating them from scratch, saving your time & effort. Additionally, if you are not a professional designer, you can still contrive a sophisticated card using a pre-built card template.
6. Conclusion
Greeting cards are a paramount way of articulating your feelings about a certain individual. Women are experiencing mental and physical oppression worldwide; therefore, UNO has declared International Women's Day on 8 March. We can console, encourage, and appreciate our women by celebrating Women's Day with them, whether through rallying, campaigning, funding, podcasting, or showing warmth through greeting cards.
Following this need, we attempted to present some of the consummate templates for Women's Day wishes cards and the comprehensive procedure to craft a personalized greeting card for your loved one.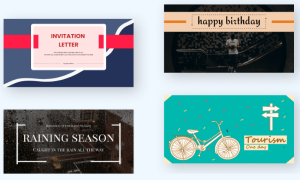 Card Maker
Check this introduction to know everything about EdrawMax as Card Maker. Not just Mother's Day greeting card templates, but Christmas cards, Happy Birthday cards and more.