IT Organization Chart Complete Guide
Do You Want to Make Your IT Organizational Chart?
EdrawMax specializes in diagramming and visualizing. Learn from this IT organizational chart complete guide to know everything about the IT organizational chart. Just try it free now!
Did you know the leading IT service providers in Germany publish org charts yearly to boost employee and customer trust? That is how they retain their credibility in the market, along with ideal structure management. We know managing an IT company isn't a piece of cake. Instead, it requires strenuous effort.
However, an IT organization chart is something that makes this task much more manageable. Later in the article, you'll get an overview of the chart with EdrawMax editable examples. You can use these diagrams to create an IT org structure for your own company in a matter of minutes.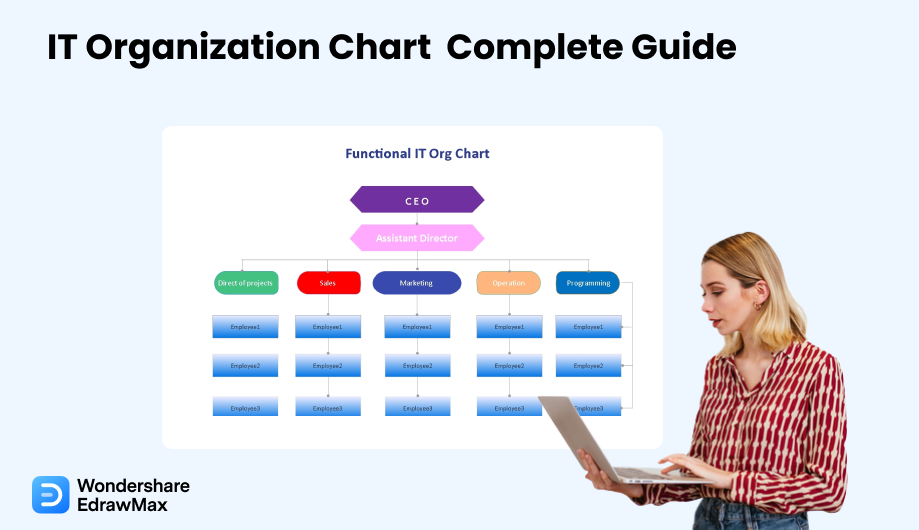 1. Benefits of IT Organization Chart
Every firm chart exhibits some kind of hierarchy. The same is the case with an IT company chart. It portrays the authority levels of an IT department within a company. Moreover, this chart is ideal for improving links between employees in an IT-oriented firm. Some of the key benefits that you'll get along with this chart are as follows:
An IT organization chart is an absolute monarchy that expresses its framework. A CEO is at the top of the command chain. As the levels go down, authority decreases, and the system classifies into separate departments.
You may ask what's in it for me!
With the help of this hierarchy, you can easily assess where a certain employee stands in authority. As a result, that can help you specific tasks to appropriate personnel. That is how you can improve working coordination and behavior.
An IT organization chart can help you build connections between employees and departments. Thus, it helps to interconnect workers with similar expertise to work on a collective project.
A visual diagram helps managers get their heads around complex company frameworks in a snap. The basic shapes and arrows help perceive the data about connection, authority, and the role of workers in an IT company.
2. IT Organization Chart Designing Considerations
Now that you know the basic benefits of an IT organization chart, the next step is its creation. Same as The production of an org chart requires diverse sets of data.
Data Extraction:
In the case of an IT company org chart, you need to assess the type of IT structure you have running in your firm. After that, you must know about the employees and their authority levels. That is how you can classify them ideally.
Employee Tracking:
That is not all! Besides data extraction, you must also keep an eye on the expertise of every employee. It will help you relate tasks with appropriate workers. As a result, it will increase work efficiency, which can benefit your IT company exceptionally.
Departmentation:
The most important part that makes an IT organization chart whole is an ideal hierarchy. This concept is achievable only if you have an idea about your IT departments and sub-departments. As a matter of fact, this hierarchical approach is the main thing that helps the org chart serve its purpose.
3. Types of IT Organizational Structures
It is not a hard and fast fact that every IT organization chart must have the same structure. Instead, these firms vary regarding framework, domain, workload, and human resources. Based on all these factors, an IT org structure can be of 4 different types.
Functional IT Organization:
It is one of the most common IT firms with basic top-down hierarchical arrangements. As the name suggests, this IT company has all its fundamentals around employee functionality. That means the workers in it differ in area and skills. There's more!
The company doesn't stop at individual employees. It targets collective departments and makes a well-connected framework of expertise. Departments like management, finance, HR, sales, and transport create a simple yet effective company structure together.
A functional IT org chart is more of a segmentation chart. That means it highlights separate segments within a firm. As a result, the precise assessment of departments can help detect problems and improve the existing company framework.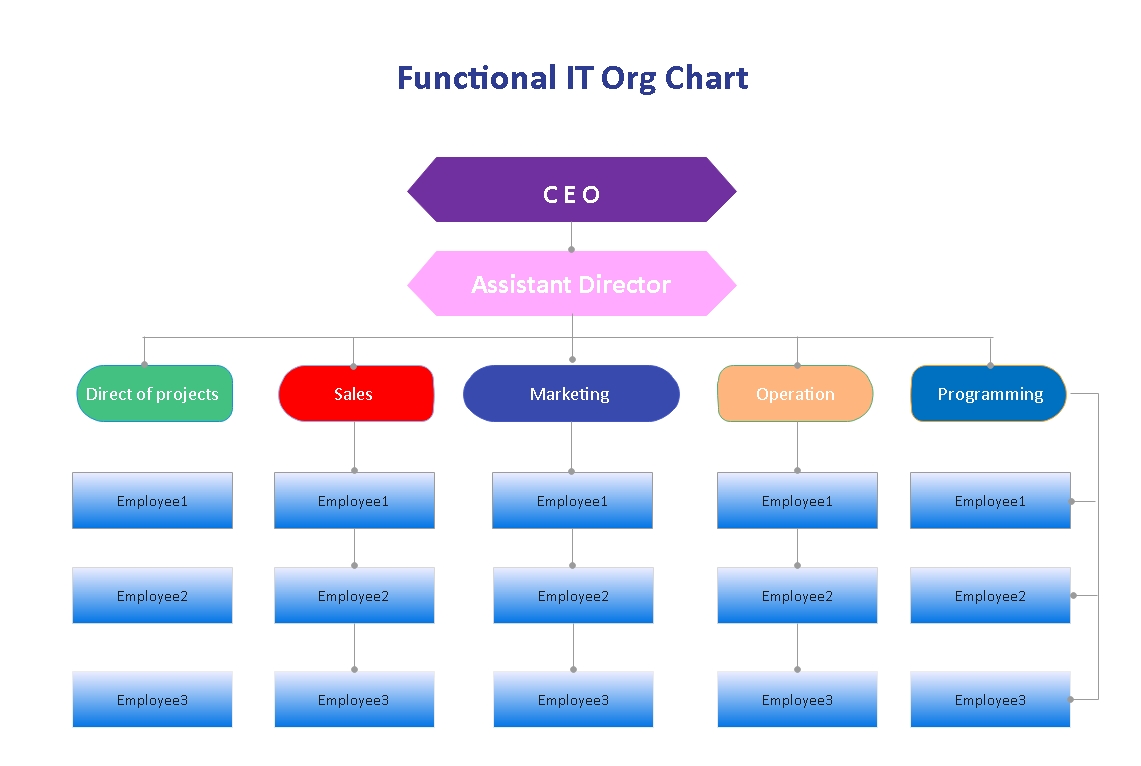 Click to download and use this templates.
While The
eddx
file need to be opened in EdrawMax.
If you don't have EdrawMax yet, you could download EdrawMax
free
from
below.
Divisional IT Structure:
Undoubtedly, all IT companies have some sort of division in them. However, the divisional IT organization chart has a specific geographic distribution that makes it different from others. These structures focus on a standard product or geographic location and build a chain of command around it.
The unique thing about this structure is its continuously varying customer approach. As the geographic region changes, the demand, control, and market exposure also change. For that reason, every separate branch of the structure requires a specially advanced strategy that focuses on specific needs.
Remember, the overall authority and monarchy levels won't change much. CEO will always be in charge of these tasks. Same as that, managing committees will also keep handling segments under the owner's supervision. However, the company will scatter into different regions, each having departments specific to the tasks.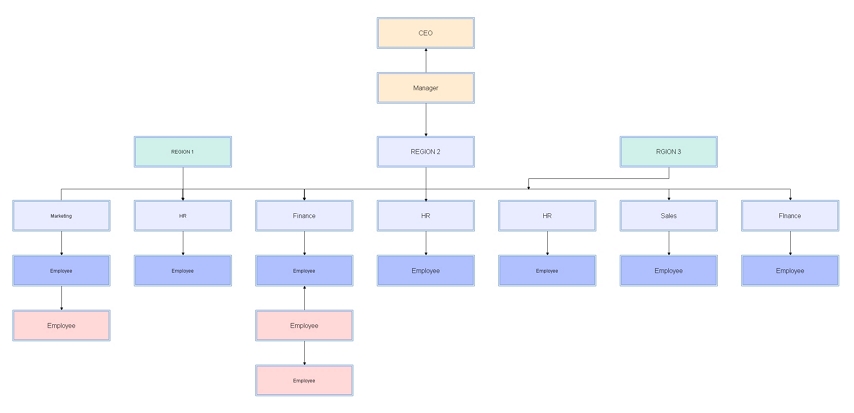 Click to download and use this templates.
While The
eddx
file need to be opened in EdrawMax.
If you don't have EdrawMax yet, you could download EdrawMax
free
from
below.
Matrix Structure:
In these types of structures, employees are subject to more than one manager. That means they work under multiple supervisors and answer to calls of numerous managers. But why do we need it? Isn't one supervisor enough?
Well, It isn't! In some cases, a single direction isn't enough to complete a task ideally in a given time. Therefore, it requires multiple skills and expertise. The worker has to keep both of them balanced and work accordingly to supply the product effectively and swiftly.
However, this structure can confuse authority and damage the existing system. Therefore, it is better to stay concise and direct regarding org chart creation. In that way, employees won't divert from the command and at once get experience out of their team.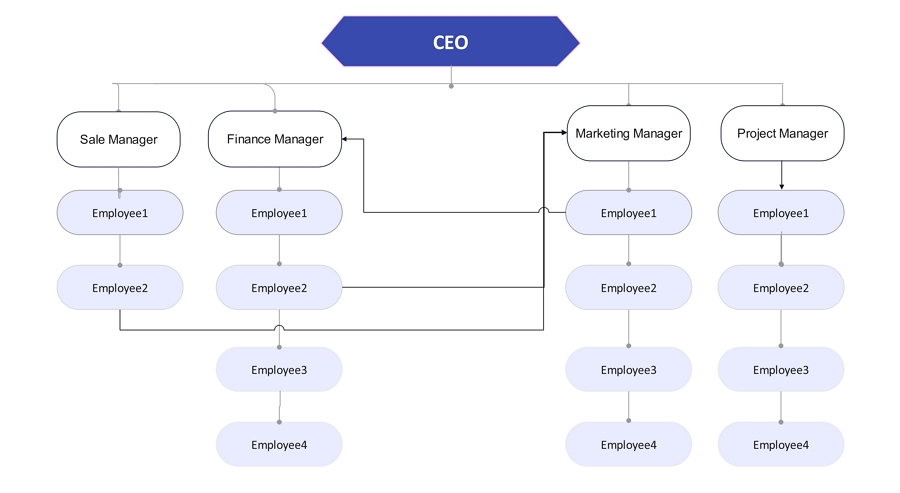 Click to download and use this templates.
While The
eddx
file need to be opened in EdrawMax.
If you don't have EdrawMax yet, you could download EdrawMax
free
from
below.
IT Team Structure:
This structure is more of a collection of people with the same goal and task input. Usually, companies use it for higher authority levels, like managing committees. It helps them to decide how they can execute different tasks within the company.
Besides that, smaller teams within a company also use these structures to focus on a single task at once. This framework is simpler and easier to assess. Thus, every team member gets an idea of the workload. That is how it helps them to stay productive at a strict deadline.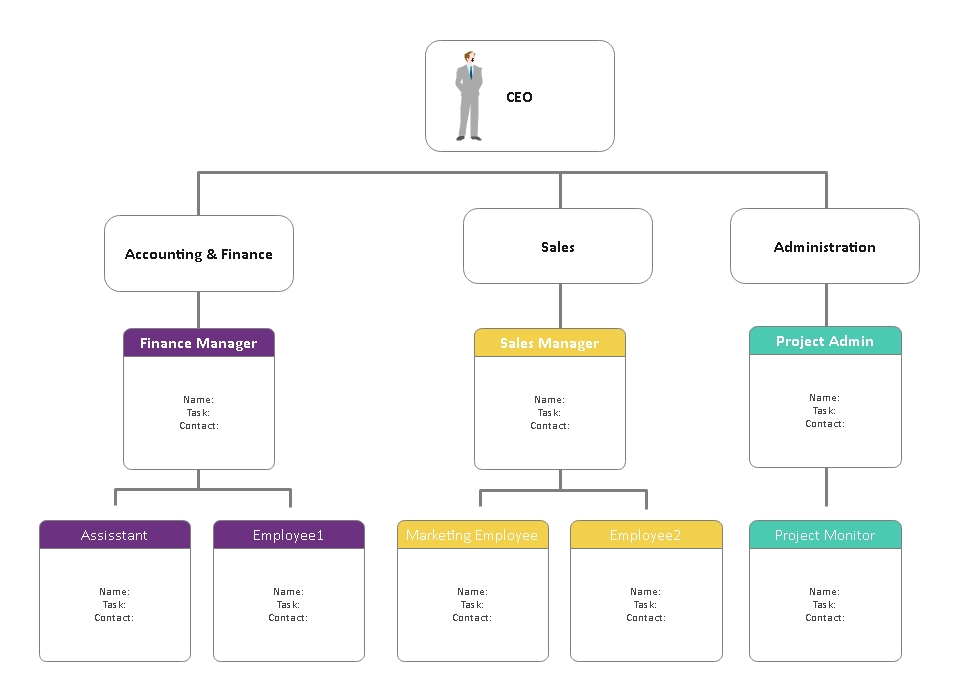 Click to download and use this templates.
While The
eddx
file need to be opened in EdrawMax.
If you don't have EdrawMax yet, you could download EdrawMax
free
from
below.
Considering the above explanation, you may find creating an IT organisation chart pretty tricky. However, things are completely opposite to that, especially if you have an ideal program for the task. As you have all the appropriate tools required for org chart creation at the distance of a click, its formation will be a piece of cake for you. The experts suggested that Edrawsoft org chart maker is the ideal choice for everyone with its massive symbol library. Plus, its pre-made templates make the work a lot easier. Click the link and try it out yourself!
4. Tips For IT Organization
IT firms are an easy way to clarify business direction and emphasize employee roles. However, its creation can be a difficult task for the first-timer. Even if you are aware of its creation procedure, several tips can come in handy. Below you'll find some of these factual tips that can help improve your existing IT company or create a new one.
Innovative products and services are the main factors that can tempt employees to work efficiently. A mutual product of interest boosts workforce capability and makes the company successful. Therefore, keep an eye on market demand and trends and choose your service accordingly.
Specificity is something that takes a firm far on the road to success. Specific people assigned to distinct tasks can do wonders if given optimum conditions. On the other hand, inappropriate personnel can ruin the whole task even if the leadership is strong.
Another critical factor in the ideal company formation is saturation. You must be able to assess how much human resources a particular task requires. That means, while creating segments and teams, you should involve just the right amount of people—neither extra nor less. By doing so, you can create a uniform workload flow in your company that will help you retain authority for a longer time.
5. Conclusion
As for the key takeaway, an IT organization chart is an ideal way to wrap your head around the complex technical information of the firm. Undoubtedly, it can serve as a helping hand for the manager and employees to acknowledge their roles. Besides that, the firm itself makes workers ready to work under tactical governance.
The IT org structures perfectly define specific roles of people within the firm. In that way, they become a vital necessity for the company. However, its ideal creation requires diverse informational and programmable factors. Perfect software selection is one of them. EdrawMax is the best and free IT org structures creator in the market. If a few clicks can get you an ideal IT company organizational chart, it isn't a bad deal at all!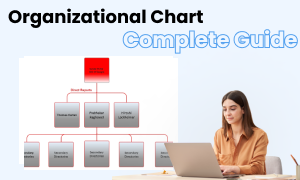 Org Chart Complete Guide
Check this complete guide to know everything about org chart, like org chart types, org chart symbols, and how to make a org chart.