Active Directory Complete Guide
Do You Want to Make Your Active Directory Diagram?
EdrawMax specializes in diagramming and visualizing. Learn from this Active Directory diagram complete guide to know everything about the Active Directory diagram. Just try it free now!
With the complexity of networking resources growing, directory services are critical for overseeing IT infrastructure. Despite the numerous directory services available, none is as big as the active directory. Organizations of different sizes use the active directory to control access and manage permission to critical network resources.
This article is a comprehensive guide on Active Directory and how to create an active directory diagram with EdrawMax. We will explore everything you need to know regarding the active directory, its pros and cons. In addition, you will understand how to draw an active directory diagram in EdrawMax. So, without further ado, let's get started.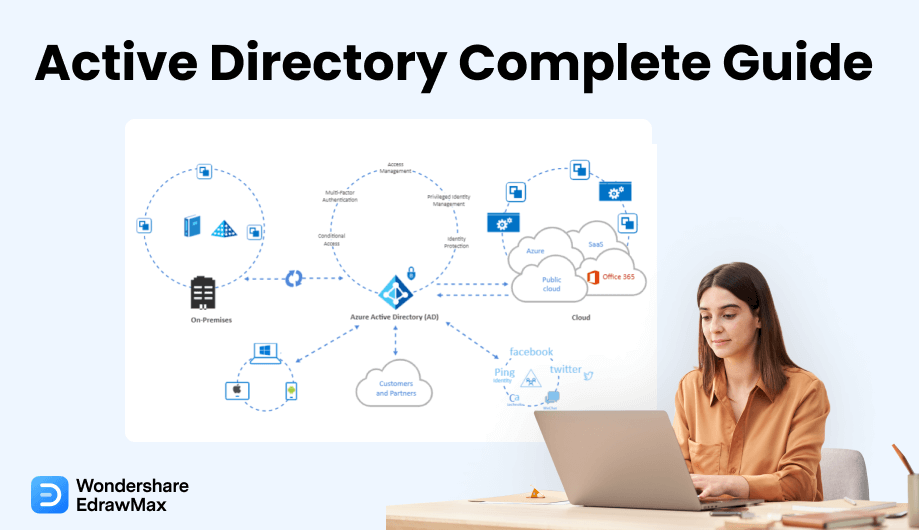 1. What is Active Directory
It can be confusing to understand what an active directory is like with several definitions. An active directory is a container or service that stores data objects in a local network environment. It records data on devices, applications, groups, and users in a hierarchical structure or order. It can be confusing to understand what an active directory is like with several definitions. An active directory is a container or service that stores data objects in a local network environment. It records data on devices, applications, groups, and users in a hierarchical structure or order.
Currently, several organizations use an active directory because of its convenience. It allows users to access and manage several resources. In addition, the login credentials are unified so everyone can manage multiple devices easily without entering account details for each machine.
2. History and Development of Active Directory
Microsoft introduced the active directory in the 1990s to replace its Windows NT-style user validation system. The Windows NT came with a flat and non-extensible domain model that didn't work properly for large organizations.
However, Microsoft Active Directory, despite being introduced in the mid-1990s, wasn't included in operating system until the release of Windows 2000 Server in 2000. It has been included in other Windows servers such as 2003 and 2008 with several expansions. Today, active directory is an umbrella name for the different range of directory-based services it offers.
What is Azure Directory?
Azure Active Directory is simply the cloud version of the active directory. Unlike the Active Directory, Azure is a cloud-based identity and access management solution and the backbone of the Microsoft Office 365 system. In addition, it allows users to sync Active Directory while providing authentication to several cloud-based systems using OAuth.
Recently, during the COVID-19 pandemic, a dramatic increase in azure active directory usage was attributed to the adoption and implementation to meet the remote workforce. The azure directory allows employers to access external resources, including the Azure portal, Microsoft Office 365, and other SaaS applications. Besides this, it also helps access internal resources such as corporate intranet networks.
Daily, what happens in an azure active directory includes adding & deleting users, self-service password reset, restoring users, editing azure AD group information, assigning & removing user roles, changing & resetting a user's password, and removing & assigning user licenses, etc. Azure active directory differs from an active directory in several areas such as communication, device management, structure, and authentication.
3. Active Directory Services
Active directory services represent the core component of an active directory. It provides the primary mechanism for validating users and ascertaining the particular network resources anyone can access. A server that runs active directory domain services is a domain controller. Nowadays, many Windows domain networks possess two or more domain controllers. In addition, it has the primary controller with one or several backup domain controllers designed for resiliency. In the login process, users authenticate a domain controller before granting access to specific resources depending on the defined administrative policies.
Active directory services or domain services offer additional security certificates, access rights management, lightweight directory services, and single sign-on. Let's explore some of the services that active directory offers to organizations.
Domain Services: The domain service is the bedrock of all Windows domain networks. It stores information about every domain member, including defining their access rights and verifying their credentials and users. The domain controller is the server that runs this service. Whenever a user logs into a device, the domain controlled is contacted. The domain active directory domain services have a centralized directory that allows users and domains to communicate. For instance, when someone logs in to a Windows domain-based computer, the active directory domain service checks the credentials submitted and verifies if they are regular users or administrators.
Lightweight Directory Services (AD LDS): The active directory lightweight directory services is a lightweight directory access protocol directory service that provides only a subset of the active directory domain services features. This makes it very versatile regarding where it can run. For instance, the lightweight directory service can operate as a stand-alone directory service that doesn't require any integration with full execution of the active directory.
Certificate Services (AD CS): This is another active directory domain service that allows users to create, manage, and share encryption certificates. It enables users to share information securely throughout the internet. It uses a public key to ensure privacy and security by encrypting data or information sent through the network.
Rights Management Services (AD RMS): Active directory right management services represent tools that help manage security technologies that assist firms and organizations in keeping their information secured. These technologies include certificates, authentication, and encryption. In addition, it covers several applications and content types, including word documents and emails.
Active Directory Federation Services (AD FS): This active directory service is a single sign-on solution for an active directory that enables employees to access several applications using a single set of credentials, streamlining the user experience. Therefore, instead of using multiple dedicated authentication keys for every service, the active directory federation services allow users to sign on once.
Active Directory Domain Services Overview
Active Directory Domain Services utilizes a tiered arrangement structure comprising forest, trees, and domains to coordinate networked elements.
The minor core tiers are domains, while the largest are forests. Different objects, including devices and users that share the same database, will be housed on the same domain. A tree is a collection of domains linked by hierarchical trust connections. A forest is a collection of trees. Forests serve as security barriers, whereas domains, which share a database, can be handled for authentication and encryption settings.
Domain: The domain involves a group of objects, including devices or users, sharing an identical active directory database.
Tree: It includes one or more domains connected to each other. The tree structure utilizes a connecting namespace to accumulate the groups of domains using a logical order. Trees are represented as trust relationships where a secure trust or connection is distributed among two domains. Several domains can be trusted; one domain can trust the second domain, with the second one trusting the third. Since it uses a hierarchical structure, the initial domain can indirectly trust the third domain without requiring any open trust.
Forest: It represents a collection of several trees. A forest comprises application information, shared catalogs, domain configurations, and directory schemas. The schema describes an object's attributes and class in a forest.
Organizational Units: This organizes devices, groups, and users. Every domain can have its organization unit. Nevertheless, organization units cannot contain distinct namespaces because every object or user must be unique in a domain. For instance, you cannot create a user account using the same username.
Containers: Containers have similarities with organizational units. However, group policy objects cannot be connected or applied to container objects.
4. Pros and Cons of Active Directory
Undoubtedly, an active directory is the fundamental component of any domain environment. It can be used to store information about computers, users, and other objects. It has several benefits and limitations as a system, which we will explore in this section.
Benefits of Active directory:
It offers easy access to computer objects and centralized control over users and resources using the group policy features. Furthermore, it also ensures the organization's security.

It allows users to personalize how data should be organized, planned, and managed according to the organization's needs.

The active directory allows high-end security options with improved data protection capabilities that aid the protection of a business from any external dangers.

It enables network administrators to store and manage data about computer settings, resources, and user accounts.

The data protection capabilities help to protect data from unauthorized access.

It also allows effective management of several devices through large geographic locations since all the information is automatically updated and maintained.

It allows organizations to use a single container to manage a large group of objects.

It offers strong compliance and security features such as data encryption, password policies, and auditing.
Limitations of Active Directory:
It requires adequate planning to implement in an organization.

It is costly to set up, depending on the number of systems you want to manage and the volume required.

Active directory requires a lightweight directory access protocol to manage in a Mac or Linux machine since it is only Windows-based.

It can lead to performance issues, mainly when used in a more extensive network beyond Microsoft's recommendation.

It utilizes a multi-master replication model. Changes within the directory must be propagated within all the domain controllers for any information to remain correct and up to date.

It requires a constant internet connection for users to validate passwords. Therefore, it is hard for any user to access the active directory when there isn't any internet connection.

It doesn't offer an easy method to import current users' accounts to the directory.

The active directory also doesn't offer easy access for users to monitor usage. Therefore, it is hard for IT administrators to ascertain each user's network bandwidth or directory traffic.
5. How Does Active Directory Work
An aspect of controlling and managing IT resources is declaring who has access to a resource. For example, a person in the technical department doesn't require access to any financial data. Alternatively, someone in the marketing department doesn't need access to financial information.
Remember, when using an active directory, it keeps records of the particular user's department. This is critically important as it differentiates who has access to certain information.
For instance, Ben works in the marketing department at ABC Company. Ben doesn't need to have information on financial data. While the active directory system recognizes Ben as someone who works in the marketing department, he shouldn't have access to any information from the financial department.
As stated earlier, active directory domain services are the main active directory service that is included as part of the Windows Server OS. Domain controllers are the servers that run the active directory domain services.
Usually, organizations have several domain controllers, each having its directory copy for all the domains. Any changes performed on one directory on the domain controllers are duplicated to other domain controllers to ensure they stay updated. This process uses a global catalog server, a domain controller responsible for storing a complete copy of all objects within the domain directory.
6. How to Draw an Active Directory Diagram in EdrawMax
EdrawMax is a unique software that allows you to draw an active directory diagram for your organization. Designing any active directory diagram without software takes time and dedication. However, things can get too expensive and clumsy if you do it without software. EdrawMax is well equipped to design an Active Directory diagram. There are only a couple of steps that you need to follow in order to easily create it, like:
Step1
Open EdrawMax and Login
The very first step that you need to follow is to install EdrawMax in your system. Go to EdrawMax Download and download the network diagram software depending upon your operating system. If you need remote collaboration with your office team, head to EdrawMax Online and log in using your registered email address.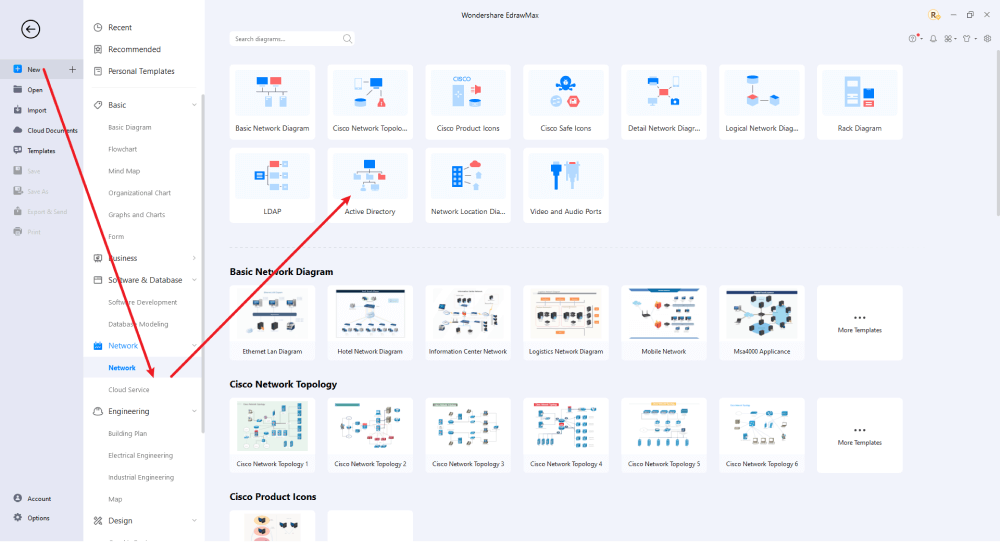 Step2
Select a Template
After launching, the Home screen opens by default. Head to the Template bar and search for Network Diagrams in the search box. In-built templates specific to your search will appear on the screen. EdrawMax features a large library of templates. We have more than 25 million registered users who have produced thorough Templates Community for each design. Select the template you like and click Use Immediately to open it in a new window for customization.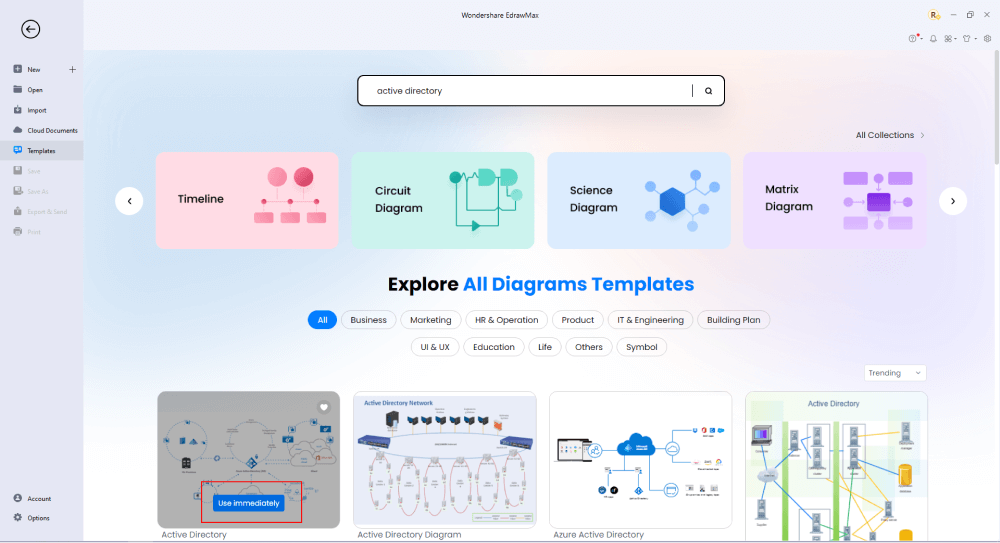 Step3
Create From Scratch
From the EdrawMax homepage, you will find the '+' sign that takes you right to the canvas board, from where you can start designing the network diagram from scratch. Coupled with your technical expertise, you can use a wide range of symbols to draw a detailed Active Directory diagram.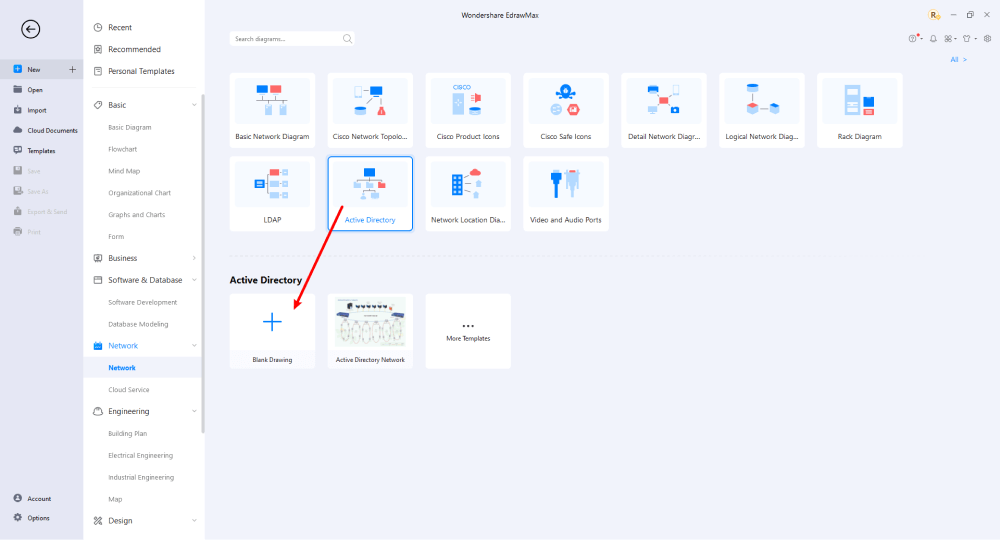 Step4
Select Symbols
EdrawMax includes a large number of symbol libraries. You may quickly build any type of diagram with over 26,000 vector-enabled symbols. If you can't locate the symbols you need, you can easily import some images/icons or build your own shape and save it as a symbol for later use. Simply go to the 'Symbols' part of EdrawMax and select the 'Predefined Symbol' section from the top toolbar. Hundreds of symbol categories are accessible for you to utilize and incorporate into your Active Directory diagram.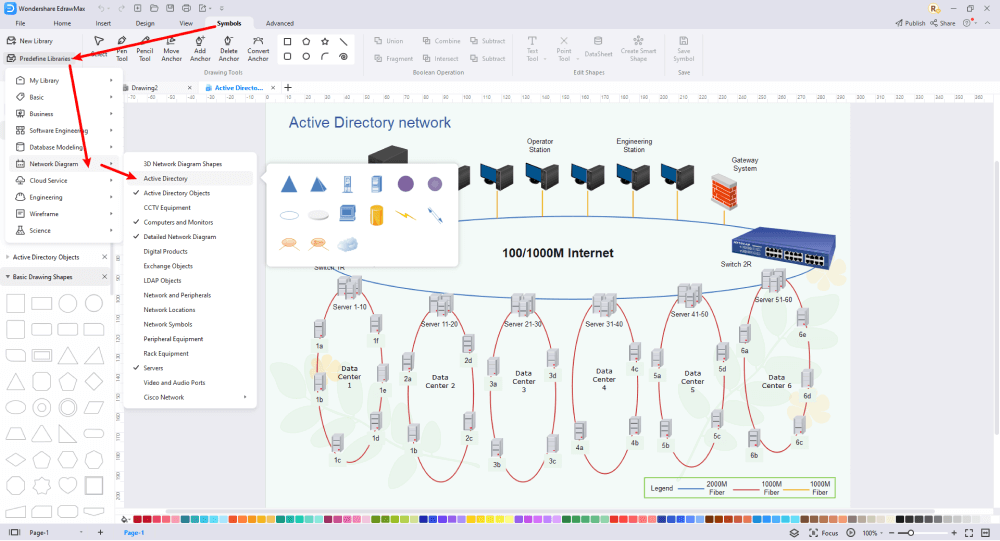 Step5
Add Components
After you have sketched out the basic pieces, you may customize the typefaces, colors, and other details by selecting the right or top menu to make your Active Directory design more visually appealing. Also, feel free to draw ideas from other layouts on Templates Community and transfer some of the photos or features that you think would go well with your Active Directory design.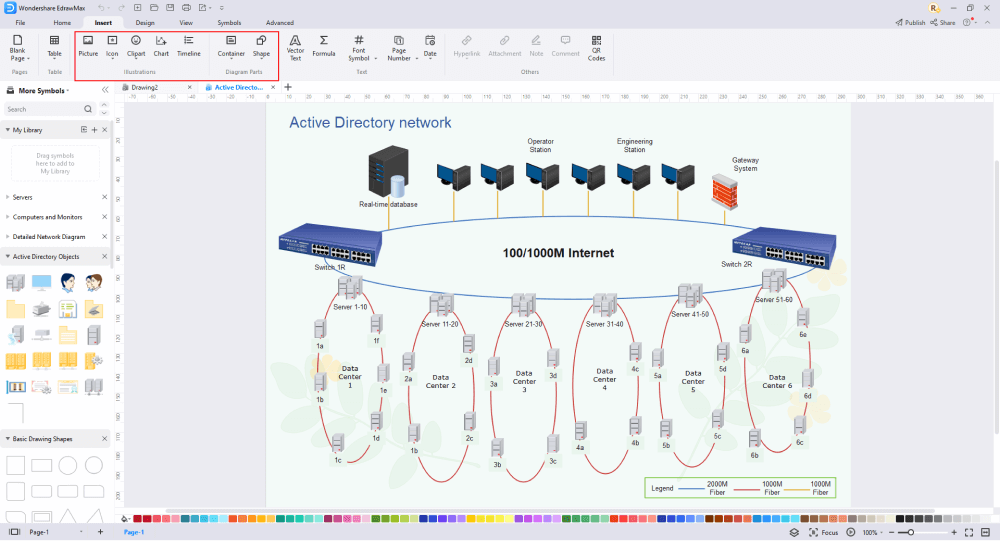 Step6
Finalizing the Plan
Once your active directory is ready, you can collaborate with your team to consider their opinion using the Cloud-base files. EdrawMax allows up to 100M free cloud storage. It supports files in several formats, including HTML, PDF, Graphics, Visio, Microsoft Office, etc. It is not a complicated process to create an active directory in EdrawMax. You can take a template and continue customizing it to suit whatever design you want. EdrawMax has several templates with fantastic designs for an active directory for your organization.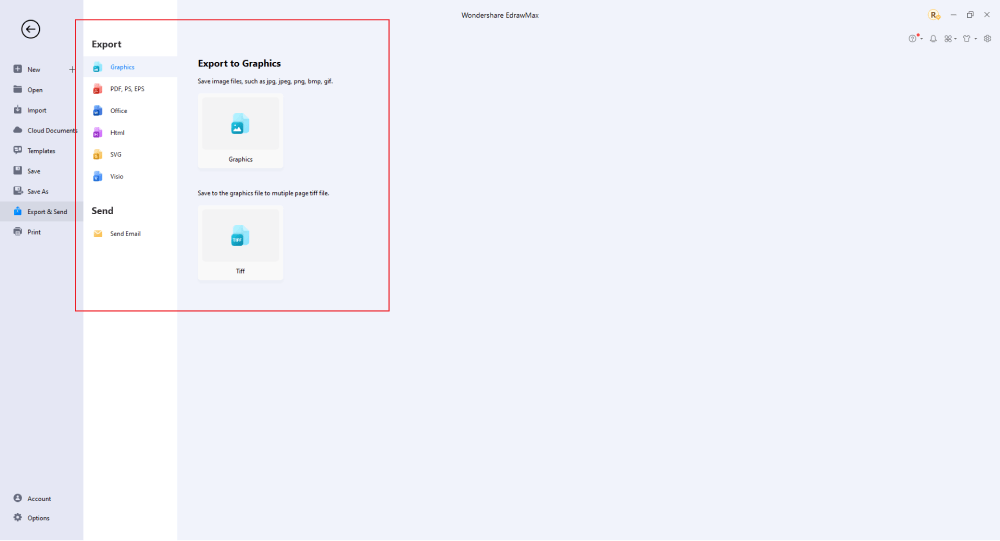 Basically, it is simple to create an Active Directory diagram in EdrawMax, just grab a template and keep customizing, drag and drop professinal sActive Directory symbol to make your plan better. If you are still confusing about how to make an Active Directory diagram in EdrawMax, you can find more tutorial videos from our Youtube.
7. Active Directory Examples & Templates
You have access to different active directory templates when using EdrawMax. EdrawMax online offers you numerous free network templates. In addition, depending on your preference or choice, you can select pre-designed Active Directory examples and templates from the left navigation pane. Just click the image to download EdrawMax, and download the templates accordingly. Then double click to open the templates and customize as your prefer. Or open the templates from EdrawMax Online , and duplicate the templates.
Example 1: Active Directory
Active Directory (AD) is a directory service running on Microsoft Windows Server. As you will learn in the below Azure Active Directory diagram, the core functionality of the AD is to enable administrators to manage permission and control access to network resources. After years of research and demand, Microsoft created the Azure Active Diagram, an enterprise cloud-based identity and access management solution to provide authentication to several other cloud-based systems.
Example 2: Azure Active Directory
The Azure Active Directory enterprise identity service provides single sign-on and multi-factor authentication to help the employees from online attacks. As you see in the below Active Directory diagram, Azure Active Directory is intended for: IT Admins, App Developers, Microsoft 365 Subscribers, Dynamics CRM Online Subscribers, Azure Subscribers, and more.
Example 3: Active Directory Network
The active directory diagram represents the acitve directory configuration using LDAP and their relationships. You can use Active Directory template from the EdrawMax templates community. With EdrawMax, you can create a similar Active Directory diagram and present it to your online team with the built-in presentation and remote team feature.
8. Free Active Directory Diagram Software
EdrawMax is a unique free Active Directory diagram software that anyone can use for mind maps, flowcharts, office layouts, Infographics, flyers, Gantt charts, wireframes, UML diagrams, network, floor plans, presentations, and fishbone. The software comes with thousands of templates that are pre-designed by professionals. It also has extensive file compatibility that enables users to import or export their drawings to PDF, HTML, Word, Visio, and PowerPoint. Furthermore, you can also convert to image formats, including PNG and JPEG. Every active directory diagram type comes with pre-existing libraries. While all diagrams adhere to strict standards, the symbols are easy to customize, enabling you to change their line styles and color. If you don't want to start from scratch, you find a copy of existing templates from different collections.
The best EdrawMax features that can assist you in your Active Directory diagram:
EdrawMax is available on different platforms, including Linux, Mac OS, and Windows.
The user's interface is easy to navigate, such that even a newbie can find things around.
Visualizing all your logistics and data becomes easy with data import as it comes automated and provides full design control.
It has an extensive collection of templates for several purposes. In addition, you can create your templates, back them up, and share them with others.
Administrators can be assured of referring to the most up-to-date network maps, with periodic network scanning.
EdrawMax can help construct an easy-to-view network topology map that lets one choose the network's seed device and preferred network layout type.
Users can share network diagrams across peer groups in no time by exporting to other commonly-used formats like MS Word and PDF.
EdrawMax Desktop
Create over 280 types of diagrams
Windows, Mac, Linux (runs in all environments)
Professional inbuilt resources and templates
On-premises software for business
Enterprise-level data security
EdrawMax Online
Create over 280 types of diagrams online
Access diagrams anywhere, anytime
Team management and collaboration
Personal Cloud and Dropbox Integration
9. Final Thoughts
Active Directory is one of the finest tools to manage resources in your organization network. Unfortunately, we've only scraped the surface of this tool's potential in this article. If you use Active Directory, keep in mind that it could be an entry point for hackers.
The moment you start using EdrawMax , you will realize that the tool comes with several amazing features that ease your efforts in creating the Active Directory diagrams and help you share the designs using the easy sharing option. With EdrawMax, you can export your file into multiple formats, and share your works on different social media platforms, like Facebook, Twitter, LinkedIn, and Pinterest. All in all, EdrawMax is a wonderful tool that caters to all of your designing and drawing needs.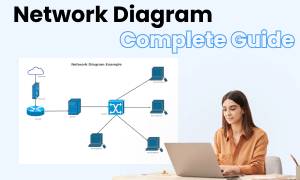 Network Diagram Complete Guide
Check this complete guide to know everything about the network diagram, like network diagram types, network diagram symbols, and how to make a network diagram.