Main Idea Graphic Organizer Examples & Templates
Do You Want to Make Your Main Idea Graphic Ogranizer?
EdrawMax specializes in diagramming and visualizing. Learn from this article to know everything about main idea graphic organizer templates. Just try it free now!
To acquire strong comprehension skills, students must learn to identify the main idea and other supporting details in texts. Using main idea graphic organizer examples can assist students in making connections.
A main idea graphic organizer visualizes the structure of any paragraph in text by defining the main concept and any supporting details. You can make a reference out of it as a study aid to help you analyze the material before reading it. A useful tool for students is the main idea graphic organizer, which offers a framework for them to record the important ideas and details found in each paragraph topic. For students, structuring an essay can occasionally be quite challenging. However, students can develop an outline using a main idea graphic organizer that will help them comprehend the subject matter better.
This article will elaborate on the importance of creating a graphic organizer and how easily you can make a graphic organizer using the free templates provided by EdrawMax templates.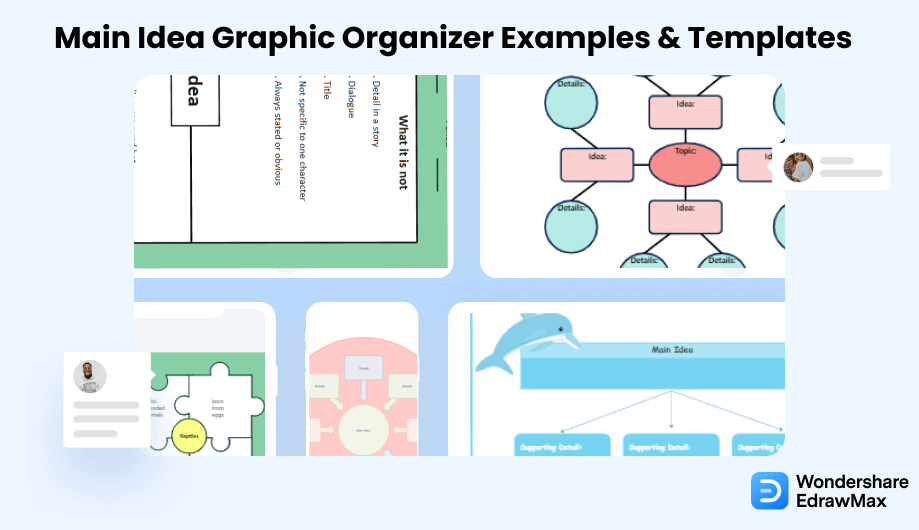 1. Main Idea Graphic Organizer Examples & Templates
There are 6 examples of graphic organizer that you can refer or use immediately. Just click the image to download EdrawMax, and download the templates accordingly. Then double click to open the templates and customize as your prefer. Or open the templates from EdrawMax Online , and duplicate the templates. Click this graphic organizer examples to get more inspirations.
Example 1: Dolphin Main Idea Detail Diagram
EdrawMax can be used to design or build a dolphin main idea detail diagram. The major idea, which explains more about the overarching idea of a paragraph or portion of writing, is crucial, as the graphic illustrates. Any core idea needs supporting ideas to work together.
Example 2: Main Idea and Details Template
The Main Idea and Details Template is provided here. Using the primary concept and detailed graphic organizer is a reading strategy that is advised. Taking notes is a comparable process. Similar to many graphic organizers, it uses an organized manner to capture ideas, thoughts, and concepts. What makes this content intriguing and interesting for kids to learn? Students will utilize this graphic organizer to identify the key idea and offer information to bolster their ideas.
Example 3: Supporting details chart
EdrawMax which makes it simple and quick to produce a Main Idea and Details Chart with professional-looking results, is an alternative to employing complicated programs to generate the main idea and details chart. The chart below shows how the key idea is presented along with a thorough diagram. The Main Idea, Details, and Summary are all given their own slots and columns in the Main Idea and Details figure below.
Example 4: Blank Main Idea and Details Diagram
An example of the main idea and details diagram is shown above. It clearly shows the relationship between the concepts. This organizer is beneficial in distinguishing between central ideas and the specifics that go with them and the less important material. Head over to EdrawMax now to use this diagram.
Example 5: Muti Parapgraph Main Idea Graphic Organizer
In the graphic organizing channels, A main idea and details chart illustrates the hierarchical relationship between major ideas and their subordinate elements. When using the multi-paragraph main idea of a graphic organizer, make sure that the main idea and the details are clearly labeled. You can either choose to create the main idea and details chart using complex tools or opt for EdrawMax Online that helps you create a professional-looking Main Idea and Details Chart easily and quickly. It should be noted here that this chart maker provides plenty of pre-drawn shapes and a collection of automated tools greatly reduces your efforts.
Example 6: Main Idea Graphic Organizer
This main idea graphic organizer is useful for students to document the critical concept and information contained within each paragraph or topic. Students may find it difficult to structure an essay at times. On the other hand, students can use a central idea graphic organizer to create an outline that will help them to understand the topic better. In other words, it is an advanced reading technique that should be used when reading a book. Taking notes is similar to using this main idea graphic organizer. Like many other graphic organizers, it's a structured way to record thoughts, feelings, and concepts.
2. Importance of Main Idea Graphic Organizer
2.1 Benefit of Main Idea Graphic Organizer
A main idea graphic organizer's main function is to give students a guide to follow while they read the material in order to highlight the key ideas and details that each topic contains. Because graphic organizers are visual learning tools, they are beneficial to students.
Additionally, these are often used in many curriculum throughout the world to enhance students' understanding of a particular subject or body of knowledge. There are various distinct formats accessible, depending on the mission. These can be utilized with elementary school students as teaching tools.
Aids in information organization

A student's mind will have trouble assimilating all of the information at once if it is vast and dispersed. These methods enable knowledge to be viewed logically, which facilitates learning and memory retention. Such examined instruments' informational structures frequently help with the recollection of systematic sequences.

Simplify Complex Ideas

It is indisputable that adding visual aids makes the vast majority of things simpler to understand. A graphic organizer achieves this. Complex ideas are made simpler to make them easier for people to understand and learn.

Showcasing Interactions

Another advantage of graphic organizers is that they aid in demonstrating the connections between various elements. It not only helps to see them but also to better comprehend the main idea. To do that, a variety of illustrations are used. Along with the supporting details, it aids in the core idea's clarification. It is a fantastic approach to encourage students' imaginative creativity.

Boost Student Engagement

While completing a graphic organizer, students participate actively in the learning process. Students are helped to organize concepts in a way that makes them easier to recall by the visual clues. Additionally, students can identify connections and relationships between ideas and facts.
2.2 When to Use Main Idea Graphic Organizer
Teachers can use graphic organizers to emphasize areas where students need to study more while also demonstrating understanding of a piece of a text or subject. Graph organizers are available in a range of sizes and shapes. The use of visual organizers in the classroom can be effective since they lessen the cognitive demands placed on the student. The student must comprehend and organize the material without visual aids like graphic organizers. If you show students how the data is organized rather than just telling them about it, they can be taught at more complex levels than you could have previously imagined.
Purpose and Benefits of Main Idea Graphic Organizer:
A main idea graphic organizer's main function is to give students a guide to follow while they read the material in order to highlight the key ideas and details that each topic contains.
Aids in information organization
Simplify Complex Ideas
Showcasing Interactions
Boost Student Engagement
3. How to Use Main Idea Graphic Organizer Examples
On EdrawMax, making a main idea visual organizer is simple. Don't worry if you are a newbie. You can make a main idea graphic organizer and supporting information in a matter of short steps. You can utilize their eye-catching and lovely diagram and illustration templates to create one for yourself.
EdrawMax has different versions for macOS, Windows, and Linux. Whatever method you use, there are 4 simple steps to follow in order to create a visually appealing graphic.
Step1
Logging in and selecting a template
Logging into your EdrawMax account and selecting your preferred template are the first two steps. A blank page can be chosen if you want to start from scratch. You can also open a pre-made main idea graphic organizer template, alter it using the built-in symbols, and toolbar, etc. EdrawMax has a good selection of various templates to meet the needs of everyone.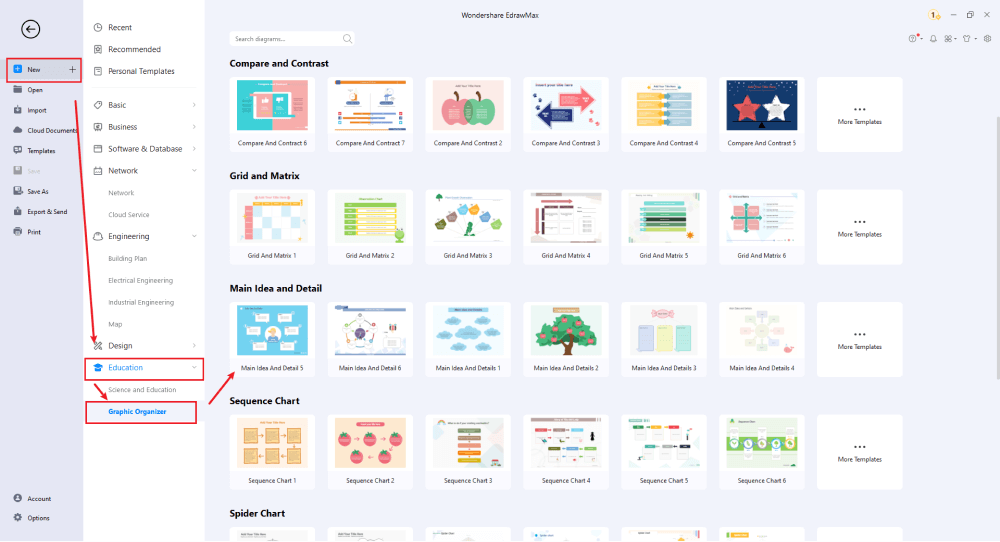 Step2
Adding symbols and components
You can add a variety of symbols to the pre-made designs or start from scratch by using the symbol library. The symbol library, which is on the left side of the screen, contains the basic drawing shapes and arrow shapes. Use a range of EdrawMax's tools to change the characteristics of the visual organizer. Basic tools like connectors, text tools, the choice to format shapes, the pen tool, the pencil tool, the ability to move anchor points and points, the ability to draw geometric shapes, etc. May be included in these tools.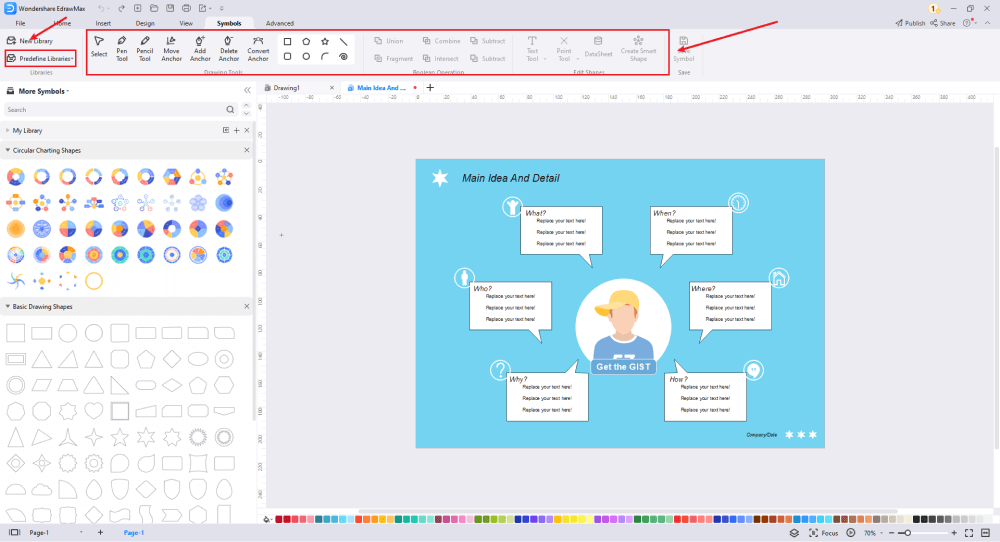 Step3
Customization of the diagram
This step includes the customization of the diagram/chart in a variety of ways. For example, you can add different colors, effects, shapes, add or subtract steps, and so on to complete the graphic organizer. Adjust the size, font, shape, color, alignment, and other details according to your preference. You will find various editing options in the navigation pane on the toolbar.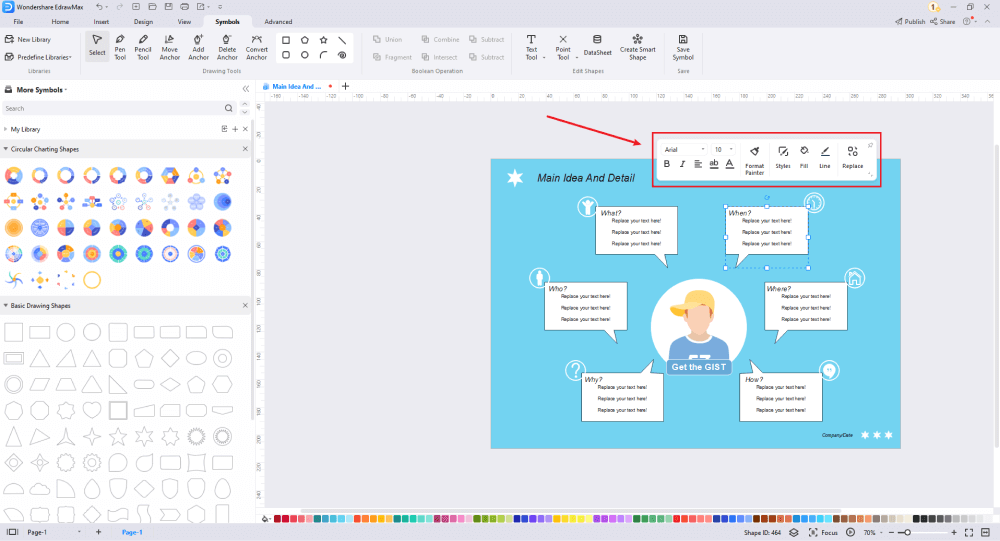 Step4
Export and Share the File
Once your graphic organizer is complete, you can save it to multiple file formats as described in the instructions or post it to the template community for the other 25 million registered users to see and get inspired by your neural network drawing. Using the 'Export and Send' choices in the File dropdown menu, you may simply share and export the file. The file can be saved in a number of different formats, including JPG, PDF, MS Office, HTML, SVG and other Microsoft formats, like MS Word, MS Excel, PPTX, etc. Click the 'Publish' button on the top right area of the canvas, and fill in your template details, like template title, description, and tag to share your drawing with others.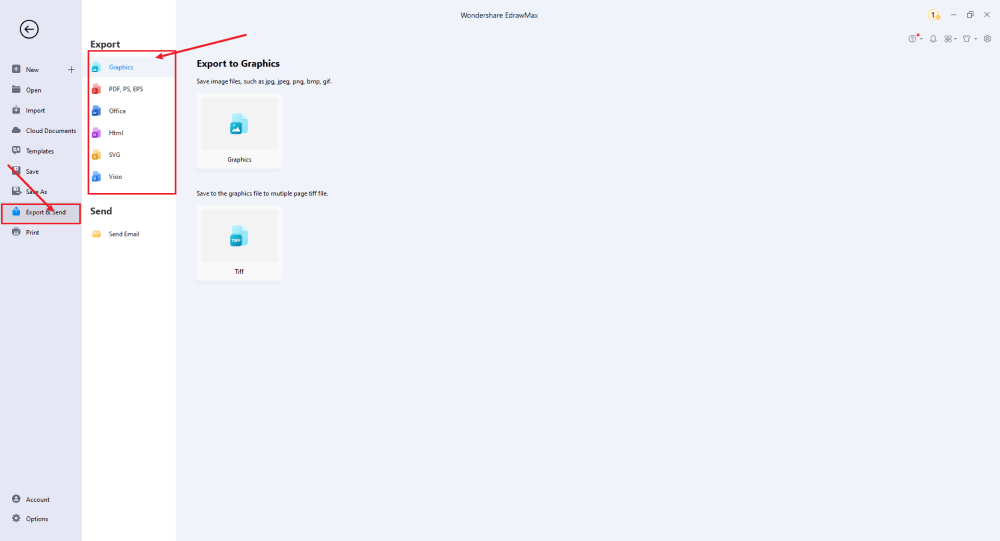 Basically, it is simple to create a graphic organizer in EdrawMax, just grab a template and keep customizing, drag and drop professinal symbols to make your plan better. If you are still confusing about how to create a graphic organizer in EdrawMax, just check this graphic organizer guide, or check the video below. Or you can find more tutorial videos from our Youtube.
4. Free Main Idea Graphic Organizer Software
EdrawMax is the go-to provider of diagramming software for some of the most well-known brands in the world. With the help of this adaptable teaching tool, you can design visually appealing graphic organizers to convey information and liven up lessons.You may quickly and simply create aesthetically pleasing graphic organizers using Edrawmax's many built-in symbols and scalable templates, even if you have no design knowledge.Utilizing a software, such as EdrawMax, is one of the simplest ways to make a Main Idea Graphic Organizer. Hundreds of fun and free graphic templates are available at EdrawMax.
key Features of EdrawMax:
EdrawMax comes with free graphic organizer templates that are 100 percent customizable;
The built-in vector symbols let you easily add components to your design;
You can easily share the main idea graphic organizer design with your team and see the live revisions made by your team;
EdrawMax lets you export the file in multiple formats, including MS Docs, PPTX, JPEG, PNG, PDF, and more;
EdrawMax has a strong community of 25 million users who update the template community with their creative projects;
EdrawMax is considered the best tool for beginners and professionals because of the user-friendly dashboard and easy drag-and-drop feature.
EdrawMax Desktop
Create over 280 types of diagrams
Windows, Mac, Linux (runs in all environments)
Professional inbuilt resources and templates
On-premises software for business
Enterprise-level data security
EdrawMax Online
Create over 280 types of diagrams online
Access diagrams anywhere, anytime
Team management and collaboration
Personal Cloud and Dropbox Integration
5. Final Thoughts
Main idea graphic organizer, as well as their use, advantages, and creation instructions, were all covered in the article above. In this guide, we helped you understand the importance of having the main idea graphic organizer and creating graphic organizer. Even if you do not have the right expertise in drawing, with EdrawMax, you can efficiently create and share the main idea graphic organizer with your clients.
With EdrawMax, the easiest diagramming tool on the market, you can build any graphic or customisable diagram by choosing from a variety of attractive built-in models and customizing them till you're satisfied. With these amazing graphic organizer examples, you ensure that your designs are perfect with the real-world dimension and shapes. All in all, EdrawMax is one of the best drawing tools to create the graphic organizer for your writing, and with free templates and vector-enabled symbols, you can never go wrong with your study.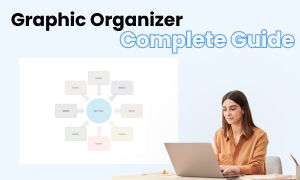 Graphic Organizer Complete Guide
Check this complete guide to know everything about graphic organizer, like graphic organizer types, and how to make a graphic organizer.