Main Idea and Details Graphic Organizer

Students must have the ability to understand the fundamental concept and supporting information in the text to develop strong reading skills. Using graphic templates helps students make observations, which is one way to reinforce this.
Without further ado, let's look at what it exactly is, its benefits, purpose, application, as well as how to create one conveniently and quite quickly. Hopefully, by the end of this article, you will learn all about it. So, start taking notes!
Part 1: What is a Main Idea Graphic Organizer?
The main idea/detail graphic organizer is a handy tool that provides a structure for students to document the critical concept and information contained inside each paragraph or topic. At times, structuring an essay can be pretty tricky for students. But, with a central idea graphic organizer, students can create an outline that allows them to understand the topic better.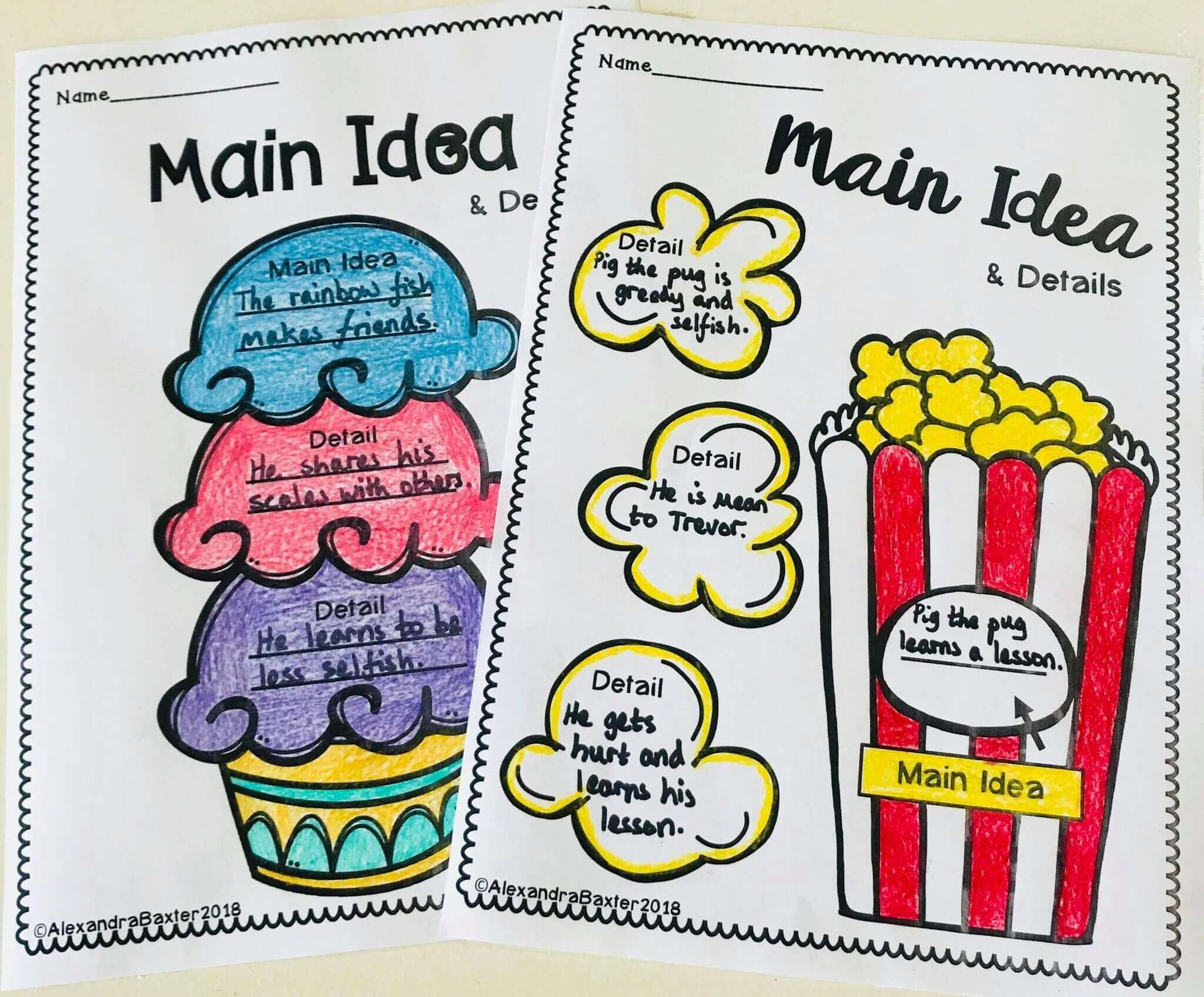 In other words, it is an advanced reading technique to use when going through a book. This method is similar to that of taking notes. It's a structured way to record ideas, feelings, and concepts, similar to many other graphic organizers.
Part 2: Purpose and Benefits of Main Idea Graphic Organizers
The primary purpose of a central idea graphic organizer is to provide a guide for students to use as they read the text to note the critical concept and details that each topic contains. Students benefit from graphic organizers because they serve as visual learning strategic resources.
Besides, these are typically used in various curriculum around the world to improve learning and comprehension of a particular topic or material. Depending on the mission, several different formats are available. These can be used as teaching aids for elementary students.
However, other than teaching and learning sessions, graphic organizers are advantageous for corporate training sessions. Please keep reading to know some more of its benefits.
Helps to Organize Information
It is difficult for a student's mind to absorb all of the knowledge at once if it is massive and dispersed. Knowledge can be viewed in a logical manner using such methods, making learning and memorizing details easier. The structure of information in such analyzed instruments often aids in the recall of systematic sequences.
Simplify Complex Concepts
One cannot deny the fact that the majority of concepts are easier to grasp by using visual aids. This is what a graphic organizer does. It helps to simplify complex concepts so that people can imagine and also learn them better.
Showcasing Interactions
Another benefit of graphic organizers is that they help in showcasing a relationship between different components. Not only does it visualize them but it also helps to understand better what the key concept is. Various forms of illustrations are used to make that happen. For instance, the main idea. It helps clarify the main idea along with the supporting information. It is a great way to boost creative imagination in students.
Boost Student Involvement
Students actively engage and contribute to the learning process as they fill out a graphic organizer. The visual cues assist students in organizing concepts in a way that helps them remember them. Students can also see the similarities and interactions between facts and ideas.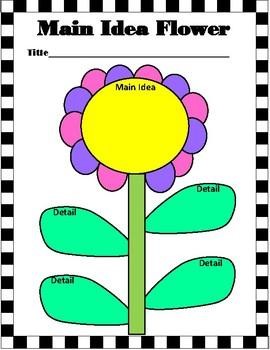 Part 3: When are they Useful?
Teachers may use graphic organizers to demonstrate awareness of a portion of a text or subject while also highlighting areas where students need to learn. Graph organizers come in various shapes and sizes, including mind maps, idea maps, and webs, such as spider maps.
Since they reduce the learner's cognitive demands, graphic organizers can be adequate teaching resources. In the absence of visual aids such as graphic organizers, the learner must grasp and arrange the content. You can also teach information at far more detailed and complex levels than you would have expected by showing (rather than just telling) students how the information is organized.
However, if you are wondering how you can use the primary idea strategy, here's what you can do:
Take a chapter or section of the textbook and complete the graphic organizer for each paragraph of the text with this technique in any learning classes. After reading, students can use their organizers as a study guide for any post-reading tests.
To use this technique for students who need more significant help, fill in sections of the graphic organizer for them, similar to close notes, and then let them fill in the blanks using the terms you've written in as a reference.
Part 4: How to Create a Main Idea Graphic Organizer
One of the easiest ways to create a Main Idea Graphic Organizer is to use software, and that's where our recommendation comes in - EdrawMax. At EdrawMax, you can find hundreds of free and fun graphic templates. Download the software from EdrawMax's official website and gain access by logging in to your account. These vital printable ideas and information organizers can come in handy while you're reading!
EdrawMax
All-in-One Diagram Software
Create more than 280 types of diagrams effortlessly
Start diagramming with various templates and symbols easily
Superior file compatibility: Import and export drawings to various file formats, such as Visio
Cross-platform supported (Windows, Mac, Linux, Web)
Security Verified |
Switch to Mac >>
Security Verified |
Switch to Linux >>
Security Verified |
Switch to Windows >>
Creating a main idea graphic organizer on EdrawMax is elementary. Even if you are a beginner, don't worry. With just a few quick steps, you will create a main idea graphic organizer along with supporting details. They have eye-catching and attractive templates for diagrams and illustrations that you can use to make one for yourself.
EdrawMax's app is cross-compatible; you can use it on a Windows device and an Apple one. There are 3 basic and easy steps to follow to produce a visually pleasing illustration whatever method you use.
Step 1:
The first step includes logging into your account on EdrawMax and choosing the template of your choice. However, if you want to start from scratch, you can also select a blank page. Make sure to choose the one closest to what you have in mind; you can make minor tweaks here and there later on.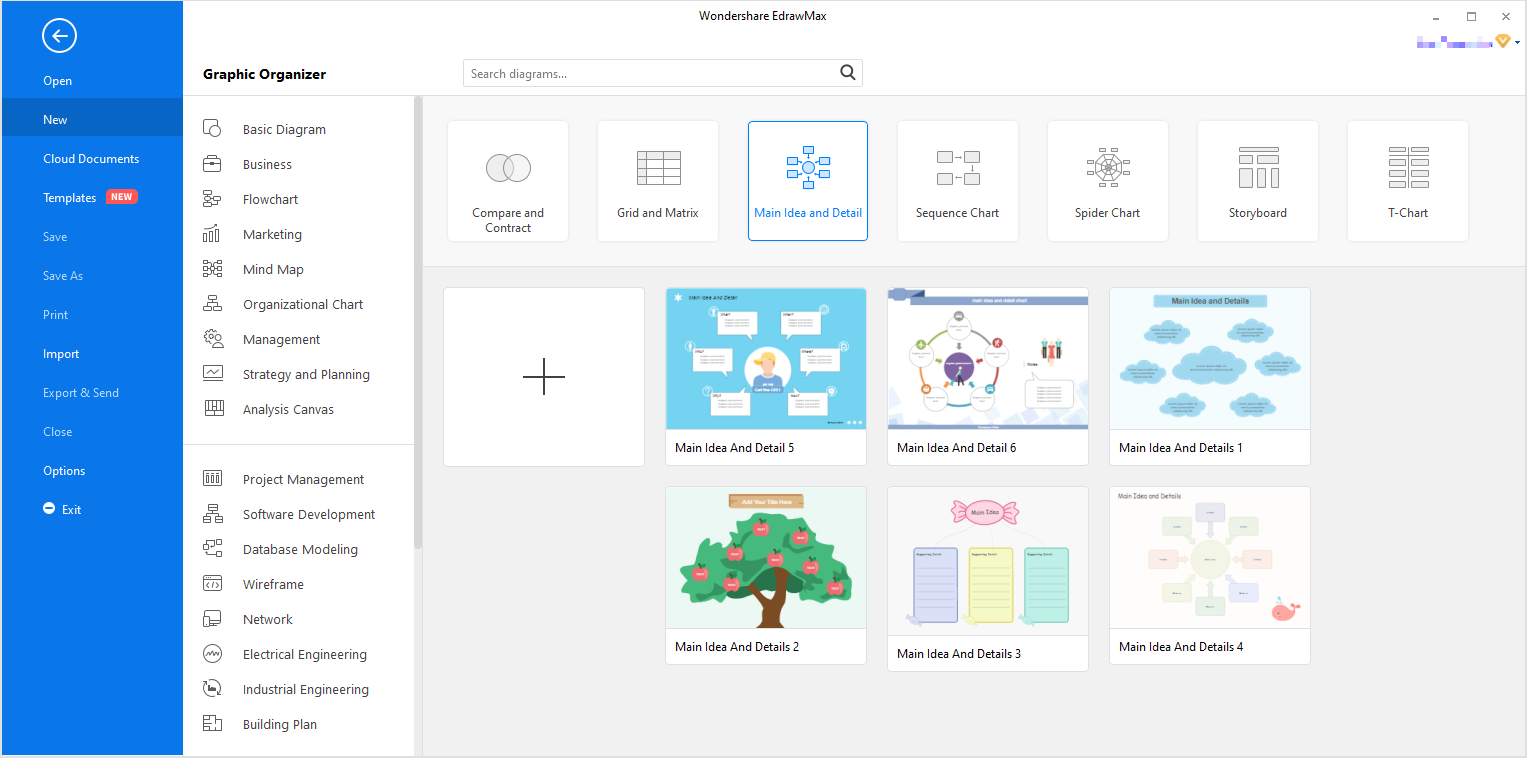 Step 2:
Open one of the pre-made tempaltes; then you can edit the templates with inbuilt symbols and toolkits.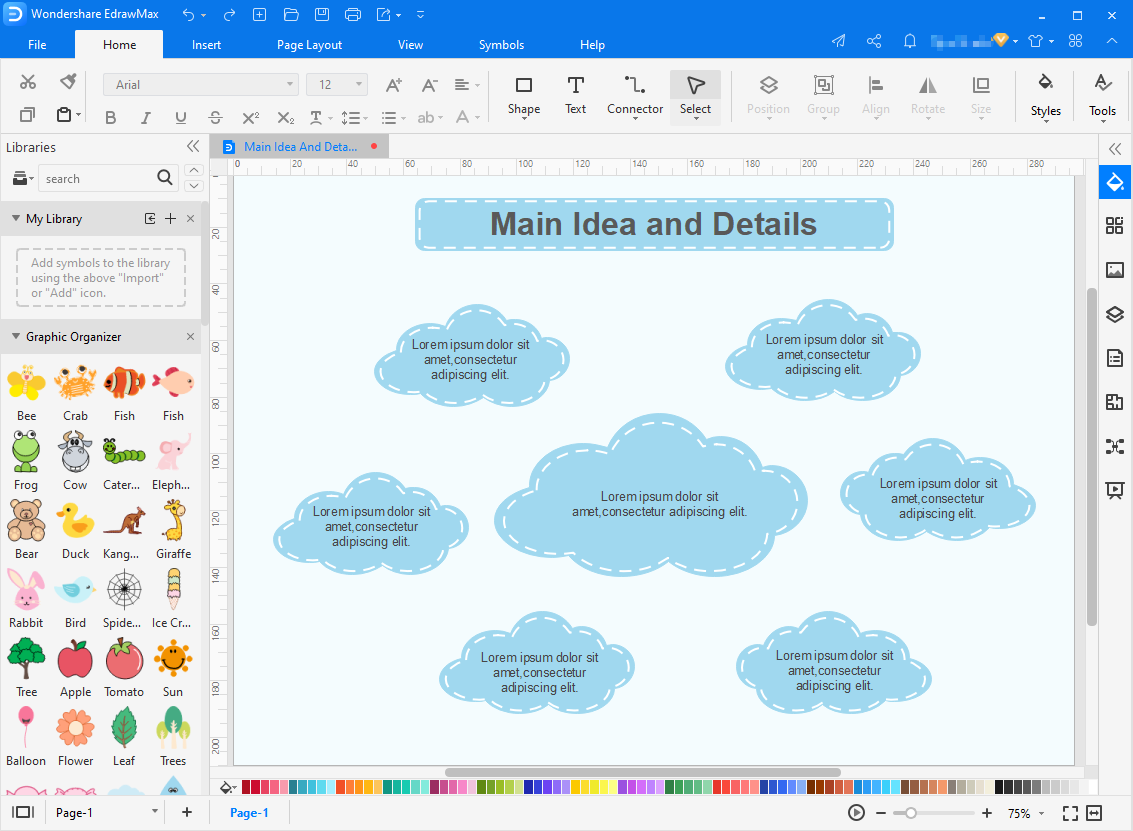 Step 3:
The last step includes the customization of the diagram/chart in a variety of ways. For example, you can add different colors, effects, shapes, add or subtract steps, and so on to complete the graphic organizer.
After getting done with all of the steps above, make sure to save your resulting diagram. You can do so by clicking on the file option, then keeping it in your desired format such as JPG, PDF, HTML, etc.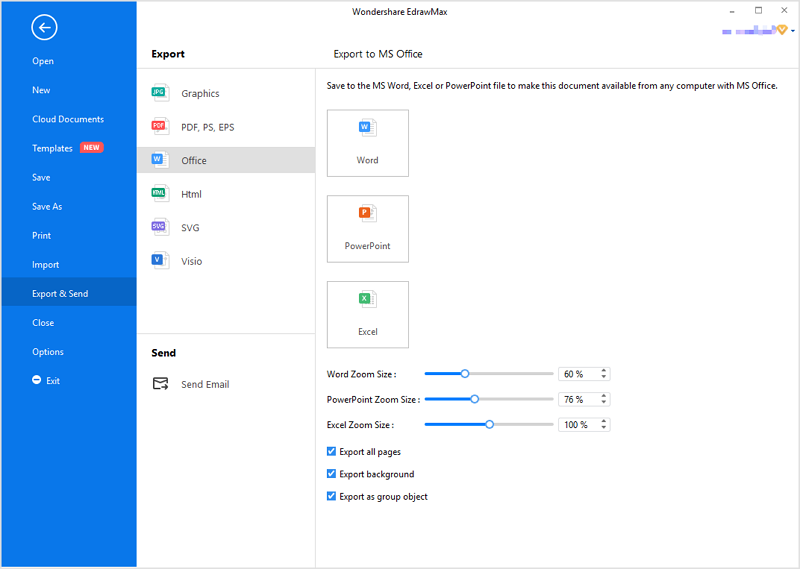 Part 5: Additional Tips
Graphic organizers are a perfect way to make content easier to understand. They may, however, distract from the principles you're trying to teach if they're too complicated. Here are a few pointers to help you make the most of your graphic organizers:
Create with a specific target in mind. For instance, if you are using the main idea and details, ask yourself what you want to achieve.
Keep the layout basic, and make the instructions as straightforward as possible.
Use pictures to encourage students to engage with the worksheet
Part 6: Examples of Main Idea Graphic Organizer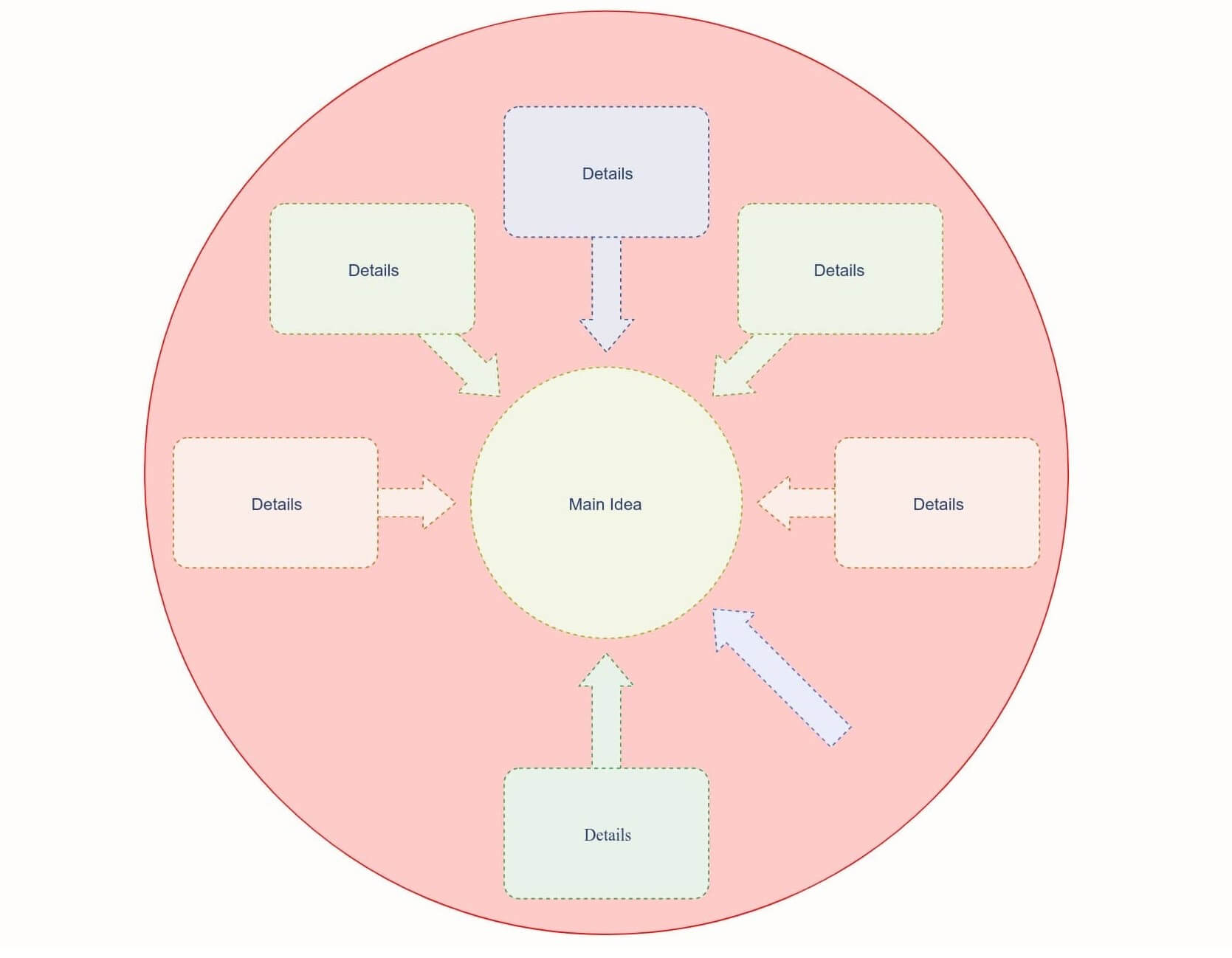 An example of the main idea and details diagram is shown above. It clearly shows the relationship between the concepts. This organizer is beneficial in distinguishing between central ideas and the specifics that go with them and the less important material. Head over to EdrawMax now to use this diagram.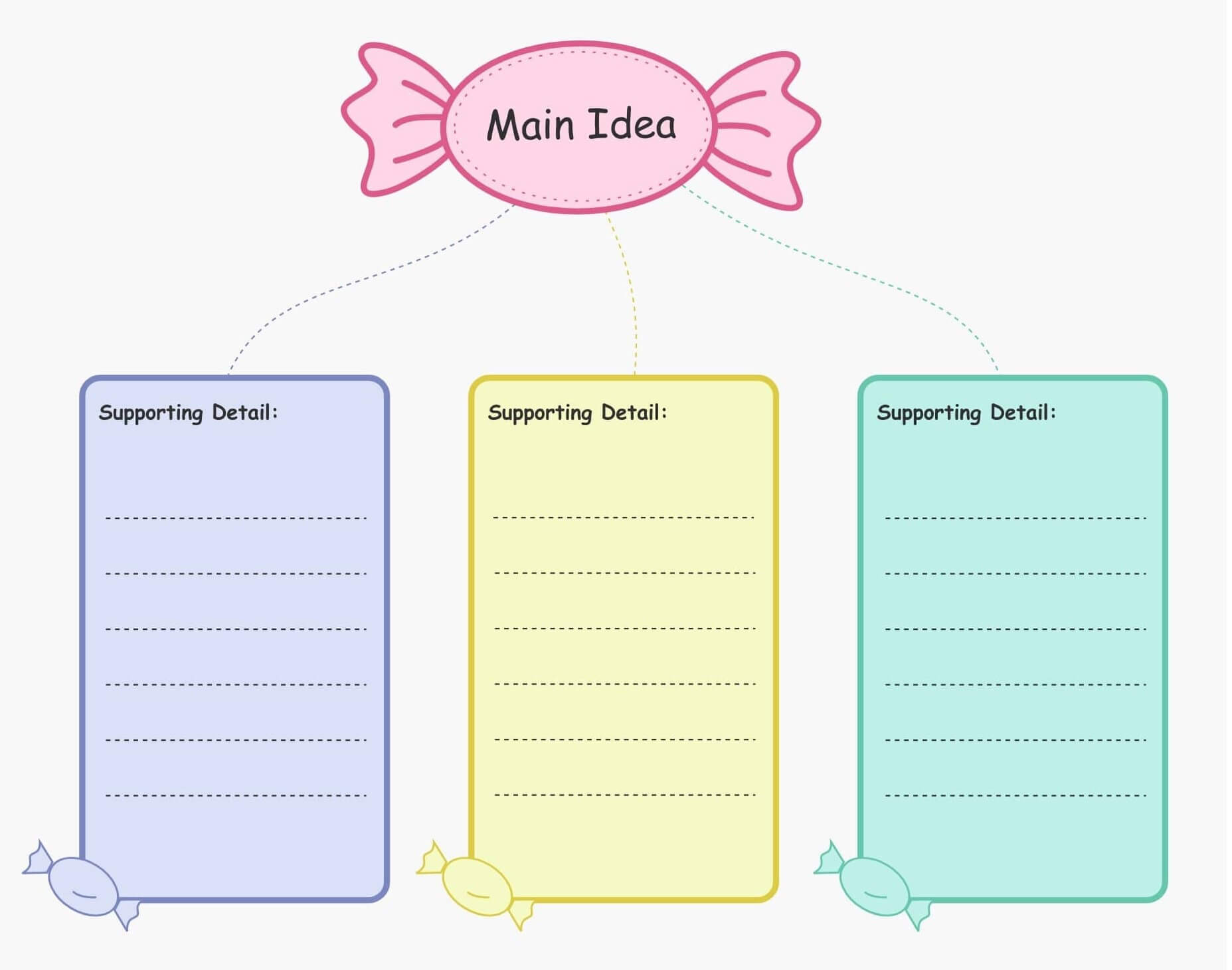 This is another example of a central idea graphic organizer available at EdrawMax. As you can see, the main candy idea is connected to the supporting details, which can be represented either by symbols or text.
Part 7: Discover More Main Idea and Details Graphic Organizer Templates
Look at the following guide to learn how to use the free main idea and details graphic organizer templates.
Click on the item of your choice to open a new page and access the PDF and EDDX download link.
Choose PDF format you can directly print the templates.
Choose the EDDX format you can edit the templates (change color, content, style, layout, background etc). To edit the templates, you need to download Edraw first.
When you finish editing, you can export the file to PPT, PDF, Html, PNG, SVG, and more formats seamlessly.
Part 8: Conclusion
In the article above, you learned all about the main idea of graphic organizers - their purpose, benefits, tips, and how to create them. Besides, when talking about the best software to make them, EdrawMax can be the top choice.
EdrawMax is the most straightforward diagramming tool available, allowing you to create any graphic or customizable diagram by selecting from various eye-catching built-in models and modifying them until you're satisfied.