How to Sign in to & Activate Edraw Software
>
Edraw How-To
>
How to Sign in to & Activate Edraw Software

Watch this video or follow the instructions to learn how to activate or sign in to Edraw software.
Part 1: How to Sign in to Edraw Software
Important: You can only sign in to EdrawMax (10.1.4 or later) and EdrawMind.
If you have paid for an all-platform plan of EdrawMax or EdrawMind, you can sign in to your account in the software and use all the advanced features now.
Step 1: Make sure you have installed the lastest version of the software on your computer and click Sign in after you open the software.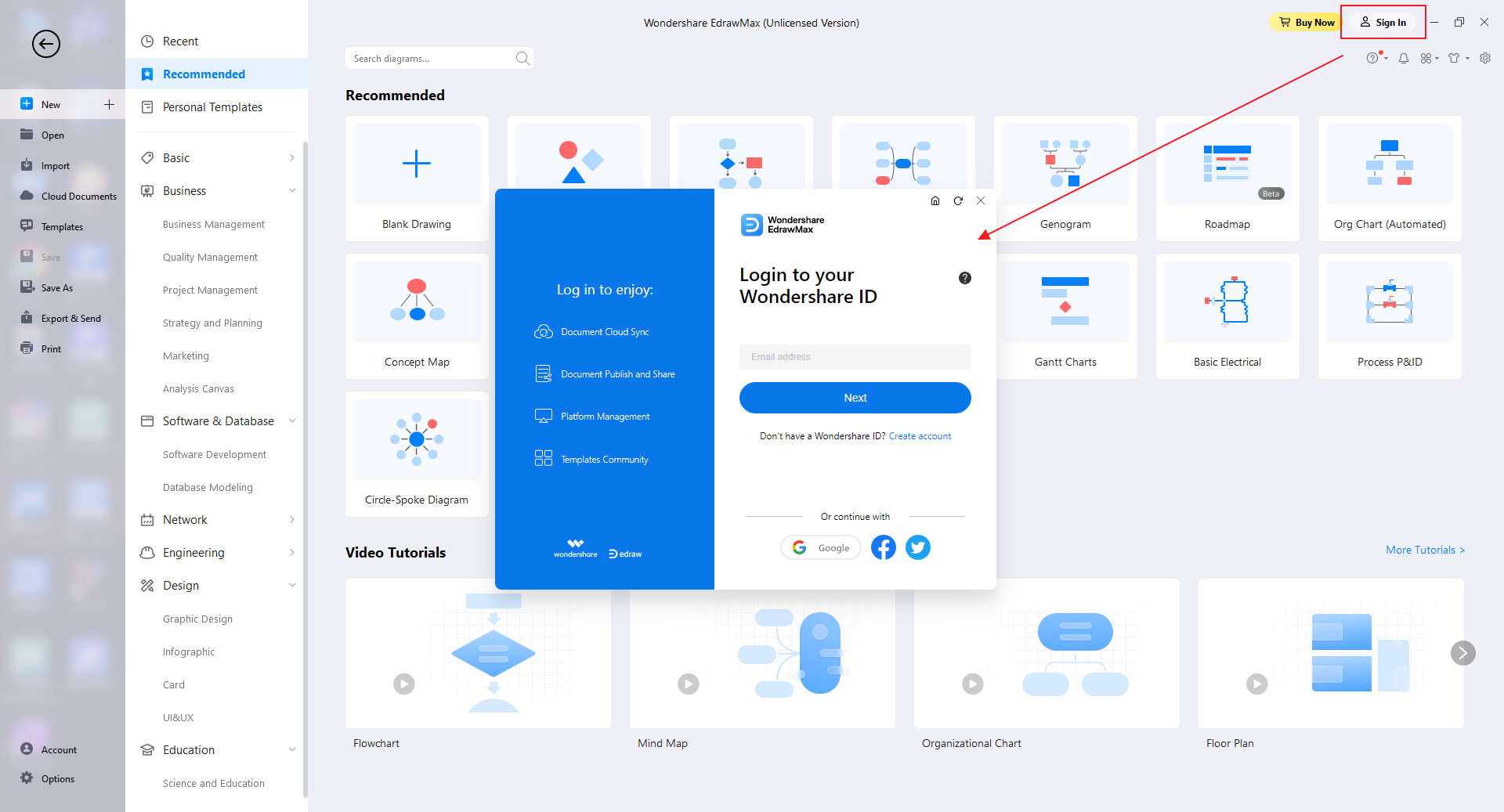 Step 2: Input your email and password. Alternatively, you can continue with your Google, Facebook or Twitter account.
Tips: If you are not sure about which methods you registered with, please find the order confirmation email that we sent to you, and you can find your registered account has been listed.
Step 3: Restart the software. You can see "Wondershare EdrawMax (Unlicensed Version)" becomes "Wondershare EdrawMax" and "Wondershare EdrawMind" turns into "Wondershare EdrawMind(Pro)", which means that you have logged in successfully.
Now, you can use all the advanced features and access to your cloud documents freely. Besides, you can sign in on www.edrawmax.com and www.www.edrawmind.com.
Part 2: How to Activate Edraw Software with License Code
Step 1: Go to the online store and choose the pricing plan (desktop only) that fits your need best.
Step 2: After you have paid for the Edraw software, you will get the valid license code in the order confirmation email.
Step 3: Navigate to Help > Activate/Activation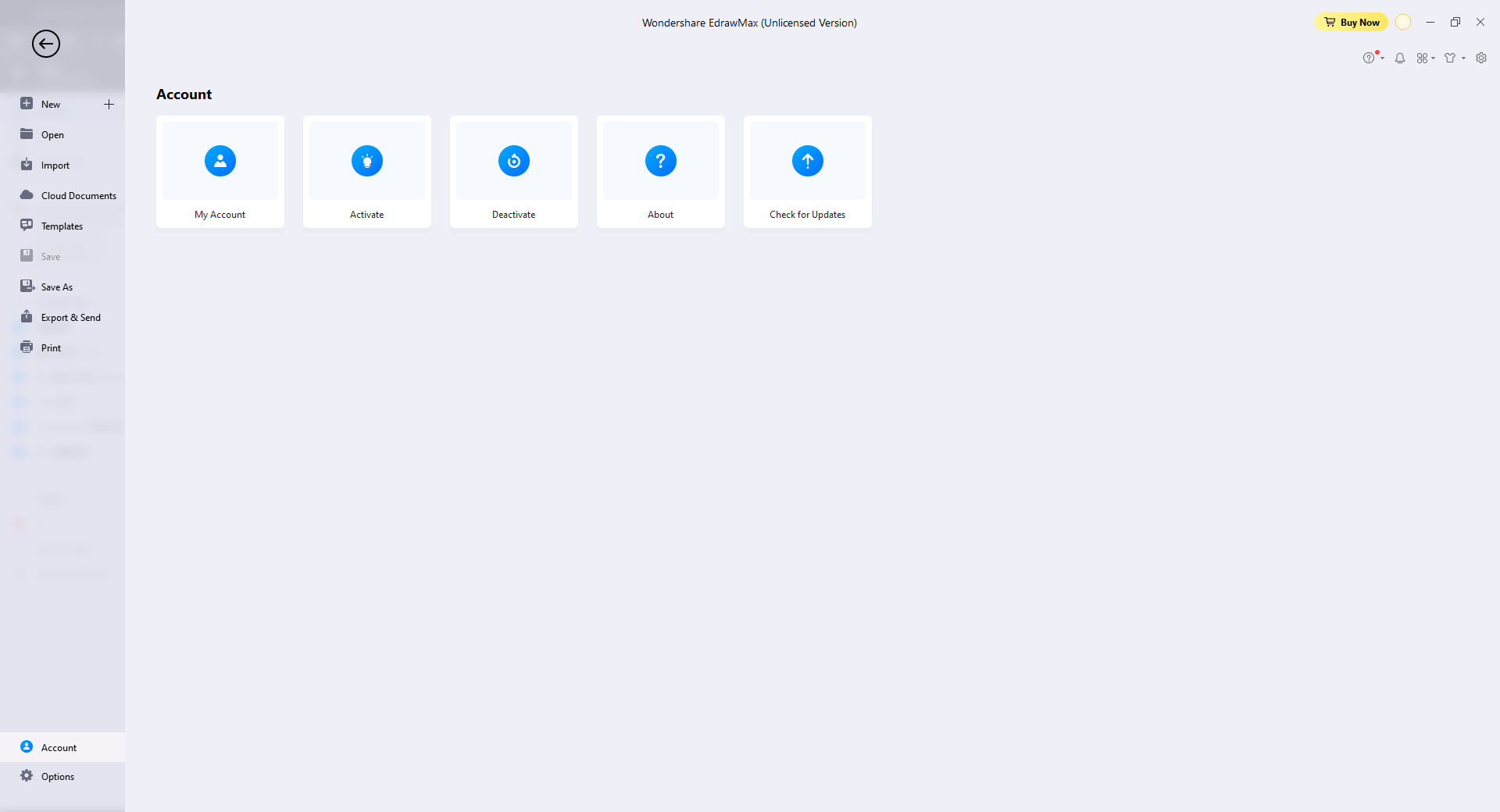 Step 4: In the pop-up dialog box, fill in the name, paste your license code from the email directly, and then click the "Activate" button.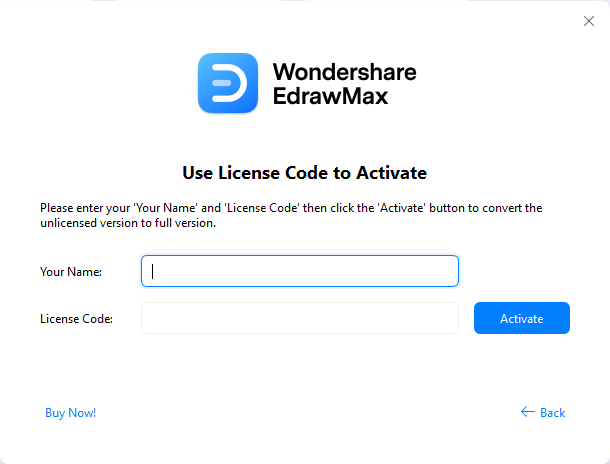 Step 5: Wait for seconds and you will see the below pop-up window, which shows that you have activated the software successfully.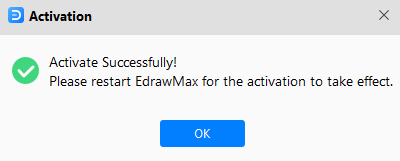 Part 3: How to Bind License Code with Your Edraw account?
Step 1: Sign in to your Edraw account and open "User Center". You can also choose to login with the Google, Facebook, Twitter account.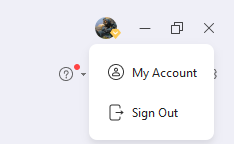 Step 2: Click "License", paste your license code in the blank bar and click "Associate License". And now you can use the templates in Template gallery and the cloud feature.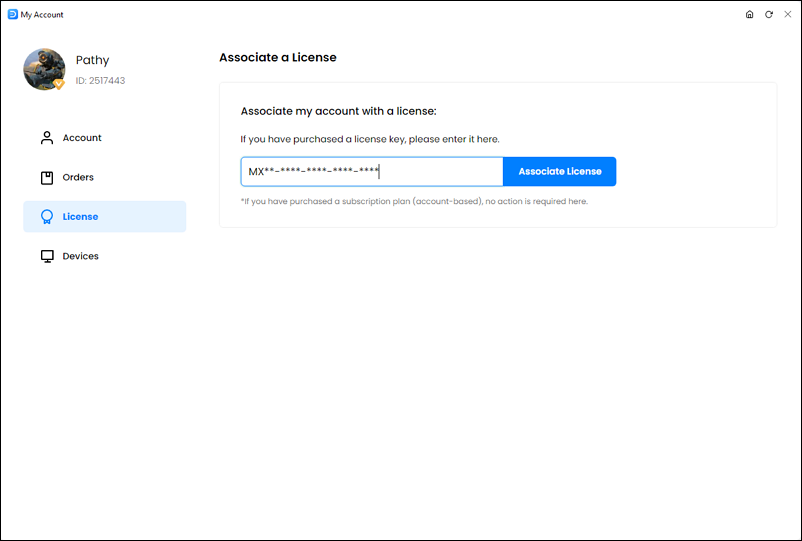 Part 4: How to Activate Edraw Software without Internet Connection
Please visit this page - Activate Edraw Software without Internet Connection for more details.
If you have any issue about activating Edraw software, please contact us via support@edrawsoft.com. In some computers, it's necessary to close Edraw software and restart it again.