Concept Mapping Templates

Concept mapping is a technique for representing knowledge in graphs. Nodes represent concepts and links represent the relations between concepts.
What is a Concept Map?
A concept map, also called a conceptual diagram, is a graphical tool that helps to illustrate the relationships between concepts. Typically, a concept map consists of circles, boxes, and connecting lines (or with arrows), which the information and the ideas are in the boxes or circles. The method for visualizing these relationships among various concepts is called concept mapping.
What are the Purposes of Concept Mapping?
As a matter of fact, different people have different purposes of concept mapping.
For everyone, it is necesary for brainstorming;
For IT engineers, it helps to define the ontology of computer systems (UML);
For students, it is an amazing tool to prepare for the exams;
For teachers, it is a useful teaching tool;
For writers, it is indispensable for creative writing.
Concept Map vs. Mind Map
Mind Map is a popular related technique, invented (and copyrighted) by Tony Buzan in the UK. He describes mind maps as: "a mind map consists of a central word or concept, around the central word you draw the 5 to 10 main ideas that relate to that word. You then take each of those child words and again draw the 5 to 10 main ideas that relate to each of those words."
One of the biggest difference between concept maps and mind maps is that a mind map has only one main concept, while a concept map may have several. This comes down to the point that a mind map can be represented as a tree, while a concept map may need a network representation.
Concept Map Examples
The very first step of creating a concept map is that writing the main idea in the center of the page - it may be a word, a phrase, or a couple of juxtaposed ideas, then place related ideas on branches that radiate from this central idea using the built-in concept map symbols.
Wedding Ceremony Concept Map
Since you're egaged, it's time to think about planning a wedding ceremony. Read the wedding ceremony concept map above to see how to prepare for your unforgettable day. Come to download this concept map for wedding here
Risk Management Concept Map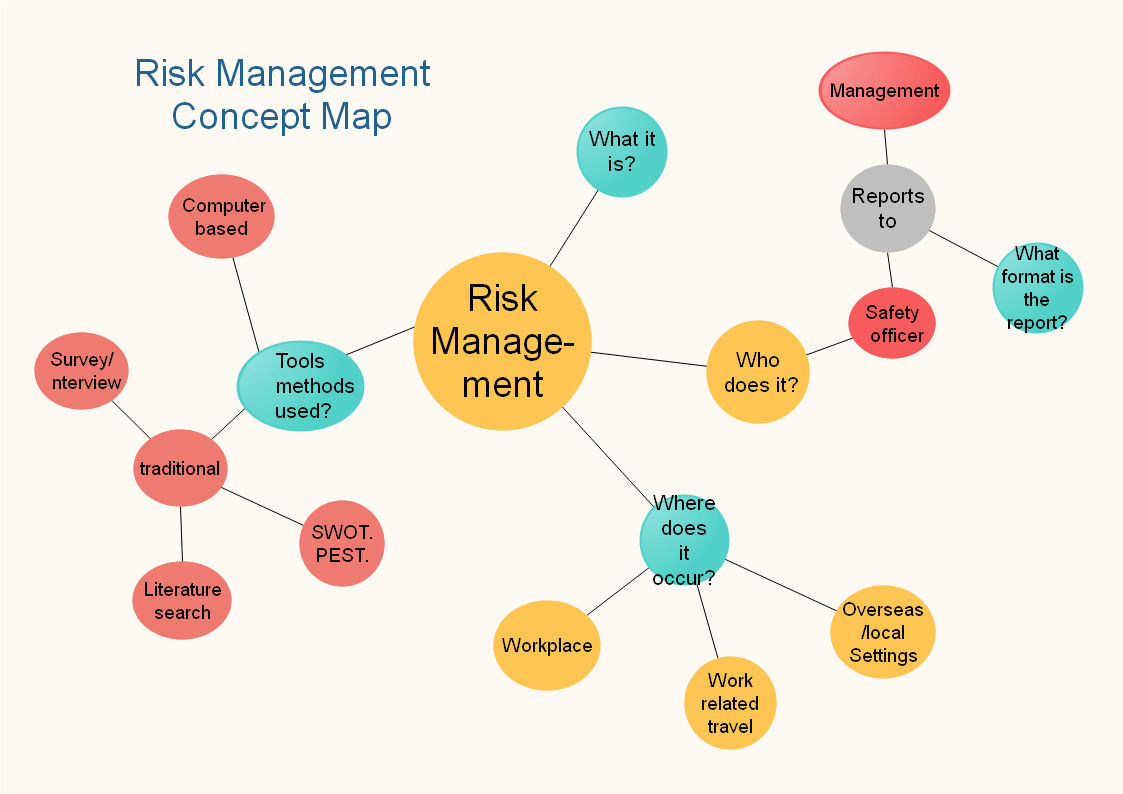 How to manage risks and issues in a project? Take a look at this concept map for risk management here
Civil War Concept Map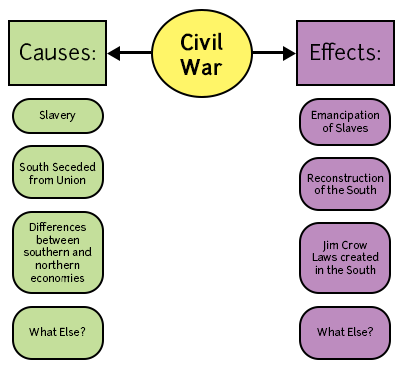 Source:learningcenter.unc.edu
Usually, concept map is considered as a useful tool to analyze the causes and effects of events. The following example explains is about the American Civil War.
To know more about concept map diagram, please go to complete concept map diagram guide page to get information.
Wanna know how to create this stunning concept maps? Download Edraw concept map software to find more surprise!
EdrawMax
All-in-One Diagram Software
Create more than 280 types of diagrams effortlessly
Start diagramming with various templates and symbols easily
Superior file compatibility: Import and export drawings to various file formats, such as Visio
Cross-platform supported (Windows, Mac, Linux, Web)
Security Verified |
Switch to Mac >>
Security Verified |
Switch to Linux >>
Security Verified |
Switch to Windows >>
Advantages of Concept Mapping
Concept Mapping may be seen as a type of brainstorming. Both Mapping and brainstorming may be used to encourage the generation of new material, such as different interpretations and viewpoints. However, Mapping relies less on intentionally random input, whereas, during brainstorming, one may try to think up wild, zany, off-the-wall ideas and connections. Brainstorming attempts to encourage highly divergent "lateral" thinking, whereas Mapping, by its structure, provides opportunity for convergent thinking, fitting ideas together, as well as thinking up new ideas, since it requires all ideas to be connected to the centre, and possibly to one another. Paradoxically, the results of brainstorming usually appear on paper as lists or grids -- both unavoidably linear structures: top to bottom, left to right. Mapping is less constrictive -- no idea takes precedence arbitrarily (by being at the "top" of the list).
Here are some advantages of Mapping, which will become more apparent to you after you have practiced this technique a few times:
It clearly defines the central idea, by positioning it in the centre of the page.
It allows you to indicate clearly the relative importance of each idea.
It allows you to figure out the links among the key ideas more easily. This is particularly important for creative work such as essay writing.
It allows you to see all your basic information on one page.
As a result of the above, and because each Map will look different, it makes recall and review more efficient.
It allows you to add in new information without messy scratching out or squeezing in.
It makes it easier for you to see information in different ways, from different viewpoints, because it does not lock it into specific positions.
It allows you to see complex relationships among ideas, such as self-perpetuating systems with feedback loops, rather than forcing you to fit non-linear relationships to linear formats, before you have finished thinking about them.
It allows you to see contradictions, paradoxes, and gaps in the material -- or in your own interpretation of it -- more easily, and in this way provides a foundation for questioning, which in turn encourages discovery and creativity.
Learn More about Edraw Max
Except for concept map, Edraw Max can also help you create over 260 types of diagrams. Watch the following video to learn more.
Related Articles
How to Create a Good Concept Map