Have you recently stumbled upon a tough topic that you can't seem to explain to others? Well, in this case, you can simply take the assistance of a Concept Maps. The brainstorming tool is extensively used to map ideas, concepts, and their relationship in a visually appealing manner. Even if you have never worked on Concept Maps, you can come up with stunning graphics by the end of this guide. Without much ado, let's get to know every vital thing about Concept Maps.
Part 1: What is a Concept Map?
Also known as conceptual maps, they are universally known visual tools that explore a certain idea in detail. Most of the Concept Maps are focused on a defined idea or depicts the relationship between different components.
Ideally, Concept Maps provide a bigger picture for the discussed topis and let our audience analyze the shared information on their own. While creating any Concept Map, you need to work on two major components:
Nodes: Also depicted by circles, they are basic blocks of Concept Maps that are used to show ideas or tangible units.
Arcs: Also known as arrows, they simply define a relationship between different nodes. There can be a one or two-way relationship between nodes in a Concept Map.
Here, you can see the overall foundation of any Concept Map. The central idea is mentioned in the middle, and from it, we can have dedicated branches. Each idea can be divided into sub-concepts, and there can make multiple connections between them. The relationship between different components and branches is what makes Concept Maps different from Spider Diagrams.
Part 2: Purpose of Conceptual Maps
Since Conceptual Maps are extremely diverse, they can be used to depict numerous details, ideas, and other pieces of information.
Overall Purpose
When you are working on any Concept Map, you need to focus on the topic and ask yourself the reason for creating the diagram. Ideally, you should focus on what you want your audience to take away from the map. For instance, do you want to discuss the working of an organization or how a complex scientific process works?
Once you have identified the purpose, you can simply dig deep and establish a comprehensive relationship between different ideas and concepts.
Why use Concept Maps?
Ideally, if you are falling short on time and you want to quickly explore a topic, then you should come up with a Concept Map. Being one of the most resourceful visual tools, it has a wide range of benefits:
User friendly
The most important thing is that Concept Maps won't require any prior technical or designing experience. Since there are no hard rules to follow, you can create all kinds of concept maps easily.
Problem solving and Brainstorming
This is one of the major applications of Concept Maps as they can help us ideate any topic with others. You can use them to solve any problem by exploring all the possible scenarios and reaching an ideal solution.
Self-explanatory
Since Concept Maps are so simple to create, you don't have to verbally explain anything to your audience. By having a simple glance, they can easily understand the concept and retain it for future applications.
Part 3: Advantages of Concept Mapping
Concept Mapping may be seen as a type of brainstorming. Both Mapping and brainstorming may be used to encourage the generation of new material, such as different interpretations and viewpoints. However, Mapping relies less on intentionally random input, whereas, during brainstorming, one may try to think up wild, zany, off-the-wall ideas and connections. Brainstorming attempts to encourage highly divergent "lateral" thinking, whereas Mapping, by its structure, provides opportunity for convergent thinking, fitting ideas together, as well as thinking up new ideas, since it requires all ideas to be connected to the centre, and possibly to one another. Paradoxically, the results of brainstorming usually appear on paper as lists or grids -- both unavoidably linear structures: top to bottom, left to right. Mapping is less constrictive -- no idea takes precedence arbitrarily (by being at the "top" of the list).
Here are some advantages of Mapping, which will become more apparent to you after you have practiced this technique a few times:
It clearly defines the central idea, by positioning it in the centre of the page.
It allows you to indicate clearly the relative importance of each idea.
It allows you to figure out the links among the key ideas more easily. This is particularly important for creative work such as essay writing.
It allows you to see all your basic information on one page.
As a result of the above, and because each Map will look different, it makes recall and review more efficient.
It allows you to add in new information without messy scratching out or squeezing in.
It makes it easier for you to see information in different ways, from different viewpoints, because it does not lock it into specific positions.
It allows you to see complex relationships among ideas, such as self-perpetuating systems with feedback loops, rather than forcing you to fit non-linear relationships to linear formats, before you have finished thinking about them.
It allows you to see contradictions, paradoxes, and gaps in the material -- or in your own interpretation of it -- more easily, and in this way provides a foundation for questioning, which in turn encourages discovery and creativity.
Part 4: What to do Before Creating a Concept Map?
Just like every other brainstorming diagram, Concept Maps also have certain principles that you can follow to make your job easier.
Identify the idea/concept.
The first thing that you need to do is identify the central idea or the theme of your Concept Map. For instance, it could be the problem that you are facing or just a topic that you need to explore.
Elaborate the ideas
Once you have come up with the topic of the Concept Map, you can think of various ideas around it. If it is a problem, then you can try to come up with numerous ways to fix it. It is recommended to keep each idea separate so that you can further work on them one by one. As I have mentioned above, we use nodes to depict ideas in a Concept Map.
Establish relationships and list examples
Great! In the end, you can have a look at all the ideas that you have listed and establish a directional relationship between them. You can use arcs and arrows to draw the relationship in conceptual diagrams. Furthermore, you can even list various examples or instances on the map to make things simpler.
Here, you can check in the example of a Concept Map that explores the Elements of Professionalism. Once we have identified the topic, we have listed various ideas around it. If you want, you can further explore each idea in detail and establish a relationship between them as well.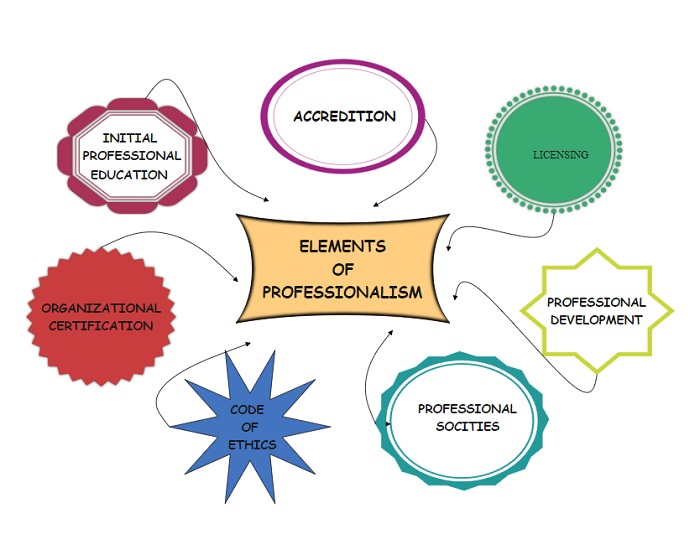 Part 5: How to Make Stunning Concept Maps with Wondershare EdrawMax?
By now, you would already know how resourceful Concept Maps can be. If you also want to come up with informative and visually stunning Conceptual Maps, then use a tool like EdrawMax. It is a professional diagramming tool that would let you come up with hundreds of diagrams of all kinds in a jiffy.
You can find a wide range of templates and libraries in EdrawMax that you can utilize and customize as per your requirements. With simple drag and drop actions, you can come up with a stunning Concept Map from scratch and further export it in different formats. Here's how you can also come up with an appealing Concept Map using Wondershare EdrawMax.
Step 1: Explore Existing Templates or Open a New Canvas
To start with, you can just install and launch Wondershare EdrawMax on your system. Now, on its Home, you can explore the extensive range of templates that are readily available in the tool. If you want, you can just go to Mind Maps > Concept Maps to load any template or just click on the "+" icon to load a blank canvas.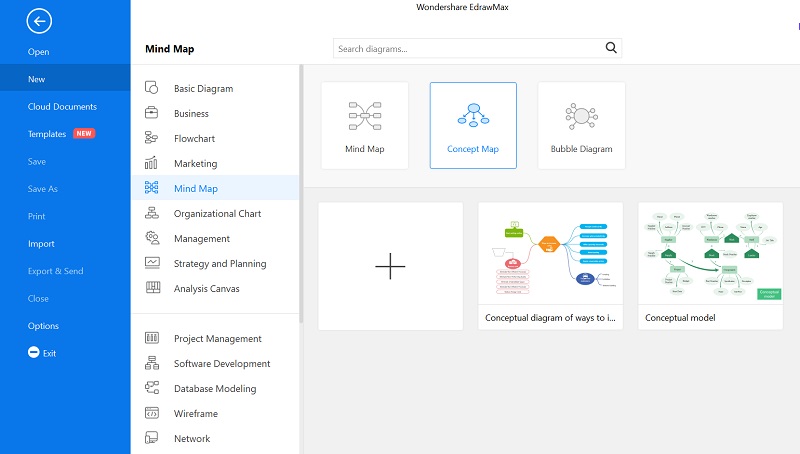 Step 2: Draw a Concept Map using the Available Resources
On the right sidebar of the application, you can find tons of professional resources that you can just drag and drop to the canvas. At first, you can drag notes to depict them as ideas and then can later use arcs to draw relationships between them. If you want, you can further import any other library to your project by visiting the "My Library" section.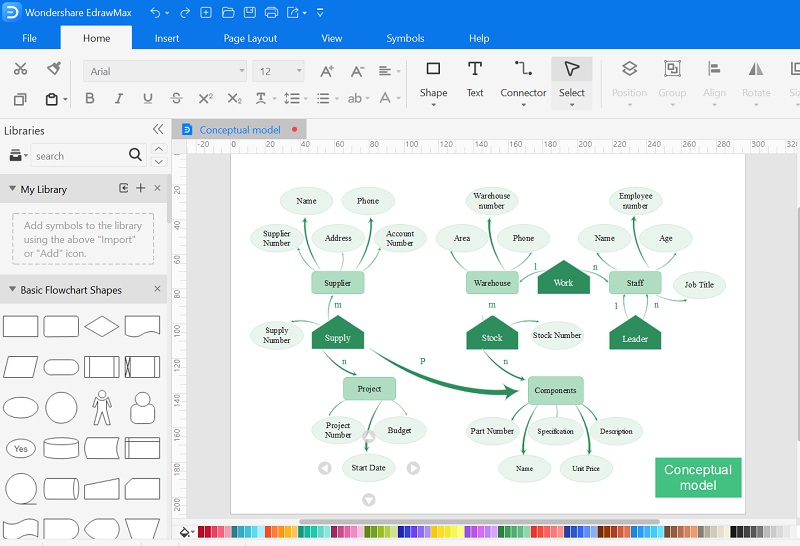 Step 3: Work on the Overall Appearance of the Concept Map
Once you have made the overall structure of any Concept Map, you can also alter its look and feel. To do this, just select any design element and go to the left sidebar to change its color, fonts, and other formatting options.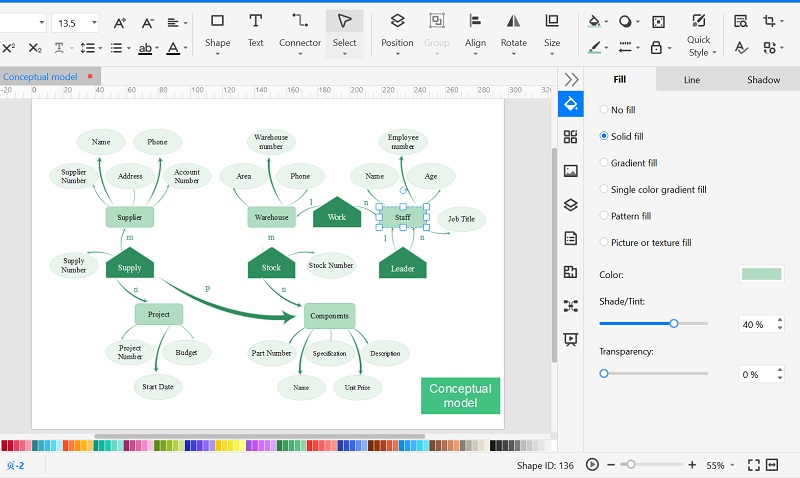 Step 4: Save and Export your Concept Maps
That's it! Once your final Concept Map is ready, you can save the changes on your project. You can further click on the "Export" icon from the top toolbar to save the diagram in different formats like JPG, PNG, PDF, HTML, etc.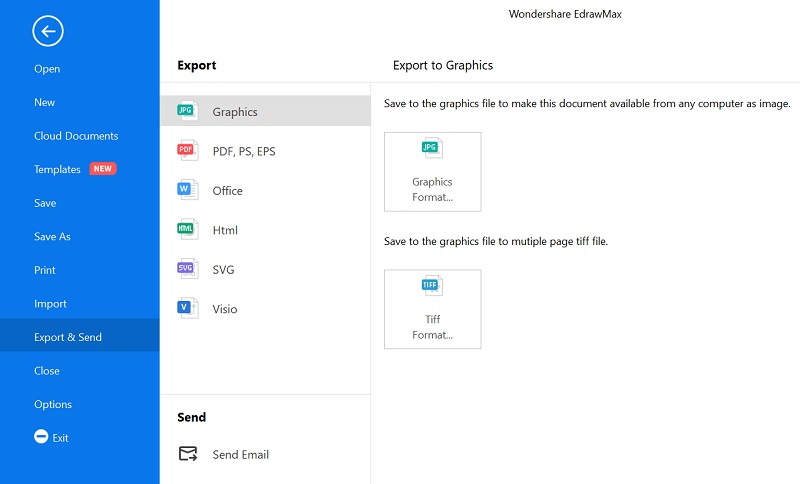 EdrawMax
All-in-One Diagram Software
Create more than 280 types of diagrams effortlessly
Start diagramming with various templates and symbols easily
Superior file compatibility: Import and export drawings to various file formats, such as Visio
Cross-platform supported (Windows, Mac, Linux, Web)
Security Verified |
Switch to Mac >>
Security Verified |
Switch to Linux >>
Security Verified |
Switch to Windows >>
Part 6: Pro Tips for Making Appealing Concept Maps
To further creating interesting Concept Maps that would get you noticed, you can consider the following suggestions.
At first, try to draw concept maps of the things you know or get theoretical knowledge of it in advance.
Follow a stepwise approach in which you identify the main concept first and then branch it accordingly.
It is always recommended to use color-coding to separate your ideas into different sections.
If the map is getting cluttered, then consider removing some elements or expanding the canvas.
Always use a reliable medium (like EdrawMax) where you can come up with all kinds of Concept Maps without any issue.
Part 7: Concept Map Examples
If you want to further learn Concept Maps and their application, then consider the following detailed example. Here, we have provided the town planning of a location using a color-coded Concept Map. As you can see, all the major elements of the town planning like transportation, sky bridge, public facility, open spaces, etc., are listed in different categories. Furthermore, they are divided into different ideas that are linked to each other for better understanding.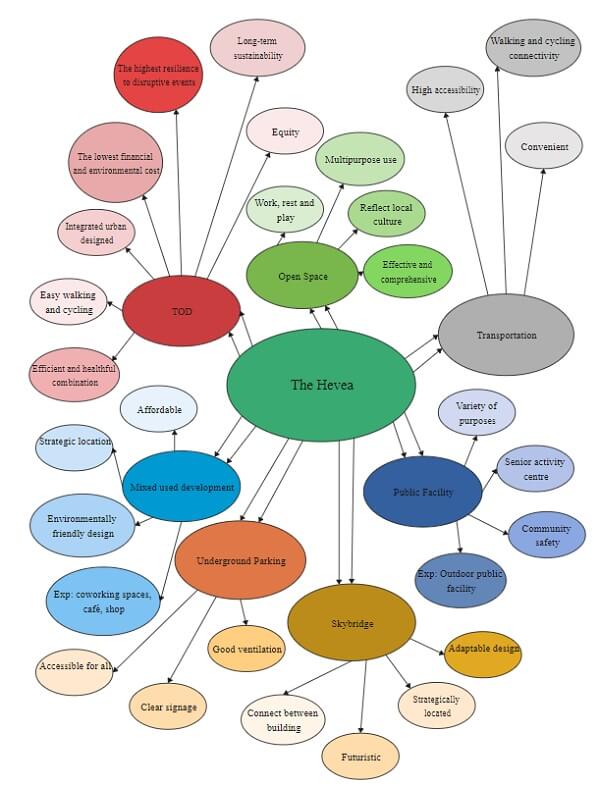 By now, I'm sure you would be able to know about Concept Maps and their applications in detail. Apart from listing its purpose, I have also shared some expert tips and the overall approach that you can take to create Concept Maps. If you also want to come up with aesthetically pleasing and informative Concept Maps, then simply use a tool like EdrawMax. Having dedicated visual elements and several templates, it is a must-try diagramming application for all.
Wedding Ceremony Concept Map
Since you're egaged, it's time to think about planning a wedding ceremony. Read the wedding ceremony concept map above to see how to prepare for your unforgettable day. Come to download this concept map for wedding here
Risk Management Concept Map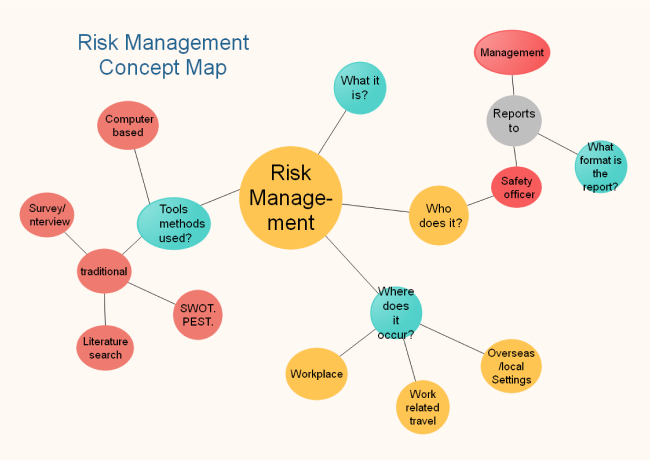 How to manage risks and issues in a project? Take a look at this concept map for risk management here
Related Articles