How to Use Mind Maps for an Effective Essay Writing
Do You Want to Learn More about Using Mind Maps for an Effective Essay Writing?
EdrawMind specializes in diagramming and visualizing. Learn from this article to know everything about How to Use Mind Maps for an Effective Essay Writing!
Being a student, writing an effective essay is a difficult task for you. But you can make it easy if you know how to use mind maps. Creating a mind map for essay writing helps you visualize the idea before writing it.
So, do you want to create mind maps? If yes, read this article explaining how to use mind maps for essays.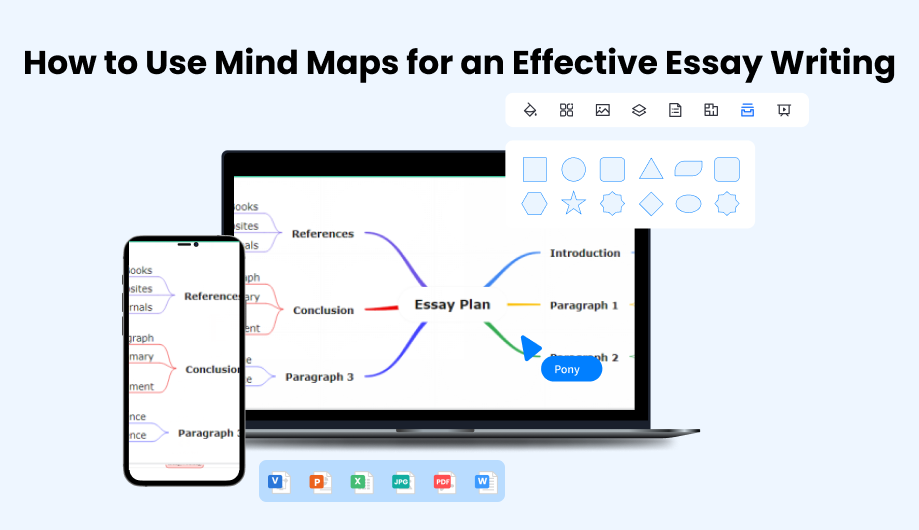 1. What Are Mind Maps for Essays
A mind map is a technique for centrally organizing thoughts on a particular concept. This visual thinking tool makes it easier to analyze, remember, understand, summarize, and develop new ideas by managing the data. Let us know by taking a mind map essay example. You want to write about your best friend, including his hobbies, details about his parents, and his likes and dislikes. Mind mapping would be the technique you will use to visualize the content going along in your 'best friend' essay.

Here are some benefits of using a mind map for writing an essay:
The student can order the segments according to their subtopics.
The student can refer to the mind map to see if they missed any important topics.
If a student includes a mind map in an essay, it will help a reader to understand the issues quickly.
The student makes sure they have all the necessary information before writing the essay by creating a mind map.
Before an exam, a student can quickly review his mind maps for revision.
2. How to Prepare the Essay Using a Mind Map
Now that you know what a mind map is and how beneficial it is for essay writing. So, let's learn how to prepare an English essay mind map for essay writing.
2.1 Research the essay's topic
Finding a unique concept or a less popular subject is the first step in essay writing. If you choose to write about a topic for your essay that has already been discussed, it may be difficult for your research to take a real stand.
Instead, choosing an essay topic that interests you personally, or at least isn't too difficult for you to discuss, is advised. The process of writing an essay will be less tedious if you select a topic that is personal to you. To research the case of an article, do brainstorming.
To brainstorm, take a piece of paper and write down everything you know about a particular topic. Then, write your ideas by using keywords.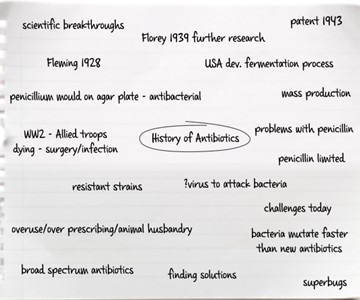 2.2 Planning the essay
One of the critical steps in writing an essay is research. Unfortunately, students often waste a lot of time simply attempting to put all the various pieces of information together. So, creating an essay planning mind map is essential so students can easily organize and collect their data.
Moreover, making notes in a mind map as you read each source (book, article, or essay) helps you retain the information. You could also use a single map where you list all your references and make branches for each page, paragraph, and quote you plan to use in your essay.
To organize the information from the brainstorming, decide on the main categories. Then, tie the additional information to those in the manner described below: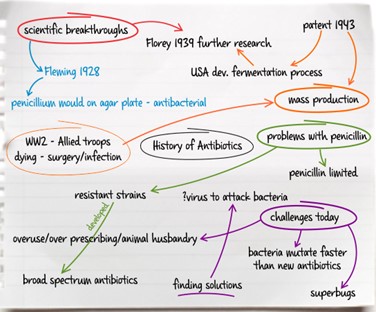 2.3 Outline and write the essay
The third step is to create an outline of your essay before you start writing it. It will help you to organize your arguments, counterarguments, examples, and sources in a logical order. A mind map makes it simple to review the outline and find the data one needs for their essay.
Whenever you find yourself getting off track while writing or when you are unsure of where to go next, you can quickly review this outline. Then, once outlining is done, start writing.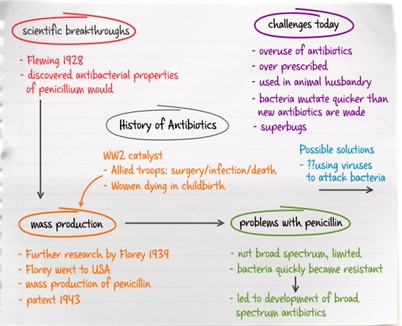 3. Mind Map Templates for Different Essays
There are different kinds of essays in academic writing. You can make a mind map as a student for various essays and then use these procedures to write the essay. Let's see 5 different types of essay outlines explained with mind maps. These essay mind map templates help you to write outstanding essays.
EdrawMind Apps
12 structures & 33 themes & 700+ cliparts
Support Win, Mac, Linux, Android, iOS
Advanced import & export options
On-premises software for business
Enterprise-level data security
EdrawMind Online
12 structures & 33 themes & 700+ cliparts
Access diagrams anywhere, anytime
Team management & Project management
3.1 Argumentative Essay Mind Map
To write an argumentative essay, a student must be analytical. He must research a subject, gather information, come up with points, analyze the evidence gathered, and take a position.
So, use an argumentative essay mind map. By doing so, you will have different segments while outlining the essay's investigative and evaluative stages.
3.2 Comparative Essay Mind Map
Students write this type of essay when they need to highlight the similarities and differences between two or more subjects. Writing this type of essay is a fantastic way to show those topics or concepts frequently misunderstood by one another. It is easy to see the differences and similarities between the two subjects in this essay by using a comparison essay mind map.
3.3 Research Essay Mind Map
A research essay is an essay that offers information on a specific subject that you have looked into and is unrelated to you. By doing research, you can find out more about the subject. The research outline mind map gives students a plan of action, especially at the beginning of the research. It can be applied as a critical thinking technique for problem-solving. Looking at this essay mind map template, you can easily concentrate on and comprehend the target ideas.
3.4 Thesis Statement Essay mind map
A thesis statement is a statement that summarizes the key idea of your essay. Usually, it follows your introduction. Your thesis will be slightly different depending on the type of essay you are writing. But the main point you want to make is always stated in the thesis statement. For this, follow the thesis statement essay mind maps. This essay mind map template is beneficial in deciding the best thesis statement for your essay.
3.5 Interpretive essay mind map
An interpretive essay is a form of writing that recognizes, assesses, and analyzes the author's methods in a specific work. This essay offers an interpretation of a previously published form of writing.
4. Tips for Essay Mind Maps
If you adhere to some tips for mind maps for essays, writing essays can be enjoyable. So, here are some tips for essay mind maps that you must follow:
Always place the topic you want to talk about in the middle of the mind map.

You should save money to cover any unexpected financial needs.

Use images, icons, and colors whenever you can. These serve as mental triggers and can help in your ability to generate fresh ideas.

Investing is essential for growing money so that you can achieve your goals.

To write the ideas on to the branches, always use relevant keywords.

Financial security through insurance ensures that you and your family can get through difficult times.

Draw lines to indicate cross-links between the information in different parts of a mind map.
5. Conclusion
In this article, we have discussed everything that you must know. So, if you want to save time and other resources, use mind map templates for different essays.
You can find these templates on EdrawMind. Unlike other software, this has an excellent user interface with straight forward drag-and-drop features. So what are you waiting for, then? Create a mind map for the essay right away by downloading EdrawMind.