Electrical Engineering Diagram - Create an Electrical Engineering Diagram Easily
>
Engineering Diagram
>
Electrical Engineering Diagram - Create an Electrical Engineering Diagram Easily

Use electrical engineering drawings and create electrical schematic diagrams easily with the drawing software.
Create engineering diagrams such as electrical diagrams, circuit and logic diagrams, industrial control systems, process flow, P&ID and systems diagrams.
How to Create an Electrical Engineering Diagram
Open an Electrical Engineering Diagram Maker
On the File menu, point to New, select Engineering, and then click one of the followings:
Basic Electrical
Circuits and Logic
Industrial Control Systems
Systems
Process Flow Diagram
Process and Instrumentation Diagram

These templates open in an unscaled drawing page and you can change the settings at any time.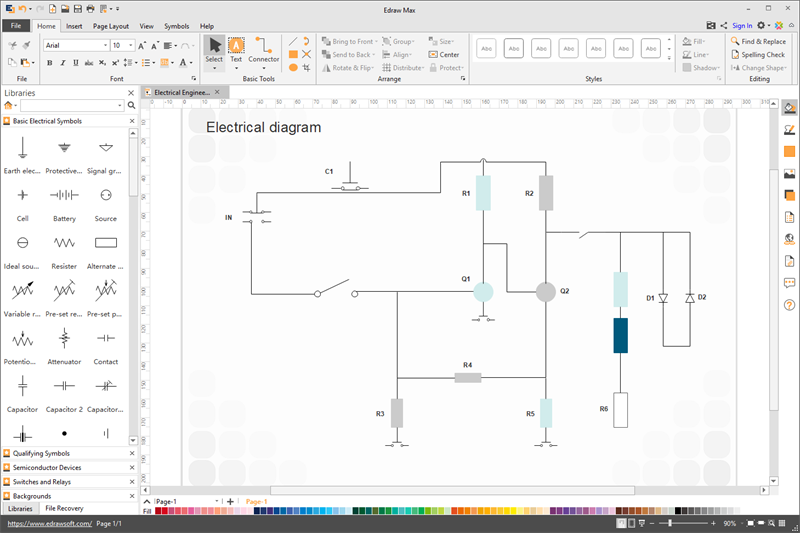 EdrawMax: a swiss knife for all your diagramming need
Effortlessly create over 280 types of diagrams.
Provide various templates & symbols to match your needs.
Drag and drop interface and easy to use.
Customize every detail by using smart and dynamic toolkits.
Compatible with a variety of file formats, such as MS Office, Visio, PDF, etc.
Feel free to export, print, and share your diagrams.
Choose from Industry-standard Eletrical Diagram Symbols
Drag any of the electrical component shapes onto the drawing page, select a shape, and then on the context menu, click Property. In the Shape Property dialog box, click on each item and type or select a value.
Connect Electrical Components Using Connector Tools or Connector Shapes
1. Use Connector Tools
Click the Connector tool.
Drag from a connection point on the first shape to a connection point on the second shape. The connector endpoints turn red when the shapes are connected.
2. Use connector shapes
Drag a connector shape from the shape library onto the drawing page.
Place the connector's begin point on the parent shape (the shape you are connecting from).
Place the connector's end point on the child shape (the shape you are connecting to).
When the connector is glued to the shapes, the endpoints turn red.
Add Text to the Selected Shape
Label individual electrical component shapes by selecting the shape and typing.
Modify the Property of Symbols
Select SPST switch, then click the Set switch position item in the context menu.
In the Shape Data dialog, choose a switch position.
So you can change the switch position by the predefined shape data.
Electrical Engineering Diagram Examples
The following electrical engineering diagram is created by Edraw engineering diagram software. You can drag built-in electrical symbols then connect them easily.
More Related Articles
Process and Instrumentation Drawing Software
How to Create Basical Electrical Diagram