How to Create a Work Breakdown Structure (WBS)
>
Edraw How-To
>
How to Create a Work Breakdown Structure (WBS)

Part 1: What is Work Breakdown Structure (WBS)?
A work breakdown strucer (WBS) is used in project management to break down and organize the tasks that need to be accomplished to achieve an end goal. Tasks are organised hierarchically and sequentially. The main types of WBS are phase-based structures, deliverable-based structures, responsibility-based structures, resource-breakdown structures, risk breakdown structures, and organizational breakdown structures.
WBS diagrams are useful for definitively breaking down the work that is required to be done in order to achieve the end goal. It helps team members prioritise tasks and allocate their time and resources efficiently. It also acts as a project checklist for team members as they work towards the final goal.
Part 2: How to Make a WBS Diagram Effortlessly?
Step 1: Start EdrawMax.
Step 2: Navigate to [New]>[Project Management]>[WBS Diagram]
Step 3: Select one wbs diagram template to edit on it or click the [+] sign to start from scratch.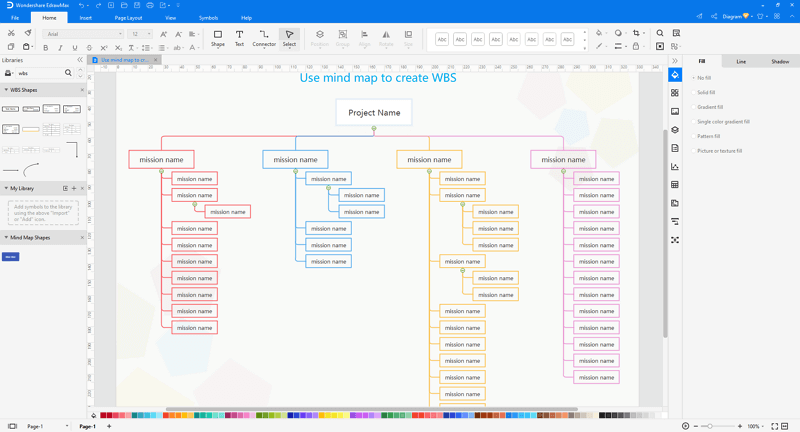 Tips:
Connect Boxes with Dynamic Connectors: You can drag a connector from the library, and then approach the connector to a blue X mark appearing on the box. When the mark turns red, you should release your mouse so that the connector will be glued with the box.
Add More Sub Tasks: You can drag a sub task shape from the library, and then use dynamic connector to connect the shape with the superordinate task. You can double click the shape to edit contents.
Step 4: You can export the file to Graphics, PDF, editable MS Office file, SVG and Visio vsdx file.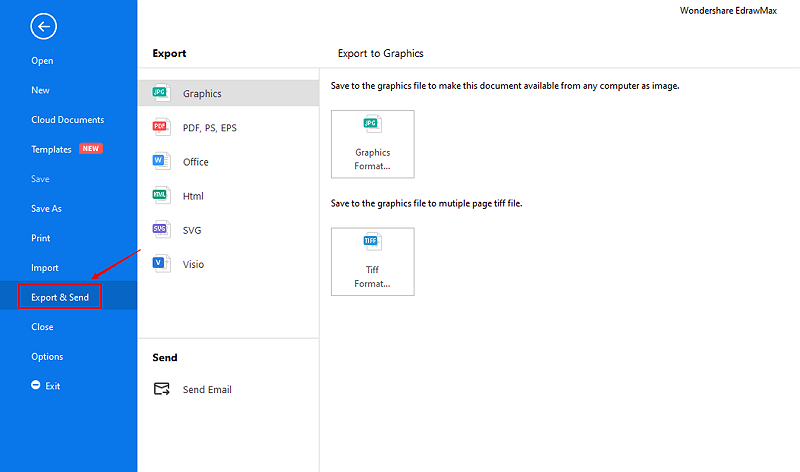 Step 5: And you can share your diagram with others via social media and online website page.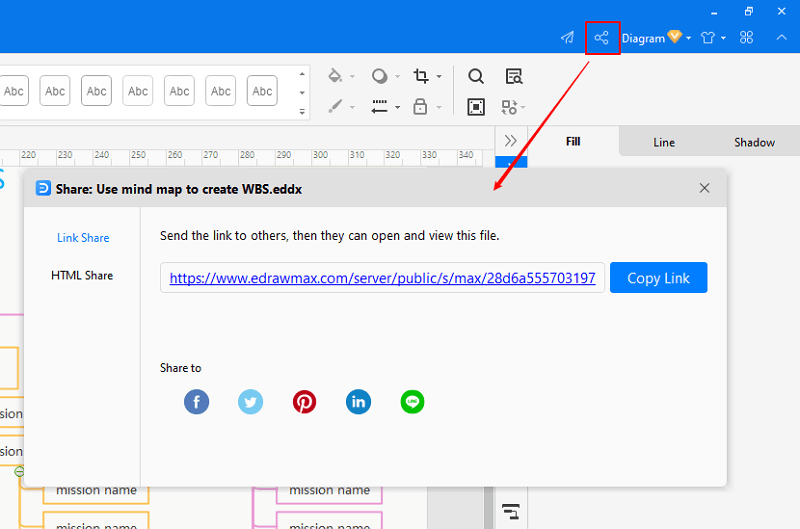 Part 3: WBS Diagram Examples
Example 1: WBS Chart 1
A WBS Chart is used in management to break down projects based on time and cost. This comes in useful when planning a project. It gives team members a high-level view of each task, and how much time and resources should be devoted to each step.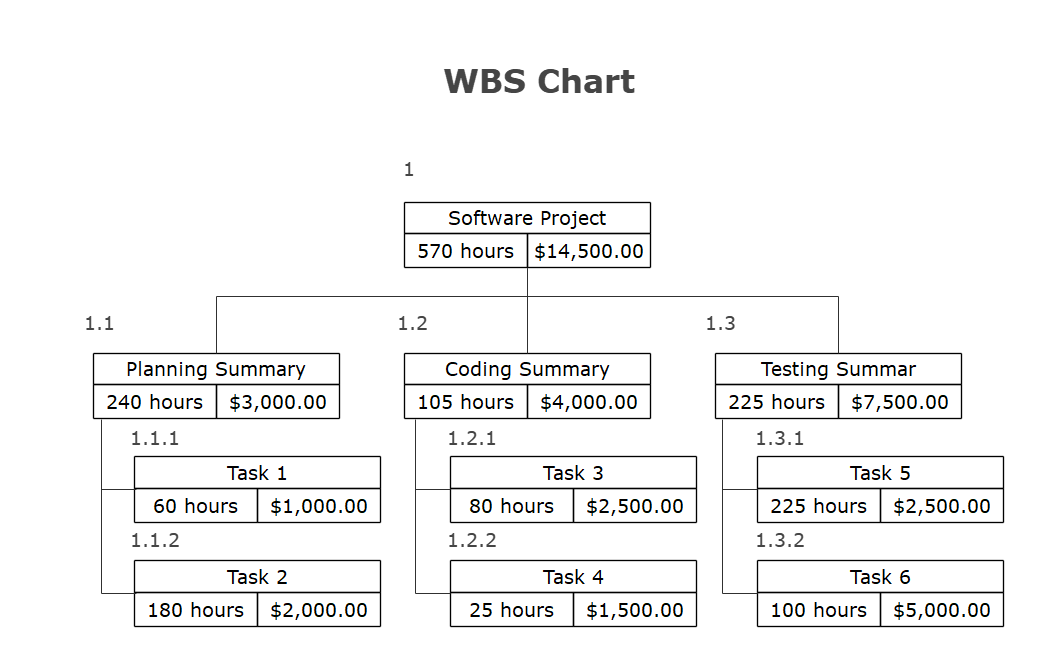 Example 2: WBS Chart 2
This WBS chart is used to break down all of the steps that are required to launch a retail website. These tasks include project management, the gathering of requirements, design and analysis, site software development, and testing and production. As seen in the diagram, there are various sub-tasks that need to be dealt with under site software development in order for the website to get up and running.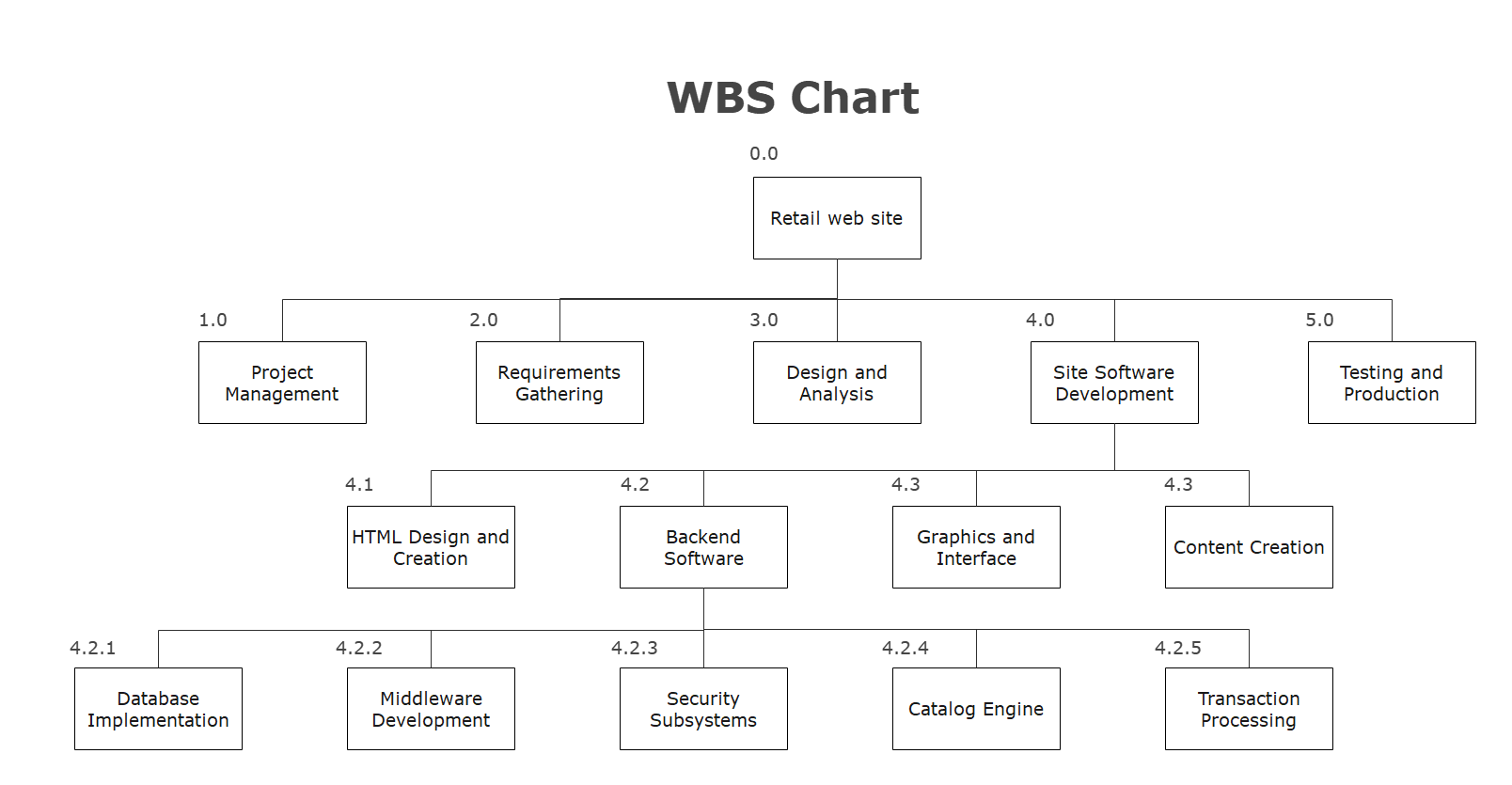 Part 4: Conclusion
According to this article, there are mainly three parts to illustrate what is wbs diagram, to tell you how to create a wbs diagram easily, and to show you some wbs diagram examples.
EdrawMax is an easiest all-in-one diagramming tool, you can create wbs diagrams and any other type diagrams with ease! With ready-made wbs diagram symbols and cliparts, making wbs diagrams could be as simple as possible. Also, it supports to export your work in multiple formats and share your work with others. Get started to create your wbs diagrams now!
EdrawMax
All-in-One Diagram Software
Create more than 280 types of diagrams effortlessly
Start diagramming with various templates and symbols easily
Superior file compatibility: Import and export drawings to various file formats, such as Visio
Cross-platform supported (Windows, Mac, Linux, Web)
Security Verified |
Switch to Mac >>
Security Verified |
Switch to Linux >>
Security Verified |
Switch to Windows >>
More Related:
How to Create Workflow Diagram
How to Create Quality Function Deployment