Product Organization Structure Complete Guide
Do You Want to Make Your Product Org Structure?
EdrawMax specializes in diagramming and visualizing. Learn from this product organization structure complete guide to know everything about the product organization structure. Just try it free now!
A product vision and roadmap can lay the foundation of a business. Yet, executing the plan requires grouping people based on work specialization. Many other points affect the implementation of an organization's plan. They include standards for grouping, number of groups, chain of command and span of control. You might be wondering how to visualize all these points.
Here's the answer – a Product Organization Structure. A product organization structure or chart is a graphical tool. It helps visualize the organization's development. There are different types of Product Organization Structures. You can choose a particular structure that suits your business requirements. But, the same Product Organization Structure does not remain favorable for long. So, it's best to change your Product Organization Structure with the growth of the organization.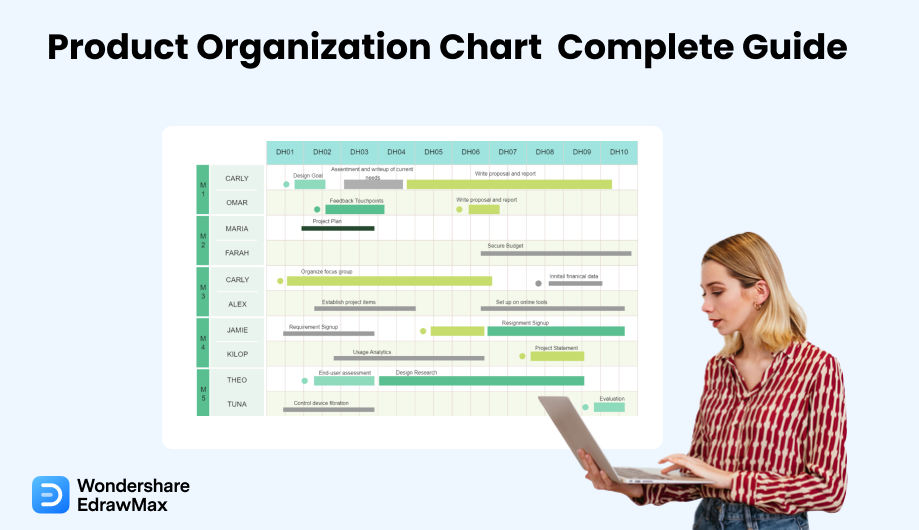 1. Types of Product Organization Structure
1. Flat Structure
It is a simple horizontal structure. It usually involves direct cooperation between executives and employees with no middle management. It works best for sole proprietors and startups. But, as the organization grows, you need to update the Product Organization Structure.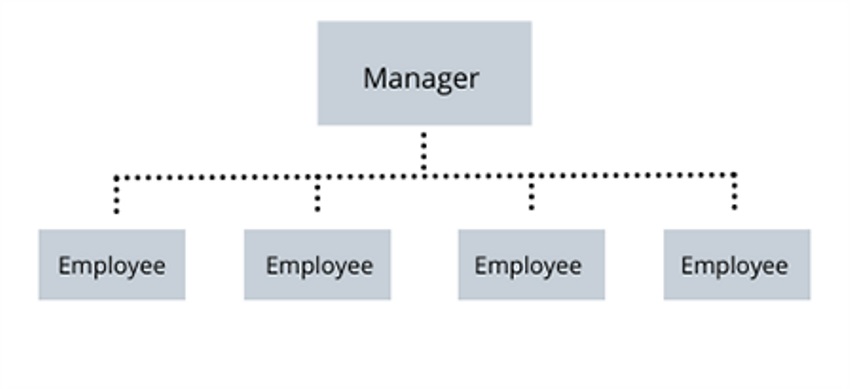 There are several pros and cons of this Structure:
Informality and Lack of Communication:
The informality and flexibility result in a lack of accountability.

Lack of communication from top management leads to confusion.
Agility and Flexibility:
It ensures agility and fast growth of the organization.

The flexible nature of the structure encourages creativity.

It provides autonomy to the employees and enhances productivity.
As the organization grows, the structure becomes unsuitable. It usually happens for more than 60 employees. So, you need to replace the flat product organization structure at the right time. Otherwise, it will slow down productivity.
2. Functional Structure
Organizations become more complex, as they grow. A simple structure cannot define several departments or functions. So, Functional Product Organization comes into play. It has a centralized hierarchical structure with vertical links. You group employees into departments or functions. For instance, marketing, operations, sales, human resources, and customer services. They are responsible for specific tasks. In each department, the employees coordinate with department managers. Further, the department managers coordinate with top management. The top management makes decisions and plans. Middle management develops a strategy to put them in place. Functional Structure works best for small-to-medium-sized businesses.
The structure has both advantages and disadvantages:
Excessive Bureaucracy:
It is a formal structure. It leads to excessive bureaucracy.

It impacts the autonomy and creativity of employees. Making strategic changes becomes a slower process.
Well-defined Roles and Skills:
The employees have well-defined roles and functions.

Groups based on similar roles enhance skills and efficiency.

It also helps mitigate conflicts within the department.
3. Divisional Structure
It suits a business with several product lines or subsidiaries. Large organizations with a presence in various geographical regions also use it. In a geographical location, the company forms a single unit with its executive and team. Divisional structure works best for large businesses or global corporations. It has several categories. For instance, product-based, feature-based, metrics-based, and user persona-based.
Like every structure, it has its pros and cons:
Cons:
But, the independent actions taken by a division can go against the company's strategy. They also impact reputation.

The cost increases as all divisions have their own departments.
Pros:
Each division or unit is semi-autonomous, and a central office oversees them.

Each division handles its operations. Thus, enabling fast execution and saving time.

Such structures enable consistency across divisions.
4. Matrix Structure
Most structures only focus on vertical links. For example, a link follows executive, middle management, and employees. But, organizations also ?have cross-functional teams. That means you need horizontal links, too. So, Matrix Product Organization is the solution for such teams.
Cons:
It violates the "unity of command principle". The presence of several managers creates confusion among employees.

Employees can avoid responsibility by misreporting to different managers.

Misreporting and multi-command sources can lead to conflicts, infighting, and politics.
Collaboration and Teamwork:
It enables both horizontal and vertical links. Thus, enhancing communication across functional lines.

It ensures collaboration and teamwork.

Such structures enable consistency across divisions.
2. Free Product Organization Structure Examples & Templates
EdrawMax is an impressive tool. It helps you visualize various levels of process organization structure. EdrawMax is a complete package for business users, analysts, and architects. It contains all the essential items to visualize the Product Organization Structure. For example, flowcharts, swimlanes, connecting objects, etc. Here are some example templates:
Product Manager Organizational Chart
The template shows the Product Manager Workflow Diagram. It covers the complete workflow of the project manager's tasks. The swimlanes show various stages in the product lifecycle. The stages include demand, design, review, and so on. Each 'stage' contains all requisite items, process flows, and connecting objects. It can help you at any stage of the product organization lifecycle. So you can better understand and analyze the Product Organization Chart. It also ensures transparency in the product organization process.
Product Organization Chart Template
The second template shows an App Product Roadmap. This chart covers all stages of the product lifecycle. From the concept stage to launch, it has all. Several objects are present in the chart. A Gantt chart is present to track progress over time. Flow objects show production routes and lists make comparisons with competitors.
Not these, EdrawMax provides more than 12000 free templates.
EdrawMax Desktop
Create over 280 types of diagrams
Windows, Mac, Linux (runs in all environments)
Professional inbuilt resources and templates
On-premises software for business
Enterprise-level data security
EdrawMax Online
Create over 280 types of diagrams online
Access diagrams anywhere, anytime
Team management and collaboration
Personal Cloud and Dropbox Integration
3. Product Organization Structure Best Practices
Organizations tend to choose Product Organization Structures that suit well with the goals. One of the best practices is updating the Structure at different stages of growth. Updating your business organization structure over time is the key to success. Several tips can help you innovate your business using Product Organization Structure:
First, define a clear purpose for building the structure and identify key stakeholders. Create a project charter including who, when, why, where, and what.
Then build a strategy focused on your long-term goals. It will help you choose the Product Organization Structure to begin with. It will draw a timeline for updating your product organization structure over time. So, you have the transition plan.
Furthermore, consider your organization's internal matters and processes. For example, organizational culture, a core ideology, stakeholders' roles, and improvement areas.
Finally, track the impact of your implemented structure. Gather feedback, check, review, and improve.
Apart from all this, remember there is nothing as a one-structure-fit-all. Communicate with your team, and add all stakeholders to the equation. This will ensure long-term efficiency.
EdrawMax
All-in-One Diagram Software
Create more than 280 types of diagrams effortlessly
Start diagramming with various templates and symbols easily
Superior file compatibility: Import and export drawings to various file formats, such as Visio
Cross-platform supported (Windows, Mac, Linux, Web)
Security Verified |
Switch to Mac >>
Security Verified |
Switch to Linux >>
Security Verified |
Switch to Windows >>
4. Conclusion
Product Organization Structure is necessary for the growth and prosperity of any organization. Distributing your teams and establishing the chain of command is crucial. Also, as the business grows, teams become sizeable. Departments and divisions increase, and the span of control grows. In such a situation, the Product Organization Structure streamlines the business. Although such structures improve business organization, designing them requires deliberation and expertise. EdrawMax provides the highest number of online available customizable product organization chart templates. The article also provides some example templates. You only have to choose your desired template from the examples. Use it as is, or customize it according to your need. With its easier-to-use drag-and-drop feature, it works with most operating systems.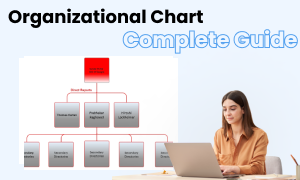 Org Chart Complete Guide
Check this complete guide to know everything about org chart, like org chart types, org chart symbols, and how to make a org chart.