Tips for Creating a CEO Organizational Chart
Do You Want to Make Your CEO Organizational Chart?
EdrawMax specializes in diagramming and visualizing. Learn from this CEO organizational chart complete guide to know everything about the CEO organizational chart. Just try it free now!
When you have a question in mind, it's important to ask someone who will have the perfect answer. You'll be surprised to know how helpful a CEO organizational chart can be. In business, the CEOs are the leaders. The CEO org chart lets you find the pathway to communicate with them directly. That will help you improve, enhance and refine your working strategies.
That's not it!
There are so many org charts out there, but they can be difficult to understand. This is where the guide below can help - it's our simple guide to CEO company charts. You'll be getting all the basics, examples, and tips you need to make sense of org charts better and faster.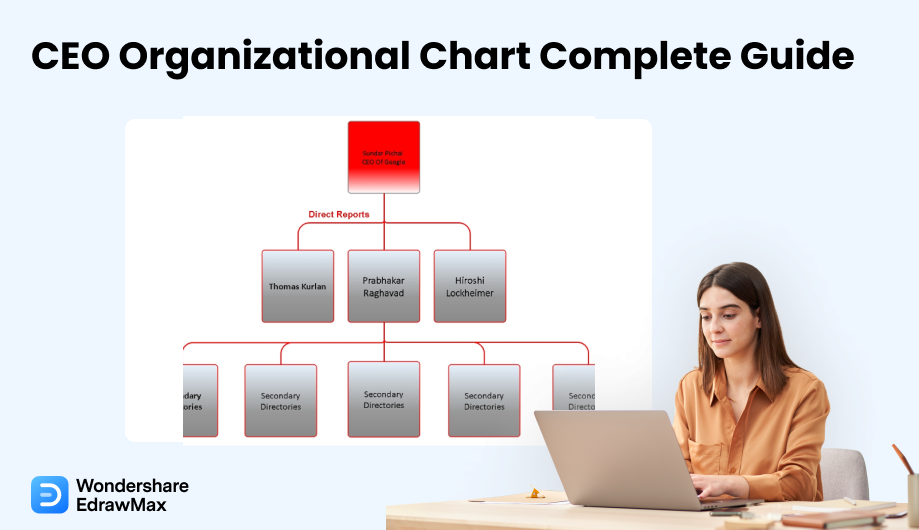 1. Understanding The CEO In The Organization Chart
The CEO is liable for all company tasks and strategy aspects. This person will also have to be creative, so they should be someone who can clearly see where their company is going. The CEO's functional job in a CEO org chart is to ensure the company is successful. It means they must know how to get there and what it takes.
This in-charge can be a person, a company, or a team. This specific CEO department brings the vision of the company and the team together. In this role, a CEO ensures everyone is on the same page about the company's goals, mission, and vision.
To understand the CEO roles, you must know about hiring people and keeping employees happy. Plus, you must be aware of the art, ensuring that the company continues to grow and prosper. The CEO can also be involved in other functions such as marketing, sales, or product development.
Another specific duty specific for them in CEO organizational chart is overseeing legal issues related to employees' rights. All this points out that despite the highest authority supply, the CEO is not eligible to command employee roles.
EdrawMax Desktop
Create over 280 types of diagrams
Windows, Mac, Linux (runs in all environments)
Professional inbuilt resources and templates
On-premises software for business
Enterprise-level data security
EdrawMax Online
Create over 280 types of diagrams online
Access diagrams anywhere, anytime
Team management and collaboration
Personal Cloud and Dropbox Integration
2. Common Roles Of The Chief Executive Team
The CEO of a company will normally have several roles they are in charge. These include leadership, control, strategy, sales, and HR. We'll discuss some of them briefly below:
The chief executive team plays a key role in the success of a business. They are liable for ensuring the ideal day-to-day running of the company. That helps them assess whether their goals are met on time.
With the change in the org chart type, this team's authority also changes. Normally, it manages all personnel matters, including hiring and firing, compensation, benefits and perks, training, promotions, and transfers. With all that in their pocket, their prime duty is deciding contracts with vendors and suppliers. Plus, it helps set up budgeting processes for the company's finances.
The Chief Executive Officer (CEO) links the other departments within the company. It is one of the chief executive team's most basic yet major roles. As per this role, their primary duty is to clarify employee confusion. They can do so by attending meetings or sending out memos or emails as needed.
The CEO also represents the BOD at public events such as conferences or trade shows. This role brings us to its most important duty, which can help advance business to a great extent. To fulfill this role, CEOs are liable for availing chances to increase exposure to clients and help expand the business.
3. CEO Organizational Chart Examples & Templates
It is human nature that we don't believe something until we witness it with our naked eye. That is why you'll be getting three free brief analyses of famous real brand executive structures. These CEO org charts examples will help you understand how an ideal structure appears to be. Plus, these will help you create your own chart better.
Example 1. Google Executive Chart
Google is a vast corporation that provides internet-related services and products to business customers. Its chart for the executive personnel has a top-down hierarchy. That means it focuses on the gradual flow of authority in the firm framework.
Here's How!
Everything starts from the top-of-the-line authority personnel—the CEO. It is actually "Sundar Pichai." According to the executive google chart, this person is the king of this corporation. Moving further down, you'll find specific people with specific roles. It will help you perceive hierarchy within the firm in a better way.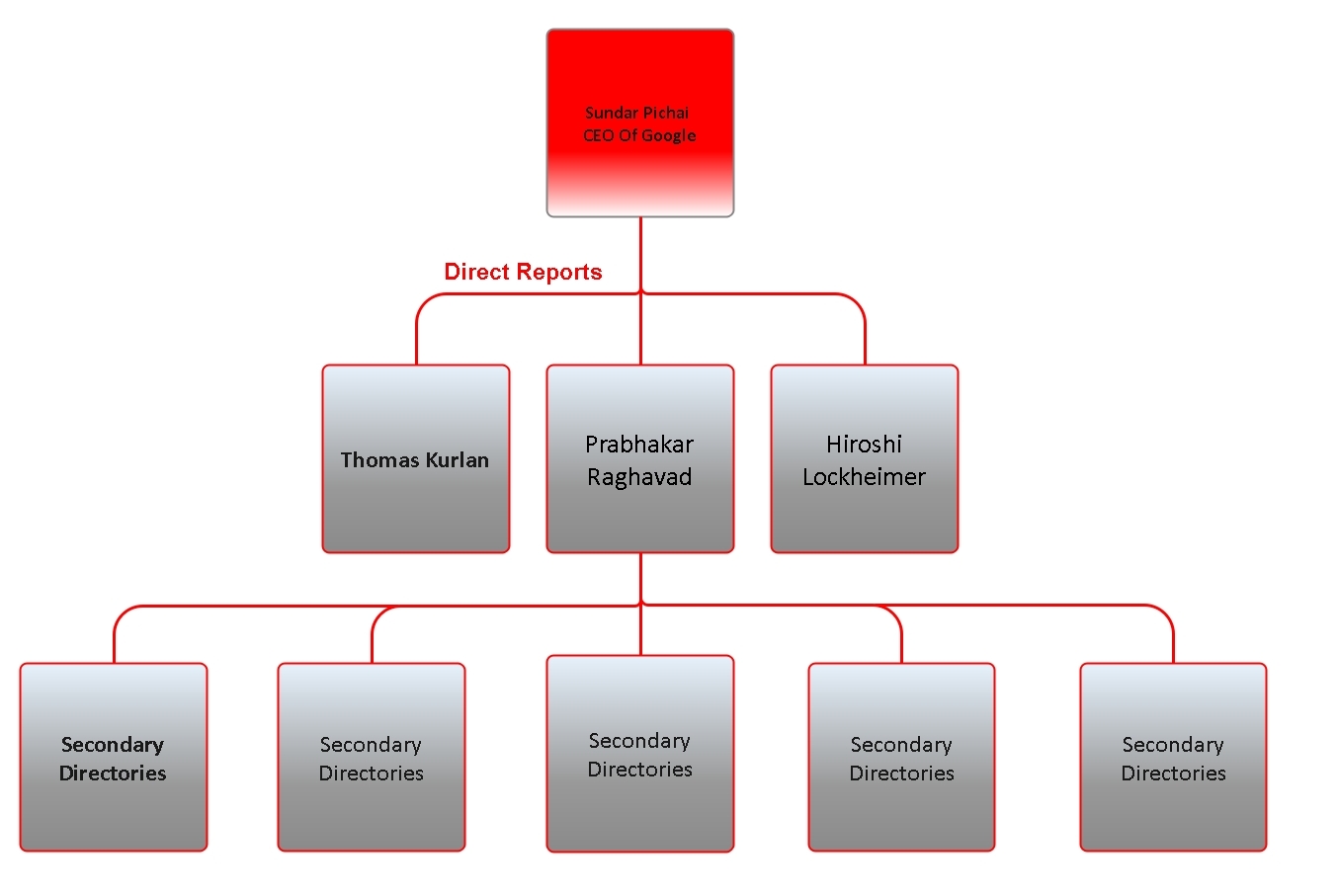 Click to download and use this templates.
While The
eddx
file need to be opened in EdrawMax.
If you don't have EdrawMax yet, you could download EdrawMax
free
from
below.
Example 2. Adobe Executive Chart Structure
The adobe executive structure is somewhat similar to Google, with the CEO at the top. The structure is built around a set of axes that divide the data into several departments. This framework of an executive chart is a way to visualize the links between people and their roles.
What's more?
This CEO org chart shows the different levels of hierarchy. Plus, it depicts how far down the chain of command a person can go. All in all, it can be useful for managers who are trying to get a sense of how their team works and what they need to do next.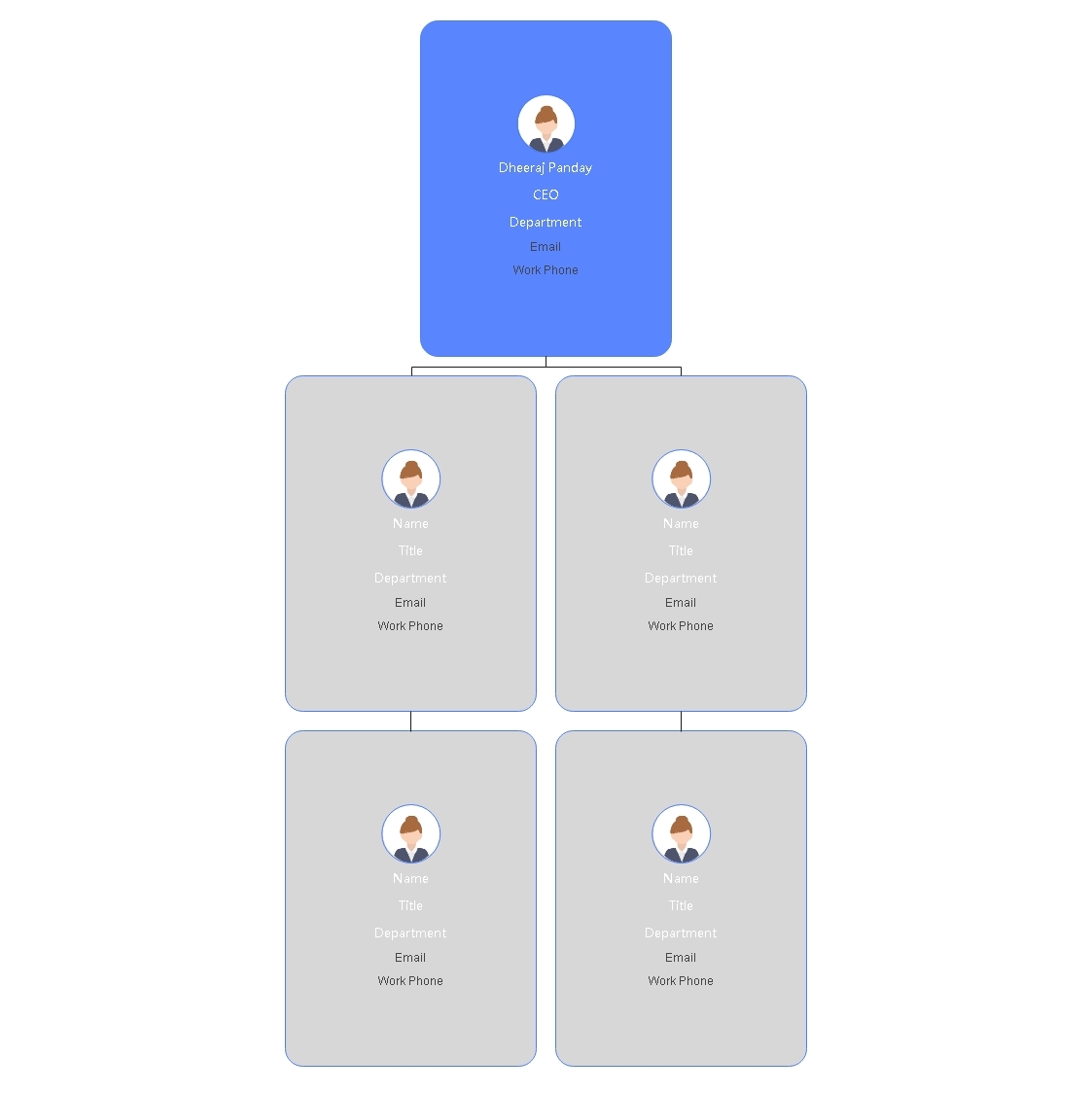 Click here to download EdrawMax
(For Win)
Click here to download EdrawMax
(For Mac)
Click here to download EdrawMax
(For Linux)
Example 3. Apple Executive Structure
Unlike the above two examples, Apple has a complete team of chief officers sitting at the top of the org chart. These three are the chairman, CEO, and COO. The names may change along with slight changes in roles, but the collective role is the same: checking and control.
You may ask, how is it better?
The executive structure of Apple has a much more detailed and direct overview of the framework. That means it can help you decide what the roles of managers are in the company without hours of research. Plus, its departments are much specified, which helps maintain work boundaries for a precise assessment without diversion.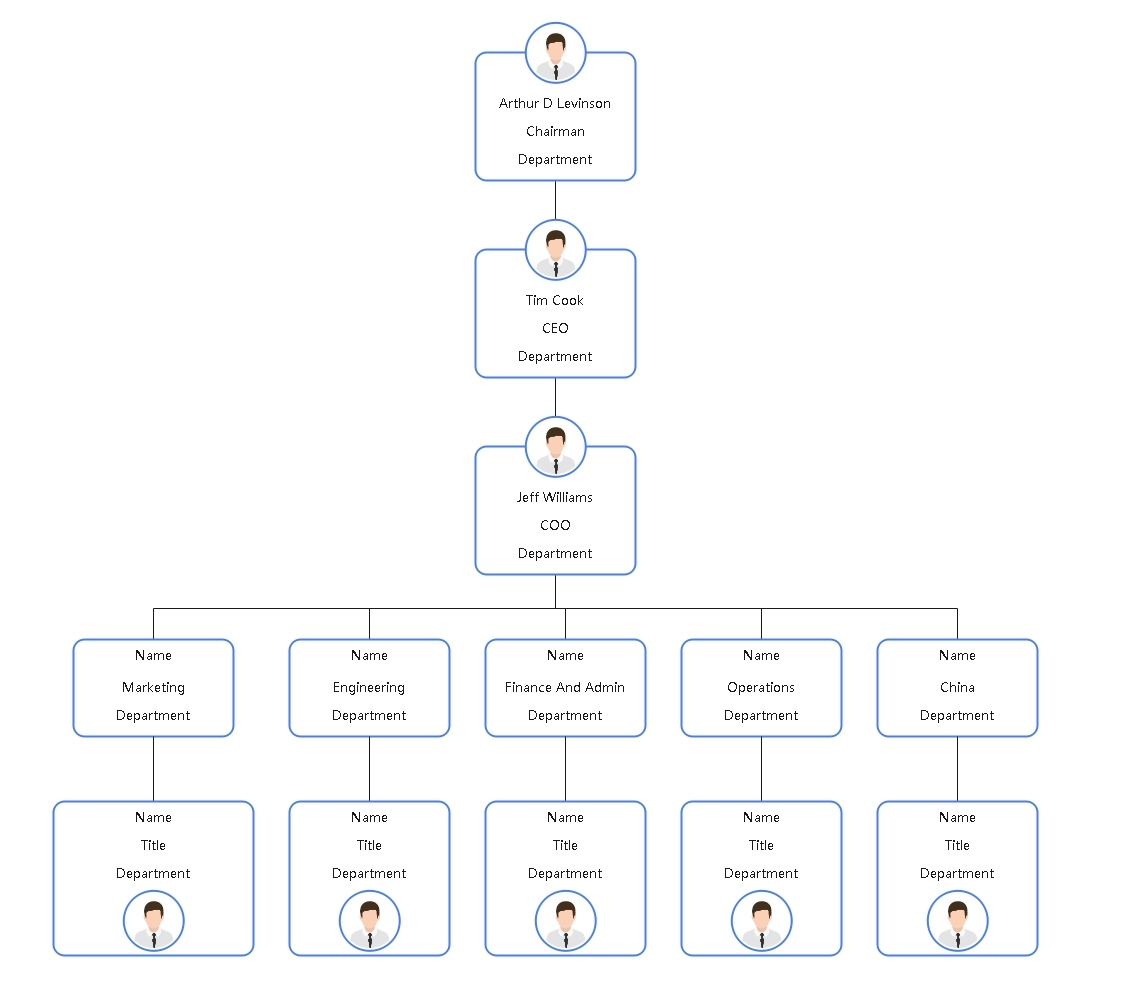 Click here to download EdrawMax
(For Win)
Click here to download EdrawMax
(For Mac)
Click here to download EdrawMax
(For Linux)
4. How To Create My Company Org Chart?
Creation of a company org chart is always easier with accessible org chart software on your side. Especially if the chart is about a centralized authority formation, a program like EdrawMax helps a lot. The best part is its pre-made template section. The biggest template community of Edrawmax can provide you with a CEO organizational chart in a snap.
Here's how to make it all possible with minimum effort and time:
Step1
Visit EdrawMax Online or Download the Software
Sign up for an account if you've never used EdrawMax. After that, you can use EdrawMax for free. Download the program from the real website and create an account. After that, Click "New" to open an instant chart file.
Step2
Using a Template or Choose a Basic Org Chart
Find the Org chart template and design it as you desire. You can also click the "Templates" section to find instant 1-minute ready-made templates from the community.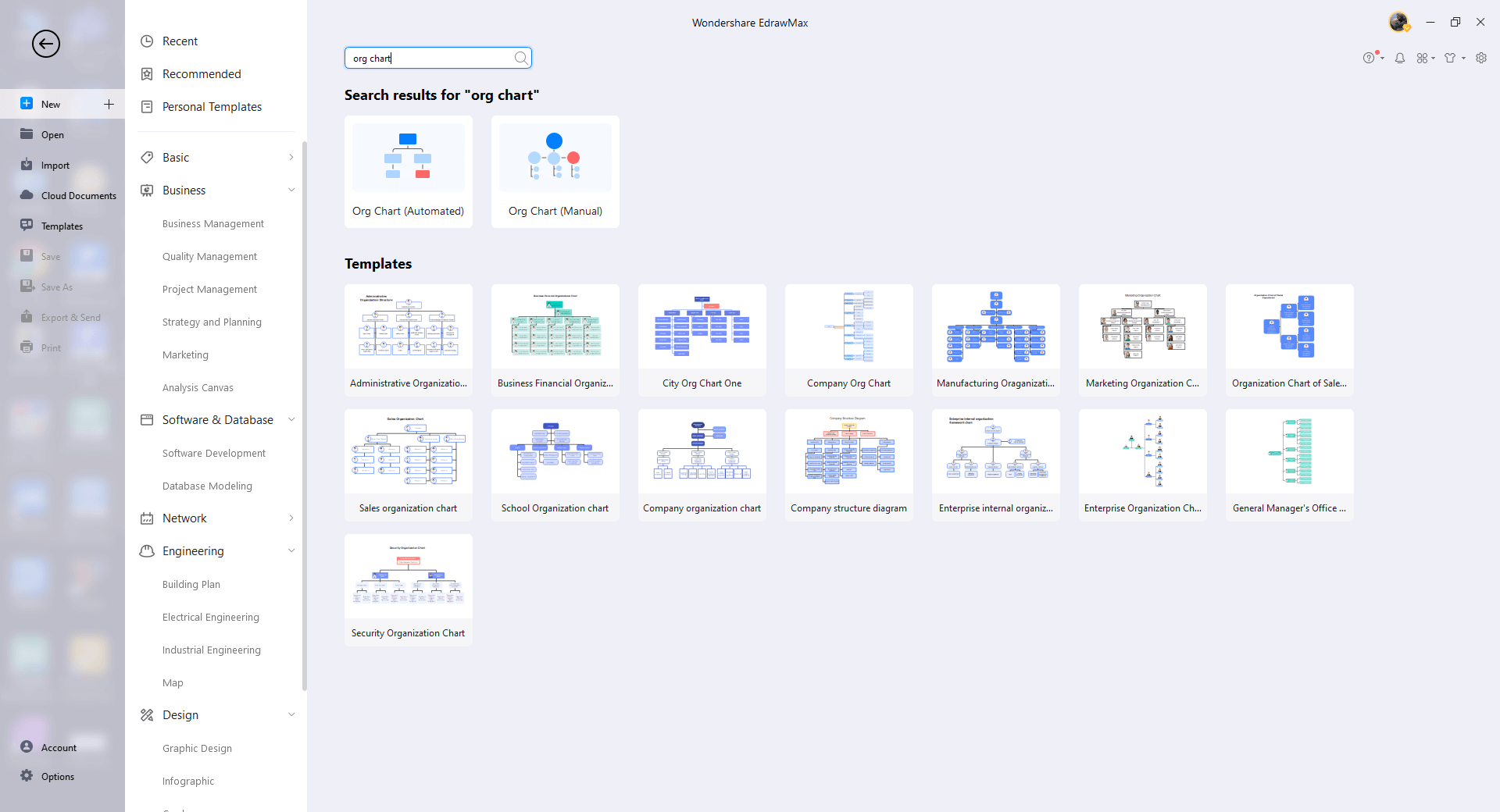 Step3
Design the CEO Organizational Chart
Add text, customize colors, size, and position, and streamline the org chart in any way you want. This way, you can create a process presentation that reflects your company's branding.
Format Shape: Click Style to open the Fill/Line/Shadow pane and customize a shape. You can also click on the shape you want to edit. It will open the Style/Fill/Line pane.
Insert Text: To add text to your org chart, click T in the top navigation bar. Then click on the shape where you will add the text. Alternatively, you can right-click on the shape you want to edit. Select Insert to add text, notes, comments, hyperlinks, or attachments to your org chart.
Step4
Decide Whether to Save/Export/Print/Share the File
EdrawMax allows you to easily get the flowchart you've made. You can save it as a cloud file or as a personal template. Exporting it to graphics, PDF, Word, PowerPoint, or another format is simple with EdrawMax online or software. You can even share it through social media.
To do so, click File in the top navigation pane. Then select whether you want to save, export, print, or share your org chart.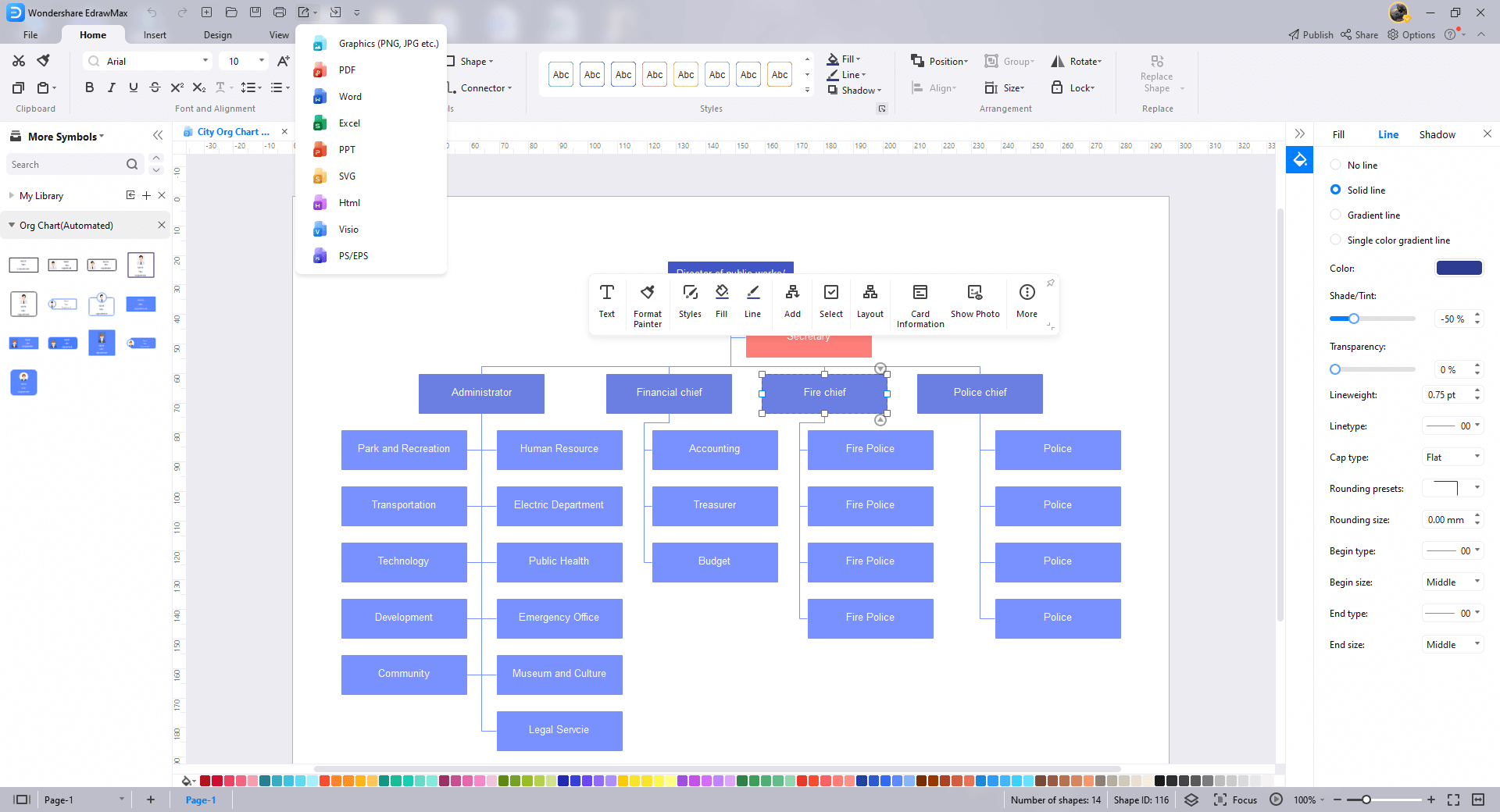 EdrawMax
All-in-One Diagram Software
Create more than 280 types of diagrams effortlessly
Start diagramming with various templates and symbols easily
Superior file compatibility: Import and export drawings to various file formats, such as Visio
Cross-platform supported (Windows, Mac, Linux, Web)
Security Verified |
Switch to Mac >>
Security Verified |
Switch to Linux >>
Security Verified |
Switch to Windows >>
5. Conclusion To The Whole Article
The CEO organizational chart starts from the top, with the CEO as the supreme entity. Depending on the firm's structure, this person may or may not be involved in the day-to-day business tasks. In some companies, the title of President is for someone who does not exercise active control over all business tasks. As such, in some firms, you will find a "President" box that contains details about an executive member below.
That gets us to the main statement that concludes; a CEO may or may not have authority in org charts. However, the leading roles of overseeing and checking the process and framework stay the same in every firm.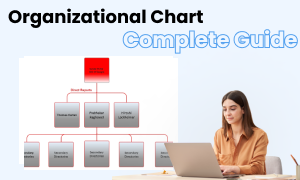 Org Chart Complete Guide
Check this complete guide to know everything about org chart, like org chart types, org chart symbols, and how to make a org chart.