Modern Organizational Chart Complete Guide
Do You Want to Make Your Modern Organizational Chart?
EdrawMax specializes in diagramming and visualizing. Learn from this article to know everything about definitions of modern organizational chart, tips of how to make modern organizational chart, and modern organizatioanl chart examples. Just try it free now!
Is it a daunting task to create org charts in Excel?
While organizational charts have been around for hundreds of years, they were missing out on an option that can work beyond the boundaries of departments and authority. However, things changed when experts developed modern organizational charts in the 20th century. But charts aren't that interesting. Well, maybe we can change your mind here.
While organizational charts have been around for hundreds of years, they were missing out on an option that can work beyond the boundaries of departments and authority. However, things changed when experts developed modern organizational charts in the 20th century. But charts aren't that interesting. Well, maybe we can change your mind here.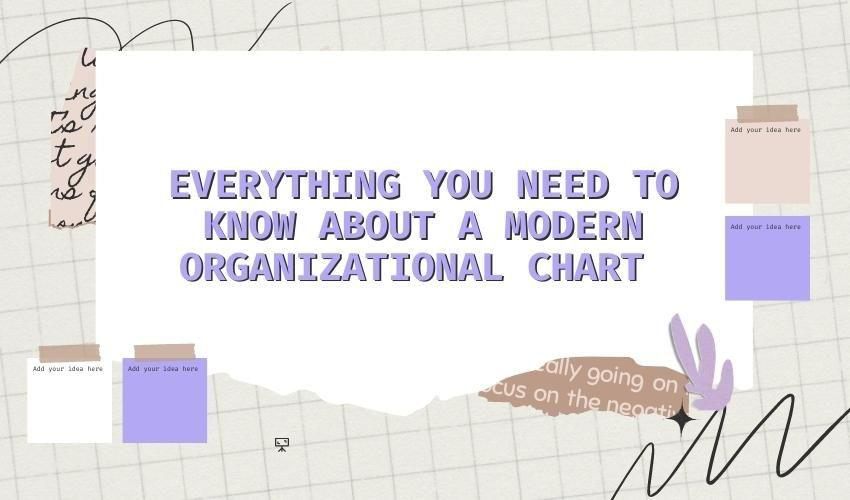 1. What Is A Modern Organizational Chart
The modern organizational chart is an upgraded version of the traditional org diagram. Unlike typical org charts, it does not focus on the concept of hierarchy. Plus, it is far from the notion of centralization. Same as that the company itself works on the same principles. The modern structured firm focuses on the term holarchy. Holarchy works opposite to hierarchy in function, status, and direction. That means, rather than making the system centralized, it will use decentralization for better management. That's not it!
You can also call this chart by the name of the boundaryless org chart. The reason is that no particular departmental restriction is left in the chart. Therefore, experts say it is solemnly for a collective company exposure to employees and workers. The biggest thing making a modern org chart piece of the future is its scattered authority supply. In traditional charts, we have seen that the highest level of authority is under the CEO or company owners. That means employees will not have an act in the project selection and implications. The modern organizational chart takes the lead here.
How's that possible? The modern organizational chart concepts give employees the power to select their specific projects. That is how employees can impact the firm structure without waiting hours for supervisor instructions.
2. What Are The Characteristics Of The Modern Organization
Experts characterize the modern organization with a focus on efficiency and effectiveness. Plus, it focuses on maintaining a high level of employee satisfaction. Unfortunately, several diverse factors are absent in a traditional organizational chart. That is why it isn't as effective as the modern one.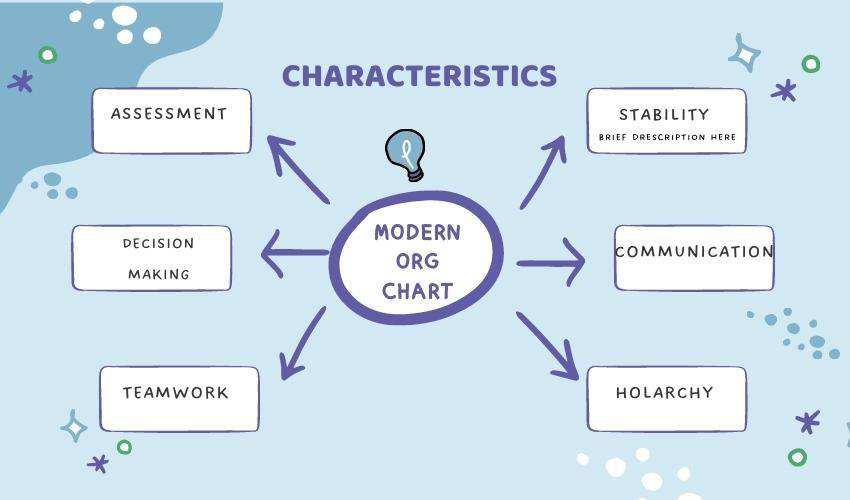 Stability:
The modern organization tends to focus intensely on processes rather than outcomes. Instead of focusing on what the organization does (its output), it focuses on how it does what it does (its process). This focus on process allows for faster decision-making, more consistent outputs, and better results overall. All that isn't possible in the traditional org chart.
Better Communication:
The modern organization also has sound communication systems between departments. That is how each person knows their job and how it fits into the bigger picture. In traditional org charts, the departmental boundaries make it difficult and nearly impossible for high authority personnel to communicate with lower-level workers. For instance, with a top-down hierarchy, the CEO will never get the chance to link with employees.
Here comes the modern organizational chart as a savior! It eliminates the firm's authority, skill, and specialization boundaries. As a result, it improves the level of direct contact and helps in better communication.
3. Modern Organizational Chart Examples
Like traditional org diagrams, modern organizational charts also have diverse types. These types have the same basic principle as the modern chart. However, they differ in terms of specialization, network complexity, and firm focus. You'll find two common modern org chart examples to help you assess its functionality better.
Flat Modern Organizational Chart:
A flat organizational chart is ideal for early startup companies and especially those just starting out. They will have a responsive and energetic management philosophy that can effectively grow enterprises in different industries. The business structures are straightforward, and everybody knows their daily responsibilities and their rights to seek help when needed.
This organizational chart is ideal for startups and small companies as it eliminates bumping managers and middlemen. This makes it easy to identify each manager's authority while also keeping business processes organized and straightforward. A flat organization chart is a perfect solution for a modern business since it helps you cut down the size of your organization and reduce the number of people involved. This makes it possible for you to assign a corporate-level manager as an entrepreneur for each area or function of your business.
Matrix Organizational Chart:
A matrix organization is one of the modern business's most common organizational structures. This structure has been used in various fields, including healthcare services and manufacturing. Essentially, it is a framework where people shift from one position to another with the growth and development of an organization.
A matrix organization is mostly used in large organizations. This type of organizational chart uses multiple levels to simplify work and assign responsibilities to certain workers. Two main managers work in this type of org structure. It is an organization chart example that shows the product manager focuses on creating a product and enlists specific requirements for workers to be eligible. In comparison, the functional manager helps build teams and monitors the execution process of employees.
EdrawMax Desktop
Create over 280 types of diagrams
Windows, Mac, Linux (runs in all environments)
Professional inbuilt resources and templates
On-premises software for business
Enterprise-level data security
EdrawMax Online
Create over 280 types of diagrams online
Access diagrams anywhere, anytime
Team management and collaboration
Personal Cloud and Dropbox Integration
4. Modern Organizational Charts Tips
The modern organizational chart is a lot more than just a way to keep track of who's where in an organization. It is a great way to organize your business. You can use them for projects, from planning your annual budget to setting goals for your employees or clients.
Here are a few tips for creating modern organizational charts:
Use numbers sparingly in your chart. You don't need to list every single item in your business' inventory; instead, just list one number per row/column.
Use color effectively. Colors can help create a sense of urgency or importance. You should use different colors to highlight different areas of your chart. It will make it easy for people to see what you are trying to communicate. It's also important not to use too many different colors or make it difficult for people to read what's being listed. If they have trouble reading it, then they won't be able to understand it.
Make sure you know the type of your firm structure. Please ensure the information you choose is easy to access by anyone who needs it but also makes sense for their specific role in the company. That will help you consider the most useful information in the modern org diagram. Plus, it will aid you in removing any data that might not be relevant anymore.
5. Conclusion
With the ultimate goal in mind, you have several ways to draw a modern organizational chart. It is a matter of personal style, time, and effort to make it look more polished. Besides that, as simple as they may look, it takes a great effort to create them because organizational charts convey a lot of information.
They show who works under whom and the relationships between employees. Moreover, they also depict the holarchy in an organization and how this relationship affects people's workflows. That's why organizational chart drawings need great precision, so they will not get misinterpreted. EdrawMax is an ideal software for this purpose with its to-the-point strategies and direct tools.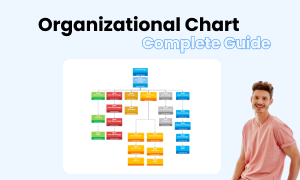 Organizational Chart Complete Guide
Check this complete guide to know everything about organizational chart, like organizational chart types, and how to make an organizational chart.