Company Flowcharts Examples
Do You Want to Make Your Company Flowchart?
EdrawMax specializes in diagramming and visualizing. Learn from this article to know everything about genogram examples and templates, and how to use them. Just try it free now!
Making your sales better is no doubt your top concern as a businessman, but how do you start? Well, a company flowchart is the best way to update your business. It converts complex data into a simpler format. That is why it helps to spot your mistakes in the process. But making a flowchart isn't a piece of cake when you don't know the right software.
So, EdrawMax has come up with the top 10 perfect company flowchart examples. These can promise excellent results for your business. This brief overview will help you choose the best company flowchart for your firm.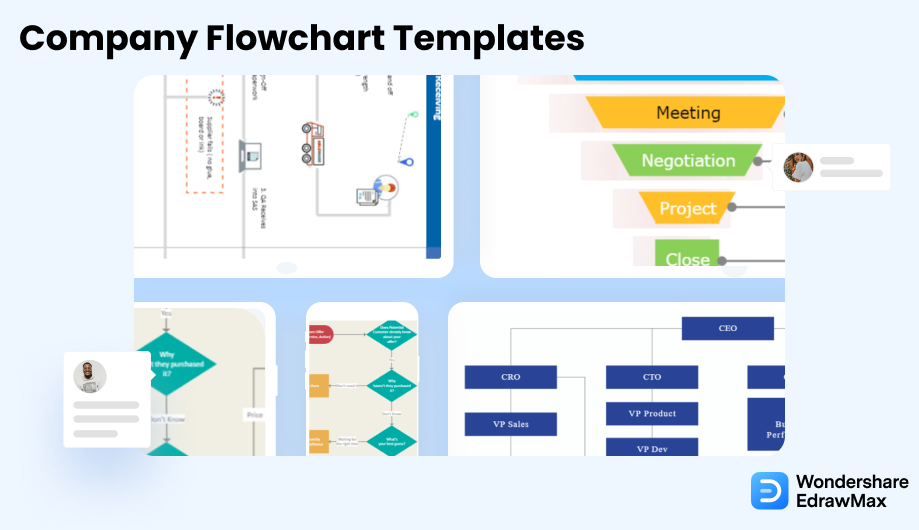 1. Free Company Flowchart Examples & Templates
Example 1: Company Internal Controls Audit Process
Internal controls are the mechanisms helping in the effective control of a company. They include banking records, physical surety, employee processes, and training. The company flowchart audit process is ideal for testing internal controls. It helps against surety standards set by your firm's policies and methods. Moreover, it ensures that all functions within your business operate under best practices. As a result, it helps in better safety handling.
This example aims to help you better understand how controls work together. Plus, it aids managers during an audit or regular checking efforts. For that reason, it is a perfect choice to evaluate fiscal numbers through audits.
Example 2: Company Payroll Cross Functional Flowchart
The following diagram shows the cross-functional flow of data. It performs best in a typical payroll system. The managers must have access to data from multiple sources. That is the only way they can manage payments while performing their roles.
The company flowchart for payroll improves employees' trust in the firm. It ensures that employees are getting paid what they deserve. That will include paying employees on time and according to their overtime hours. Moreover, this flowchart also helps you take care of all their taxes from the job.
The chart manages all employees' time clocks. That is how you can track each employee's task interest in detail. These examples are ideal for every business. Any company can create an accurate cross functional payroll schedule with its help. Plus, a business owner can send it to the accounting team monthly for better judgment.
Example 3: Financial Company Career Path
The career path for a banking company is similar to that of any other firm. You can expect to start as an intern or new employee. On your way up, you can work through the ranks until you reach the position of your dreams. This example is more of a roadmap for employees' step-by-step progress from scratch.
The following is a company flowchart of the typical fiscal services career path. It is not intended to be exhaustive. Instead, it is a general guide for those wanting to pursue a career in the industry. You can use it to see career progression through the stages of business control. It will also help you decide which areas of finance interest you and what type of career path is best for you.
EdrawMax Desktop
Create over 280 types of diagrams
Windows, Mac, Linux (runs in all environments)
Professional inbuilt resources and templates
On-premises software for business
Enterprise-level data security
EdrawMax Online
Create over 280 types of diagrams online
Access diagrams anywhere, anytime
Team management and collaboration
Personal Cloud and Dropbox Integration
Example 4: Company Flowchart
This flowchart is a collection of related, coordinated, and fused business processes. It defines a firm's abilities and functions. It helps describe the data systems needed to support a company's strategic goals.
A company flowchart for enterprise architecture provides a broad view of the framework. It uses the concept of a unified access interface. That is how all key processes work together for effective direction. The goal is to reduce complexity by reducing internal duplication. Moreover, it creates consistency across different departments or areas within a firm. It is a great factor in improving links. Thus, it reduces risk by providing standard solutions for common problems.
Example 5: Company Framework Circular Chart
The company framework circular chart is ideal for illustrating the company structure. The circle represents the industry, and each spike represents a department (or division). The three main sections in this example is separate clouds. Out of these clouds, numerous other divisions branch away.
The first section of this company flowchart describes how a firm works. It focuses on the firm's core values, mission statement, and goals. It provides an overview of what you do for your customers or clients. Furthermore, it also depicts how you conduct yourself within your teams or departments. Most of the time, this section is in plain language. Thus, anyone reading can understand it without having any prior knowledge. Unlike other charts, it doesn't drop down for details. Rather, it highlights only the company levels and departments. The physical data given is only the names and visual links with shapes.
Example 6: Company Value Stream Map
A value stream map is a visual chart of the flow of products from one process to another. It shows how companies create and consume value, helping them to improve value. The purpose of a value stream map is to help you understand how your company makes money. You'll also be able to see where bottlenecks are occurring at each step so that they don't happen again!
Each value stream of this company work flow chart has a specific box with its own color. The arrows connect them with one another. Moreover, they also indicate that the value created in one step transfers to the other. The shapes of the flow chart show whether there are any bottlenecks. In this example, the shipment of goods is the main focus. It shows the flow of products within. Plus, it depicts the value it provides to the business.
Example 7: Company Modification Process Flowchart
When you create this type of flowchart, it's essential to consider that it has one main purpose. In this case, it helps employees understand how the company works. Plus, it outlines how to react if something goes wrong. It also gives them an easy way to determine which steps they need when filing complaints.
This company flowchart example helps managers oversee their activities. Also, it helps human resources experts if there are any process-related problems. Besides that, marketing and control distinction helps understand the process of purchase order update. The chart should be as transparent as possible. That is how it can be easily understood by anyone who needs to fill out a purchase order form.
Example 8: Internet Companies Launch Timeline
A launch timeline is a diagram showing the process of developing and launching a new product. It can help teams stay on track and manage their time. Plus, it is ideal for finding potential problems before they happen.
This company flowchart example shows a complete roadmap from scratch to cash. It outlines the years of business progress involving the creation and high layout upgrade. Using this flowchart will not only help you keep pace with the events but also excite your customers. With its help, you'll connect with them before active service provision. Thus, it boosts client content and trust.
Example 9: Netflix Value Chain Analysis
Netflix is a company that provides on-demand internet streaming media. It is available to viewers all over the world. Analysis of value charts can help you understand their relative importance. Plus, it outlines a unique metric in your company's overall design. You can use this data to prioritize the most critical metrics. Also, it will let you decide which ones you should track closely.
This company flowchart example deals with a business's primary and secondary activities. These terms jointly make the startup business a whole. It mainly outlines the impact of these activities on the past and present company state. So the owner can find the elements that need a boost.
Example 10: Main Process BPMN Notation
Business Process Modeling Notation (BPMN) is a graphical notation for business processes. Owners intend to use it in business process modeling. It is conducive to system link projects. The chart provides a graphical diagram of the whole project. That helps to understand the main processes and their links. It also helps in finding any deviations from the early concerns.
This company flowchart focuses on processes in a business affecting its success. The picture focuses on projects from two different aspects. It alters the framework for clients and managing departments.
2. Company Flowchart Symbols
There are various flowchart symbols used in company flowchart. Understanding the meanings and usages of those flowchart symbols will help you to create your own company flowchart quickly and correctly. You can click Flowchat Symbols to learn more symbols and more types.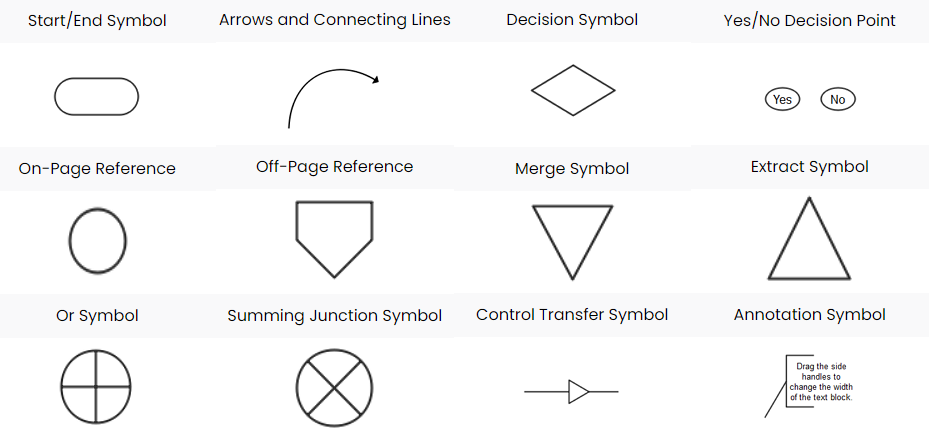 Source: EdrawMax.com
3. Free Company Flowchart Software
EdrawMax is a free software used for the production of customized visual representations. You do not need a pencil and paper to draw quality control flowchart of your business plan because EdrawMax will help you and give you an amazing result. It has various distinctive features for which people mostly prefer it.
EdrawMax is an all-inclusive diagramming tool that you can use to create not only a quality control flowchart but other graphical illustrations as well. With well-equipped rack symbols, fonts, and so much more, making server rack representations could be as simple as possible. Moreover, with EdrawMax, users can customize their diagrams and save their work in multiple formats.
The best EdrawMax features that can assist you in your Company Flowchart:
EdrawMax Company Flowchart software is compatible with multiple devices including Windows, Linux, and Mac devices. So, you can access diagrams online anywhere and at any time.
Over 280 types of diagrams including flowcharts, tree diagrams, mind maps, architectural diagrams, wiring plans, and more.
You can download or export your desired file in different formats, including PDF, PNG, PPTX, MS DOCS, and JPEG.
EdrawMax has a huge library of customizable templates to meet everyone's needs. Professionals always update these templates with creative ideas. It offers completely customizable templates free of cost.
Advanced user-friendly UI. You will feel right at home even with no experience in design. A complete set of symbols and general art tools to help you to tailor your drawings according to your liking.
EdrawMax population has reached around 25 million people. They work and present unique templates using their creative minds and approaches. You can easily find maps, design models, organize charts, and create network diagrams.
EdrawMax
All-in-One Diagram Software
Create more than 280 types of diagrams effortlessly
Start diagramming with various templates and symbols easily
Superior file compatibility: Import and export drawings to various file formats, such as Visio
Cross-platform supported (Windows, Mac, Linux, Web)
Security Verified |
Switch to Mac >>
Security Verified |
Switch to Linux >>
Security Verified |
Switch to Windows >>
4. Final Thoughts
Whether a well-known business or a new startup, the above company flowcharts can be helpful. They will pinpoint the problem, so your team gets to know the real issue within the organization. Take some time to explore them and see if there is one that suits your needs. Remember, no matter what kind of chart you use, make sure it is clear and easy enough for people to understand. That is how they can assess it from their positions within the company.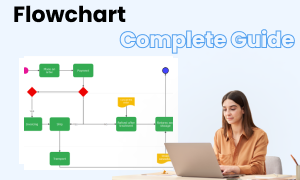 Flowchart Complete Guide
Check this complete guide to know everything about flowchart, like flowchart types, flowchart symbols, and how to make a flowchart.