3D Network Diagram Software

Edraw Max is a vector-based network diagramming software and it can help you make it easy to create a 3D network diagram in minutes.
As you can see, 3D features enhance the look of any image. But the combination of 3D network elements can create a stunning network diagram. By using 3D network symbols instead of 2D, the results are amazing in our Edraw 3D network diagram software.
3D Network Diagram Software
Edraw Max is a vector-based network diagramming software. Now it has the tools to make it easy to create a 3D network diagram. You can make a network diagram as simple or as complicated as you want. Simply drag the 3D perspective shapes then connect them with the built-in oblique connectors. It is also very useful for viewing and printing your network information in many different styles. You can set the network information to shape by using the customize properties and hyperlinks.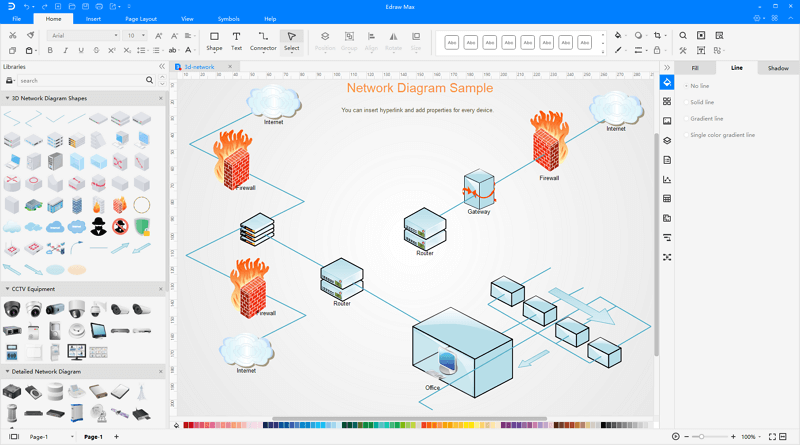 EdrawMax: a swiss knife for all your diagramming need
Effortlessly create over 280 types of diagrams.
Provide various templates & symbols to match your needs.
Drag and drop interface and easy to use.
Customize every detail by using smart and dynamic toolkits.
Compatible with a variety of file formats, such as MS Office, Visio, PDF, etc.
Feel free to export, print, and share your diagrams.
System Requirements
Works on Windows 2000/2003/2008/Vista/7/8/10 (32bit/64 bit)
Works on Mac OS X 10.10 and later
Works on Linux (Debian, Ubuntu, Fedora, CentOS, OpenSUSE, Mint, Knoppix, RedHat, Gentoo and More)
Supports to design on Web
Advanced Features of Edraw Network Diagram Software
State of the art
Vector-based shapes and templates that are pre-designed
An all-in-one diagram maker that can make over 280 types of diagrams and serve all of your purposes.
Easy to use with the drag & drop interface, abundant symbol libraries and automatic formatting tools
Run on common operating systems and work on different devices.
Export documents into various file formats and has great compatibility.
3D Network Diagram Symbols
Using the 3D network diagram symbols in Edraw, you can quickly and easily create a perfect 3D network diagram. These built-in symbols include 3d perspective server, routers, switches, OC, modem, clouds, etc. All symbols are vector and can be changed in color, line and shadow.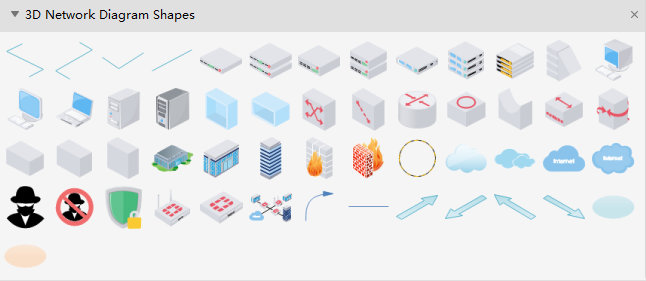 3D Network Diagram Examples
The following 3D network diagram examples are created by Edraw and included in the software. You can find more in Edraw Template Center.
More Related
How to draw 3D Network Diagram
Basic Network Diagram Software
Network Topology Diagram Software