Vocabulary Graphic Organizer Examples & Templates
Do You Want to Make Your Vocabulary Graphic Ogranizer?
EdrawMax specializes in diagramming and visualizing. Learn from this article to know everything about vocabulary graphic organizer examples and templates. Just try it free now!
Vocabulary graphic organizers are helpful visual resources to teach English language learners (ELLs) to represent and visualize relationships between vocabulary words and their possible meanings, attributes, and associations. In addition, teachers use vocabulary graphic organizers to deepen students' understanding of difficult words and the relationships of such vocabulary words to their prior knowledge through multiple instructional activities, including word definitions, examples, synonyms/antonyms, and word attributes. Graphic organizers are effective visual learning strategies because they are engaging and allow ELLs to work in collaborative groups.
With EdrawMax, you can create, customize and design vocabulary graphic organizer template. It offers you great convenience and productivity to learn new words.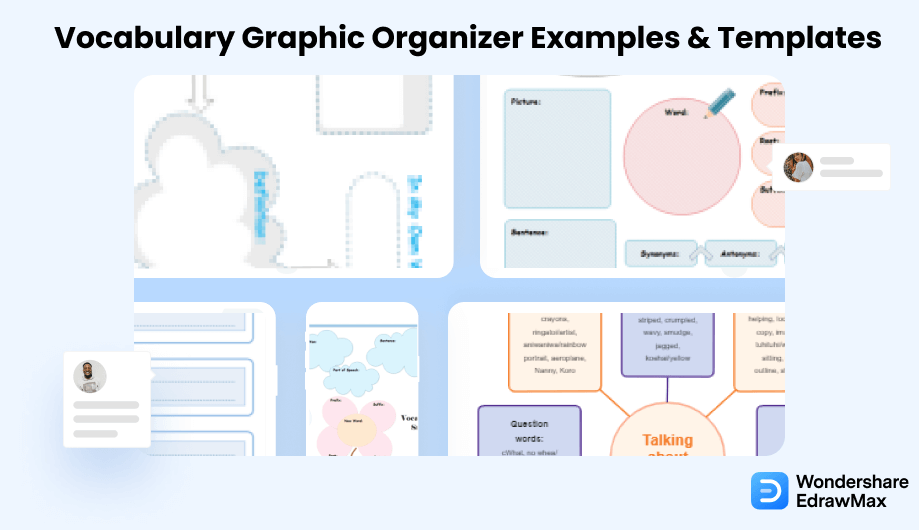 1. Types of Vocabulary Graphics Organizers
Consider the most recent time you learned a new term. You had to check the spelling, determine how to use it appropriately in light of the context, and retain the definition for use in the future. Students engage in this activity daily as they acquire new vocabulary in the classroom and in real life. Use vocabulary graphic organizers to help students stay organized as they learn dozens of new words.
You can wonder what kind of vocabulary graphic organizers they ought to employ. Although there are numerous, I'll only show you a handful of my favorites.
KWL Graphic Ogranizers

One of the most straightforward vocabulary graphic organizers is a KWL chart. KWL stands for just three things: KNOW, WANT TO KNOW, and LEARNED. Teachers use these charts or graphic organizers to simplify concepts for their students. They could brainstorm as a class what each student knows about a topic or vocabulary term. It's possible that a few students already "know" the time and what it means.

Students can add items to the "learned" portion of the graphic vocabulary organizer when they delve into the vocabulary term, do some research, and use it more frequently. Additionally, you can discover that the students are curious about the word. These queries are listed on the chart under "want to know".

Word Maps As Graphic Organizer for Vocabulary

A word map is a typical sort of graphic organizer for vocabulary. For pupils to deepen their word studies, word maps dissect every component of a word. A word map may have some of the following essential features:Associated words, Synonyms,Antonyms, Word arrangement, Pictures, Association, As an illustration.

Students can better recall, understand, and use their new language by breaking it down into the components above. Students have a fantastic opportunity to conduct individual or group investigations while learning more about their words using word maps.

Analogy Graphic Organizer

Use an analogy graphic organizer to help students compare and contrast vocabulary words that might be related to one another. They can group the words in their vocabulary according to their preferred categories and assess the similarities and differences between the words. Additionally, they might notice connections between the terms and explain those connections in an analogy graphic organizer. Below is an illustration of an analogy graphic organizer.
Types of Vocabulary Graphics Organizers that Can Be Helpful to Students
:
KWL Graphic Ogranizers
Word Maps As Graphic Organizer for Vocabulary
Analogy Graphic Organizer
2. Vocabulary Graphic Organizer Examples & Templates
Free to download and print in PDF, vocabulary graphic organizers template come in a variety of formats. You can use an EdrawMax graphic organizer program to alter these files if any of the example templates don't suit your needs or if something has to be changed. In fact, EdrawMax has a ton of pre-made shapes and templates that you can use to quickly and easily make your own unique, gorgeous graphic organizers. EdrawMax provides a large selection of beneficial graphic organizer templates that can be used for a variety of different tasks. Below are some examples:
Example 1: Vocabulary Graphic Organizer for Flower and Clouds
You and the pupils will both adore this adorable template, I'm sure of it! Writing on a cloud, a flower, or a leaf will be a great experience. In order to access the download page, click the image. Similar to many graphic organizers, it uses an organized manner to capture ideas, thoughts, and concepts. Also It can be used to focus mainly on the benefits and drawbacks of a certain topic and illustrate the information and show how different ideas relate to one another.
Example 2: Blank Word Map
It's more crucial to let kids examine words on their own when learning new vocabulary, allowing them to determine the word's meaning, part of speech, and word construction. They will have a deeper knowledge in this manner. Use this blank word map to get started. Similar to many graphic organizers, it uses an organized manner to capture ideas, thoughts, and concepts. What makes this content intriguing and interesting for kids to learn? Students will utilize this graphic organizer to identify the key idea and offer information to bolster their ideas.
Example 3: Vocabulary Graphic Organizer for Word Study
You may quickly download and print this word study chart. It's an excellent tool for educators who want to encourage their pupils to consider and examine new terms. You can pick between PDF and EDDX files. If EdrawMax is installed on your computer, you can alter the EDDX file. EdrawMax Online, which makes it simple and quick to produce a Word Study Chart with professional-looking results. The Word Study Chart is an alternative to employing complicated programs to generate details. The chart below shows how the idea is presented along with a thorough diagram.
Example 4: Vocabulary Study Graphic Organizer
Upper elementary school or middle school pupils would benefit from using this visual organizer for their vocabulary studies. It can be utilized as a worksheet or a component of an examination to look at pupils' word study. EdrawMax can be used to design or build a vocabulary graphic organizer. The major idea, which explains more about the overarching idea of a paragraph or portion of writing, is crucial, as the graphic illustrates. Any core idea needs supporting ideas to work together.
Example 5: Vocabulary Map Graphic Organizer Template
This cartoon design vocabulary map graphic organizer template offers you great convenience and producitivty to learn new words. What's more, sharing, customizing and printing are all within minutes if you choose the free download graphic organizer design software!
Example 6: Vocabulary Word Web
The following WordWeb diagram shows different synonyms of the word 'drawing.' As shown here, words that describe 'drawing' are striped, crumpled, wavy, smudge, jagged, and others. The action words of 'drawing' are helping, look, draw, copy, imagine, and others. The words for feelings are proud, puzzled, disappointed, angry, and others. The words that express belongings are your paper, your picture, my turn, our poster, and others. It should be noted here that WordWeb is an international English dictionary and thesaurus program for several operating systems. Instead of making a WordWeb for diet on paper, use EdrawMax as it offers tons of predefined templates that make it very simple to create a WordWeb diagram.
3. How Do Graphics Organizers Help Students With Vocabulary
If you speak to any teachers who regularly utilize graphic organizers, you'll probably discover that they're much more benefits of vocabulary graphic organizer than just fancy worksheets.In my own experience, I've observed that visual organizers help students build their vocabulary and gain a better knowledge of text structure while also increasing their engagement with, comprehension of, and grasp of the text.
Improves comprehension

Writing about the materials that pupils are reading improves reading comprehension. Students can better arrange their thoughts and write about the text by using graphic organizers. A graphic organizer can help students dissect and write about the critical components of a tale rather than giving them an essay to write on a text they have read. Young students can also use graphic organizers to assist them in ordering their thoughts. With this visual aid, students are less likely to feel overwhelmed and are more inclined to express their ideas.

Using graphic organizers, students can better comprehend text structure.

When teaching text structure, graphic organizers are pretty helpful. Students benefit from graphic organizers highlighting text structures, including cause-and-effect, contrast-and-compare, sequence, and problem-and-solution. Students can better comprehend text structure by physically observing its hierarchical structure.

Students can analyze characters using graphic organizers.

Students writing about characters can benefit from graphic organizers. Character traits, character comparison, character responses to situations, and character change throughout a story are just a few of the abilities that graphic organizers are ideal for teaching.
4. How to Use a Vocabulary Graphic Organizer in EdrawMax
On EdrawMax, making a visual organizer is simple. You can utilize their eye-catching and lovely diagram and illustration templates to create one for yourself. Don't worry if you are a newbie. You can make a graphic organizer in a matter of short steps. Whatever method you use, there are some simple steps to follow to create a visually appealing graphic.
Step1
Open EdrawMax & Login
Installing the EdrawMax software on your computer after downloading is the first step. Different versions of EdrawMax are available for Linux, Windows, and macOS. Select the best version in accordance with your operating system. If you've never used EdrawMax, you may sign up using your personal or business email address and If you wish to start fresh, you may alternatively select a blank page. Select the choice closest to your original idea; you can always change it slightly afterward.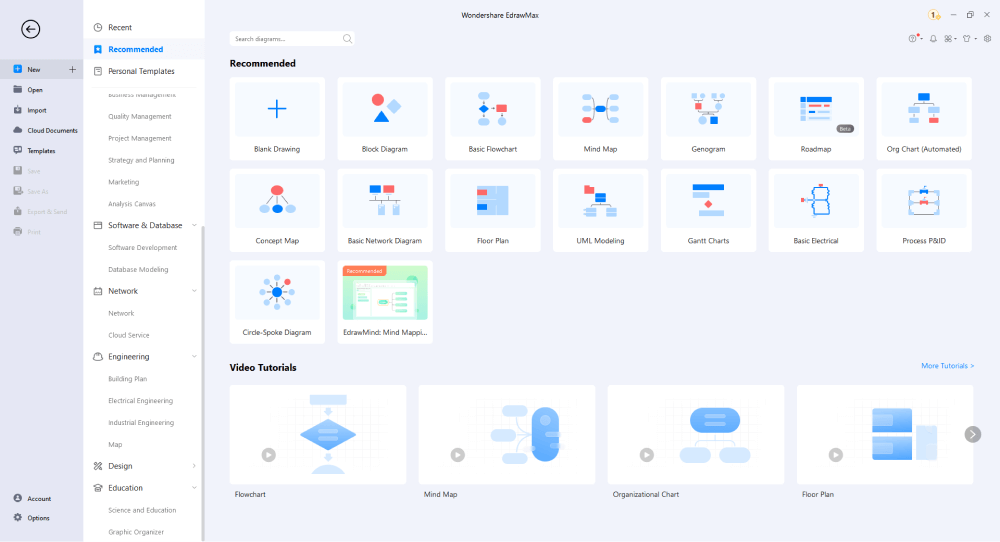 Step2
Choose a Template
There is a built-in templates community with EdrawMax. You can use hundreds of built-in templates freely available in this template community. Look for "Education" in the template area on the left. To access the offline templates, click "Graphic Organizer". In order to meet the demands of everyone, there are a variety of templates accessible in the graphic organizer.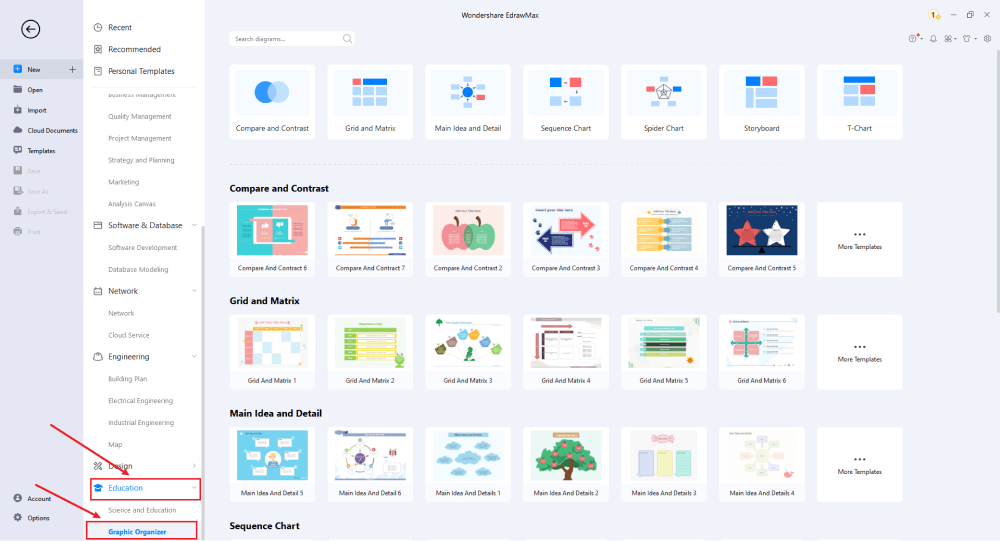 Step3
Select the Symbols
Without symbols, every graphic organizer is insufficient. Select the "Predefined Symbol" section from the top toolbar in the "Symbols" section. To import these to your library and begin adding them as and when they are needed, click on "basic". Change the text's size, shape, color, alignment, and other features to suit your tastes. Once you are done editing, close the side panels by clicking on the "and" symbols on the top corner of each panel.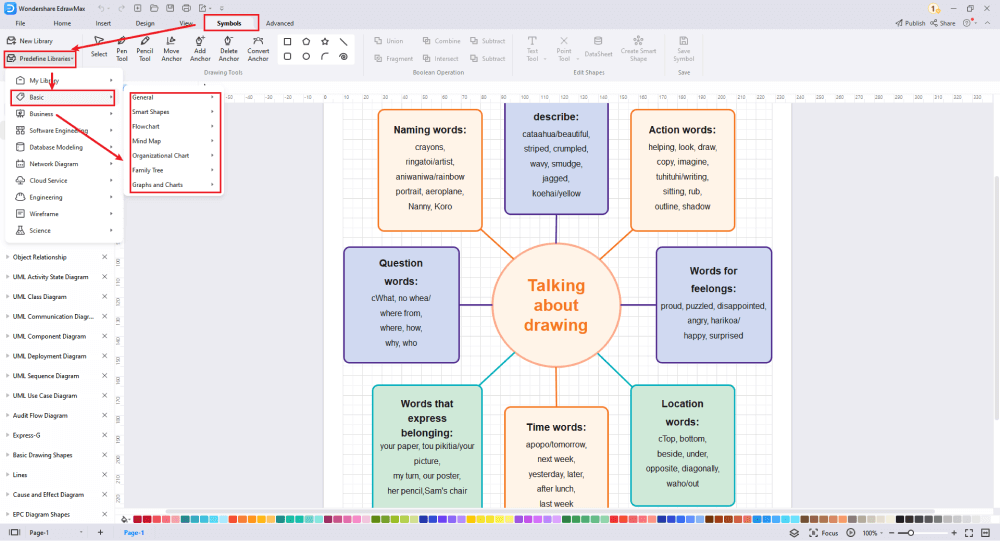 Step4
Add Components
You can add different colors, effects, shapes, add or subtract steps, and so on to complete the graphic organizer. To alter the specifications of the graphic organizer, use a variety of the tools included in EdrawMax. Basic tools like connectors, text tools, the choice to format shapes, the pen tool, the pencil tool, the ability to move anchor points and points, the ability to draw geometric shapes, etc. May be included in these tools. Adjust the size, font, shape, color, alignment, and other details according to your preference. You will find various editing options in the navigation pane on the toolbar.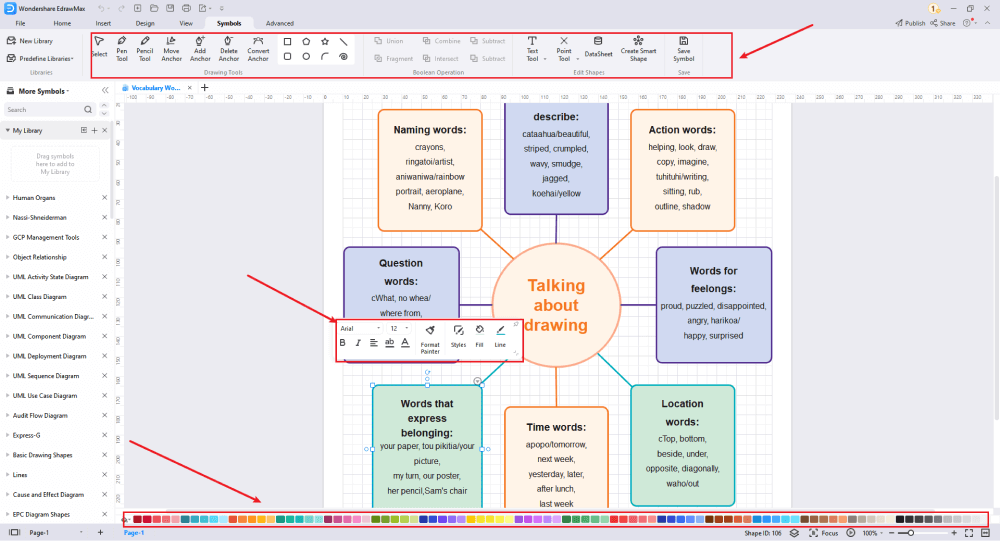 Step6
Save & Export
Using the Share and Export choices in the File dropdown menu, you may simply share and export the file. The file can be saved in a number of different formats, including JPG, PDF, MS Office, HTML, SVG and other Microsoft formats, like MS Word, MS Excel, PPTX, etc. You can also share the network layout design on different social media platforms, like Facebook, Twitter, LinkedIn, etc. EdrawMax additionally supports the graphic organizer (diagram) online saving choices in Google Drive or Drop Box. You can do so by clicking on the file option, then keeping it in your desired format such as JPG, PDF, HTML, etc.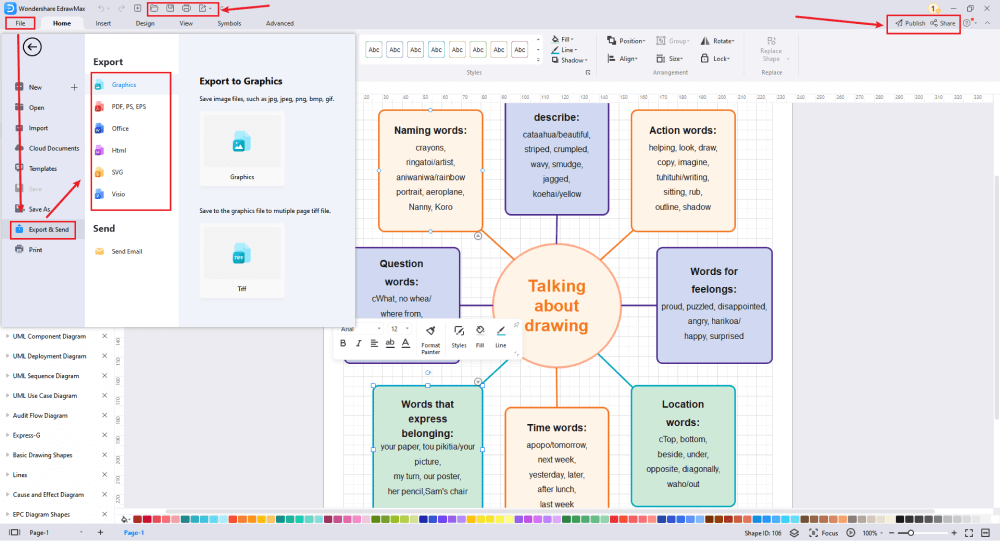 Basically, it is simple to create a graphic organizer in EdrawMax, just grab a template and keep customizing, drag and drop professinal symbols to make your plan better. If you are still confusing about how to create a graphic organizer in EdrawMax, just check this graphic organizer guide, or check the video below. Or you can find more tutorial videos from our Youtube.
5. Free Vocabulary Graphic Organizer Software
EdrawMax is a comprehensive diagram-creation tool that enables enterprises to create a variety of diagrams for displaying workflows, floor plans, organizational charts, and more. Users can use the platform to design flow charts, mind maps, fishbone diagrams, UML diagrams, and more, either from scratch or by utilizing one of the pre-built EdrawMax diagram templates. The solution offers customization tools and complete control over layouts, colors, text, and more. It was created with the goal of facilitating the creation of professional and branded diagrams and charts for businesses.
key Features of EdrawMax:
More than 280 distinct diagram types, including mind maps, wire diagrams, tree diagrams, flowcharts, and architectural diagrams.
EdrawMax offers a broad selection of modifiable templates to meet everyone's needs. Use professionals only.
Advanced Ul that is user-friendly. You will feel entirely at home even if you have no prior design experience.
You can edit your designs to suit your preferences using symbols and other common drawing tools.
When multi-selecting shapes, it supports selecting all text or other objects on the mini toolbars.
The format painter has recently been added to the mini toolbars.
Enhancements to the import of VSDX, DOCX, SVG, and other file formats.
EdrawMax Desktop
Create over 280 types of diagrams
Windows, Mac, Linux (runs in all environments)
Professional inbuilt resources and templates
On-premises software for business
Enterprise-level data security
EdrawMax Online
Create over 280 types of diagrams online
Access diagrams anywhere, anytime
Team management and collaboration
Personal Cloud and Dropbox Integration
6. Final Thoughts
Having read all that about vocabulary graphic organizers, you can conclude that creating a vocabulary graphic organizer on EdrawMax using the various templates offered makes your job easy, smooth and stress-free. Even if you don't have any design experience, you may quickly and easily create aesthetically stunning graphic organizers using Edrawmax's various built-in symbols and scalable templates.
Using software like EdrawMax is among the easiest ways to make a Graphic Organizer. A wide variety of amusing and cost-free graphic layouts are available on EdrawMax. With EdrawMax, the easiest diagramming tool on the market, you can build any graphic or customisable diagram by choosing from a variety of attractive built-in models and customizing them till you're satisfied.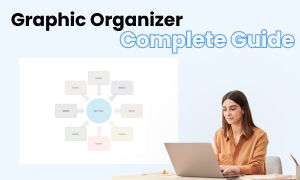 Graphic Organizer Complete Guide
Check this complete guide to know everything about graphic organizer, like graphic organizer types, and how to make a graphic organizer.