Restaurant Organizational Chart Examples

The primary benefit of org charts are the level of clarity that they bring. It highlights which staffs are responsible for what task, and who they should be deferring to in cases of conflict. Without one, there may cause confusion and delay during decision-making processes. Pre-designed restaurant organizational chart examples are for different types of restaurants. Go through these examples to see more details and easily customize them in EdrawMax.
Part 1: Restaurant Positions and Roles
A restaurant has several people working in a lot of positions. The kitchen has its separate employees while the dining employees have whole other expertise. Let's look at some of the essential roles in a restaurant.
The Manager

A restaurant manager is kept in charge of recruiting, supervising, and training his fellow staff members. However, his primary duty is to deal with customer complaints, ensure the food quality, and examine the place's sanitation. With bearing the responsibility of maintaining and expanding the restaurant's success, he would have to corroborate that the restaurant is compliant with health and safety licensing.

Executive Chef

As the head chef of the restaurant, he is in control of all the kitchen affairs. He is responsible for hiring and training the people working in the kitchen. The executive chefs also decide to add or eliminate a particular dish in the menu, considering the season, events, and popularity. Besides all this, the chefs are responsible for informing the manager about the pantry and stock supplies.

Sous Chef

They are the second most important person in the kitchen after the head chef. They assist the executive chef and ensure that all the prep work has been done at each station before the kitchen opens. He should have good leading skills to command over the line cooks working under him.

Sous chefs need to be vigilant and instantly report any problem to the executive chef. In case the head chef is not at his place, they need to take command and share his responsibilities.

Servers

As the front-of-the-house people, servers are representatives of your customer service. They have the responsibility of being polite and considerate towards customer requests. Depending on the restaurant's size and complexity, servers may have specific jobs like some of them would manage the food, while others ask for drinks and cheese selections.

However, in the end, all have the same job- present the restaurant well. While a good server can attract more customers, a poor one can turn them away.

Cashier

The accountant job is to inspect and analyze all the finances of the restaurant. He is responsible for managing all the cash exchanges and utility payments. The cashiers should be very vigilant and honest about their work and clarify all the finance sheets' payments.

Line Cook

Line cooks are a vital part of the kitchen because all the prep falls on their shoulders. They are responsible for cutting the veggies, preparing the sauces, and making sure the kitchens are fully stocked with stations ready. They ensure that the area is clean and are often assigned to a single station. It is an entry-level position in a kitchen.
Part 2: Restaurant Organizational Chart Examples
There are multiple kinds of restaurant org charts you can make and use according to your needs, which will help you track all the workers and the responsibility of each of them. Let's have a look at some of them.
Example 1: Small Restaurant Org Chart Example
If you are going to open a new small restaurant, you need to see this org chart example for the small restaurant, and it can help you understand how a restaurant works. Staffs like servers, hosts, bartenders, and chefs are essential to your business.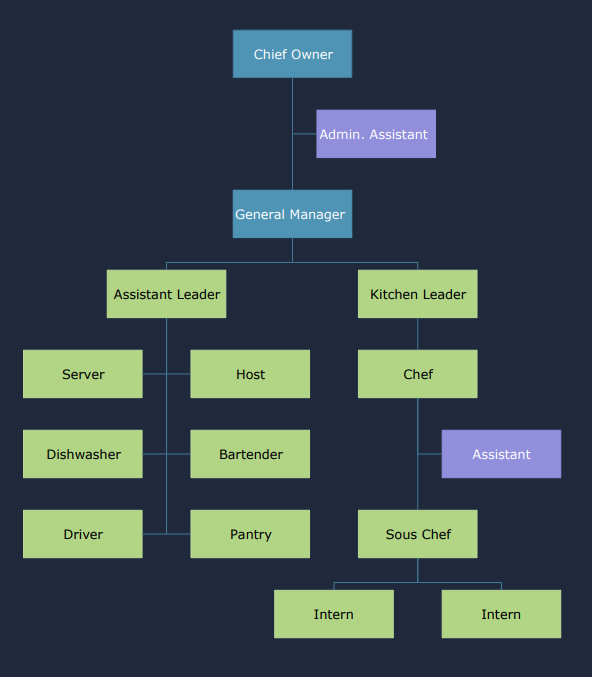 Example 2: General Restaurant Org Chart Example
A general restaurant especially that serves different cuisines can be significantly benefited from this chart. An organizational chart in the restaurant will identify everyone's responsibility and duties. It will also clarify the authority to make sure there are no conflicts or chaos. This chart will make it incredibly easier to contact the right person in case of any problems.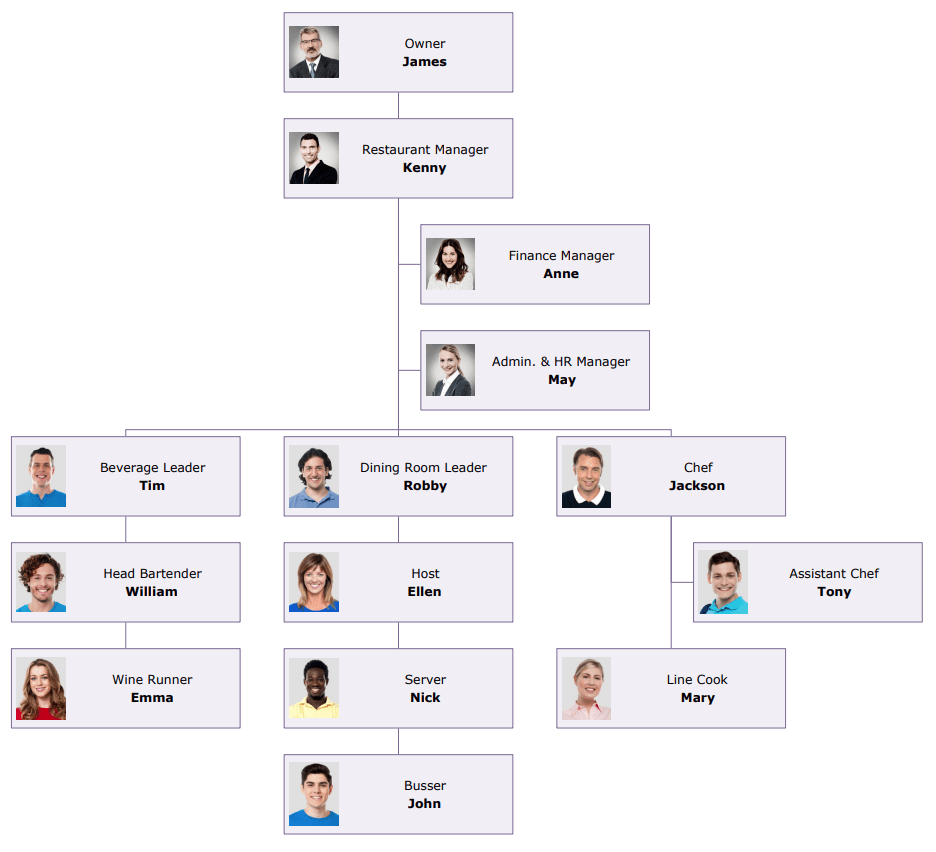 Example 3: Michelin Restaurant Org Chart Example
A Michelin restaurant is the most elite of its kind and needs to be dealt with accordingly. Not just the food but the management and operations must be smooth. It would be effortless with a chart like this to highlight all the people involved and their respective positions.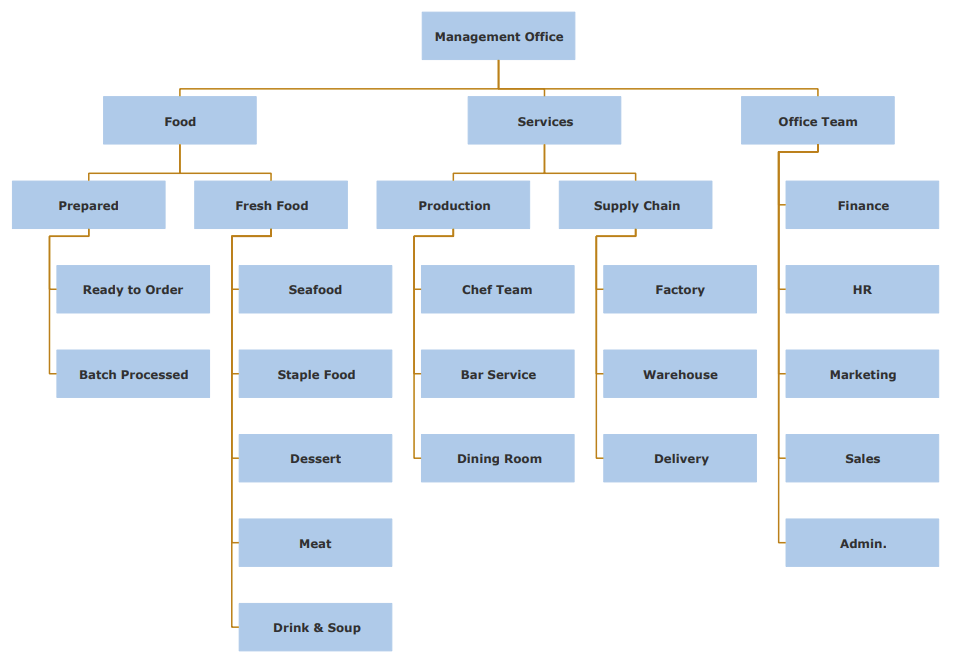 Example 4: Seafood Restaurant Org Chart
Even a seafood restaurant needs an organizational chart to manage the kitchen and the sitting area easily. With a map containing all employees and their responsibilities, you can efficiently assign duties to ensure customer orders are taken on time and delivered.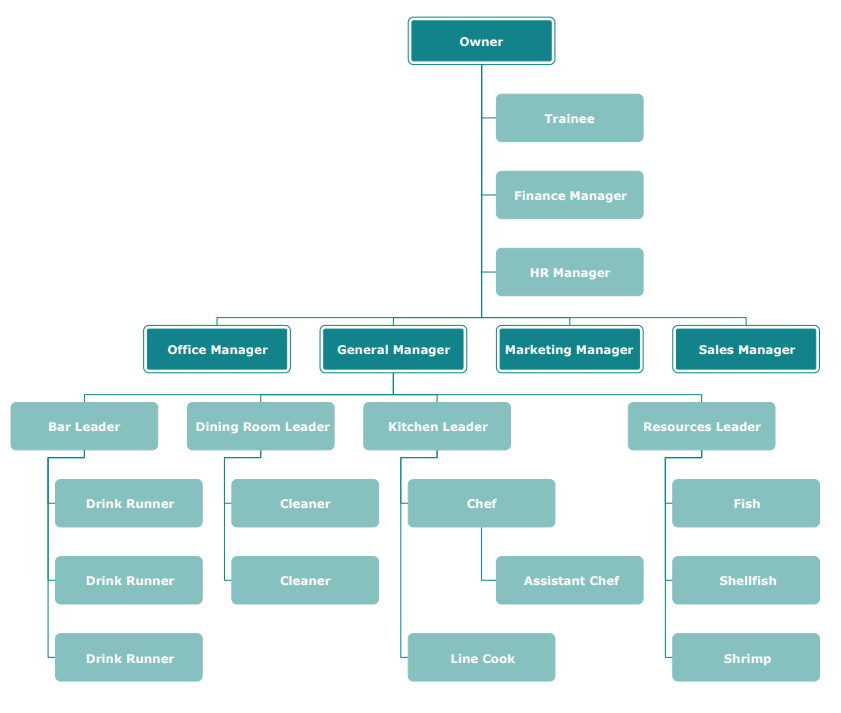 Example 5: International Restaurant Organizational Chart
Imagine that you are the CEO of a global restaurant enterprise. What kinds of talents should you hire to make your business grow and flourish? Let this international restaurant organizational chart example gives you the answer.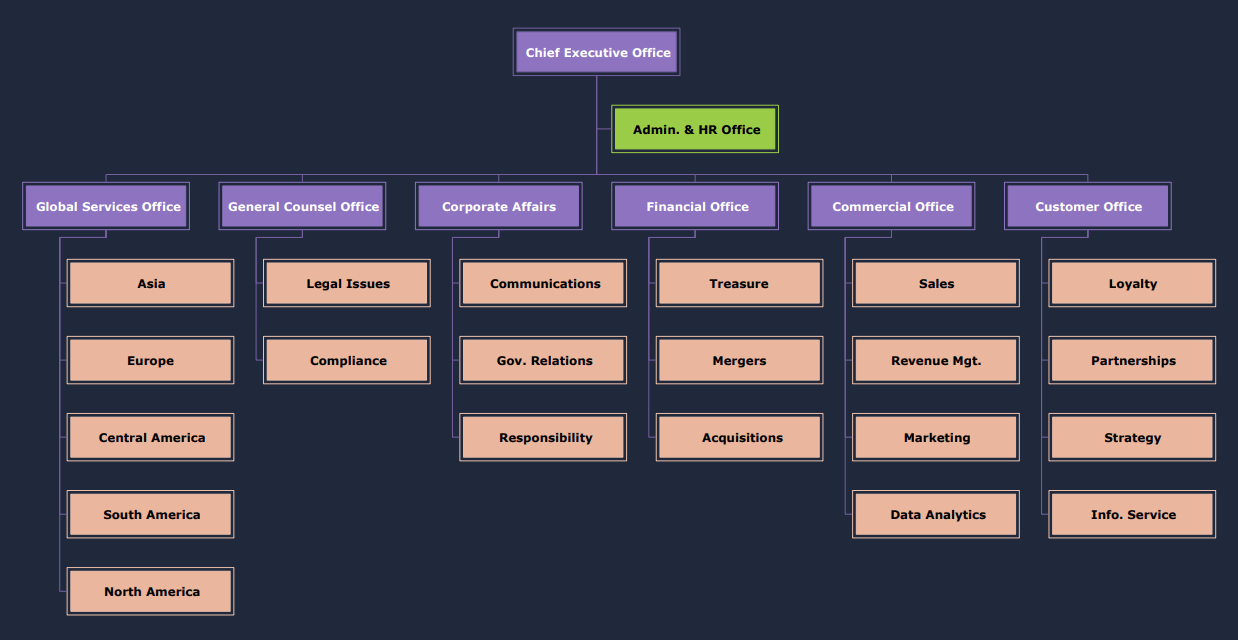 Example 6: Restaurant Org Chart with Staff Roles
It is suitable for large restaurants with many employees to keep an organization chart that identifies staff roles and duties. Such diagrams are handy for assigning responsibilities to everyone in the team and ensuring there is someone for every task. Moreover, there is no chaos or ambiguity about authority.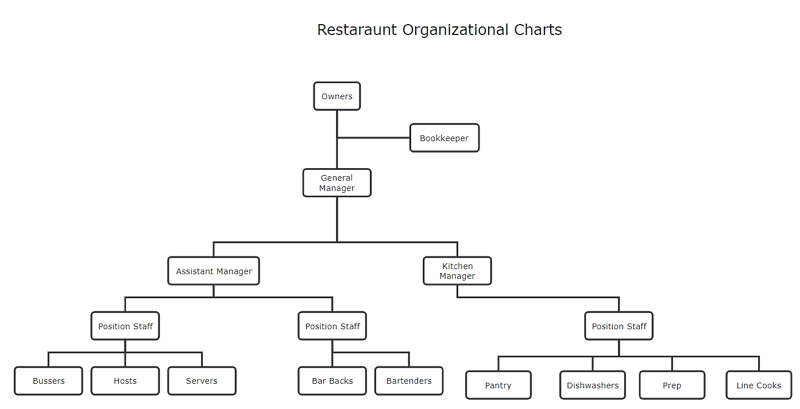 Example 7: Organizational Structure of a Restaurant
Large restaurants may need an organizational structure, so all employees are well aware of their responsibilities. Duties can be rotated, and everyone can be assigned either to the kitchen or dining with structured breaks in between. With the positions of everyone clarified, this will build better communication and understanding between the team.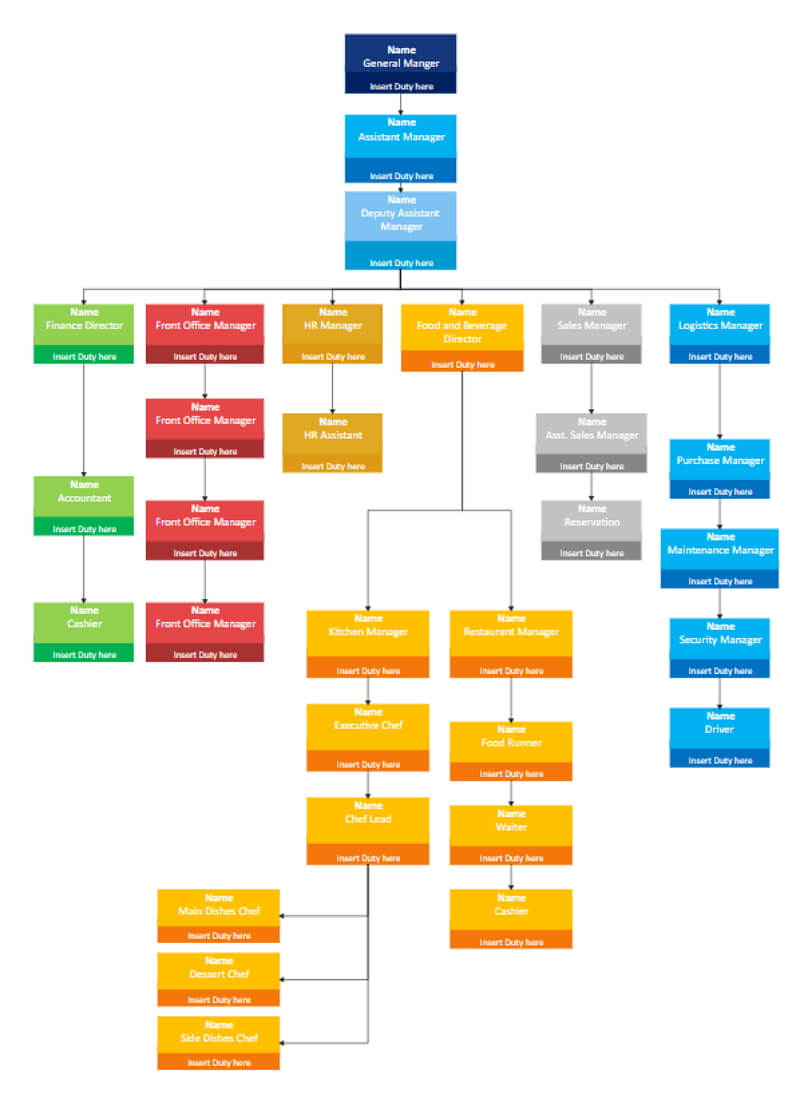 Example 8: Large Restaurant Organizational Chart
Organizational charts are the best way to keep track of all employees and their positions. These charts can be useful while mentoring trainees and assigning roles to everyone in a large team. As a great visual aid, it can translate more complex data into a more understandable version. These charts can help make smaller teams within the restaurants or make sure everyone feels a part of the place.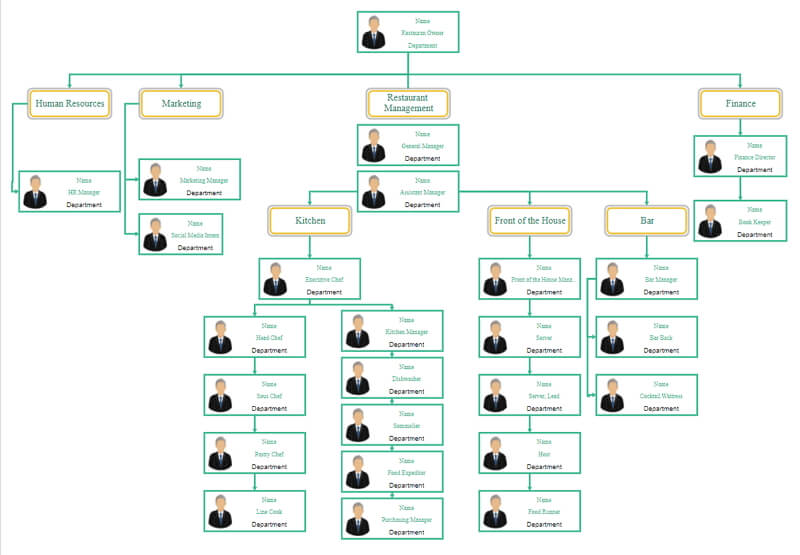 Part 3: How to Create An Org Chart in EdrawMax
Creating an organizational chart of small restaurants or even large ones in EdrawMax is extremely easy. We have listed a quick few steps to get you started. How to make a org chart easily? Using EdrawMax to create your own org chart diagram.
Step 1: Open EdrawMax desktop software or EdrawMax web-based application.
Step 2: Navigate to [New]>[Organizational Chart]>[Organizatinal Chart]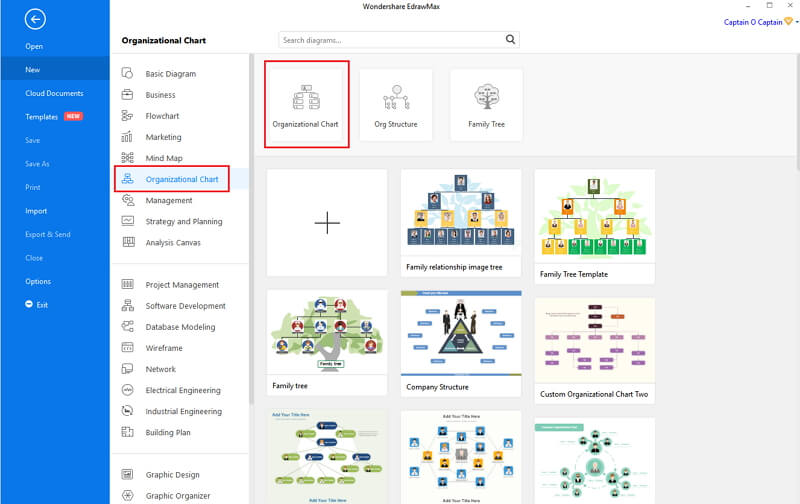 Step 3: Select one org chart template to edit on it or click the [+] sign to start from scratch. Also, you can use massive org chart symbols and elements from libraries in left menu to customize your org chart.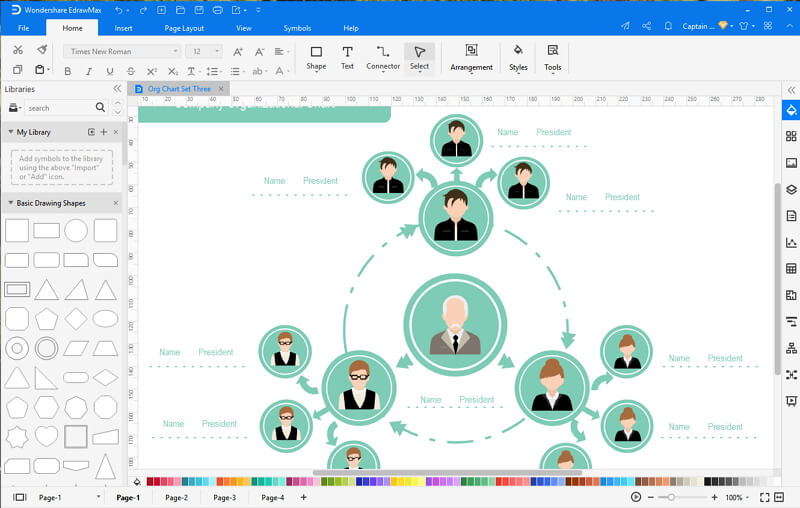 Step 4: Once finished your creation, you can export the file in multiple formats, including Graphics, PDF, editable MS Office file, SVG and Visio vsdx file.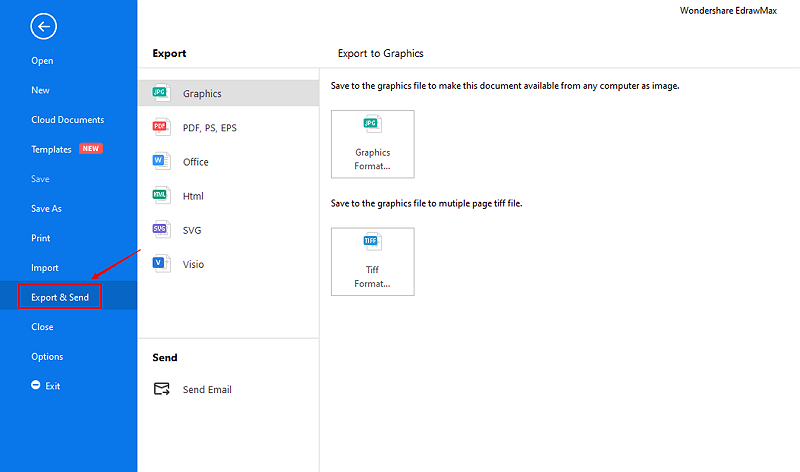 Step 5: Besides, you can share your diagram with others via social media and web page. Or publish your diagram in EdrawMax template gallery to show your work with others.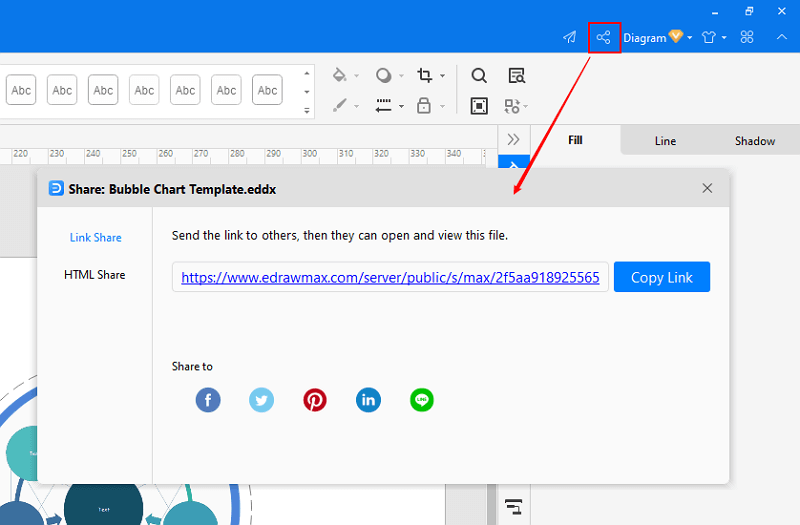 Part 4: Conclusion
Indeed, restaurant org charts are a smart way to organize all your employee details, assigned tasks and ensure everyone handles something. Organization charts are quick and easy to make, especially with a user-friendly tool like EdrawMax. Using an array of templates and samples, you will need to add in text, and you'll be done.
EdrawMax is an easiest all-in-one diagramming tool, you can create org charts and any other type diagrams with ease! With substantial org chart symbols and cliparts, making org charts could be as simple as possible. Also, it supports to export your work in multiple formats and share your work with others. Get started to create your org charts now!
EdrawMax
All-in-One Diagram Software
Create more than 280 types of diagrams effortlessly
Start diagramming with various templates and symbols easily
Superior file compatibility: Import and export drawings to various file formats, such as Visio
Cross-platform supported (Windows, Mac, Linux, Web)
Security Verified |
Switch to Mac >>
Security Verified |
Switch to Linux >>
Security Verified |
Switch to Windows >>
More Related
Top Recommended School Organizational Charts
Professional Service Enterprise Organizational Charts
Trade Enterprise Organizational Charts