P&ID Machine Symbols and Their Usage

Pre-drawn machine symbols represent automatic chucker, automatic screw machine, ball mill, CMM, grinder, drill bit, sharpener, horizontal mill, beater, granulator, yeast modeling, etc. Vector symbols help develop accurate and presentation-quality diagrams and documentations.
For users who need to document piping and instrumentation diagrams or process flow diagrams, here we provide a large range of vivid P&ID machine symbols and illustrations, which can greatly save your precious time and enhance your work efficiency. On this page you will have a general overview of the machine symbols together with some simple instructions on how to use them.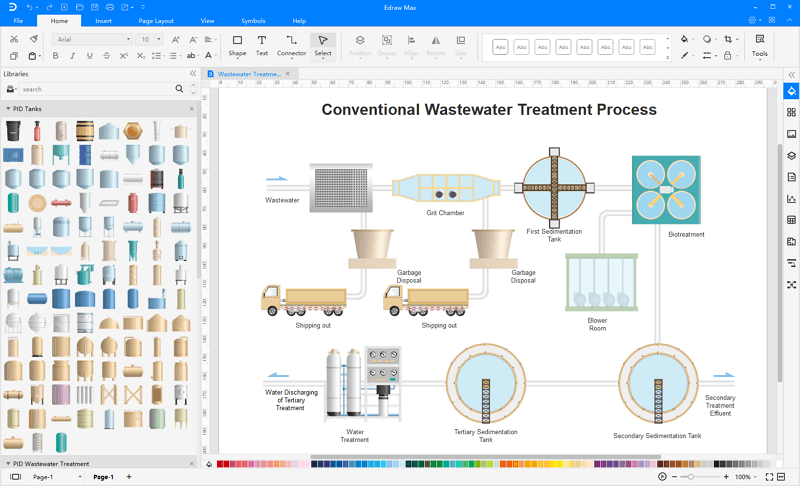 EdrawMax
All-in-One Diagram Software
Create more than 280 types of diagrams effortlessly
Start diagramming with various templates and symbols easily
Superior file compatibility: Import and export drawings to various file formats, such as Visio
Cross-platform supported (Windows, Mac, Linux, Web)
Security Verified |
Switch to Mac >>
Security Verified |
Switch to Linux >>
Security Verified |
Switch to Windows >>
Free Download P&ID Software and View All Examples
Machine Symbols
The following picture shows a screenshot of the machine symbol library in Edraw. It has a comprehensive collection of vector P&ID machine shapes. You will find automatic chucker, automatic screw machine, ball mill, CMM, grinder, CNC vertical machine, drill bit, sharpener, horizontal mill, beater, universal turning, stamping machine, transfer press, production band saw, granulator, yeast modeling, etc.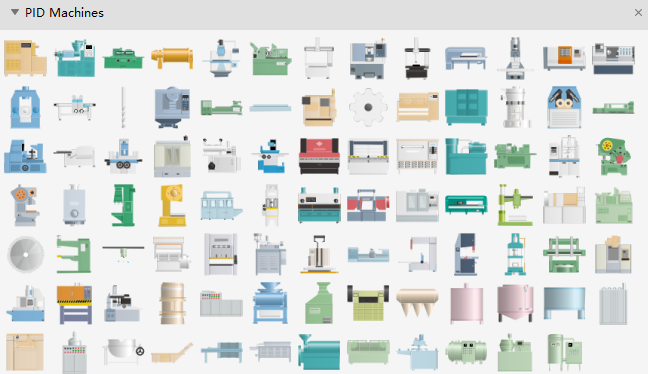 Ball Mill is a type of grinder used to grind materials into extremely fine powder for use in mineral dressing processes, paints, pyrotechnics, ceramics and selective laser sintering.
Deburring Machine is a machine used to remove burrs, sharp edges, or fins from metal parts.
Squaring Shear is a device for cutting or trimming sheet material, such as paper or sheet metal, consisting of a blade inclined at a small angle that descends onto the sheet.
Grinder is a device that breaks solid materials into smaller pieces by grinding, crushing, or cutting.
How to Use Machine Symbols
Where to get the symbols?
Start Edraw, choose Industrial Automation category, and double click Utility-Generation P&ID template to start a new drawing page. This machine symbol library will open automatically on the left of the canvas together with some other libraries.
If your Edraw is already open, you can also click the library button on the top left corner, and navigate Industrial Automation-> PID Machine.
Drag and Drop Symbols
When you successfully get access to the symbols, now you can drag and drop required symbols onto the canvas.
Shape Scalable
You are allowed to scale the shape to any size without loss of the display resolution. There is no blur image anymore.
Color Changeable
You are able to freely change filling colors to suit your own theme.
Tips: If you want to change the filling color for a part of a shape, first you need to select the sub shape. Click on the sub shape you want to change color for a few times until you successfully select it (there will be a blue selection frame), then you can change this sub shape with a new color, and with other parts unchanged. Or you can ungroup the shape first (go to Home menu, and click Ungroup button), and change the color for any sub shape freely.
Shape Separable
You are able to pull out the drawing components to create new symbols. To do this, first you need to click Ungroup button to ungroup the shape under Home menu.
Using Machine Symbols to Design P&ID
From the P&ID examples below, you will see how to use the machine symbols effectively. There is a large piping and instrumentation diagram example gallery with more professional examples available to be downloaded.
More P&ID Design Materials