Free Piping Design Software - EdrawMax

EdrawMax
is an easy-to-use piping design software tool allows you to create and share piping diagrams without hassles.
Part 1: What is The Piping Design Diagram
Piping and instrumentation diagram, also called P&ID, is a drawing in the process industry. It presents the interconnection of process equipment and the instrumentation which is used to control the process. And this kind of diagram is mainly used for laying out a process control installation.
A piping and instrumentation diagram displays the piping components (for example equipment, valves, reducers and so on) of an actual physical process flow and is often used in the engineering projects, such as setting up steam boilers, heat exchangers, electric boilers and more.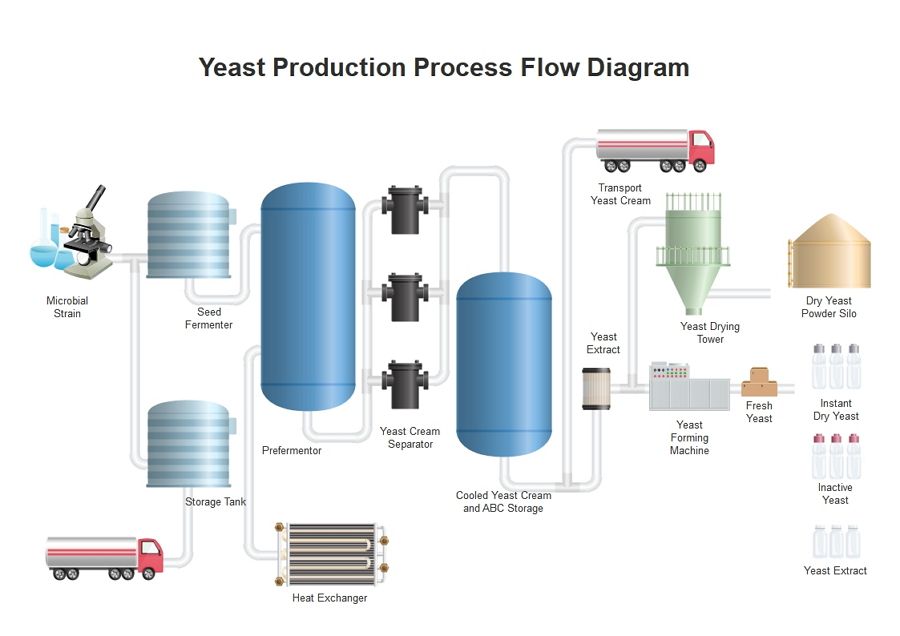 The Usage of Piping Design Diagram
To read a piping and instrumentation diagram, simply break down the overall diagram into smaller parts and then trace from a single equipment and follow the pipeline. Piping and instrumentation diagram also has a close relationship with the Process Flow Diagram (PFD). The latter type shows a picture of the separate steps of a process in sequential order.
Concerning the usage of pip design diagram, there are some points listed below:
To better understand the design conditions of an engineering project;;
To operate, maintain and modify the process system efficiently;
To conveniently layout out and demonstrate the physical sequence of systems with the focus on the control and shutdown schemes, safety and regulatory requirements, and the basic start-up and operational details.
The Classification of Piping Design Diagram
As for the classification of piping design diagram, throught different usages and systems, there are mainly 5 types of pip design diagrams. Due to the diverse usage and platform, there includes process PID, utility-generation PID, environmental PID, auxillary system PID, distribution PID.

Source:EdrawMax
Part 2: Piping Design Diagram Software - EdrawMax
One of the most powerful programs that can compete with Microsoft Visio, EdrawMax is yet another diagramming software available for Windows, macOS, and Linux. The tool has several categories for almost all types of industries, and each category further has numerous floor plan templates to choose from, thus saving you a lot of time that you would otherwise waste in structuring a diagram, pip design diagram for this example, from scratch.
EdrawMax is a powerful but easy-to-use pip design diagram software that makes it easy to create pip design diagrams based on pre-formatted pip design diagram templates and examples - with no drawing required. The smart pip design diagrams are designed with auto generation, allowing users to add and connect shapes easily.
The Features of EdrawMax
EdrawMax is ideal for pip design engineers and pip design designers who need to draw detailed pip design drawings.
Easy to Use

To create a pip design diagram with less time, Edraw realizes it is important to simplify the process through pre-made shapes and automatic floating buttons. Therefore, you can save time to work efficiently and everything in Edraw pip design diagram maker is simple, smart and intuitive.

Abundant Pip Diagram Symbols & Templates

Using standard and polished pip design diagram symbols will help produce accurate and presentation-quality pip design diagrams. EdrawMax includes thousands of symbols for pip design diagram design which are divided into 30 separated libraries. You can load any library as you please and close those you don't need. Edraw also offers you tools to personalize the symbols or create custom symbols on your own.

Editable Exported Files

EdrawMax pip design diagram software is easy and powerful. It is not only capable of exporting the created files to the most common formats. Moreover, those files are editable and sharable. Unlike other pip design diagram creators only exporting uneditable files, EdrawMax pip design diagram software makes itself stand out.

Pip Design Diagram Maker on All Platform

EdrawMax is a great AWS Diagram Software.It's used as a powerful, fast and easy-to-use pip design diagram drawing program, which lets you layout your home network, cisco network, wan network, AWS pip design and other pip design graphic visualizations with premade high quality symbols. It's really cheap yet with premium quality. Many users have embraced it as the ultimate pip design diagram desktop program for Mac, Windows, Linux and Online.
EdrawMax
All-in-One Diagram Software
Create more than 280 types of diagrams effortlessly
Start diagramming with various templates and symbols easily
Superior file compatibility: Import and export drawings to various file formats, such as Visio
Cross-platform supported (Windows, Mac, Linux, Web)
Security Verified |
Switch to Mac >>
Security Verified |
Switch to Linux >>
Security Verified |
Switch to Windows >>
Part 3: How to Create A Pipe Design Diagram
How to make a pipe design diagram easily? Using EdrawMax to create your own pip design diagram.
Step 1: Open EdrawMax desktop software or EdrawMax web-based application.
Step 2: Navigate to [New]>[Industrial Engineering]>[Choose a type of pip design diagram]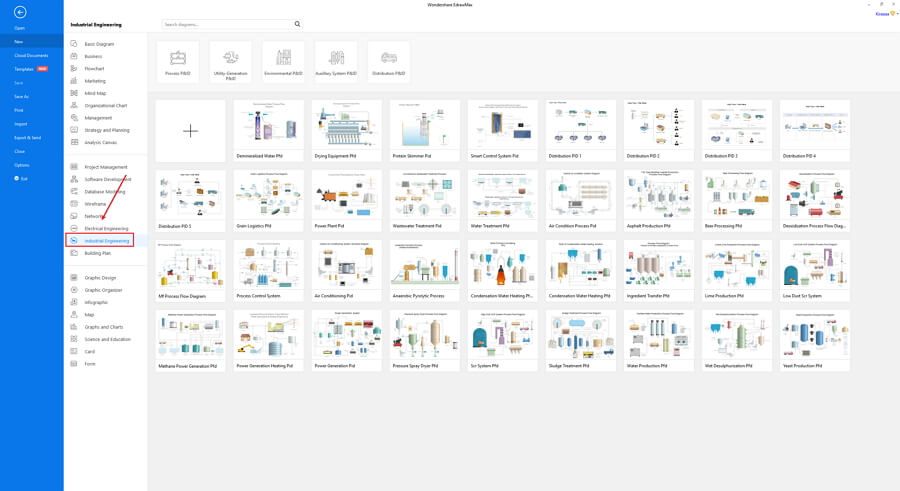 Step 3: Select one pip design diagram template to edit on it or click the [+] sign to start from scratch. Also, you can use massive pip design diagram symbols and elements from libraries in left menu to customize your pip design diagram.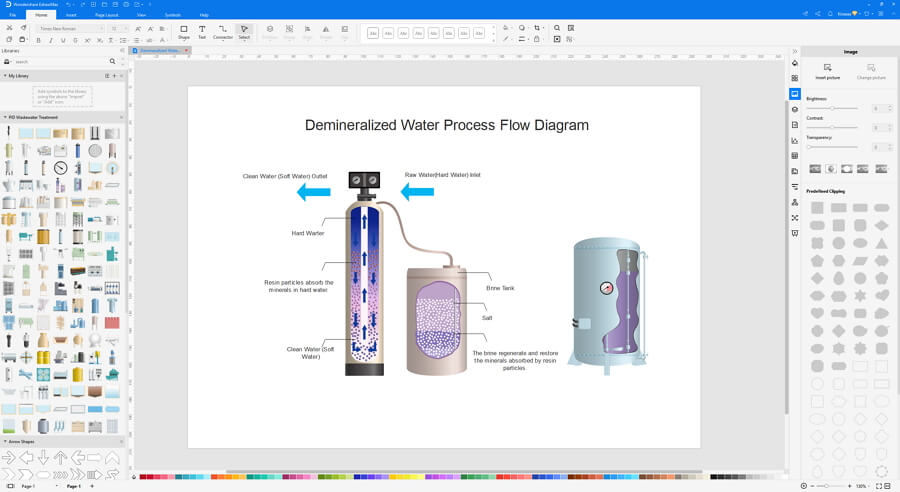 Step 4: Once finished your creation, you can export the file in multiple formats, including Graphics, PDF, editable MS Office file, SVG and Visio vsdx file.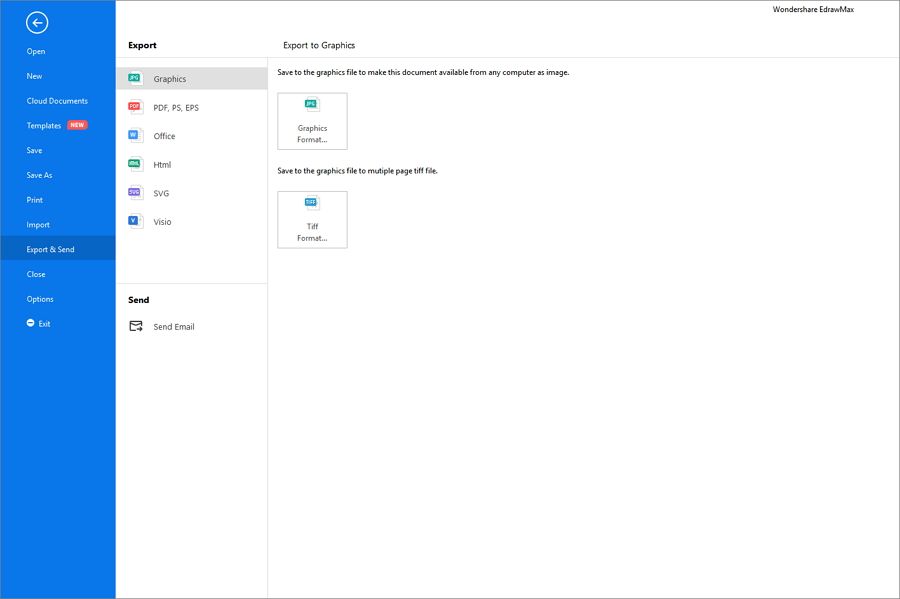 Step 5: Besides, you can share your diagram with others via social media and web page. Or publish your diagram in EdrawMax template gallery to show your work with others.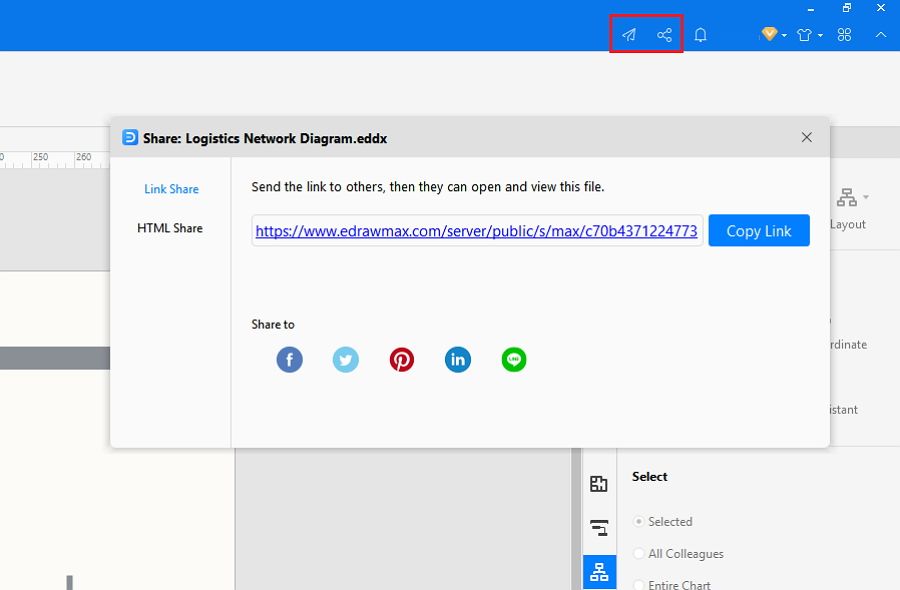 If you are still confused the steps of how to create a pid diagram in EdrawMax, here is a video guide to help you understand how to create a professional pip design diagram in detail.
Part 4: Pip Design Diagram Examples
Here are some examples showing brilliant works done by Edraw piping design software. The examples are downloadable, but you need to install an Edraw viewer to view them or install Edraw piping designer to edit.
Process Pip Design Diagram Example: Beer Production Process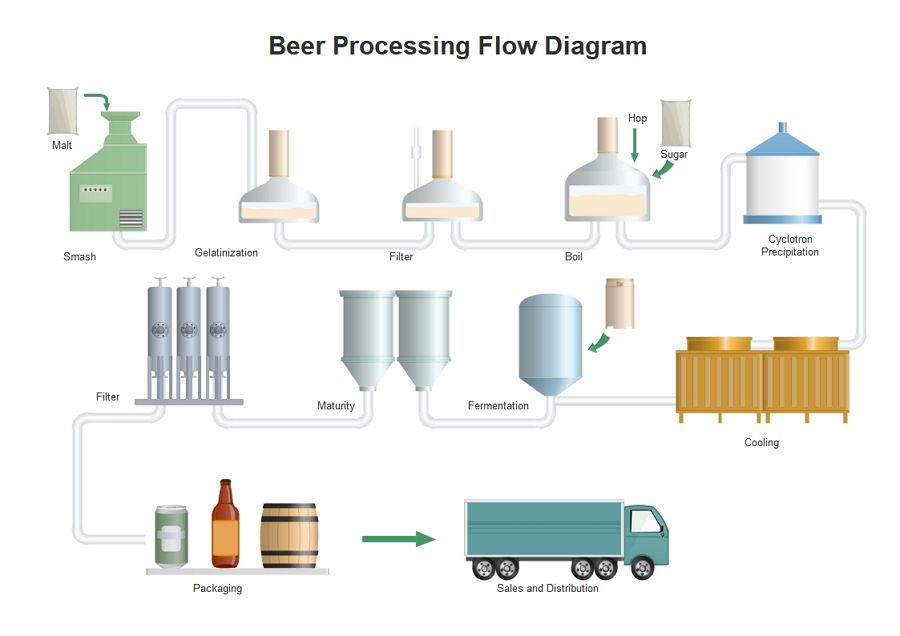 This pip design diagram shows how the beer is produced from the industry. Firstly, the bunch of malt put into the smash machine, then boil add sugar. After that, it will go to the cooling and filter section. Finally, the beers have been packaged and send to the distributors.
Utility-Generation Pip Example: Anaerobic Pyrolytic Process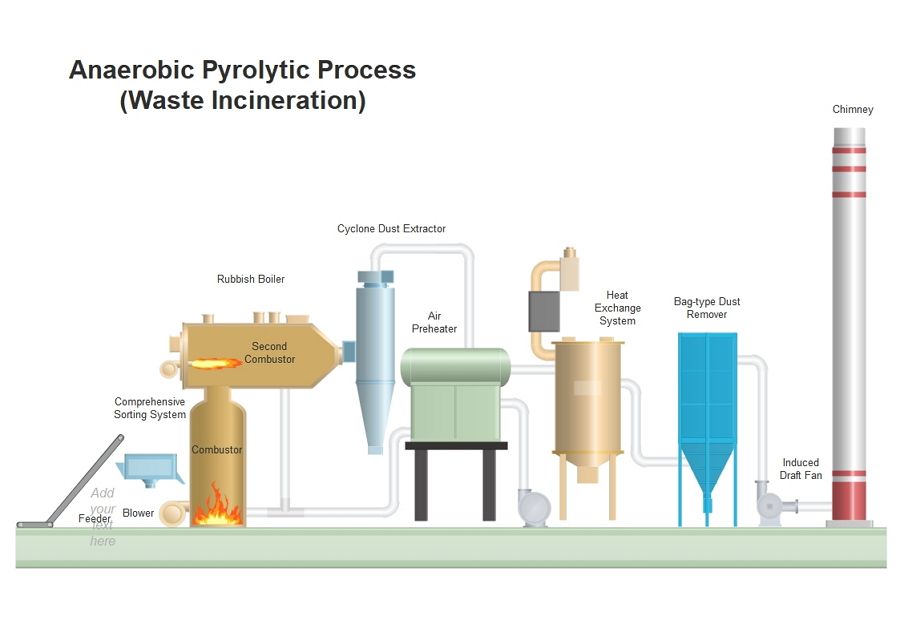 This example illustrates the Anaerobic Pyrolytic process, also called waste incineration process. The comprehensive sorting system could select the useful trash and make certain profits.
Environmental Pip Example: Conventional Wastewater Treatment Process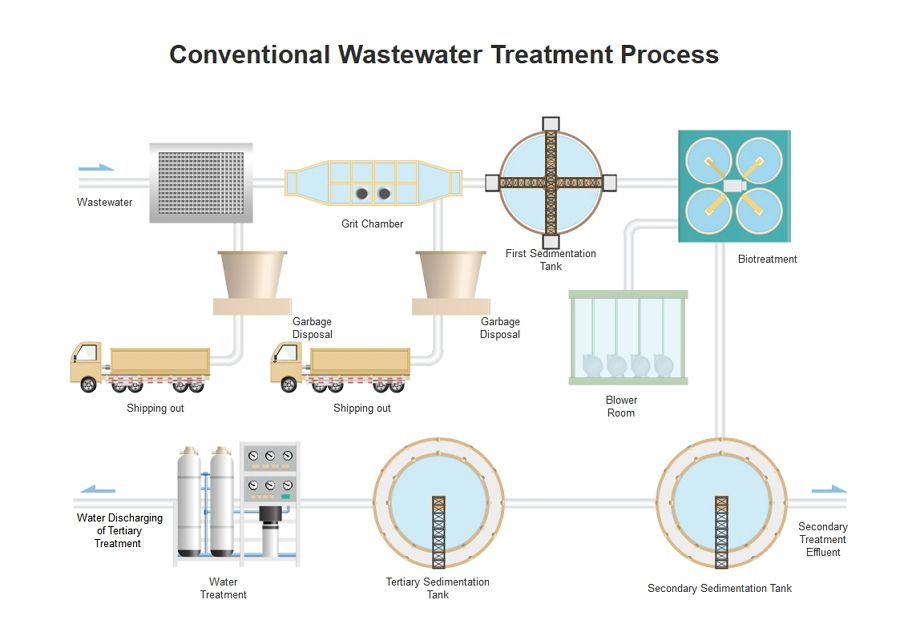 This is a pip design diagram for the conventional wastewater treatment process. From this process, the wastewater firstly goes to the grit chamber, at the same time, the other useful elements will ship out. Then the water flow to the sedimentation tank for cleaning, and finally flow for the teritiary treatment.
Auxillary System Pip Example: Drying Equipment Process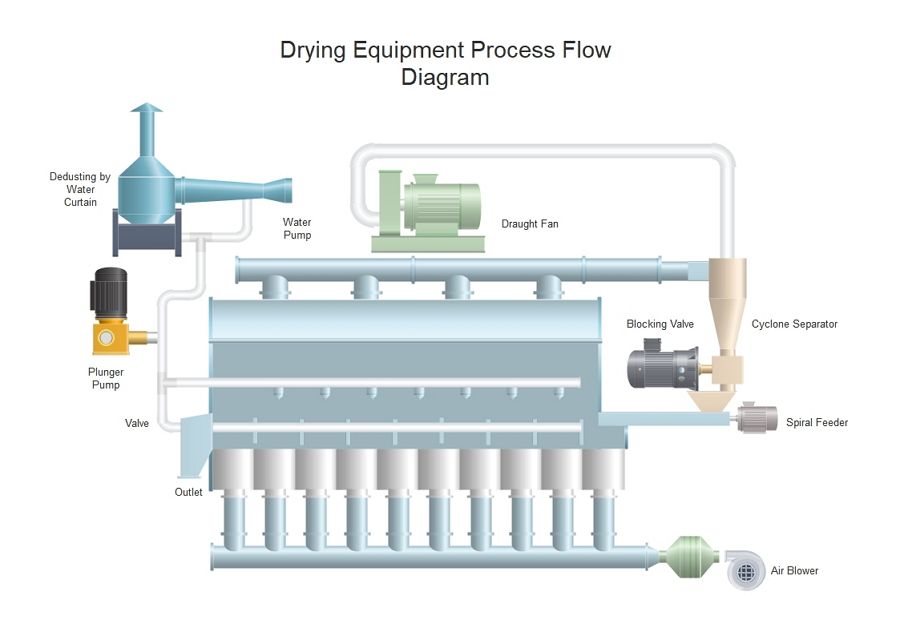 This is an auxillary system pip design diagram talks about the drying equipment process. From this diagram, the main machines are water pump, plunger pump, draught fan, blocking valve, spiral feeder, and air blower.
Distribution Pip Example: Grain Logistics Process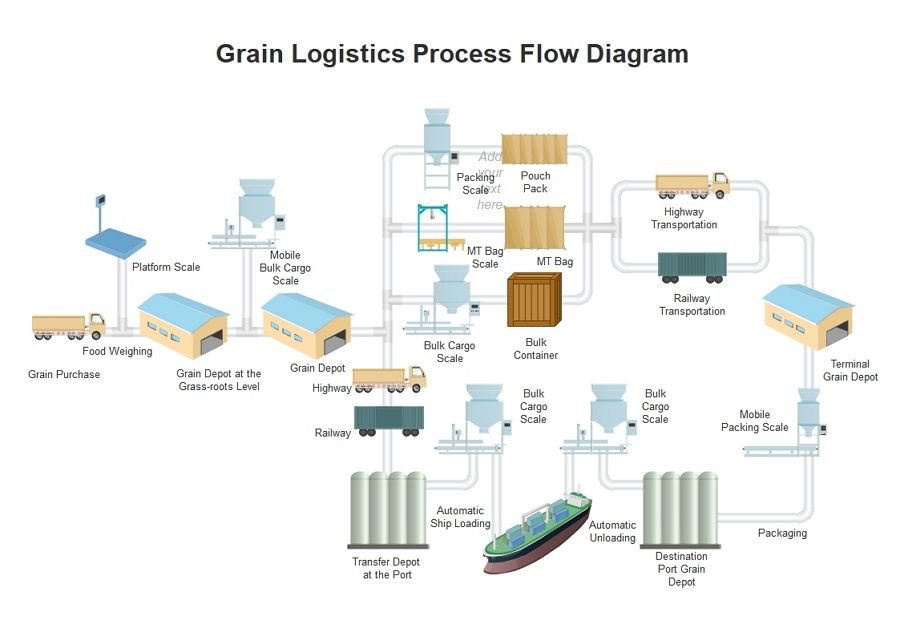 Here is the example of pip design diagram for grain logistics. It is clear that the grain should weight firstly and put in the warehouse for distribution in different channels, including highway, railway, and ship.
Part 5: Conclusion
According to this article, there are mainly four parts to illustrate what is the pip design diagram, to tell you the symbols of pip design diagram, and to show you how easy and helpful EdrawMax pip design diagram tool is, then shows some pip design diagram templates and examples. Creating a perfect pip design diagram with EdrawMax is an effective way to design.
EdrawMax is an easiest all-in-one diagramming tool, you can create pip design diagrams and any other type diagrams with ease! With substantial pip design diagram symbols and cliparts, making pip design diagrams could be as simple as possible. Also, it supports to export your work in multiple formats and share your work with others. Get started to create your pip design diagrams now!
Related articles