Easy Piping Design Software - Free Download
>
P&ID
>
Easy Piping Design Software - Free Download

An easy-to-use piping design software tool allows you to create and share piping diagrams without hassles. A vast amount of lifelike and pre-made piping and equipment symbols are provided by Edraw piping design software.
Making a detailed and good-looking piping design is not easy without the help of pre-drawn symbols. It usually requires a program containing everything for you. Bathed in a sea of piping design tools, which one is the best? Now I want to introduce this excellent piping designing tool, not only because it can give you access to a wide range of symbols, but also because it's a trustable and user-friendly piping design program.
Piping Design Software
The picture below shows a screenshot of its drawing interface. As you can see, it closely looks like a Microsoft program. There is nothing new to learn and you can get started in minutes.
On the top is the Ribbon, which contains the basic tools, quick buttons, and quick style gallery. The right side panes will also give you help when you customize your drawing for providing various formatting tools and insert options. On the left, it shows the symbol libraries and multiple libraries could open simultaneously. In the middle is the canvas where you can draw what you want. What you need to do is - drag the symbols you need from the library and drop on the canvas. The symbols are vector graphics so that you can freely change the size, refill color, or separate a graphic into parts, with no clarity loss.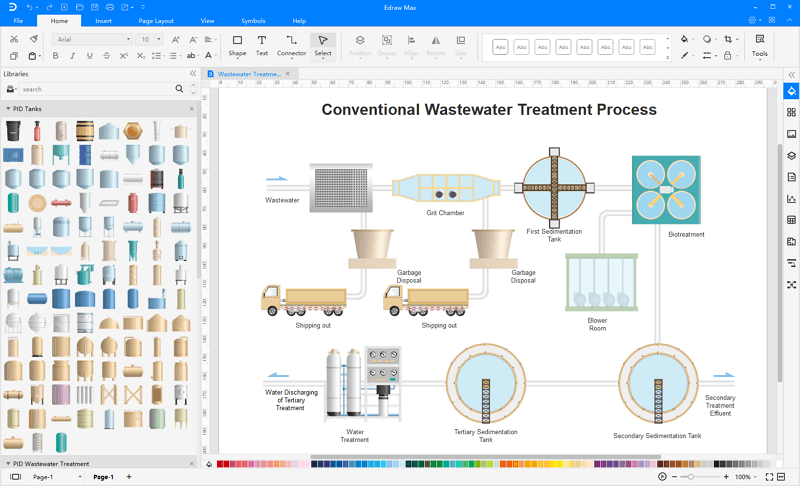 Tutorial - Learn how to create P&ID
EdrawMax: a swiss knife for all your diagramming need
Effortlessly create over 280 types of diagrams.
Provide various templates & symbols to match your needs.
Drag and drop interface and easy to use.
Customize every detail by using smart and dynamic toolkits.
Compatible with a variety of file formats, such as MS Office, Visio, PDF, etc.
Feel free to export, print, and share your diagrams.
System Requirements:
Works on Windows 2000/2003/2008/Vista/7/8/10 (32bit/64 bit)
Works on Mac OS X 10.10 and later
Compatible with Linux distributions such as Debian, Ubuntu, Fedora, etc
Why Edraw Piping Design Software is Well-received by Users?
Here show some reasons why more and more customers choose Edraw:
1. Extensive Symbols
We have made an effort to develop the most comprehensive symbol set. Until now, more than 40 symbol libraries are containing more than 2000 vector symbols. Ready-made symbols can help you sketch out any piping diagrams effortlessly. You can easily find:
2. Vector-based Graphics
The symbols you drag out from the libraries are in vector format, allowing you to change the size, color and even add or delete a part. Besides, with the Pen tool, you can also create your own vector symbols.
3. Easy to Use, Share and Print
You can freely share your work with others by exporting the files to other formats. Many export formats are supported, including PDF, Word, Html, Visio, PPT, BMP, EMF, PNG, and more.
4. Intuitive Interface
Easy interface saves you lots of time to learn. No matter you are new or professional, you can deal with it at first sight, and make awesome piping diagrams with only a few mouse clicks.
5. Pre-designed Templates & Abundant Symbols
The software has incorporated a list of templates that you can modify and use. They will not only let you go quickly but lead you to create presentation-quality piping plans.
6. Free Support
When you have any questions during the drawing process, you can send us an Email. We will do our best to reply within 24 hours.
Piping Plan Examples
Here are some examples showing brilliant works done by Edraw piping design software. The examples are downloadable, but you need to install an Edraw viewer to view them or install Edraw piping designer to edit.
Related Articles:
How to Read Piping and Instrumentation Diagram