Hierarchy Chart
Explain hierarchy charts with examples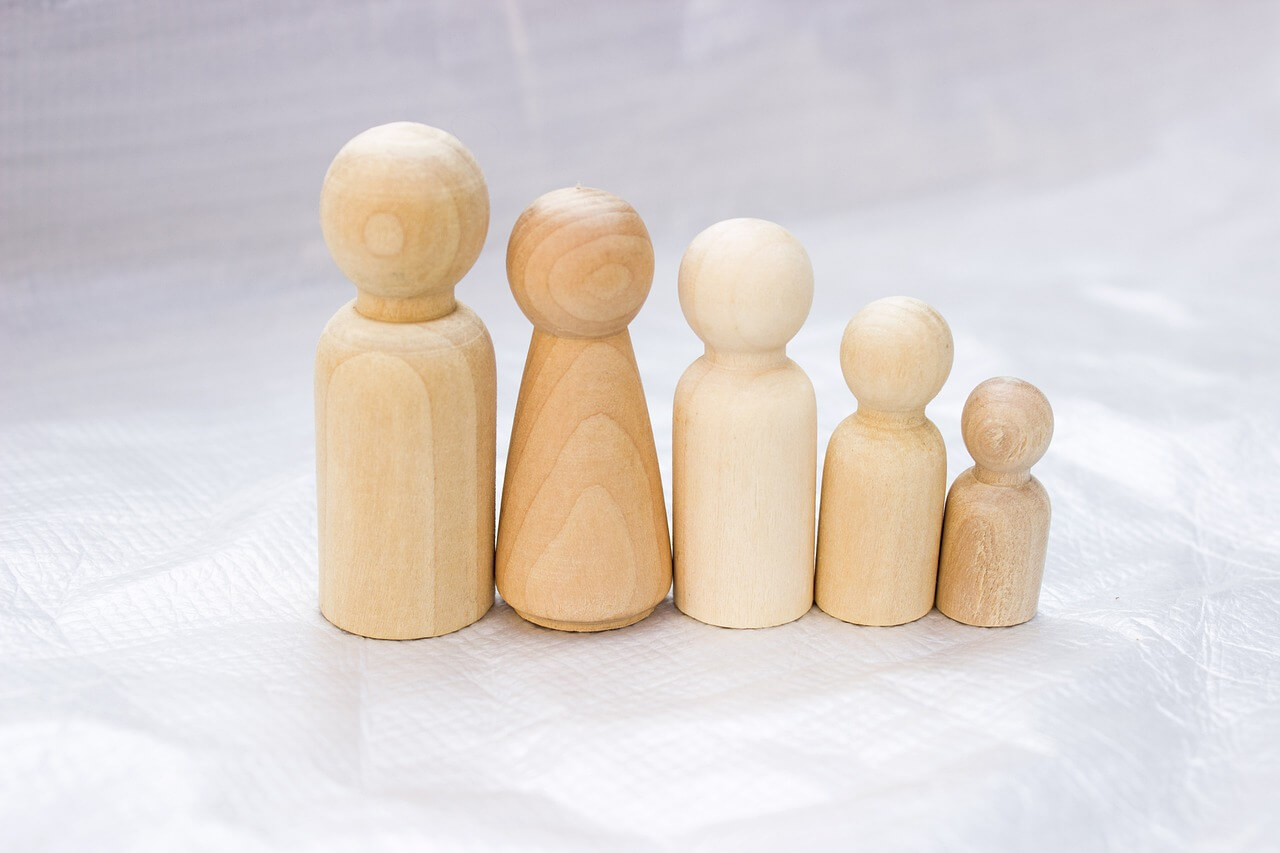 A hierarchy chart is a visual representation of the relationship between different layers of entities across the stages and within the layers. Also known as a hierarchy diagram, this tool is widely used in many fields like education, business, organizations, and startups to show the structure from top to bottom.
What is a Hierarchy Chart?
A hierarchy chart represents the breakdown of a system to its simplest manageable part. It is a top-to-down modular design tool representing different modules in the system and uses connected lines to connect them and show their relationship.
Hierarchy charts are commonly used to present a drill-down list of all different parts of an entity. In this way, the purpose of a hierarchy chart is to describe the structure as a whole, as well as its smallest part, understood by the human brain.
The hierarchy chart is also known as the hierarchy diagram, structural diagram, organizational chart, organogram, org charts, and corporate hierarchy charts. Despite all the names, they are all the same.
The hierarchy chart is commonly used in businesses, governments, and other organizations to plan, manage, and monitor. A good organizational chart shows work responsibilities, drives growth and improves communication throughout different reporting lines.
Purpose and Benefit
Hierarchy charts are used to show the internal structure, chain of command, and the layer-by-layer relationship of entities. The main benefits of these charts are clarity and unambiguity.
It depicts a clear structure that shows straightforward career paths and development prospects to employees.
Since the layers are transparent thus accountability for actions is simple. This way, companies do not get into the blame game and know the decision-maker at different management levels.
Simple and straightforward information flow.
It results in an understanding of employee roles and responsibilities because of visible lines of authority.
Hierarchy Chart and Organizational Chart
Both hierarchy and organizational chart are the graphical representations of the structure of an organization. The purpose is to illustrate concepts reporting lines and systems in a hierarchical manner. While hierarchical charts and organizational charts are used interchangeably, certain differences should be noted.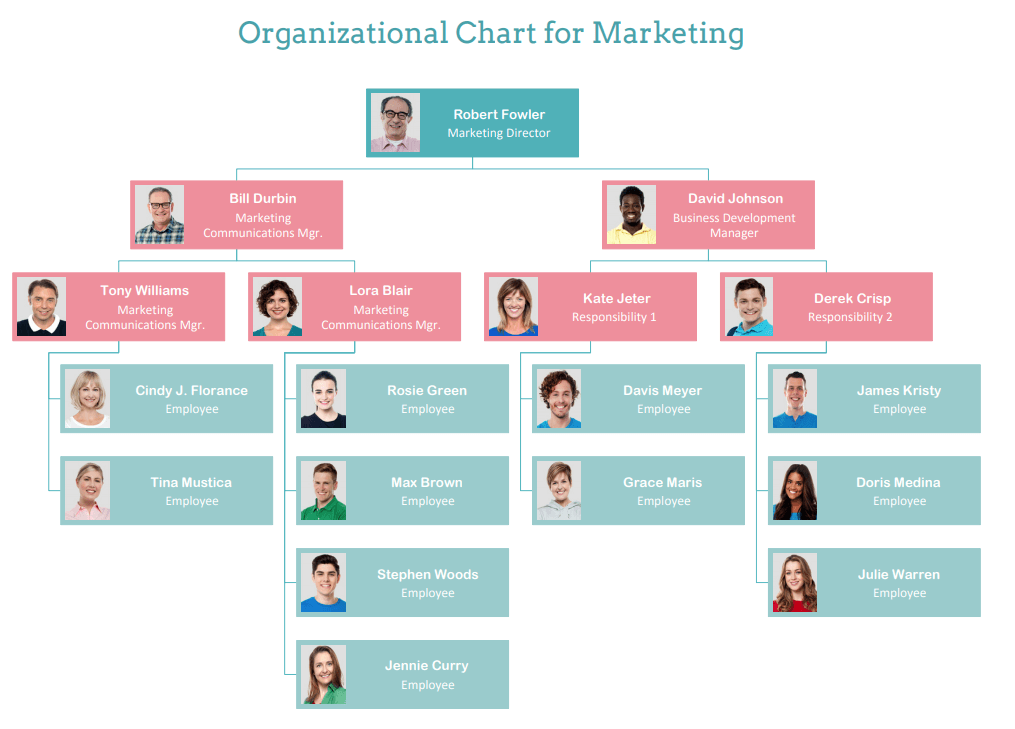 Image source: Edraw
The hierarchical chart mostly focuses on presenting the reporting lines to tell where they fit into the overall corporate structure. In contrast, an organizational chart can also present any office data in an organized way. For example, you can use an organizational chart to show different systems, employee networks, etc.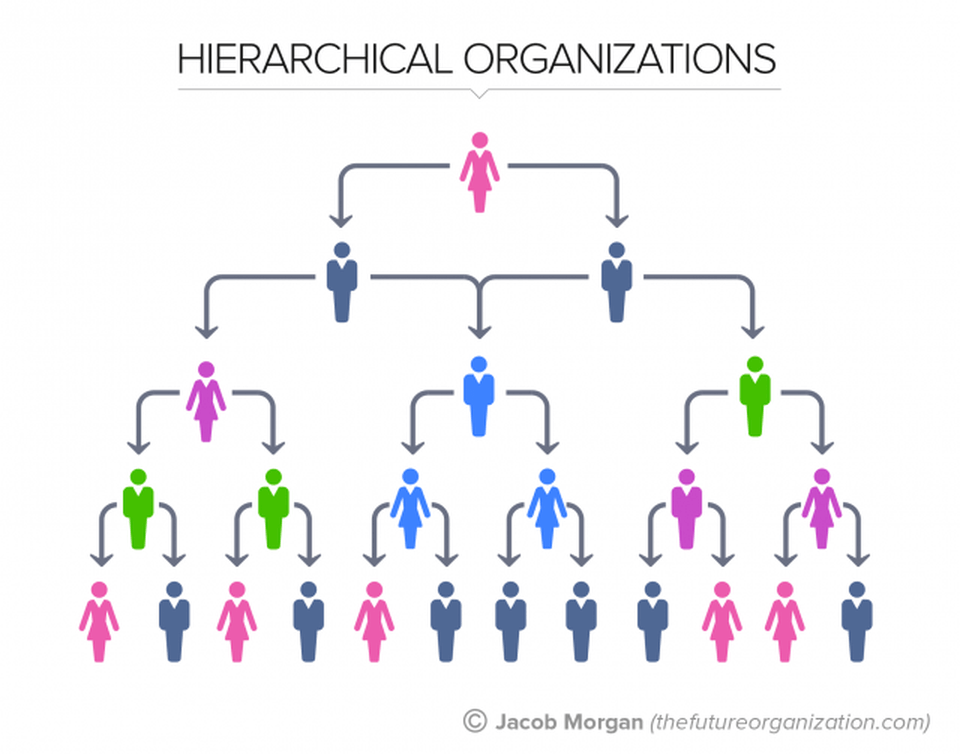 Image source: forbes.com
Create Hierarchy Chart in Word
Creating a hierarchy chart is a piece of cake. Whether you are using Microsoft Word, Excel, or PowerPoint, there is one simple way to create an organizational chart with minimal effort.
Use the smart graphic option to layout your hierarchy chart in Excel, Word, and PowerPoint to show your organization's relationship.
Follow the simple step-by-step guide to create a hierarchy chart in Word/Excel/PowerPoint:
Step 1 – Inset Tab
On the Insert tab in the Illustrations group, you will click on "SmartArt."
Step 2 – Choose Chart Type
Once you click on SmartArt, a gallery will launch where uh you can scroll down to Hierarchy and click on "Organization" chart layout that fits your requirements.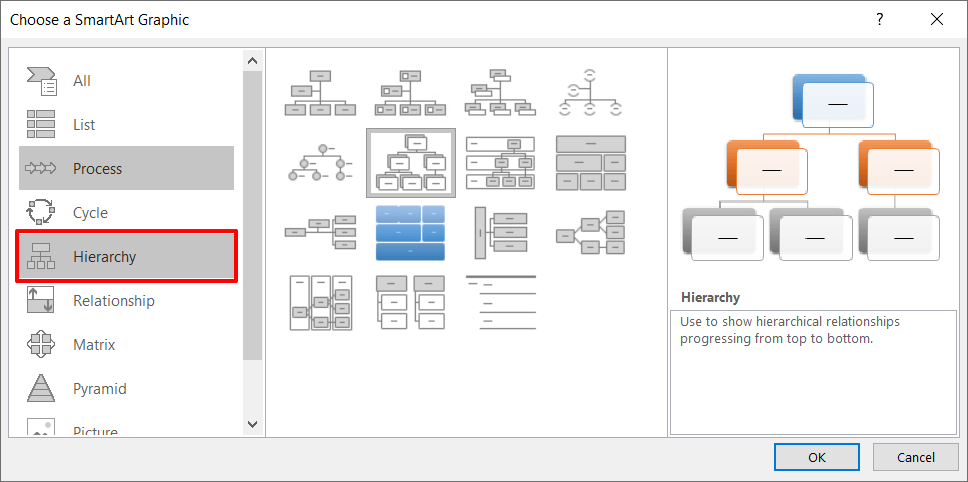 Step 3 – Add Text
The chart will prepare on your page, worksheet, or slide. Click on the box in the graphic, and start typing in your text. You can adjust the font size and shape of the text box using the Home tab.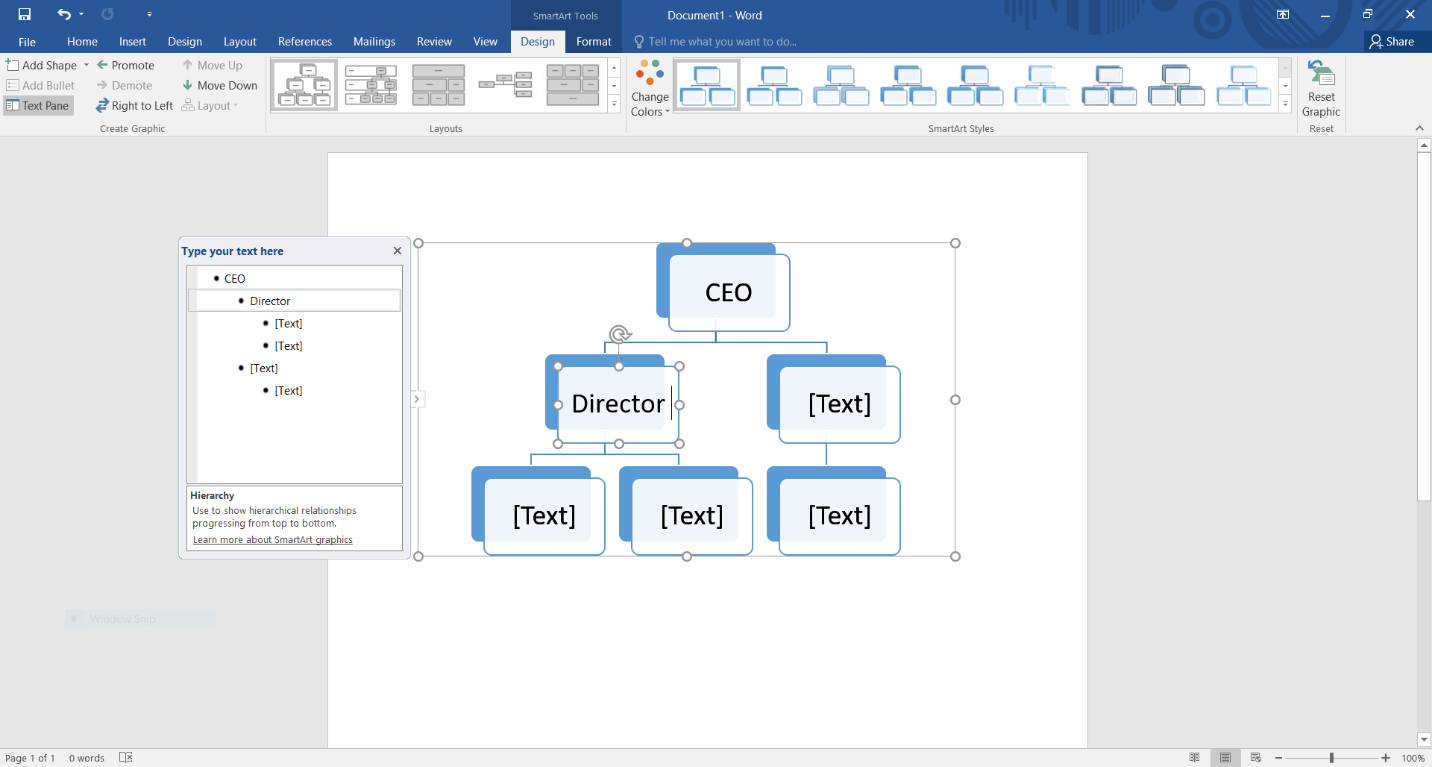 Once you have entered all the relevant information, use other editing tools present on the Format tab at the top of the screen and tell you are satisfied with your hierarchy chart. Finally, go to the files tab and save your document.
What to Do before Creating a Hierarchy Chart
As you set yourself to create a hierarchy chart, you won't dive in straight to work. It would help if you had all the prerequisites ready before you start building your diagram. Here are some pointers to help you plan how your hierarchy chart will look like and what it will be its components.
Identify the Top most Position as Your Starting Point

This is like the root of your diagram. Once you identify this part correctly, other things will gradually fall into place. It can be the owner or director; for schools, it can be principal, or for a family, the head takes this place. It is the head of the diagram.

List all other Entities You will Use in each Tier

Once you have identified the big boss, you will now focus on the lower tiers. You need to place the entities in each layer carefully and then find out their relationships. This part of planning is essential because it dictates how communication or the line of command goes in the hierarchy. Accuracy of information is the key to an efficient and useable hierarchy chart.

Identify Relationships between Entities

Once you know the members of the club, you need to know what they are up to. Every entity will have some relationships with other entities depending on the type of chart. For example, in an authority chart, we will see who is the reporting manager of this entity or who is subordinate to whom, and so on.

Collect Related Information

It would be best to have a biography, post, job details, and other relevant information about each subject. So it is always a good idea to collect the information beforehand so that when you set to your work of creating the charge, you are not running here and there for the information bits.

Select Your Software Tool

Once you have gathered all your information and have done the homework, now it's the turn of actual work. It would help if you had a software tool to turn this information into a hierarchy chart. You can select any tool from the available ones in the market, but we recommend EdrawMax because it is one of the most efficient and robust hierarchy chart creation tools. It has both online and downloadable versions with free and paid packages.

You can not only create the hierarchy chart but also can import data into it and can export your work in multiple formats.
How to Make a Hierarchy Chart in EdrawMax
Step1: Start EdrawMax
Start the EdrawMax program on your computer. On the left navigation bar, select New>Organizational chart. We chose an organizational chart because a hierarchy chart is a subtype of this.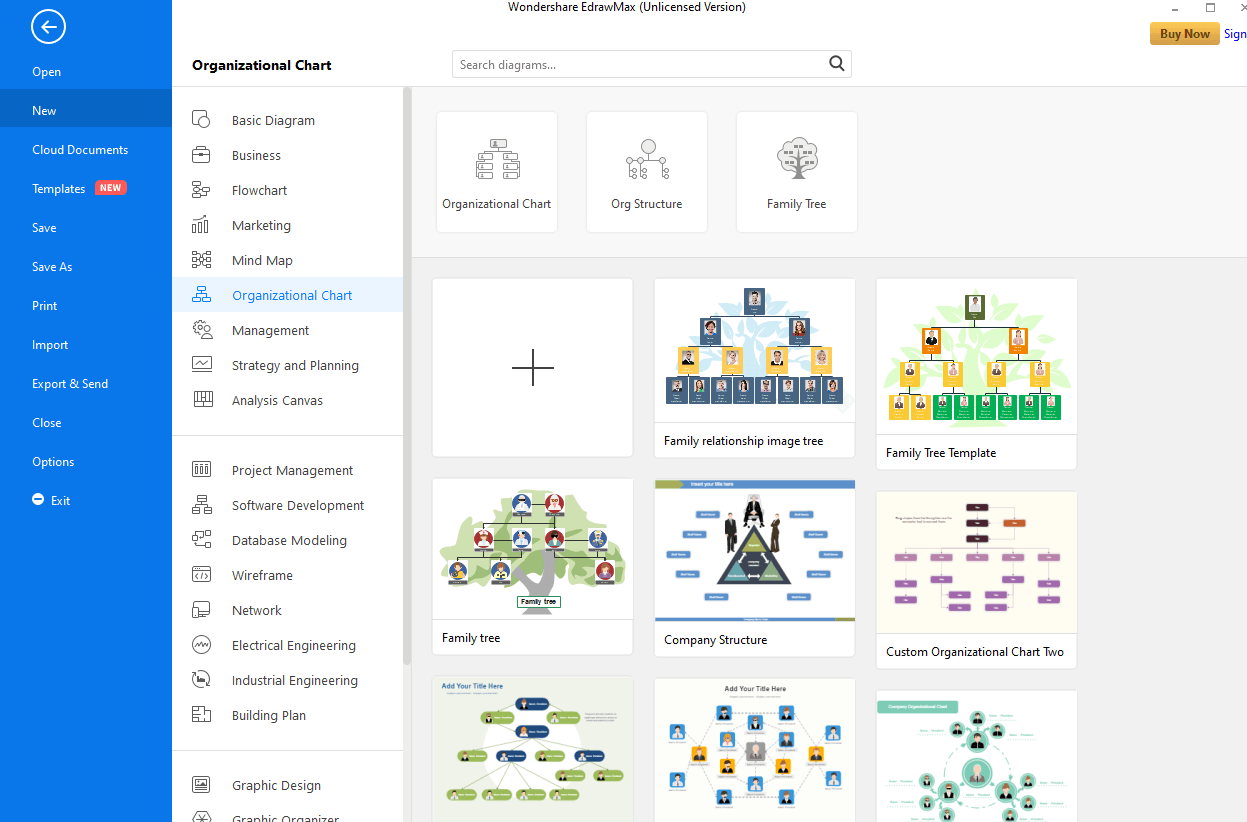 Step 2: Select a Template (Recommended)
EdrawMax has a comprehensive library of templates, including a hierarchy chart. When you have a foundation made through the template, you can build on it efficiently and accurately. You can import the template in your file or click its thumbnail. Now, you have the chance to modify the chart with text, information, styles, and layout of the template according to your needs.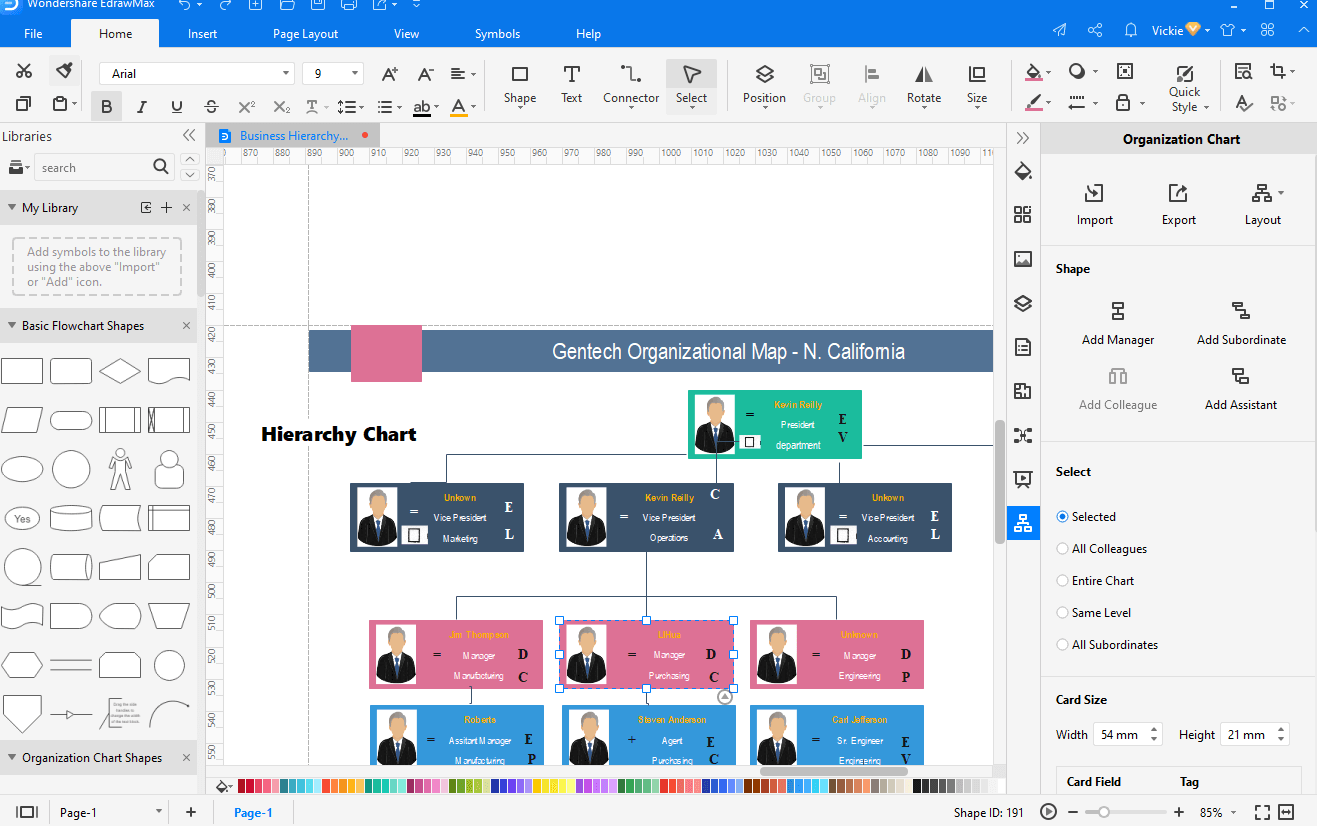 Step 3: Import Your Data
If you have some data collected in the planning stage, you can even import it into EdrawMax to automatically create the hierarchy chart. Later, you can further work on it to add other details. You can launch the Data Import Wizard by clicking the Import button.
You can modify the content layout and other details here according to your preferences.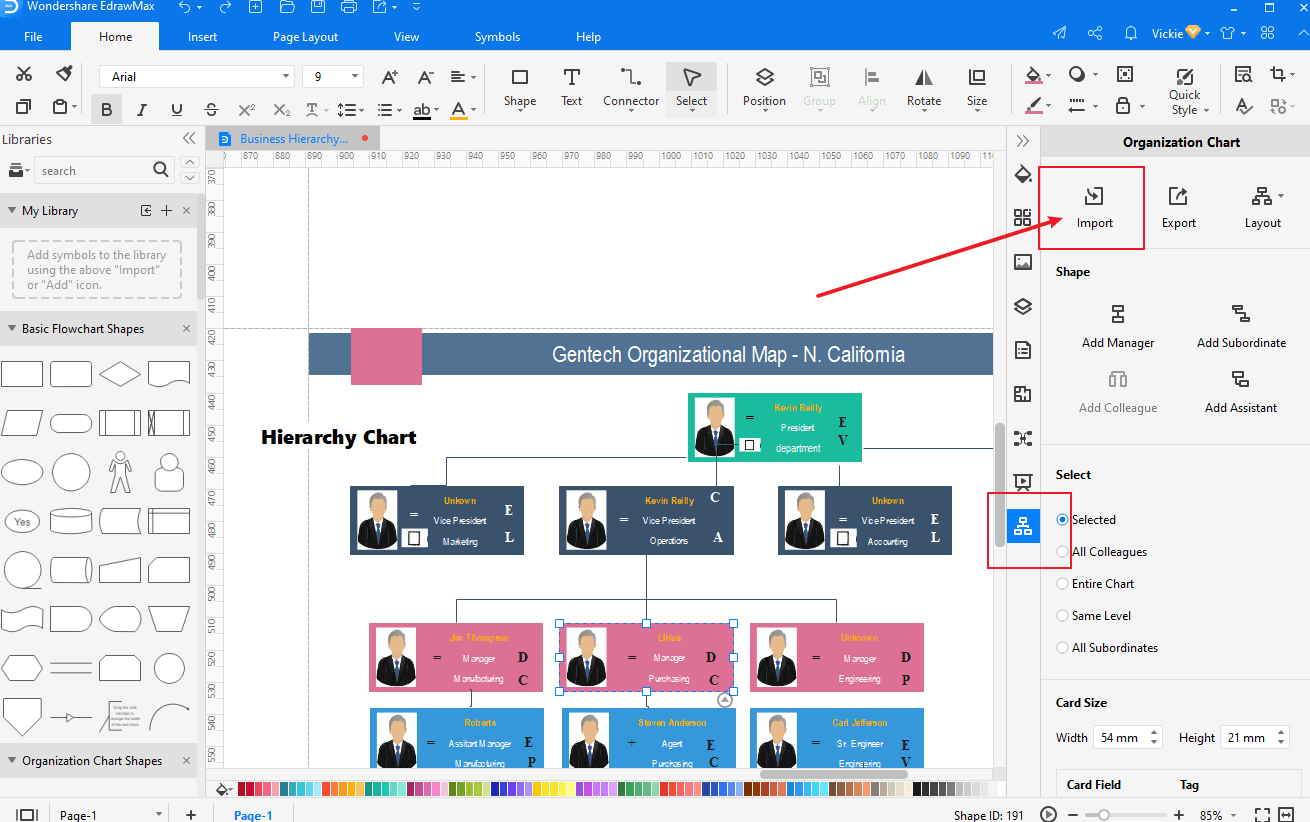 Step 4: Organizational Shapes from the Library
If the template and importing data did not work for you, you could create an organization chart from scratch using the organizational chart shapes from EdrawMax.
To add organizational chart shapes, click the icon next to the symbol library. Select the Organizational Chart Shape and click OK.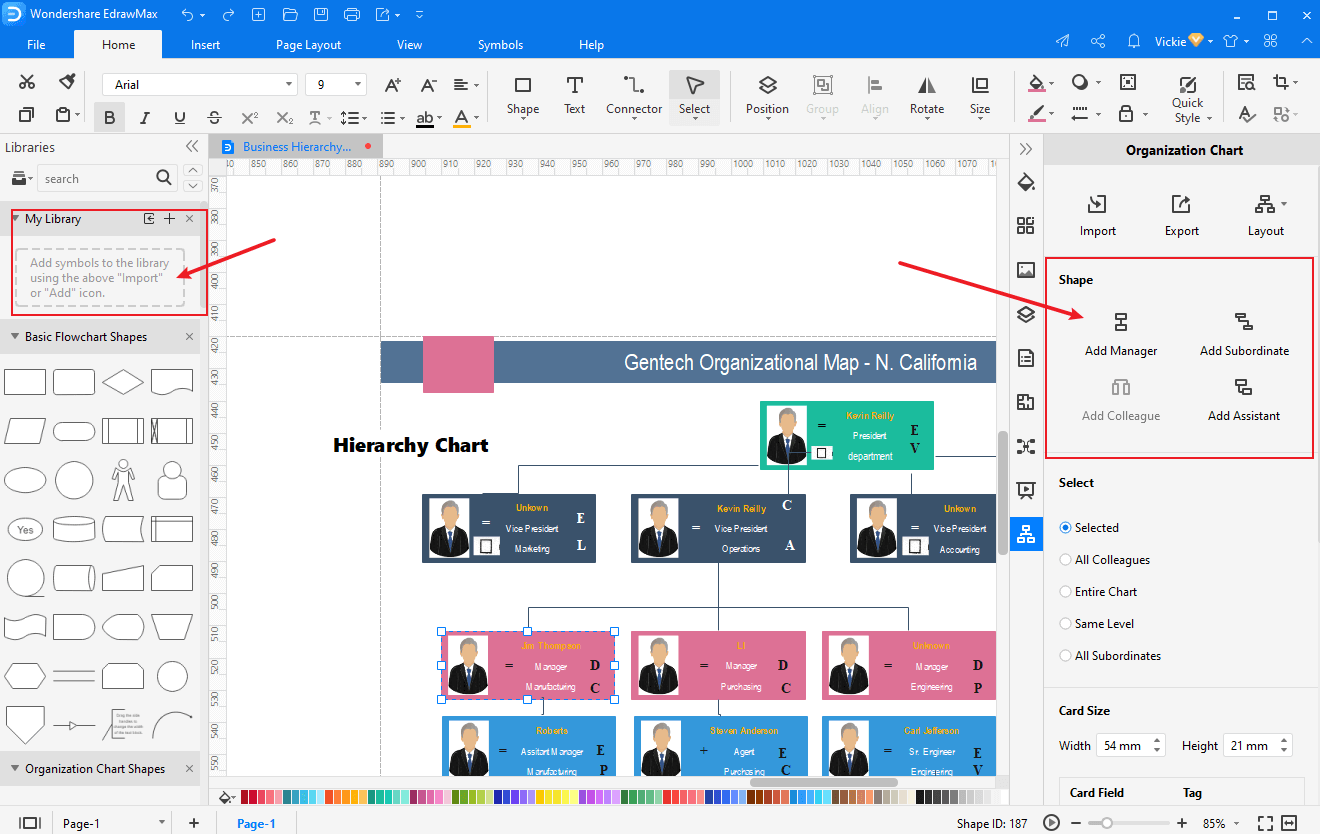 Step 5: Save and Export
When you are satisfied with the result, save your chart, and now you also have the option of exporting the chart in many formats, including PDF, Powerpoint, Word, etc.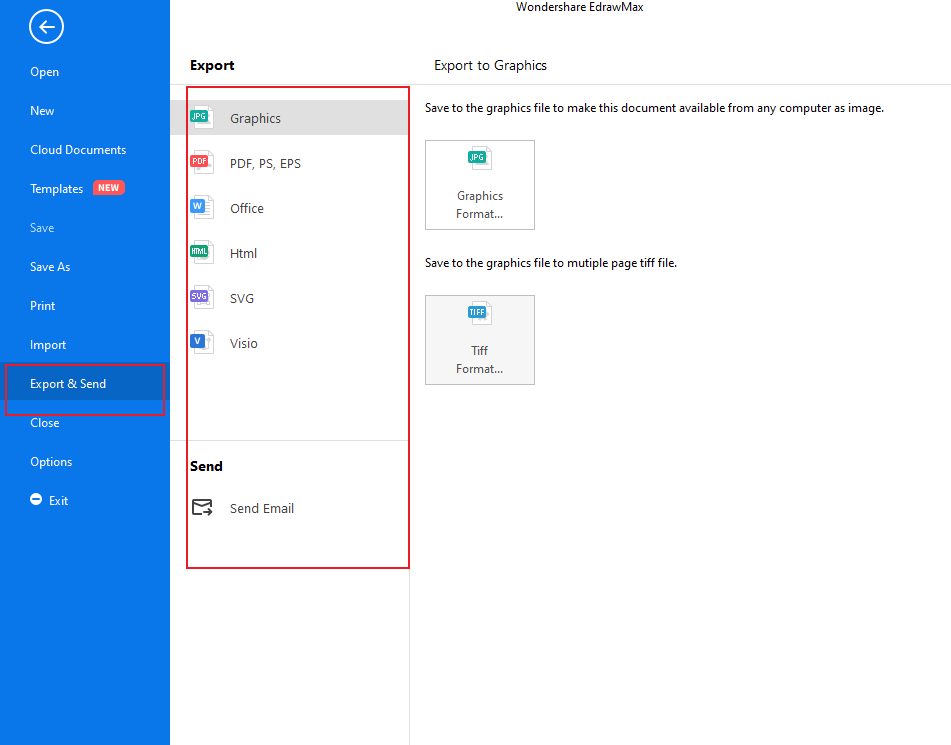 Tips for Making a Hierarchy Chart
Always preplan.
Make some effort to come up with a clean hierarchy chart, like equally spaced boxes, equal space between tiers, uniformity of font and style, and so on. It makes the charts easier to read and pleasant for the eyes.
Divide and conquer. If your hierarchy chart grows and you think it will go beyond one page, then it is always a good idea to break it into hyperlinked charts. You can have one basic chart, and then the further details are hyperlinked. It makes them easy to navigate and understand.
Various Hierarchy Chart Examples
Here are some popular hierarchy chart examples and templates:
1. Company Hierarchy Chart
Company Heirarchy Chart shows the structure of an organization and the ranks and relative relationships of its positions/jobs.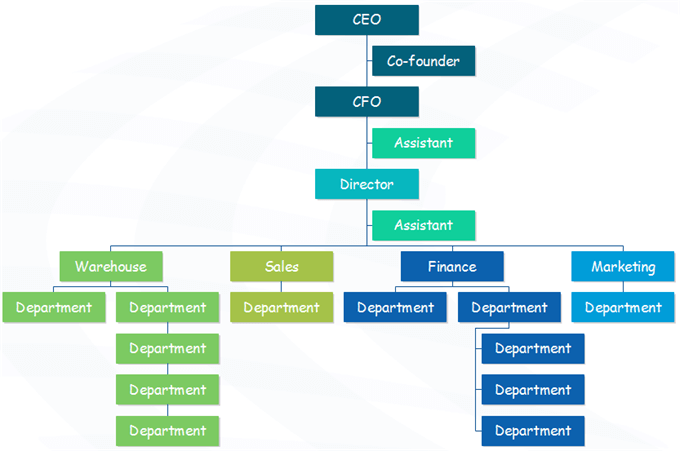 Image source: orgcharting.com
2. Business Hierarchy Chart
Business Hierarchy Chart represents the arrangement and organization of individuals within a corporation according to power status and job function.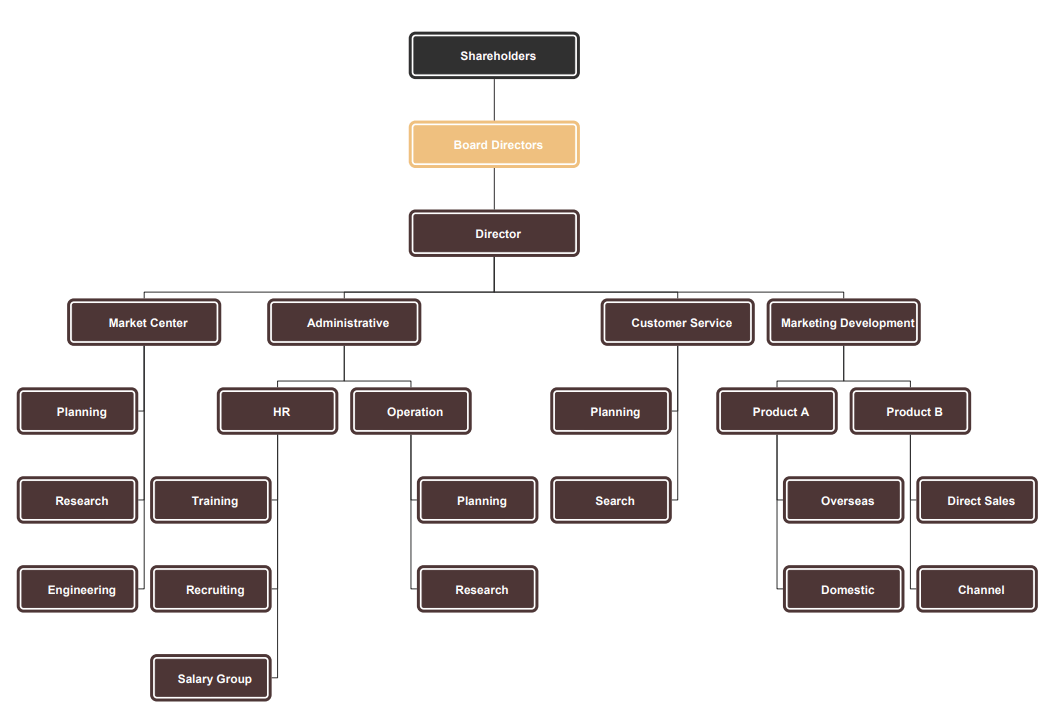 Image source: Edraw
3. Management Hierarchy Chart
This chart represents different management levels according to their level of authority. The top management middle management and low management levels are further categorized in the management hierarchy chart.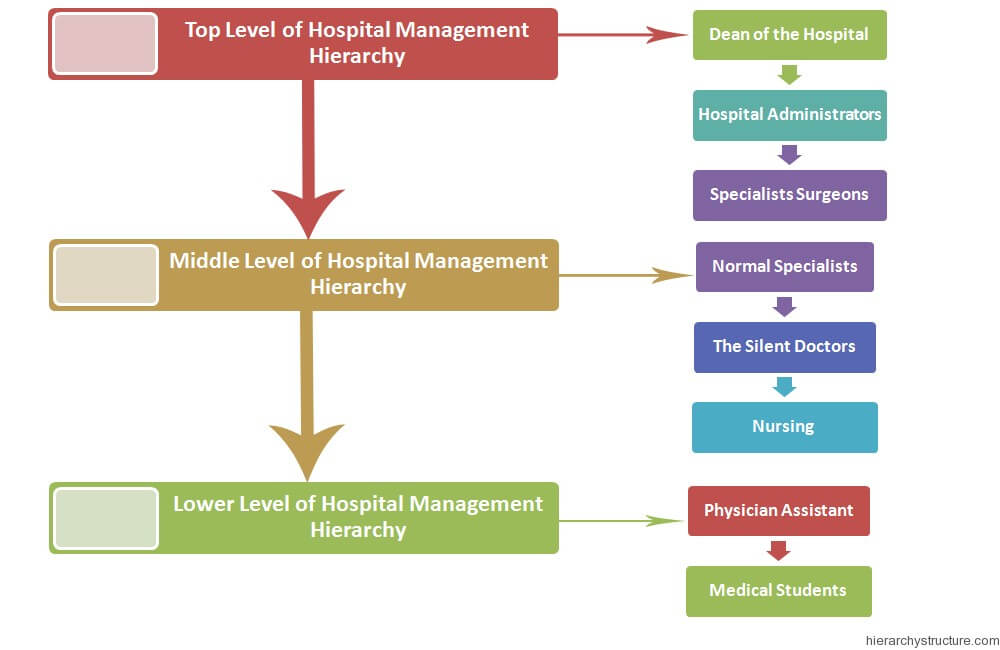 Image source: hierarchystructure.com
EdrawMax
All-in-One Diagram Software
Create more than 280 types of diagrams effortlessly
Start diagramming with various templates and symbols easily
Superior file compatibility: Import and export drawings to various file formats, such as Visio
Cross-platform supported (Windows, Mac, Linux, Web)
Security Verified |
Switch to Mac >>
Security Verified |
Switch to Linux >>
Security Verified |
Switch to Windows >>