The Ultimate Guide to Hierarchy Charts (With Examples)
From its highest position to the lowest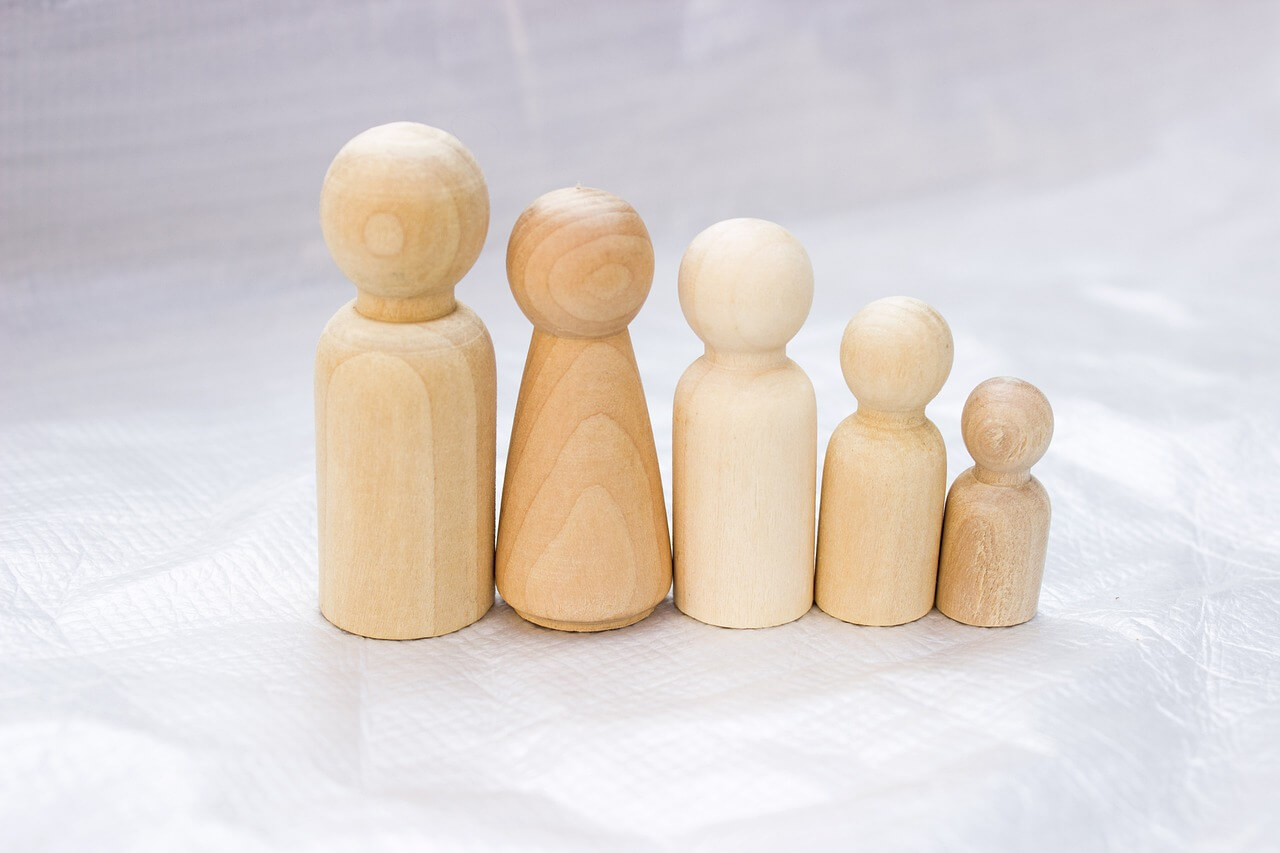 The hierarchy chart is also known as a structure chart and shows the relationship between different modules. Today in this ultimate guide to hierarchy charts, we will cover the definition of hierarchy charts, how they are created, and their types.
What is the Hierarchy Chart?
The hierarchy chart represents the breakdown of a system to its simplest manageable part. It is a top-to-down modular design tool representing different modules in the system and uses connected lines to connect them and show their relationship.
Hierarchy charts are commonly used to present a drill-down list of all different parts of an entity. In this way, the purpose of a hierarchy chart is to describe the structure as a whole, as well as its smallest part, understood by the human brain.
The hierarchy chart is also known as the hierarchy diagram, structural diagram, organizational chart, organogram, org charts, and corporate hierarchy charts. Despite all the names, they are all the same.
The hierarchy chart is commonly used in businesses, governments, and other organizations to plan, manage, and monitor. A good organizational chart shows work responsibilities, drives growth and improves communication throughout different reporting lines.
Educational Purposes – these charts are used for education and learning because they present complicated information easily and make it simple to understand.
Business Purposes – these charts can be used to observe and present data and information in an organized way.
Hierarchy Chart and Organizational Chart
Both hierarchy and organizational chart are the graphical representations of the structure of an organization. The purpose is to illustrate concepts reporting lines and systems in a hierarchical manner. While hierarchical charts and organizational charts are used interchangeably, certain differences should be noted.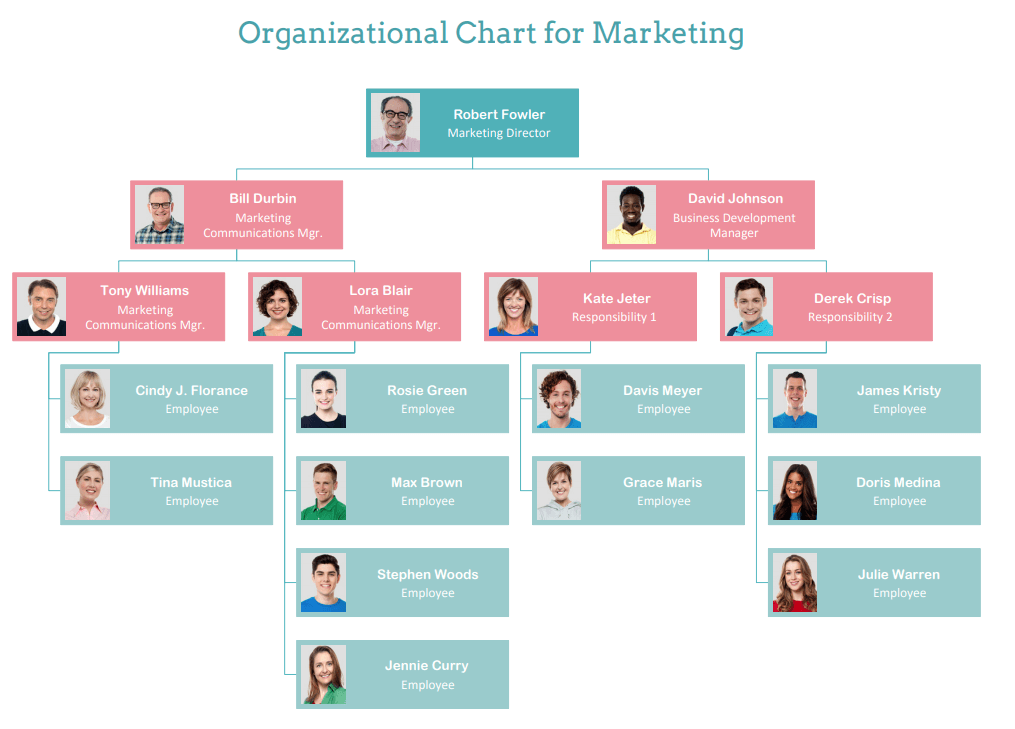 Image source: Edraw
The hierarchical chart mostly focuses on presenting the reporting lines to tell where they fit into the overall corporate structure. In contrast, an organizational chart can also present any office data in an organized way. For example, you can use an organizational chart to show different systems, employee networks, etc.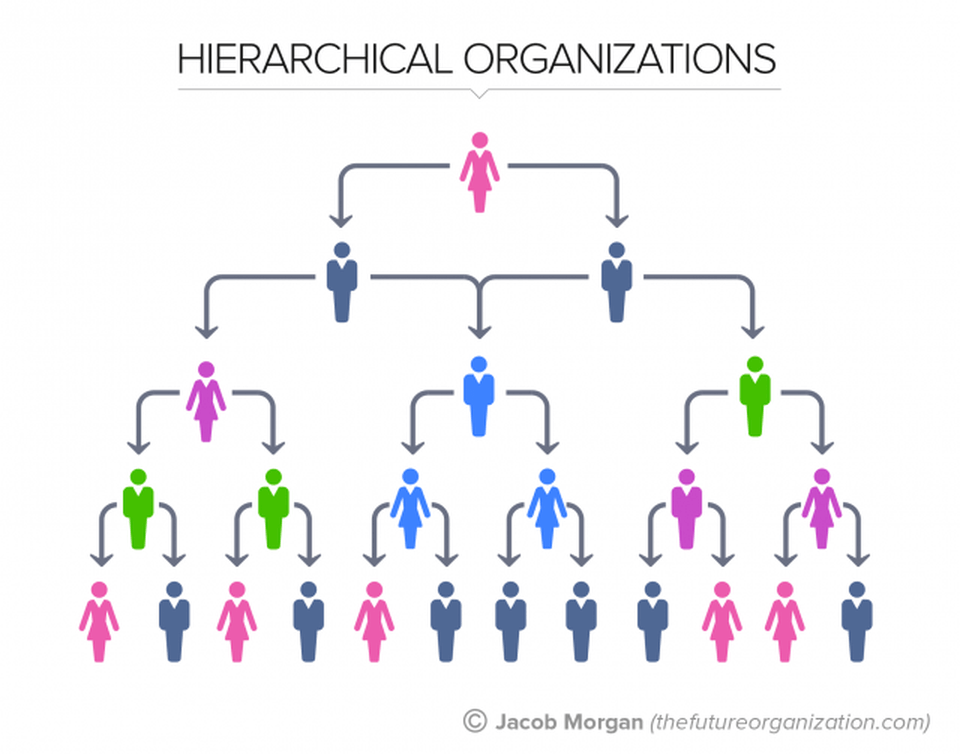 Image source: forbes.com/
Hierarchy Chart and Organizational Chart
Creating a hierarchy chart is a piece of cake. Whether you are using Microsoft Word, Excel, or PowerPoint, there is one simple way to create an organizational chart with minimal effort.
Use the smart graphic option to layout your hierarchy chart in Excel, Word, and PowerPoint to show your organization's relationship.
Follow the simple step-by-step guide to create a hierarchy chart in Word/Excel/PowerPoint:
Step 1 – Inset Tab
On the Insert tab in the Illustrations group, you will click on "SmartArt."
Step 2 – Choose Chart Type
Once you click on SmartArt, a gallery will launch where uh you can scroll down to Hierarchy and click on "Organization" chart layout that fits your requirements.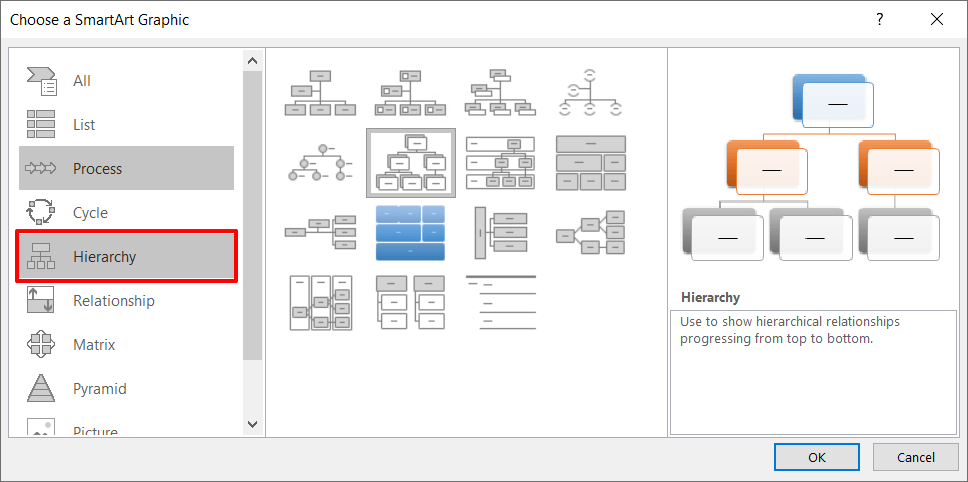 Step 3 – Add Text
The chart will prepare on your page, worksheet, or slide. Click on the box in the graphic, and start typing in your text. You can adjust the font size and shape of the text box using the Home tab.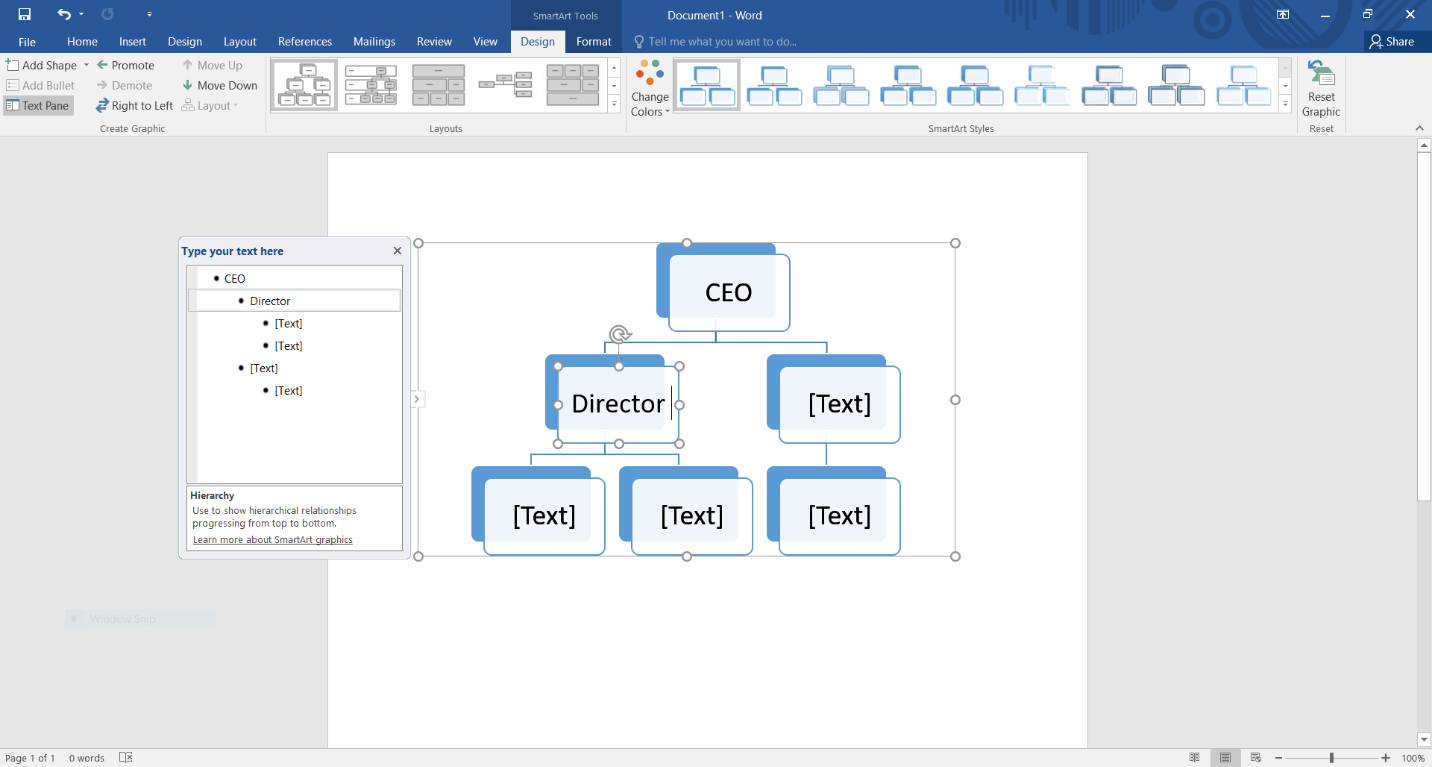 Once you have entered all the relevant information, use other editing tools present on the Format tab at the top of the screen and tell you are satisfied with your hierarchy chart. Finally, go to the files tab and save your document.
How to Make a Hierarchy Chart Easily?
While MS Office tools are a great way of creating hierarchy charts, they do not offer a lot of customization and advanced features. To create a professional-looking hierarchy chart within a few minutes we will use EdrawMax.
Follow this step by step guide or watch the video:
Step 1: Open EdrawMax
Download and install EdrawMax in your computer and launch it to start the process.
Step 2: Select Chart Type
On the navigation pane on the left side of the screen, scroll to the "Organizational Chart" and click on it. Use the org chart template. Simply click on the desired template and wait for the drawing tab to launch.
Step 3: Symbol Library
On the drawing tab, you will find a Symbol Library on the left side of the screen and a formatting panel on the right side of the screen. Now click on the symbol library icon and search for "org" to find organization chart symbols. Add the symbols to your library and start creating an organization chart.
Step 4: Add Text
At the titles and all the relevant text. You can change the color size and font of the text along with the color and shape of the text box.
Step 5: Save File
Automatically stores all your files on the cloud and it also allows you to export the file in commonly used file formats like Word, PowerPoint, Excel, Visio, etc.
Various Hierarchy Chart Examples
Here are some popular hierarchy chart examples and templates:
1. Company Hierarchy Chart
Company Heirarchy Chart shows the structure of an organization and the ranks and relative relationships of its positions/jobs.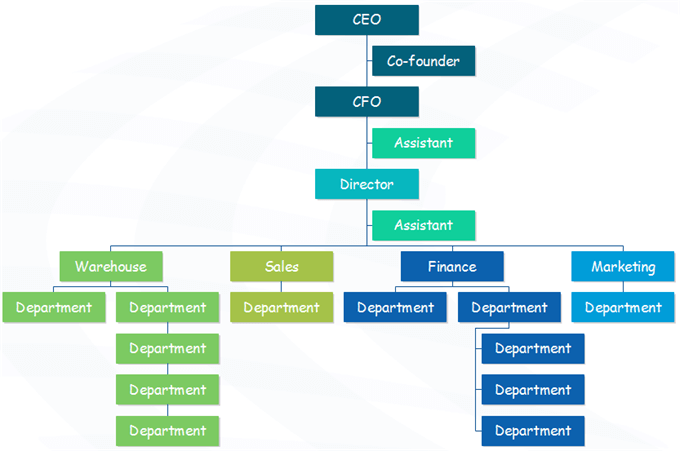 Image source: orgcharting.com
2. Business Hierarchy Chart
Business Hierarchy Chart represents the arrangement and organization of individuals within a corporation according to power status and job function.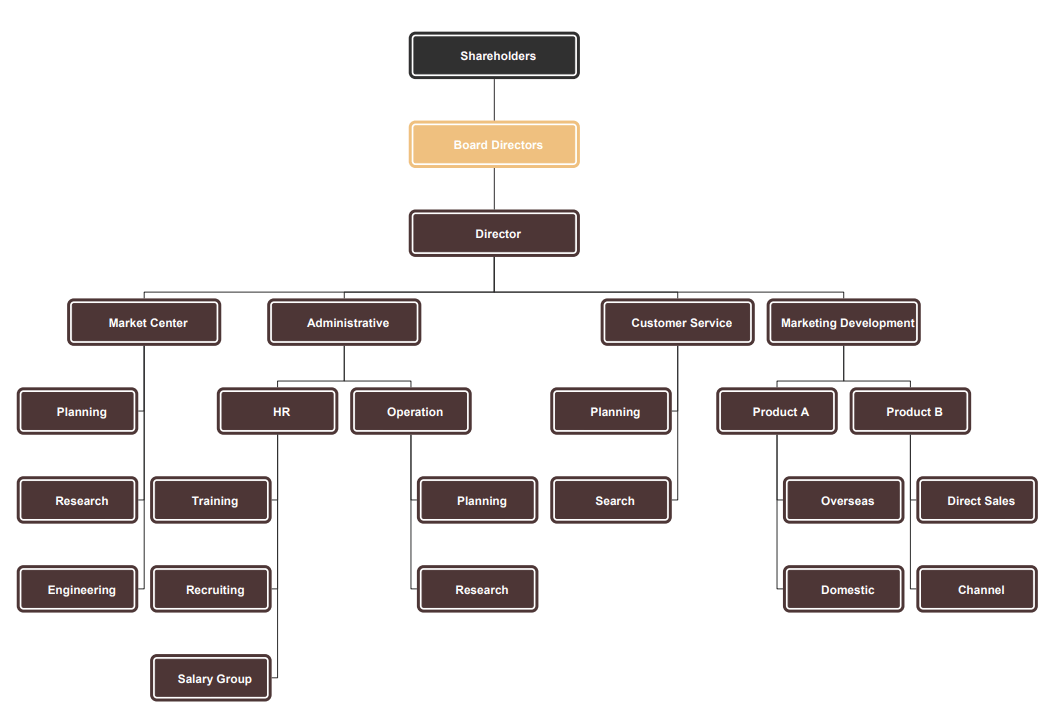 Image source: Edraw
3. Management Hierarchy Chart
This chart represents different management levels according to their level of authority. The top management middle management and low management levels are further categorized in the management hierarchy chart.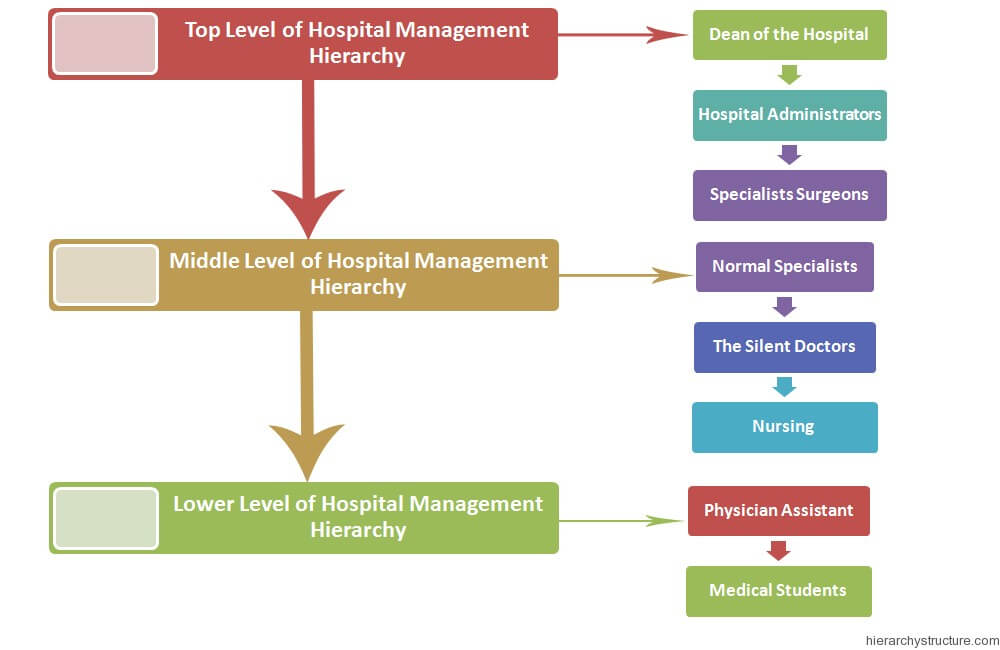 Image source: hierarchystructure.com
EdrawMax
All-in-One Diagram Software
Create more than 280 types of diagrams effortlessly
Start diagramming with various templates and symbols easily
Superior file compatibility: Import and export drawings to various file formats, such as Visio
Cross-platform supported (Windows, Mac, Linux, Web)
Security Verified |
Switch to Mac >>
Security Verified |
Switch to Linux >>
Security Verified |
Switch to Windows >>