Customer Story
EdrawMax Paving Your Path to Landscape Architecture
EdrawMax accelerates the growth and production of government and enterprise clients around the world.
Meet Joe Mehta
Industry
Landscape Architecture
Needs
Joe needs a drawing tool that supports all types of required diagrams, is easy to use, and is economically priced. Also, he needs support for remote working and easy collaborative tools.
Joe Mehta is a professional landscape architect with the skills and training to combine art and design to plan and design parks, campuses, offices, residences, restaurants, and other projects. He is a strong advocate of the productive landscape instead of consumptive, and his involvement with nature preservation is commendable.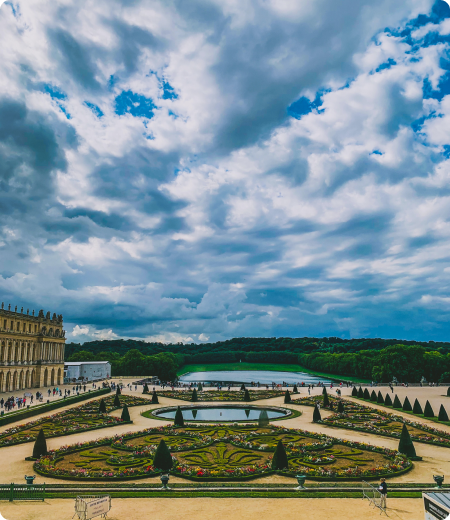 Challenges
Defining and Communicating Landscape Architecture
It is a challenge for landscape architects to communicate and defend their plans. They need strong evidence and documentation support for clearly communicating their case to the stakeholders.
Able to See the Big Picture
Landscape architecture is both an art and a science. Architects have to balance sustainable designs, a green environment, and creative solutions. So, they need to see the bird's eye view and micro-detailing.
Broadening Skills While Covering the Basics
Landscape architects use drawing software to save time, effort and to produce a state of the art plans. A challenging learning curve discourages them from adopting innovative technological solutions.
The Solutions
Landscape drawing is a very complicated field as there are many challenges on sites like limited spaces, drainage issues, narrow lots, uneven spaces, and sloping terrains. Now, these challenges may compromise the design and layout. Also, too many design elements may affect the eco-friendly aspects of the design. So a thorough analysis and brainstorming before finalizing the design immensely help in avoiding mistakes and shortcomings later. Joe needs a solution that helps him to see the big picture and analyze the solution without eating up too much of his time. He enjoys working with EdrawMax because of its familiar user interface and simple drag and drop features with all the tools within access. He can simply pick up an icon, symbol, or shape and put it on the canvas while auto adjustment and other supporting tools support the layout.
Big Picture With Complete Package of Diagrams
Landscape architecture deals with wide-open spaces with various landforms, small garden designs, park designs, and horticulture designs. In all these aspects, it is important to see the big picture with small details, i.e., the irrigation, drainage, plantation, facilities, and style elements. EdrawMax supports various landscape architecture designs, which means Joe can build up from the basic to the most detailed design in the same program and achieve uniformity within the package.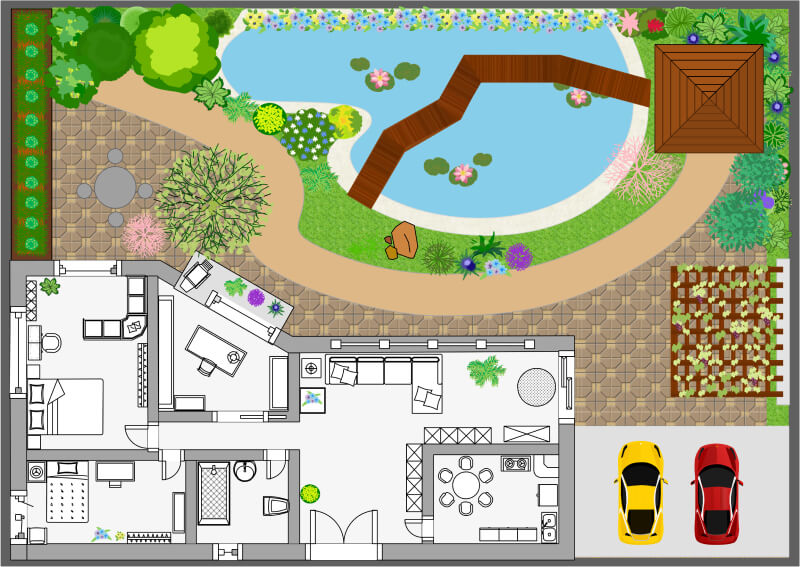 Source:EdrawMax Template Community
Cohesive Communication
Communication can build or break an architectural project. There are many stakeholders from diverse fields, and a landscape designer needs cohesive communication to keep everyone on the same page while using a commonly understandable language. This widely understandable and clear language is the standardized symbol. Joe uses EdrawMax to create drawing packages using EdrawMax like the landscape design, garden design, horticulture layouts, etc., to make his presentations. It helps him to understand the concept himself and deliver the approach and engage the space in all involved people's minds. This visual support simplifies the design approach by correlating it with the illustrations. EdrawMax's cloud storage and virtual workspace also support the communication within the team as their work is accessible to all based on the user permissions, which keeps their diagrams and drawings integrated and coordinated.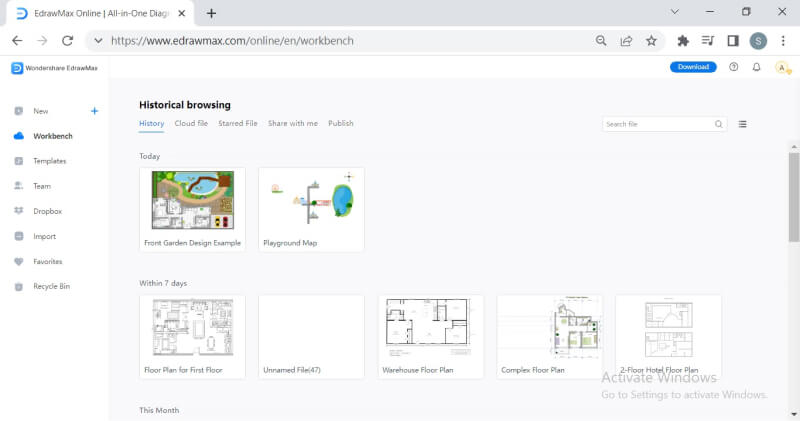 Source:EdrawMax
Inspiration From Templates
EdrawMax supports a wide range of templates for landscape architecture, including playgrounds, college campuses, and community gardens. These templates are fully customizable and free to download, and come without any watermarks or logos. Joe thinks these templates are very well designed, and he usually takes inspiration from these samples because highly accomplished professionals have designed them. Joe and his team also believe in giving back to the community, and therefore, they also contribute to the library with their work.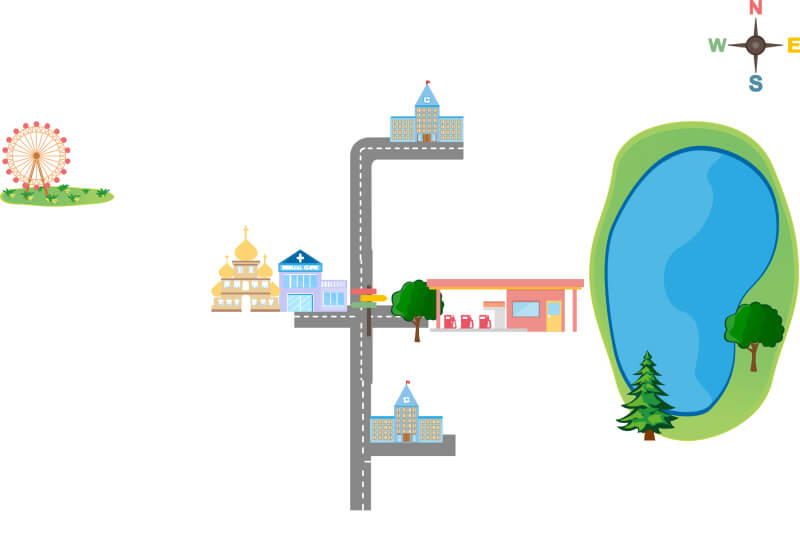 Source:EdrawMax Online
The Results
Effective communication to clarify the scope and sustainable development of the project.

Reduced Resources Leakages including time and labor.

An all-in-one solution with a history file archive and version control supports a virtual workplace for collaborative access.

Landscape architecture is a challenging profession because we have to balance our green aesthetics with the industrial and residential requirements. EdrawMax is a great helping hand because it allows us to see the big picture and create plans that use every inch of available space and yet make them naturally beautiful. We always find some source of inspiration from the template libraries too.