Trusted By Over 30 Million Users & Leading Brands
Why EdrawMax to Draw Your Concept Maps?
Idea management
will be easy
Everyone will be satisfied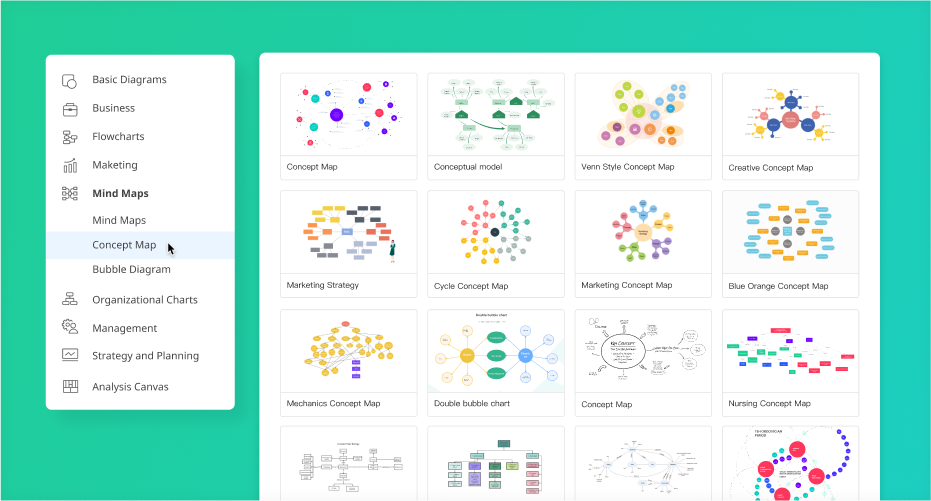 Collaboration will be seamlessly
Presentation will be smooth
More Features Of Concept Map Maker
Visio files import and export
Customized fonts and shapes
Insert images and attachments
File encryption and file backup
EdrawMax is a powerful drawing tool that has more than enough features, templates, and examples for its users to accomplish any task they set out to achieve. There's no diagram or chart that EdrawMax can not handle.
EdrawMax provides professional solutions for organizations and individuals. The drag-and-drop functionality makes it easy to draw any type of diagrams. Also, it contains massive free templates, which helped us save time from creation. This software will always let users remain a step ahead of others.
EdrawMax is the versatile diagram software that integrate 100% functionality and libraries of all other drawing products. EdrawMax have better overall options for business presentations and value.
How to Draw a Concept Map?
Edraw Concept Map Templates
Concept Map FAQs

What can I use a concept map for?
A concept map can explain a complex concept by focusing on different elements and establishing a relationship between them. It is considered a resourceful visual tool that is easy to make and can depict relationships between multiple topics at a glance.

Where is the shape library for concept map?
On the right panel of EdrawMax, you can find tons of professional shapes and symbols that you can just drag and drop to the canvas. You can also import your own shapes to your project by visiting the "My Library" section.

Is everything customizable inside EdrawMax's concept map maker?
Yes, you can adjust your concept map as you want! With EdrawMax, you can edit almost every aspect of the concept map, including fonts, connections, colors, themes and etc.

Where can I find concept map examples?
3500+ professional and user-generated templates are provided in the EdrawMax template center. You can access them by downloading the EdrawMax desktop version or visiting our website.

Is EdrawMax's Concept Map Free?
Yes! It is 100% free to use! After you download EdrawMax, you can create your concept map by picking up a template from the template center or getting started on the new canvas.

Can I share my concept map with my team?
No problem! It is easy to keep your team on the same page with EdrawMax. You can share your file through a link that allows your teammate to view or edit.

Can I make a concept map in Microsoft Word/Excel/PowerPoint?
Here is a much easier way to make a concept map. You can create your concept map with EdrawMax and simply export them into Word, Excel, or PowerPoint files.

Can I make a concept map in Visio?
EdrawMax is a perfect Visio alternative supporting importing and exporting of almost every Visio file format. You can import and edit your Visio file in EdrawMax seamlessly. It also allows batch import Visio files which convert Visio files to Edraw files from a folder. After you finish, you can also export it as a Visio file.
More Resources
Unlock your diagram possibilities by exploring more diagram makers here.
Find more ideas, tips and knowledge to help create concept maps.
Need help? Find the instruction or contact support here.