Free Editable and Printable Birthday Card Templates
>
Edraw Example
>
Free Editable and Printable Birthday Card Templates

Do you want to celebrate someone's birthday with a printable birthday card? Some editable and printable birthday card templates in this article will inspire you to create a birthday card with heartwarming words. A birthday card is a perfect way to send your wishes to your friends or family members.
Several printable and editable birthday card templates are available for you to create your own personalized card. These birthday cards with different styles will save you time and money. Some of them are more beautiful than the ones you can easily buy from a store.
Part 1: What is a Birthday Card?
The greetings, wishes, and feelings you express on a piece of card and give to the person you love the most on their birthdays are called the birthday card. The birthday card contains artwork like an illustration, texts with appealing fonts, beautiful stickers showcasing your love and friendship to the opposite person.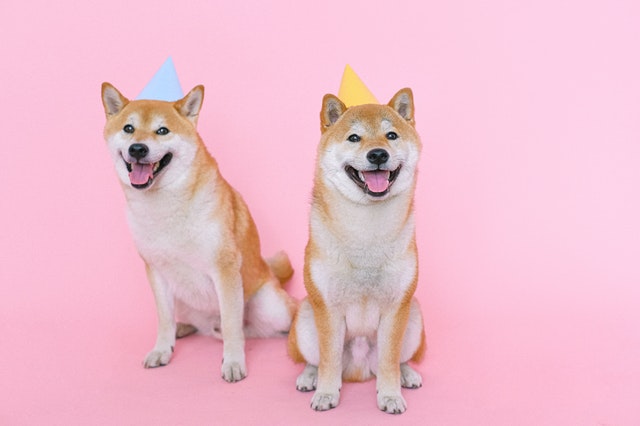 The birthday cards can be made with hands, or you can purchase them, or you can design them on the computer software. You traditionally give birthday cards in envelopes. The birthday cards come in various types like the standard printable card, handmade, a photo with a message, sound-producing cards, e-cards, quilling cards, pop-up cards, and a fabric material card.
The size of the general birthday card is five by seven, and it has the capacity of space so you can express your feelings on the card.
Part 2: Birthday Card Templates
In this section, we will see some templates of the birthday cards and their invitation cards. It will help you in making a beautiful card for your loved one.
Category #1: Birthday Invitation Template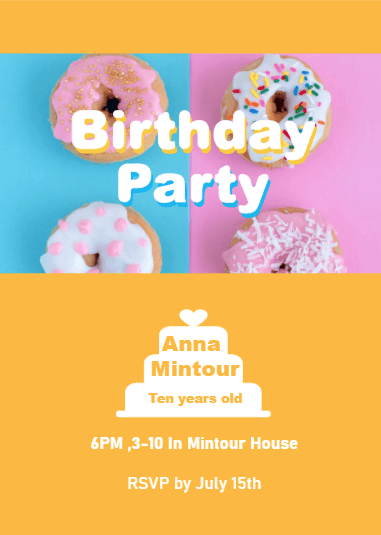 In the above illustration, you can see how cute the birthday invitation card is. It contains all the information that should be on a perfect invitation card. See the name written and the timings of the party. You can take a guide from this and make an invitation card, but don't forget to write the name of the birthday person, the timings, and the address at which the occasion will be held.
Category #2: Birthday Wishes Template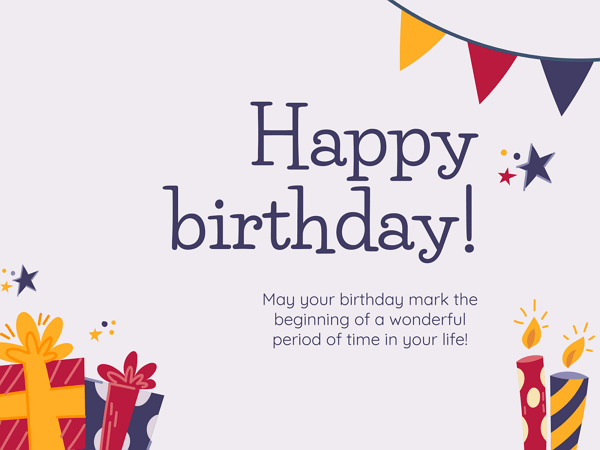 Image Source: https://slidesgo.com
The theme of this card is specifically for a girl, but you can also make it or download it from the internet for a male depending on his age. In the text below the 'birthday,' you can write whatever you want. It can be your lovely feelings, a lovely joke, a prayer for them, etc. In the extreme below, after a delightful phrase, the person's name is mentioned who gave these wishes. So, you can also mention your name.
Category #3: Happy Birthday Card Template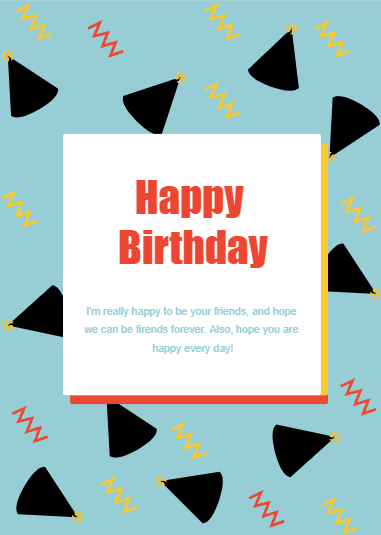 The card is for a boy, but you can modify it to look girly. You can write a pleasant text below the main wish. Or the best thing you can do is to paste you're and the person's picture below the birthday wish.
Category #4: Funny Birthday Card Template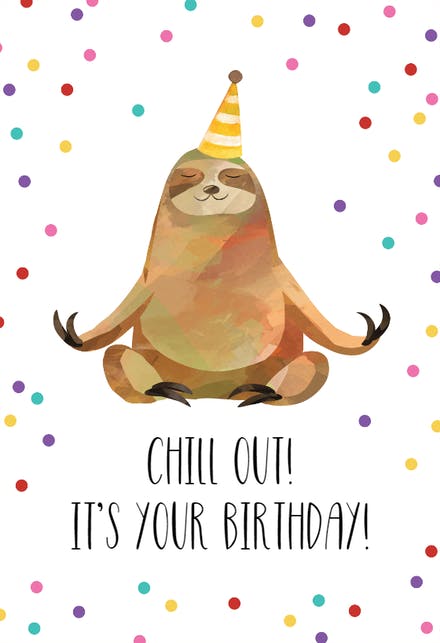 Image Source: https://www.greetingsisland.com
Keep in mind that you give this type of funny card only to your friends and not your relatives. You can write any funny lines on the card to make the person laugh on their special day.
Category #5: 1st Birthday Invitation Template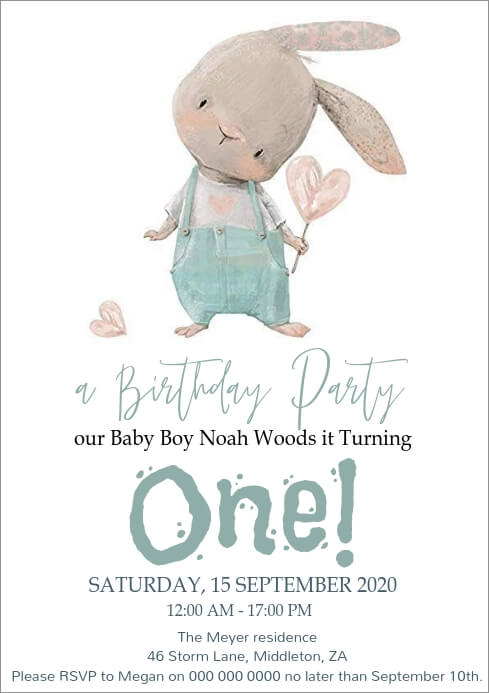 Image Source: https://www.postermywall.com
Make it look like it's the first birthday, or the best you can do is put the child's image on the card. Don't forget to mention the date, time, and location on which the party will be held.
Category #6: Blank Birthday Card Template
You can take these like blank templates to showcase your love to the birthday person. You can also write a decent joke or make it look like what the birthday person loves. Or you can also add more designs to the card. Blank birthday card templates as below are ready-to-use. All contents in these templates like elements, icons or word even layout can be edited as you like. You are able to print and share them for free.
Birthday Card Template for Her
Heart pictures in the background and pink color are so sweet. Simply add the word you want to say to her. You can also replace the original pictures with your own photos.
Birthday Card Template for Him
Wish the boy or man in your life a happy birthday with a fun-filled birthday card for him.
Birthday Card Templates for Kids
There are two birthday card templates for kids below. Words are simpler. You can simply put some interesting pictures they like on the cards.
More Free Birthday Card Templates
Part 3: What Should Be on a Birthday Card?
The perfect birthday card contains the name of the person to whom the card is for and the name of the person who brought the card. Don't forget to write happy birthday at least once on the card. The best practice is to add the Happy birthday on the front page of the card.
Tips on How to Write a Birthday Card
You can add two wishes on the card, one on the front side and one on the typical wishes and greetings side.
You can add the person's picture and make it more appealing by trying to paste artwork on the card.
You can also make it pop up with some message or a picture.
Part 4: Birthday Card Elements
EdrawMax provides users with various birthday elements to design cards. All elements are editable. Users are allowed to change its dimensions, colors and directions, etc.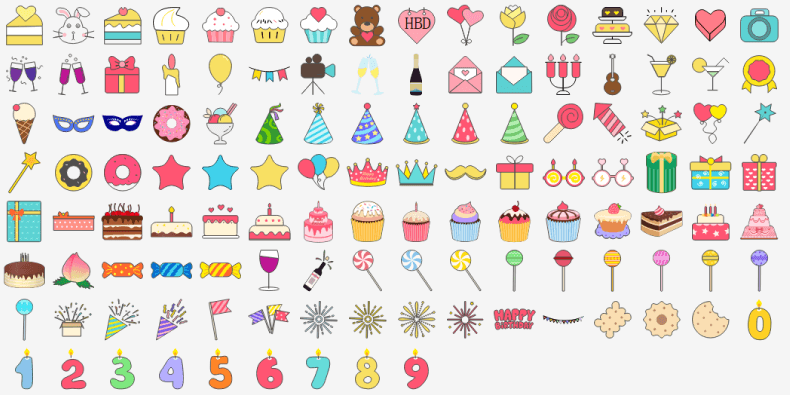 Its built-in drawing tools can help you design your own birthday symbols.
EdrawMax
All-in-One Diagram Software
Create more than 280 types of diagrams effortlessly
Start diagramming with various templates and symbols easily
Superior file compatibility: Import and export drawings to various file formats, such as Visio
Cross-platform supported (Windows, Mac, Linux, Web)
Security Verified |
Switch to Mac >>
Security Verified |
Switch to Linux >>
Security Verified |
Switch to Windows >>
Part 5: How to Design a Birthday Card?
This section will tell you how to use the well-known EdrawMax to design your birthday cards. It will save your time and will not charge you a penny.
Tips for Designing Birthday Cards
Add Pictures: You can add the old and recent pictures of yourself with the birthday person. It would make them more emotional and create more feelings for you in their heart.
Add a proposal: You can also add a proposal for marrying the birthday person to the birthday card. It would give them a double surprise.
Attach a rose: You can also attach a fresh rose to the birthday card and make it pop up when the card is opened.
How to Edit and Customize Birthday Card Templates?
Step 1: Launch the EdrawMax either on the desktop or on the web(EdrawMax Online ). Click on the [Card] and then click on the [Birthday Card].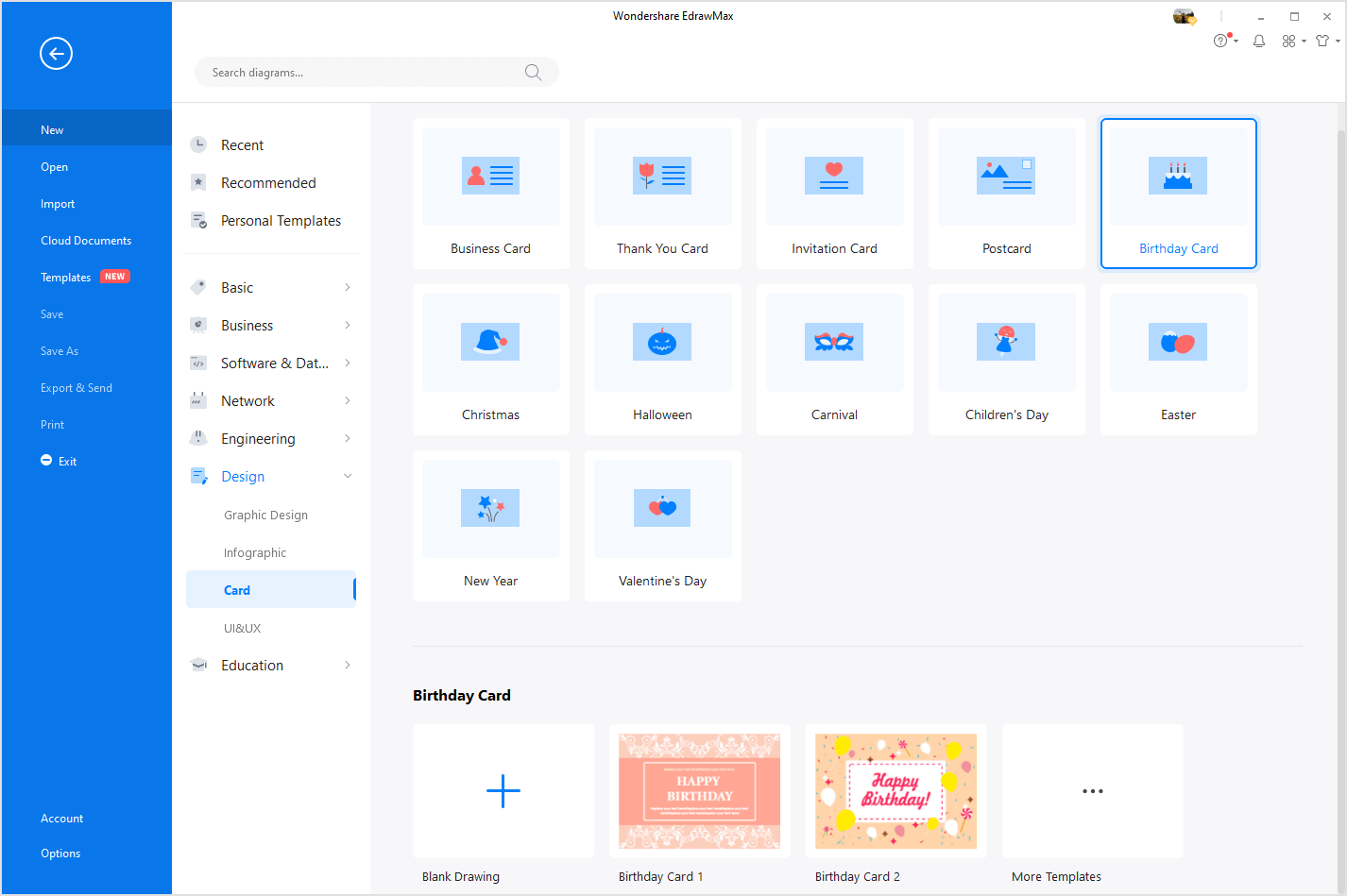 Step 2: After selecting the birthday card, hundreds of templates would be generated relevant to the birthday card. Click to open one of the pre-designed birthday card templates. Then you can use the pre-set shapes, symbols, colors, fonts, and graphics and make it beautiful and appealing.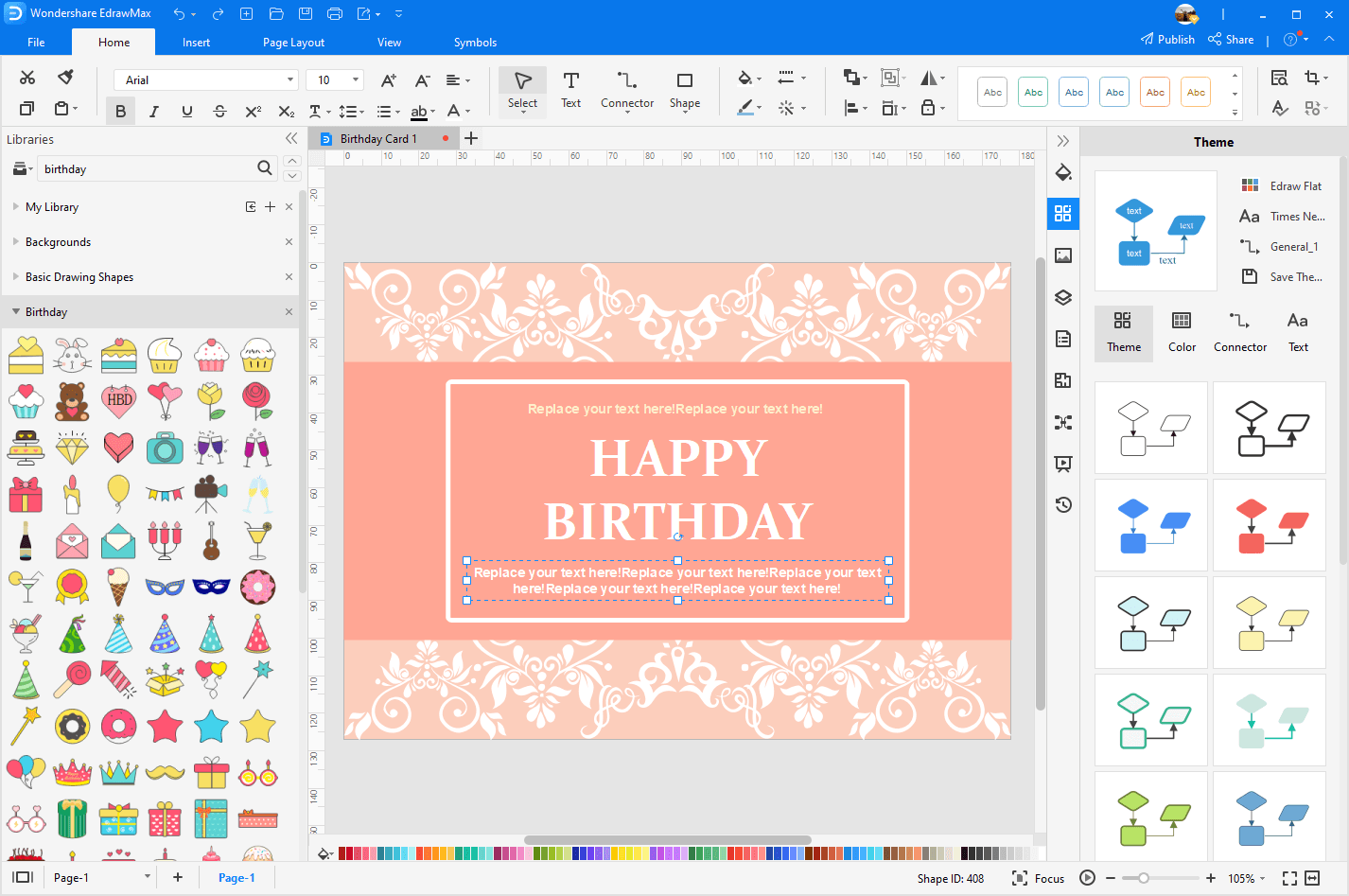 When you open the template in EdrawMax, you can simply edit its layout, text content, font style, text alignment, rotate or clip images to personalize your own cards. You can also insert the pictures you like into the canvas.
Step 3: Share your card to any social platform you want, or you can also download it. Once you have downloaded the card, you can print it by the way your operating system allows you.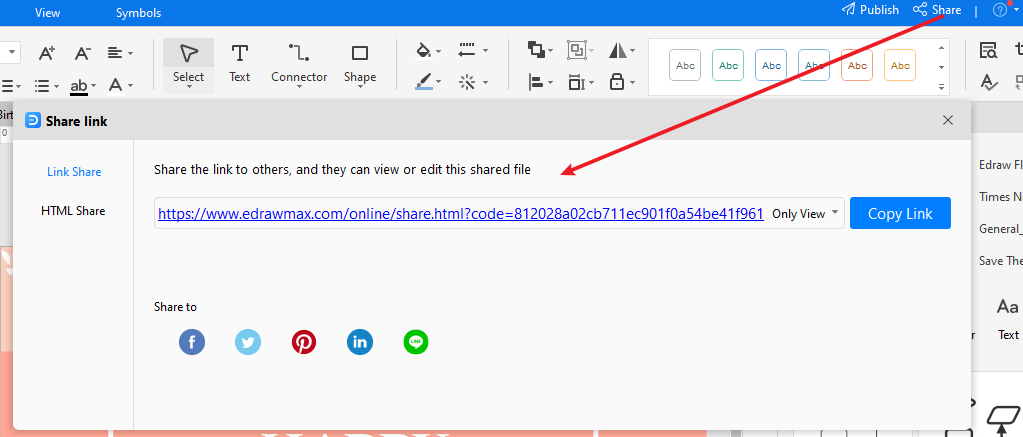 Part 6: How to Get a Birthday Card Template for Word/PDF?
Once you have made your own birthday card, you can save and export the card to PDF, Word, PowerPoint, HTML, JPG, PNG format, etc. EdrawMax provides many common export options for users, so that they can download and get the birthday cards in the file formats they want. What's more, your friends, family members or the ones you love can see how beautiful the card is, even if they are not using EdrawMax.
Find the [Export to Word] option and open your card in the MS Word.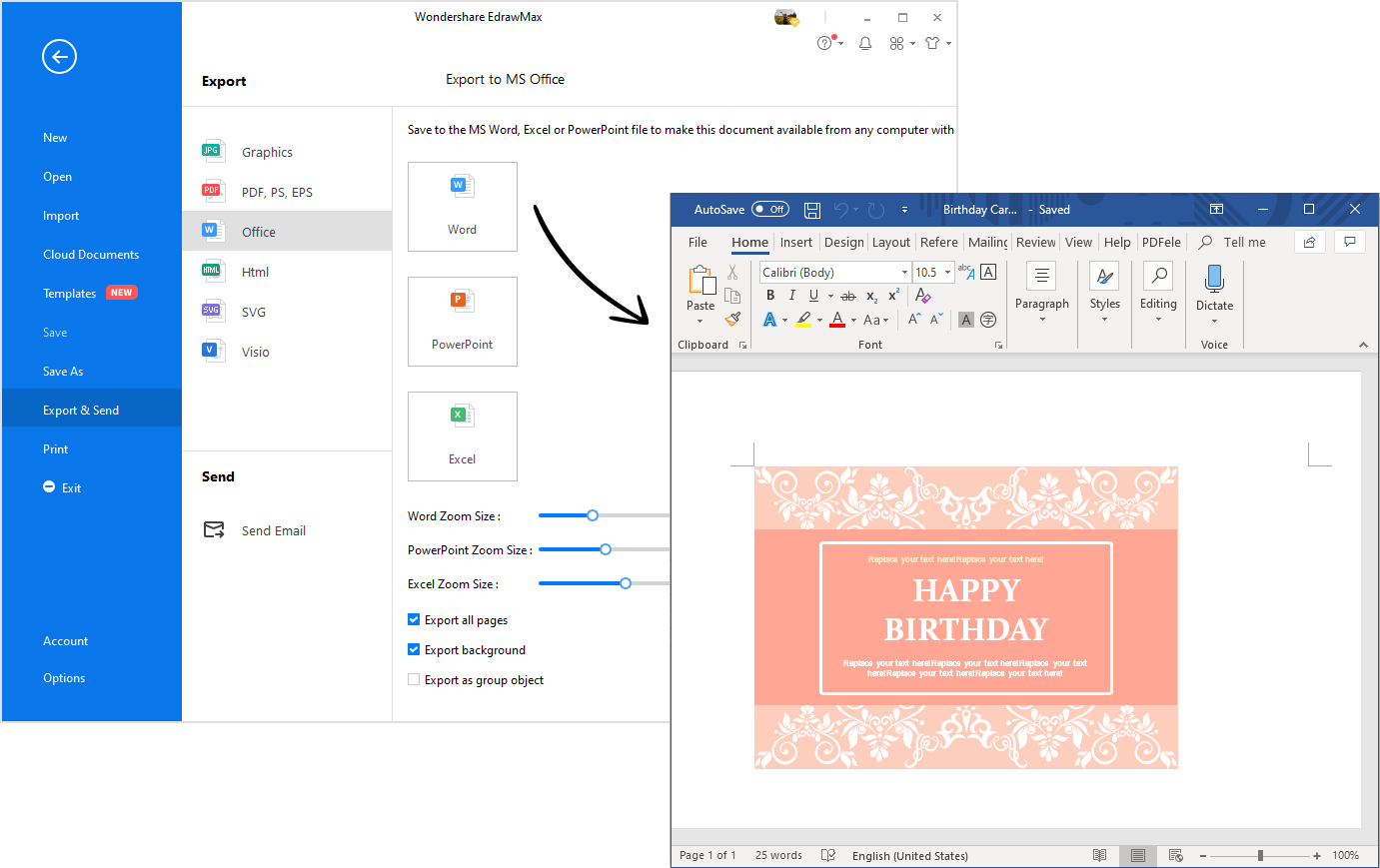 Find the [Export to PDF] option and open your card in the PDF viewer.
More Related
How to Create a Birthday Card?
What to Write in a Birthday Card?