Blueprint Software - Edraw

Drawing blueprints or floor plans is quite necessary in order to deliver predictable architecture results.
A blueprint for something is a plan or set of proposals that shows how it is expected to work. Drawing blueprints or floor plans is quite necessary in order to deliver predictable architecture results.
Edraw is definitely the easiest to use architectural layout software that allows enterprises or individuals to design floor plan, office layout and building plan. You don't want to miss the helpful information below so check it out! Just enjoy the ease and make a difference in floor plan design with us.
Edraw Blueprint Software is also an all-inclusive automatic floor plan software which can simplify the creation of professional-looking and presentation-quality floor plans.
It helps visualize a blueprint for your home, office, deck, or landscape in minutes.
Users can know where and how room arrangements get off track where misplacements, rework and extra cost occur.
It supports previewing your work before applying them in real world.
Its cutting-edge technology and ready-built templates make the whole process efficient, effortless and time-saving.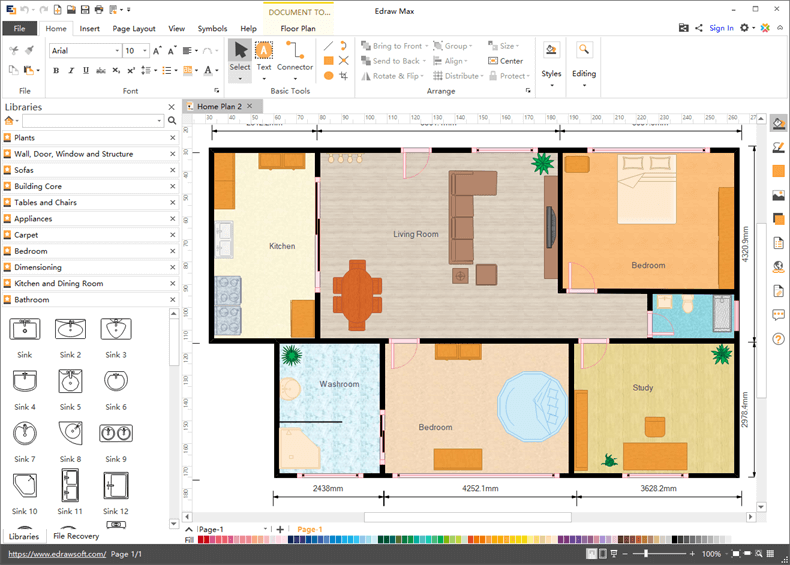 Discover why Edraw is an awesome Blueprint Maker: Download it Now.
Benefits of the Software
1. Scores of Floor Plan Examples and Templates
Network drawing doesn't need to start from scratch. Just drag the ready-made symbols from the libraries and drop them on your page. Floor plan drawing couldn't be easier! You don't need to be an artist to look like one!
2. Common graphic format support and printing are WYSIWYG (What You See Is What You Get).
3. Perfect Automatic Formatting.
Zooming, scrolling, multi-selection and multi-level undo/redo supported. No artistic skills are required. It automatically aligns and arranges everything so your drawings look great.
4. Various Settings
Distinct colors, fonts, shapes, styles, pictures, text and symbols for each object of the diagram are available.
Software Highlights
Easy-to-use floor plan tools with rich examples and templates.
Great value for the money.
30-day product refund guarantee.
Free update forever.
In-depth tutorials to help you learn to draw floor plans.
Free technology support. Expert mentoring to reduce time of adaptation and maximize return on Blueprint investment.
Free Blueprint Templates and Examples Included with Edraw
Here are blueprint templates for you to get started quickly. All of these are editable with a free download blueprint maker. Feel free to click on any of them to see more details.
Change the Drawing Scale in Floor Plan