Accounting Flowchart Symbols

Do You Want to Make Your Flowchart?
EdrawMax specializes in diagramming and visualizing. Learn from this Flowchart complete guide to know everything about the Flowchart. Just try it free now!
What flowchart symbols are used in accounting systems? The accounting flowcharts contains 16 symbols for drawing accounting flowcharts.
If you are preparing an accounting flowchart and have not enough time to learn all flowchart symbols, you can read the following article to learn the most used flowchart symbols. It is necessary to use the ISO flowchart symbols to begin your flowchart, because others can understand more accurately and comprehensively by using a set of common, uniform flowchart symbols.
1. Accounting Flowchart Symbols
The accounting flowcharts contains 16 symbols for drawing accounting flowcharts.
2. Meaning of Flowchart Shapes
Process - Represents a process or step in the flowchart.
Decision - Indicates a point where the outcome of a decision dictates the next step. There can be multiple outcomes, but often there are just two - yes and no.
Decision represents the choice made by the user from mutually exclusive options, e.g., a student choose among different lesson plans.
Terminal points - Indicates the starting and ending points of a process.
EdrawMax Desktop
Create over 280 types of diagrams
Windows, Mac, Linux (runs in all environments)
Professional inbuilt resources and templates
On-premises software for business
Enterprise-level data security
EdrawMax Online
Create over 280 types of diagrams online
Access diagrams anywhere, anytime
Team management and collaboration
Personal Cloud and Dropbox Integration
Data Shape - Indicates that information is coming into the process from outside, or leaving the process.
Delay shape - Represents a waiting period where no activity is done. In Process Mapping, delays are often important as they may result in adding to the cost of the product or simply delaying its production.
Input/action symbol - Represents a user response that directs the course flow from that point onwards, i.e., an online test or questionnaire form.
Off-page reference - Use a set of hyperlinks between two pages of a flowchart or between a sub-process shape and a separate flowchart page that shows the steps in that sub-process.
Document- Represents a step that results in a document.
3. Used in The Accounting Flowchart
Onpage Connector (transfer of customer order to the credit dept)
Offpage Connector (mailing of sales invoice to customer)
Annotation (used to describe or note an activity)
Punched Card (method of computer input)
Magnetic Tape (method of computer input)
Punched Tape (method of computer input)
Manual Input (keyboard entry of data)
Magnetic Disk (method of computer storage)
4. Learn From Accounting Flowchart Examples
A simple account flowchart is a graphical representation of the flow of data in an organization. The following flowchart describes the flow of transactions process in a specific area of the accounting and financial department.
If you want to use this template, you can click to download them. While The eddx file need to be opened in EdrawMax. If you don't have EdrawMax yet, you could download EdrawMax for free!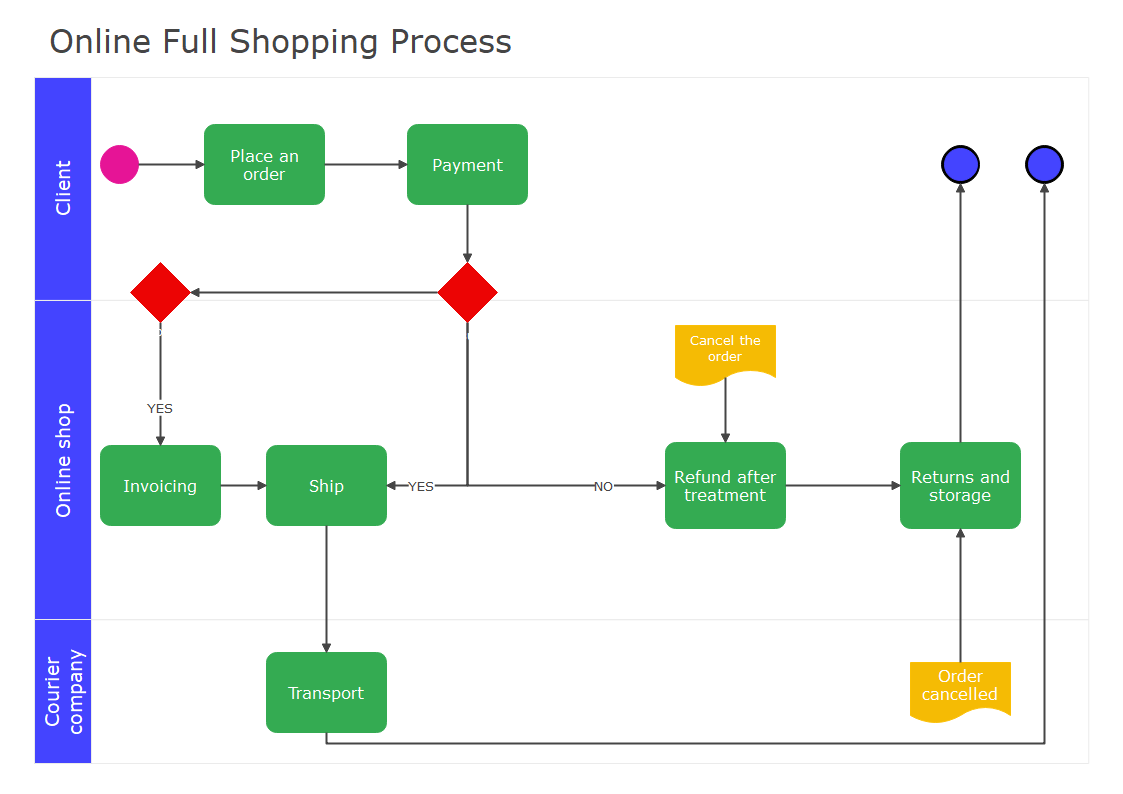 More Flowchart Shapes
Inventory Management Flowchart
Quality Control Management Flowchart
Use Flowchart for Document Management