In medium-to-large scale business enterprises, almost every employee is supposed to know their rank and must be aware of their reporting person in the hierarchy in order to keep the workflow run smoothly. This is where the importance of an organizational chart can be better understood.
With that said, here, you will learn what an organizational chart is, what are the benefits of organizational charts, and what types of organizational charts are most in practice.
What is an Organizational Chart?
An organizational chart is a diagrammatic representation of the hierarchy of the employees on the basis of their ranks and positions they hold in a company. Most of the times, such charts are drawn in a tree-type formation, thus making it easier even for the laymen to understand who is senior to who, which employee is directly answerable to which management person, and how several departments of the company work in collaboration to keep the communication and information sharing simple.
The chart usually shows the managers and sub-workers who make up an organization. The chart also shows relationships between staff in the organization which can be:
Line : direct relationship between superior and subordinate.
This can be considered an ideal organizational chart type that clearly illustrates the relationship between the employees and shows their direct reporting person.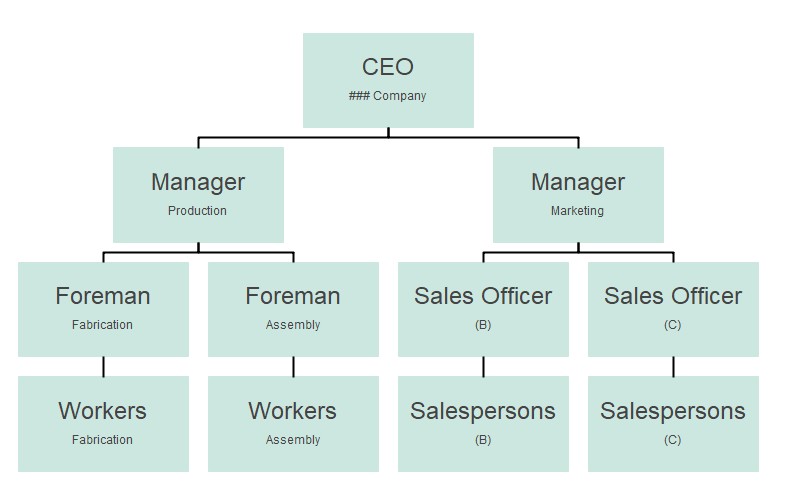 Lateral : relationship between different departments on the same hierarchical level.
This one is added to an existing organizational chart and illustrates the relationship between the employees of different departments holding the same rank level, e.g., General Manager – Accounts and General Manager – Sales. A Lateral Chart shows how communication takes place, and the information flows inter-departmentally.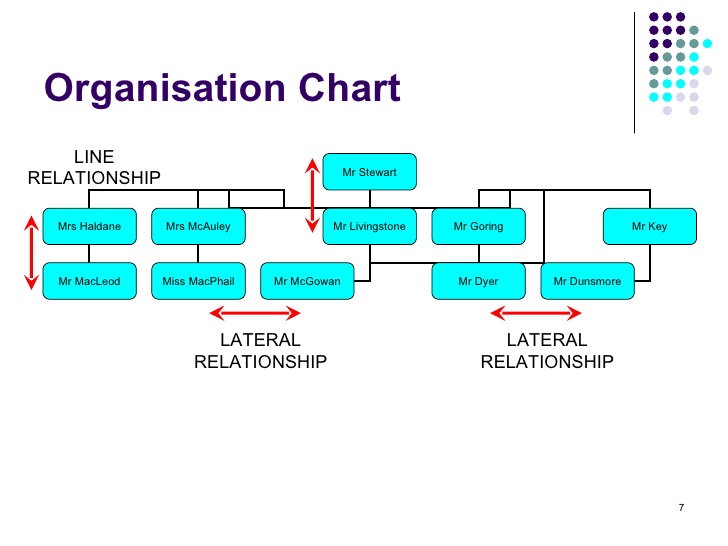 Staff : relationship between a managerial assistant and other areas. The assistant will be able to offer advice to a line manager. However, they have no authority over the line manager actions.
This chart shows the relationship between the employees of an organization holding managerial posts and their assistants. In many companies, the assistants are expected to offer suggestions to their reporting managers, thus helping them in coming up with a fruitful decision. However, the assistants cannot compel their seniors to act as per the proposed advice.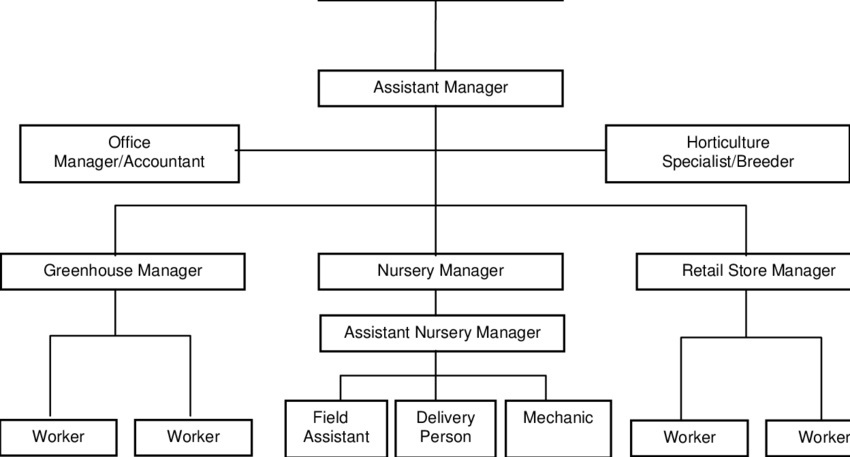 Functional : relationships between specialist positions and other areas. The specialist will normally have authority to insist that a line manager implements any of their instructions.
A Functional Organizational Chart, sometimes also referred to as Top-Down Organizational Chart, is yet another graphical representation that shows people of identical rank working in different departments of a company and the subordinates/juniors assigned under them.
For instance, a Functional Organizational Chart can show the persons with ample work experience in IT and Sales fields working as General Managers of the firm's IT and Sales departments respectively. The same chart can also talk about the other employees appointed to work in the downline of these general managers in their respective departments.
The Purposes for an Organizational Chart
Usually, it is the HR who draws an organizational chart, and ensures that it is consistently updated with the modifications in the hierarchal structure of the company.
A well-maintained organizational chart is important for both managerial staff and the newly recruited personnel. While the seniors can check the chart to see the number of employees working in a company or its different departments so as to keep track of the strength, the new employees may use it to know which person is responsible for which task, and who should they report or seek help from if need be.
The Importance of an Organizational Chart
A detailed organizational chart plays a vital role in a company in several ways. Considering this, the main question that comes to mind is, "Why should the organizations be encouraged to have an organizational chart?"
The answer is simple.
There are several organizational chart benefits such as maintaining flawless workflow among the employees, ensuring a proper communication channel between the junior and senior personnel, and much more.
Some of the most significant advantages of having an organizational chart in a firm include:
Administration - An organizational chart helps the managers and administrators check positions that need to be filled by hiring new people, assess the number applications that are in the pipeline and need attention, the existing employees that need appraisals or increments, etc.
Hierarchy - In a company with several employees, losing track of the command chain is pretty common. With an updated organizational chart, it becomes easy for both administrators and their subordinates to assess whom they should seek a report from and who is the right person to report to, respectively.
Manpower Expansion - Because an organizational chart gives an aerial view of the departments, employees, and the business needs, it becomes extremely easy for the administrators to assess when the company needs more employees for further growth.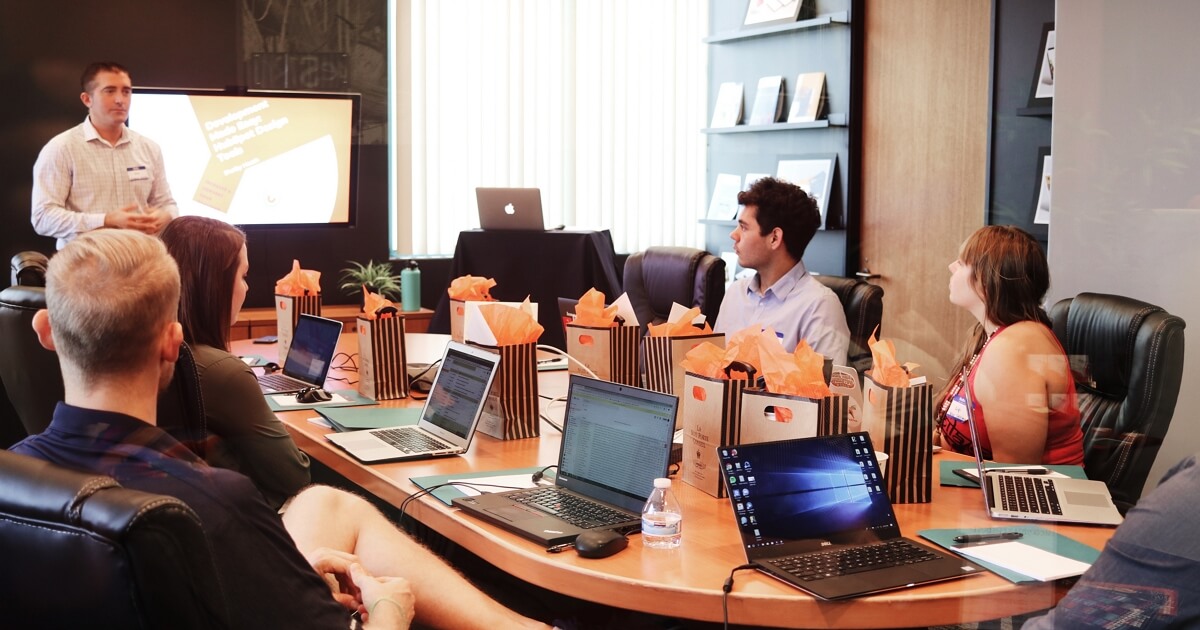 Key Valuable Org Chart Benefits
As mentioned earlier, an organizational chart, which is sometimes also referred to as Org Chart, is generally prepared and regularly updated by HR. Because Human Resource is a department in an organization that keeps track of all the employees, they are the people the administrators, managers, and existing employees can get the latest version of the chart from.
It is further important and culturally necessary for each personnel, junior and senior, to obtain a copy of the chart so as to understand the roles and responsibilities of the employees working in the company.
With the chart, the people holding administrative positions can assess the current strength of the firm, determine the number of openings the organization has, and which employee(s) can be promoted in order to vacate more positions in order to help the business grow.
Likewise, the subordinates and the newly hired people can use the chart to know who they should report to and even educate themselves about the number of departments the company has and their reporting structure.
Key Points
Organization Structure

The organizational chart helps build and design the organization structure to meet the business' objectives.

Job Responsibility

An organizational chart can guide the employees to know their rights and responsibilities. Organizational charts help divide the functions of a company, enterprise, or department.

Show Relationship

It also shows the relationships between the organization's staff members.

Work Efficiency

With an organizational chart, it's easy to find whether the officer's workload is too heavy. It's easy to find whether the unrelated persons undertake the work of several loose, no relationship. Find out whether an employee is incompetent in this work at important positions.

Work Performance

Make everyone clear within their organizations and improve employee performance. It's easy to see the promotion channels open. Some managers can use the organizational chart tool to analysis budget, design work team and generate reports.

Work Plan

Other departments are also able to understand and enhance the coordination of the organization. Organizational chart often outlines employee tasks and which manager is responsible for overseeing each employee.
Organizational Chart Examples
Following are a few org chart examples that would help you understand the org chart versatility.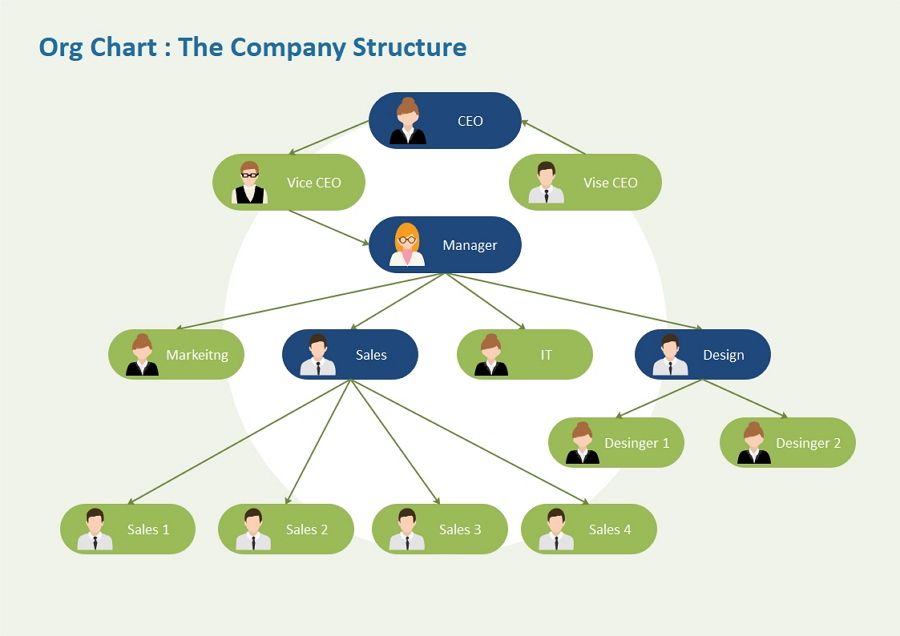 This is an org chart example for a company, which consists of CEO and two vice presents. From this chart, it is easy to see there are 4 important department, including marketing, sales, IT and design team.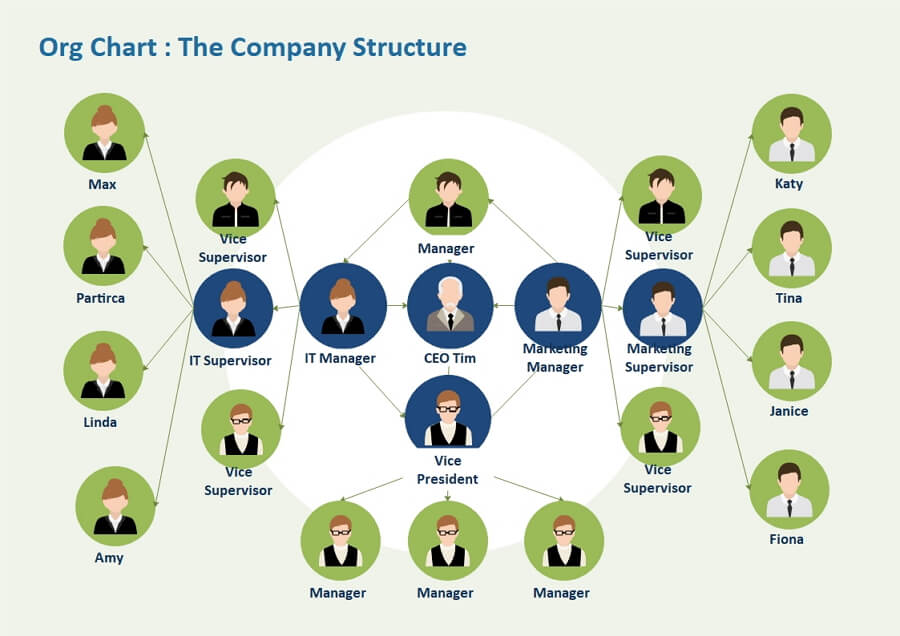 Unlike the upper example, this company org chart is more complex. Firstly, Tim is the CEO and there are vice present and manager. But for the main department, it must be the IT and Marketing department.
This org chart is easy to understand that this company consists of marketing team and IT team. The staffs in each team have been shown directly.
Conclusion
Being an HR, or even if your company doesn't have that department, and you are solely responsible for recruiting and managing the staff, it is imperative to understand the importance of organizational charts and know that preparing one by hand is a tedious task. Therefore, it would be wise to use an efficient and reliable tool to make your chart creation task easier. It also can eliminate the errors that could occur when done manually.
One such application that has been appreciated by many professionals is EdrawMax. ExrawMax is equipped with all the necessary tools and icons placed under different libraries to help you develop a beautiful, decorated, and colorful organizational chart.
Furthermore, EdrawMax is limited to organizational chart gears. It also allows you to draw diagrams for various other domains such as network infrastructure, floor plans, flow charts, and much more.
EdrawMax: a swiss knife for all your diagramming need
Effortlessly create over 280 types of diagrams.
Provide various templates & symbols to match your needs.
Drag and drop interface and easy to use.
Customize every detail by using smart and dynamic toolkits.
Compatible with a variety of file formats, such as MS Office, Visio, PDF, etc.
Feel free to export, print, and share your diagrams.
More Related