What is BPMN - Definition, Elements and Purpose

Learn the basic knowledge of BPMN (Business Process Modeling Notation) along with its definition, benefits, purposes, notations, examples, and how-tos.
What exactly is BPMN? What does BPMN consist of? How does BPMN diagrams work?
As a handy tool to business, it is essential to have a better comprehension of BPMN (Business Process Modeling Notation). Read this simple guide and create your own BPMN diagrams in marketing, project management, and other fields with ease.
What is BPMN?
BPMN (Business Process Modeling Notation) is a graphical method of representing business processes within a business process diagram. A BPMN will provide businesses with the capability of understanding their internal business procedures in a graphical notation and will give organizations the ability to communicate these procedures in a standard manner.
To be more specific, it visually describes a detailed sequence of business activities and information flows needed to complete a process.
History of BPMN
BPMN is conceived and developed by the Business Process Management Institute (BPMI) and maintained by Object Management Group (OMG) since 2005. It is on the fourth iteration, and Version 2.0 was released in 2010. It uses a broad set of symbols and notations for Business Process Diagrams to create a more detailed rule for business process modeling.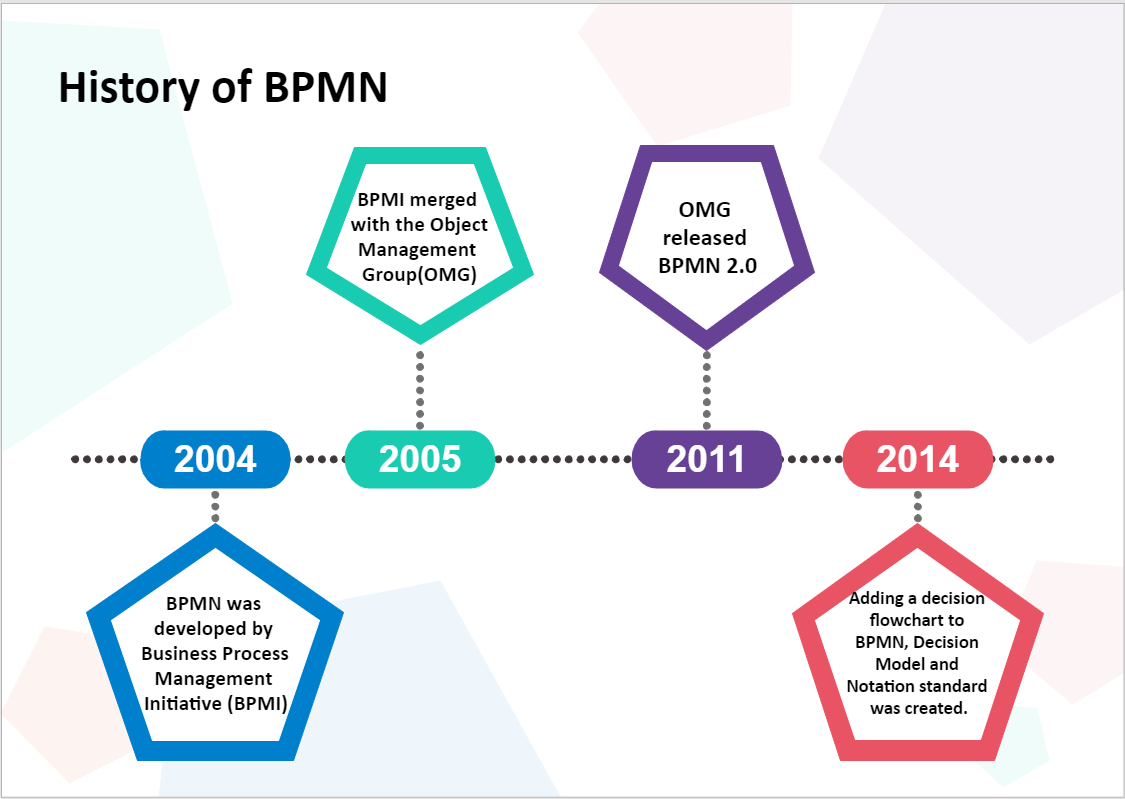 Purposes & Benifits of BPMN
The primary purpose of BPMN is to improve efficiency, account for new circumstances, or gain competitive advantage. BPMN works as an easy-to-understand visual representation of the process of an activity. It can help people who will implement the process to have a more detailed guide considering the diagram is much easier to understand than text would be. Business partners can reach more natural communication and collaboration and head for the goal of an efficient process and high-quality result.
Provides a standard method of business processes for a business group,
Makes it easier to share activity processes across organizations,
Business Process Management Software supports standard BPMN
BPMN Notation and its Elements
BPMN are diagrams with a set of graphical elements. The four basic categories of elements are:
1. Flow Objects: Events, Activities and Gateways
Event: Events are represented by circles containing other symbols based on event type. It could be Start, Intermediate or End. They perform as a trigger to start or complete a process.

Activities: An Activity is represented by a rectangle with rounded corners and displays the task needs to be done. It could be a task, or a sub-process.

Gateway: A Gateway is represented with a diamond shape and determine decisions, merging and joining of paths./li>
2. Connecting Objects: The Flow Objects are connected to each other by Connecting Objects. These are the tree different types of connecting objects:
Sequence Flow: A Sequence Flow is represented as a straight line with an arrow. , it shows the order of the activity.

Message Flow: A Message Flow is represented with a dashed line with a circle at the start and an arrow at the end.

Association: An Association is represented with a dotted line. It is used to associate an Artifact, data or text to a Flow Object.
3. Swimlanes: Swimlane is used to orgnize different activities, these are the two different types of swimlanes,
Pool: A Pool is represented with a big rectangle which contains many Flow Objects, Connecting Objects and Artifacts.

Lane: A Lane is represented as a sub-part of the pool. The lanes are used to organize the Flow Objects, Connecting Objects and Artifacts more precisely.
4. Artifacts: Artifacts are the tools to ues to add more information. These are the three different types of artifacts:
Data object shows what data is required for an activity.
Group is used to group different activities but does not affect the flow in the diagram.
Annotation is used to give the reader of the model/diagram an understandable impression.
Example of BPMN Diagram
Are you a seller of Amazon.com or Ebay.com? Do you want to know the process of online shopping? Actually, the process of completing an order online for a customer is different from that for a seller. Read the figure below and figure out the differences.
Read more BPMN examples here.
How to Create a BPMN Diagram with Ease?
Creating a BPMN diagram is not difficult at all. All you have to do is to download a BPMN diagram maker and follow the instruction below.
EdrawMax: a swiss knife for all your diagramming need
Effortlessly create over 280 types of diagrams.
Provide various templates & symbols to match your needs.
Drag and drop interface and easy to use.
Customize every detail by using smart and dynamic toolkits.
Compatible with a variety of file formats, such as MS Office, Visio, PDF, etc.
Feel free to export, print, and share your diagrams.
Quick-to-Start: Start from a Template
If you are a beginner, the quickest way to get started is to select an appropriate template from the templates library and customize it according to your needs. However, you can also create a BPMN diagram from scratch if you want to make your works look more professional.
Create from Scratch
Step 1: On the File menu, select BPMN to start a blank canvas.
Step 2: Drag and drop shapes from BPMN Shapes library to the canvas.
Step 3: Connect BPMN Diagram Shapes.
Step 4: Add content.
Step 5: Stylize colors, fonts, themes to get the look you need.
Step 6: Save, print, or export BPMN Diagrams according to your needs.
For more information, you can read How to Create BPMN.
You might be laso interested in:
Understanding BPMN - How it Can Help Your Business