To create a warehouse flowchart, programs designed specifically for making flowcharts are particularly well-suited to the task.
Warehouse process flow chart software with automated layout and more.
Edraw can automatically create warehouse process flow after you choose, add flow lines, and align the symbols. And your flowcharts can be shared with anyone who uses Microsoft Word, Excel or PowerPoint.
EdrawMax: a swiss knife for all your diagramming need
Effortlessly create over 280 types of diagrams.
Provide various templates & symbols to match your needs.
Drag and drop interface and easy to use.
Customize every detail by using smart and dynamic toolkits.
Compatible with a variety of file formats, such as MS Office, Visio, PDF, etc.
Feel free to export, print, and share your diagrams.
Four Steps for Creating Warehouse Flowchart
Purchaser submits the material receipt;
Warehouse keeper checks the material list and receipt;
Receive materials, checked and accepted by the keeper, and;
The keeper fills out the voucher of material receipt to the purchaser and archives the receipt.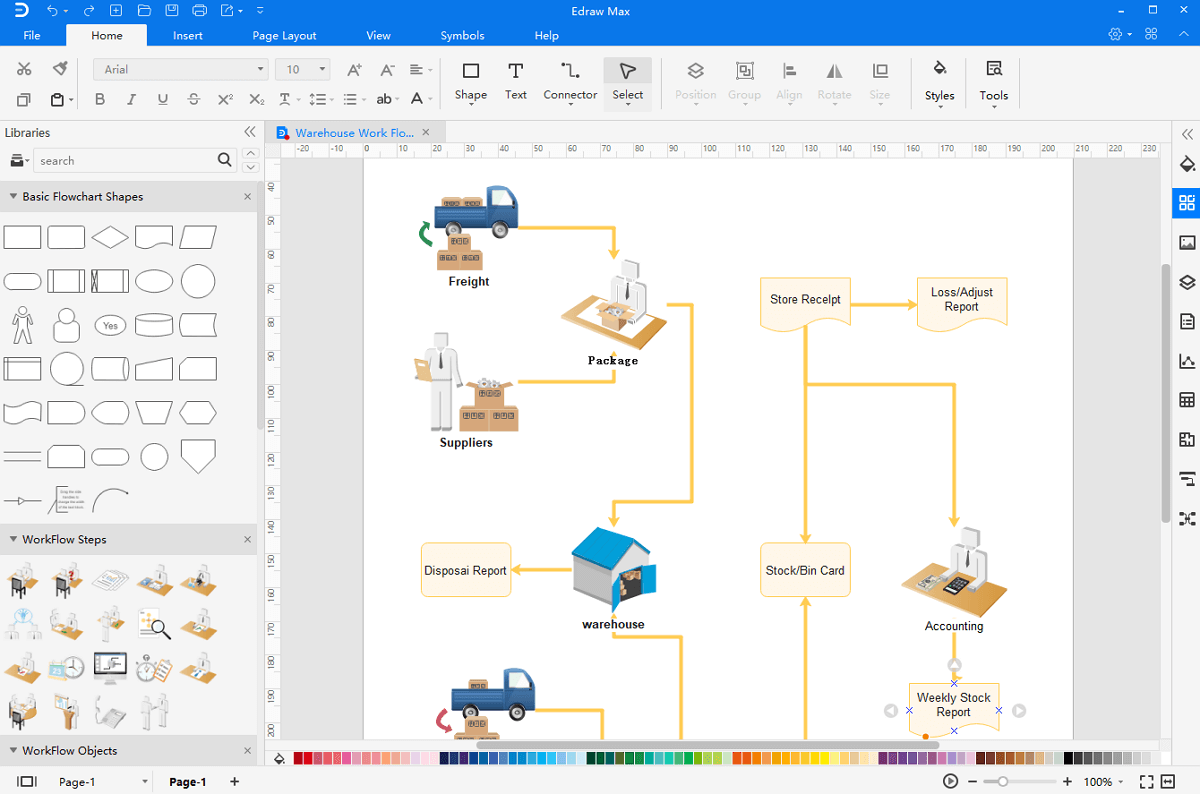 Warehouse Flowchart Symbols
Warehouse flowcharts use special department symbols, work flow objects and basic flowchart symbols to represent different types of actions or steps.
Department Symbols
Work Flow Objects
Basic Flowchart Shapes
More Examples of Flowchart
The following flowchart examples are created by using Edraw diagram software and are included in flowchart category.
Flow Diagram Resources
Process and Instrumentation Diagram
Process Flowchart VS Use Case Diagram
Business Process Model Notation Diagram
Create Flowchart in PowerPoint