Process Flowchart - Draw Process Flow Diagrams by Starting with Process Mapping Software
>
Flowchart
>
Process Flowchart - Draw Process Flow Diagrams by Starting with Process Mapping Software

Professional process flowchart software with rich examples and templates. Edraw allows you to easily create a process flowchart in minutes. Use a variety of drawing tools, smart connectors, and shape libraries to create flowcharts of complex processes, procedures, and information exchange.
Process Flowchart (Process Flow Mapping)
Process Flowchart Diagram or PFD is also known as the system flow diagram or SFD. The main reason for using process flowchart is to show the relation between major parts of the system. Process Flowchart Diagram or PFD does not include minor parts or components of the system like piping ratings or piping systems. In many organizations, users term process flow diagrams as flow sheet.
Process flowcharts are used primarily in process engineering and chemical industry where there is a requirement of depicting the relationship between major components only. These process engineering and chemical industry are least concerned about the minor components involved in the system. Process flow diagrams for a single unit or multiple units differ in their structure and implementation. Process flow diagrams for multiple units do not include detailed information and are known as the schematic flow diagrams or block flow diagrams.
It involves creating a flow model that illustrates and analyzes the overall flow of activities in producing a product or service. Sometimes called: Process diagram, process flowchart, process flow map or process map, process flow document or process flow documentation, process flow model or process design model, process flow analysis chart or process flow analysis map model, process document or process documentation.
Use a variety of drawing tools, smart connectors and shape libraries to create flowcharts of complex processes, procedures and information exchange. Define and document basic work and data flows, financial, production and quality management processes to increase the efficiency of your business. Create process flowcharts, process flow Models, data flow diagrams, basic Flowcharts, IDEF0 flowcharts and SDL diagrams and a lot more with a perfect business flowchart tool Edraw.
What is a Process Flowchart?
Process flow diagrams should include the information regarding the connection between various systems. It also consists of the process piping and details of major parts. Nowadays with the advent of computers and new technology, we tend to use computerized process flow diagrams. In old computer era, we used to draw process flow diagrams with the help of supporting software manually but now we have many process simulators that automatically create process flow diagrams. We can also make use of the Computer Aided Design (CAD) technology or flow chart software to enhance our process flow diagram skills.
Flowcharts are maps or graphical representations of a process. Steps in a process are shown with symbolic shapes, and the flow of the process is indicated with arrows connecting the symbols. Computer programmers popularized flowcharts in the 1960s, using them to map the logic of programs. In quality improvement work, flowcharts are particularly useful for displaying how a process currently functions or can ideally function. Flowcharts can help you see whether the steps of a process are logical, uncover problems or miscommunications, define the boundaries of a process, and develop a common base of knowledge about a process. Flowcharting a process often brings to light redundancies, delays, dead ends, and indirect paths that would otherwise remain unnoticed or ignored. But flowcharts don't work when they are in the three situations: the inaccuracy of the flowcharts;team members are afraid to describe what actually happens;the team is too far removed from the actual workings of the process.
The Services Process Flowchart displays the activities you may need to execute to achieve successful implementation and in-service management of your services program. These activities are intended as guides for consideration as you plan your services program. They are structured for a services program in which the prime services contractor will provide all human resources, ancillary equipment, and all space and facility modifications. Services programs which are intending to establish new or replace capabilities now provided by FAA owned and operated equipment with some form of leased services/equipment capability should use the Systems Process Flowchart to the extent applicable to ensure adequate planning for such program elements as logistics support and configuration management. This is to ensure leased capabilities are supported adequately and can achieve specified availability requirements.
The Benefits of Process Flowchart
The process flow chart provides a visual representation of the steps in a process. Flow charts are also referred to as process mapping or flow diagrams. Edraw is a perfect process flowchart software with rich flow chart templates and flow chart symbols so you can create professional flow charts quickly and easily. Constructing a flow chart is often one of the first activities of a process improvement effort because of the following benefits:
make process flowcharts
give everyone a clear understanding of the process
help to identify non-value-added operations
facilitate teamwork and communication
keep everyone on the same page
design a flow charts
flowchart construction etc.
Standard Symbols for Drawing Process Flowchart
Flowcharts use special shapes to represent different types of actions or steps in a process. Lines and arrows show the sequence of the steps and the relationships among them. There are many symbols used to construct a flowchart. The more common symbols are shown below: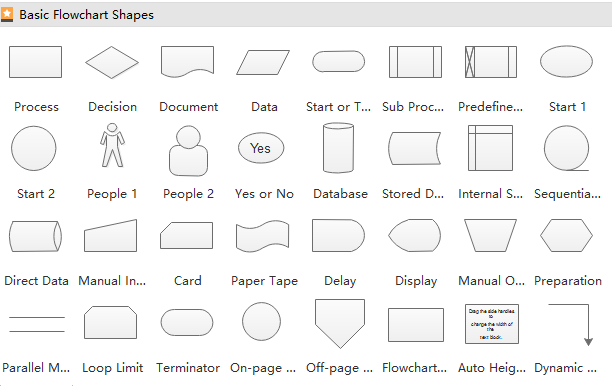 Process Flow Diagram Symbols Process and Instrumentation Drawing Symbols
Examples of Process Flowchart
Take a look at the following process flowchart examples to see how symbols are used in a flowchart.
Process Flowchart Software
Before creating a stunning process flowchart, we suggest you download a flowchart maker - Edraw Max. It allows you to create a process flowchart efforlessly due to the following reasons:
a variety of drawing tools, smart connectors and drag-and-drop shape libraries to create flow charts of complex processes, procedures and information exchanges
libraries and templates for audit flowcharts, data flow diagrams, cause & effect diagrams, IDEF0 Flowcharts and SDL Diagrams, cross-functional flowcharts and more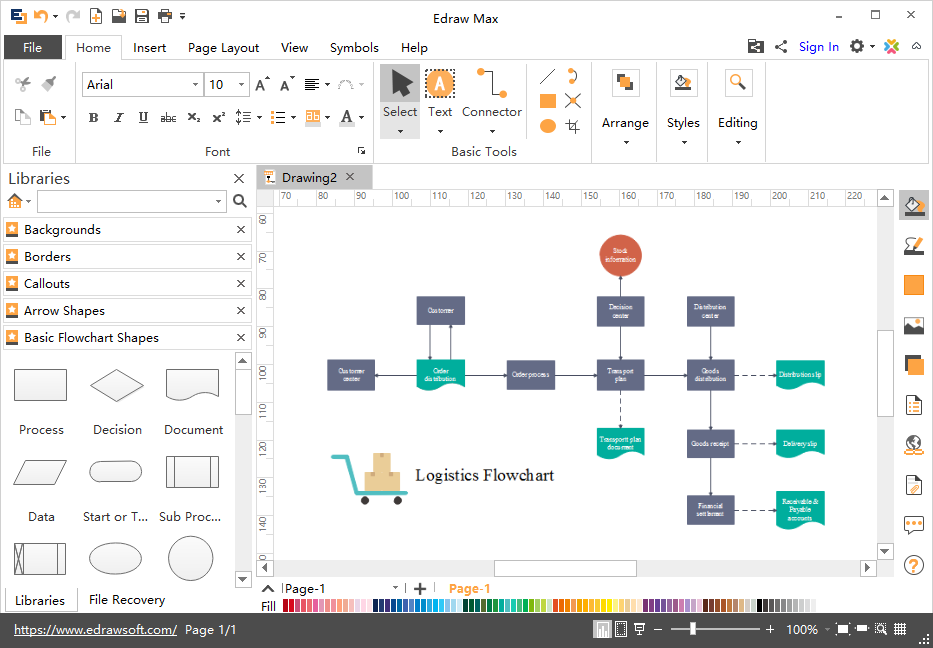 Free Download Process Flowchart Software and View All Examples
EdrawMax
All-in-One Diagram Software
Create more than 280 types of diagrams effortlessly
Start diagramming with various templates and symbols easily
Superior file compatibility: Import and export drawings to various file formats, such as Visio
Cross-platform supported (Windows, Mac, Linux, Web)
Security Verified |
Switch to Mac >>
Security Verified |
Switch to Linux >>
Security Verified |
Switch to Windows >>
Process Flowchart Drawing Guidelines
There is not only one right way to develop a flowchart, but the following guidelines provide a general structure to follow, whether it's of the overall course navigational process, or at the hand-off phase to the various team members to develop a more detailed treatment.
Start with a simple one-line description or title of the process being flowcharted , e.g., "How to..."
Using a top-down hierarchy, starting with a terminal symbol, naming this trigger event, e.g., "User accesses course database..."
Connect each successive action step in the logical sequence of events.
Reference detailed information through annotations or connectors.
Follow the process through to completion, denoted by a labeled end terminal symbol, e.g., "exit course."
A well-developed functional flowchart created in the design phase can save hours of wasted manpower and time by ensuring the structure, sequencing and branching decision points in a computer-based instructional program, supporting the course goals and objectives before development.
Whether you are the sole creator wearing many hats, or one of many on the development team, sharing a common visual language will guide the project through its many iterations and development phases throughout the instructional design process.
How to Create Process Flowcharts
The easiest way to draw a process flow chart is by starting with a Edraw template.
The following is an example of a very simple flow chart for the process of getting out of bed in the morning:
You can make a flowchart more useful by adding information beside the boxes. This flowchart gives a better description of the process when you know that the snooze bar gets hit three times, postponing the inevitable by five minutes each time.
See Also:
What is a Process Flow Diagram?
How to Draw an Audit Flowchart
How to Draw an Effective Flowchart
Process Flowchart VS Use Case Diagram