Part 1: What is Process Flowchart
A process flowchart is a "graphical representation of a business process (the process's sequential steps and the decisions needed by that process) through a process flowchart diagram (PFD)." In simple terms, these sequential steps and decisions are essential and required by any business process for a process to work.
Within a diagram/graphical representation, a specific shape indicates a certain step. And to show the movement and direction flow of the process, lines and arrows are used to connect these shapes.
Part 2: Purpose and Benefits of a Process Flowchart
The following are the purposes process flow diagram:
Helps in creating brand-new processes or modeling better processes
Enables optimal efficiency and repeatability of a process by allowing you to standardize a process
Helps with process documenting for better quality control, process understanding, and training of employees.
Enables effective communication and collaboration with diagrams that communicate to several roles within or outside the organization.
To study a process for possible improvements* and efficiency by showing tailbacks, unnecessary steps, and other inefficiencies.
Part 3: The Process Flowchart Symbols
A process flowchart diagram has multiple process flowchart symbols and elements that illustrate different steps within a graphical representation diagram.
The basic or common process flowchart symbols include:

Process/Action
A rectangle shape is used to denote a process or action to be carried out in a system. In real life, this represents an action done by an employee

Terminal
An oval shape in a process flowchart represents or shows the beginning and end of a process.

Decision
Used to show a question to be answered – Its usually true/false or yes/no

Arrow
It shows the flow of steps in a process which illustrates the order of operation within a system.
Note: The above symbols are the basic process flowchart symbols that you should know. Also, all these symbols are necessary and are mostly used in any type of flowchart diagram, including Document flowchart, System flowchart, Program flowchart, and Data flowchart.
Part 4: What to do Before Creating Process Flowchart
Before you even start creating your process flowchart, there are things you should do, such as:
i. Do the research and plan the process flow to determine what to include in your process flowchart. You can do this by defining your process's scope to be studied and what you hope to learn or gain.
ii. Categorize the purposes and then agree on what level of details are needed for each category. This may entail designing more than one version of the process flowchart diagram to speak with people in different roles.
iii. Use the project team for research if you are planning for an advanced process, such as in an industrial plant.
iv. Study the symbols and how to use them in every step to effectively and accurately represent the actual step
Part 5: How to Make Process Flowchart in EdrawMax
Here are steps to creating a professional process flowchart:
Step 1: Open EdrawMax. Navigate to "New," and select "Flowchart." You will find several process flowcharts templates to choose from, or you can click "+" to create a new process flowchart from scratch on this page.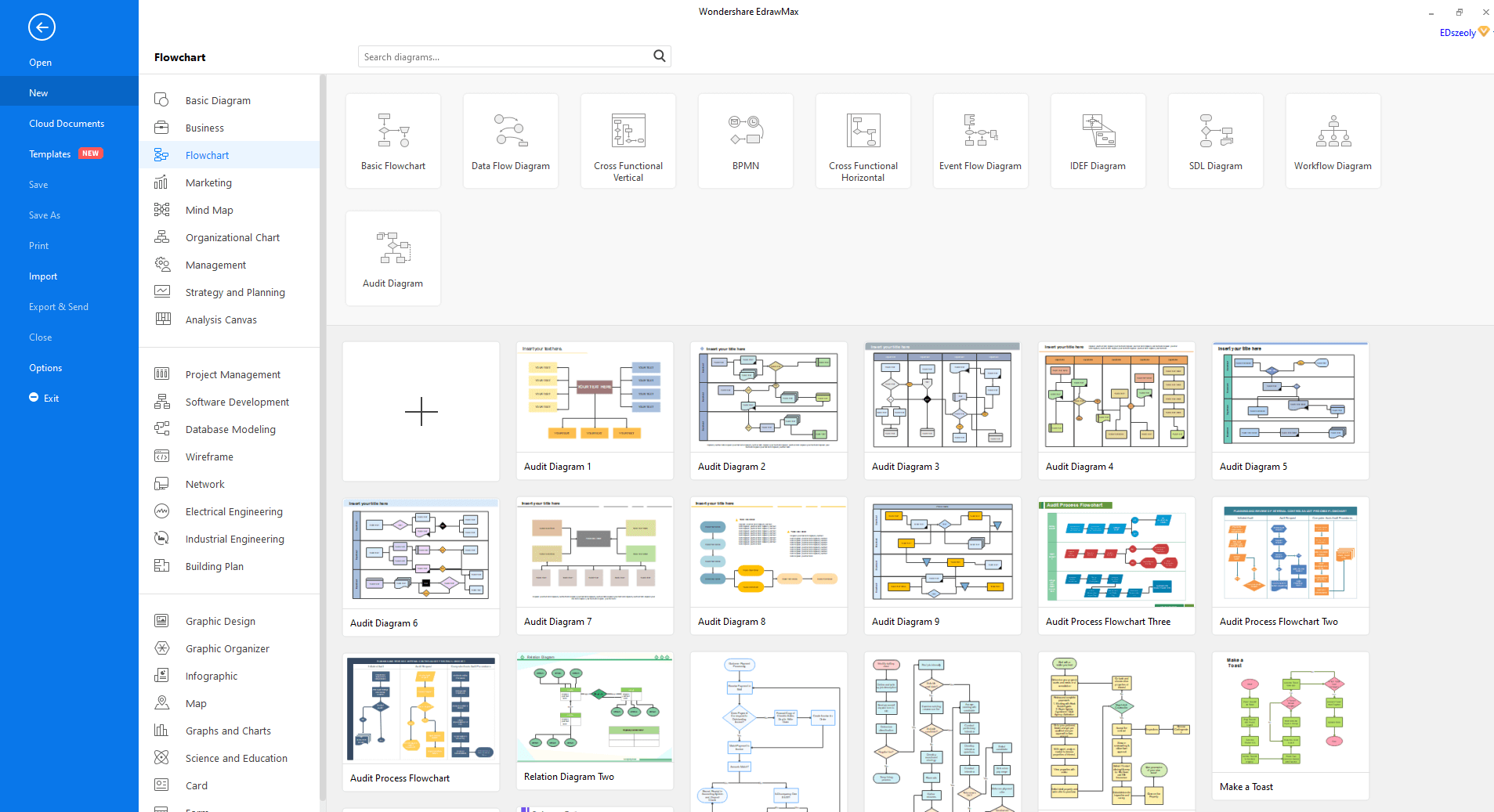 Step 2: Click the "+" to open a new drawing sheet, click on "library," "flowchart" to add a "Basic flowchart shapes." This will allow you to create categories on which to design different process levels.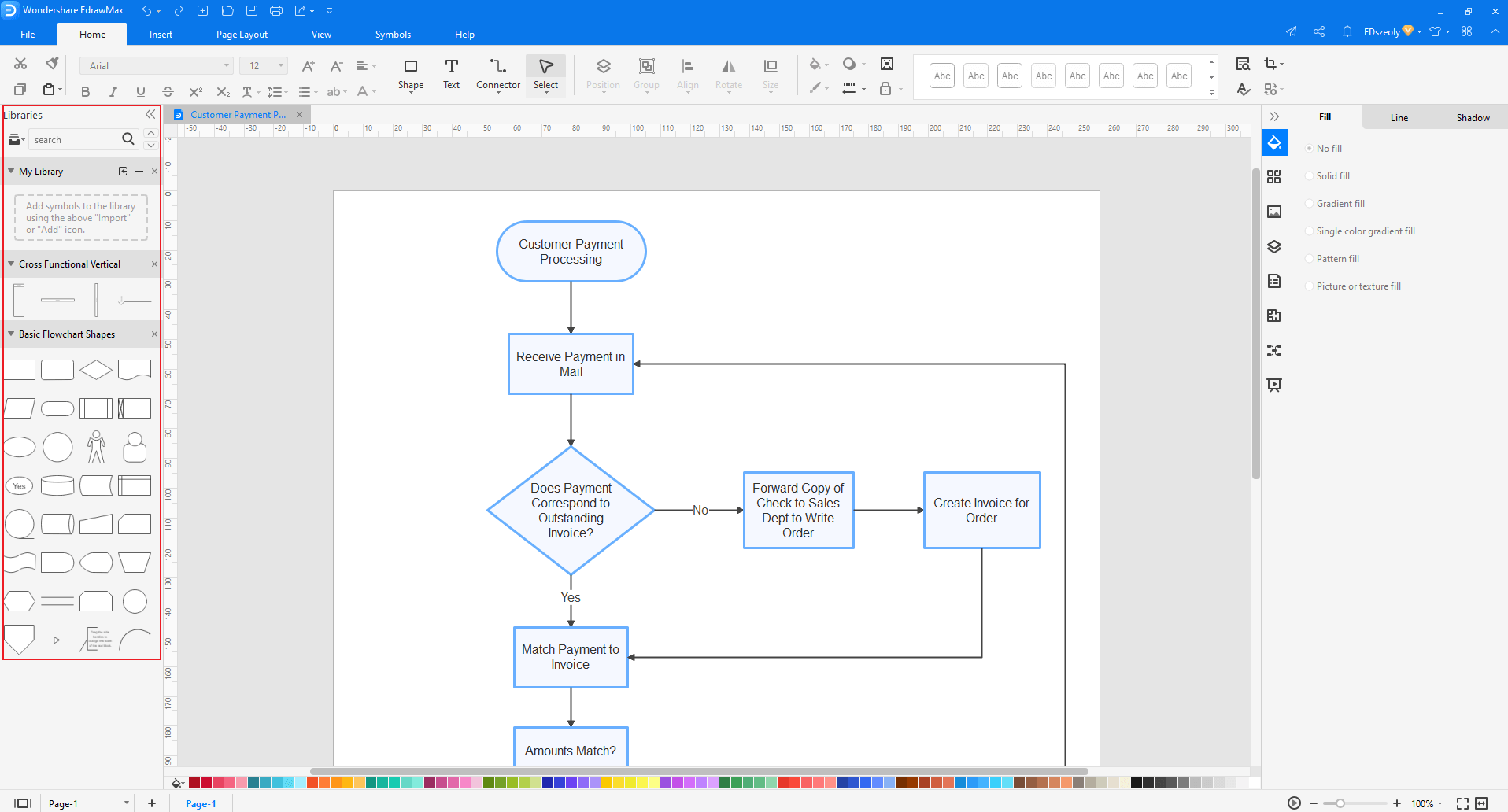 Step 3: Export your file to multiple formats after you're done designing your flowchart diagram. The exportable formats include MS Office file, PDF, SVG, Visio vsdx file and Graphics,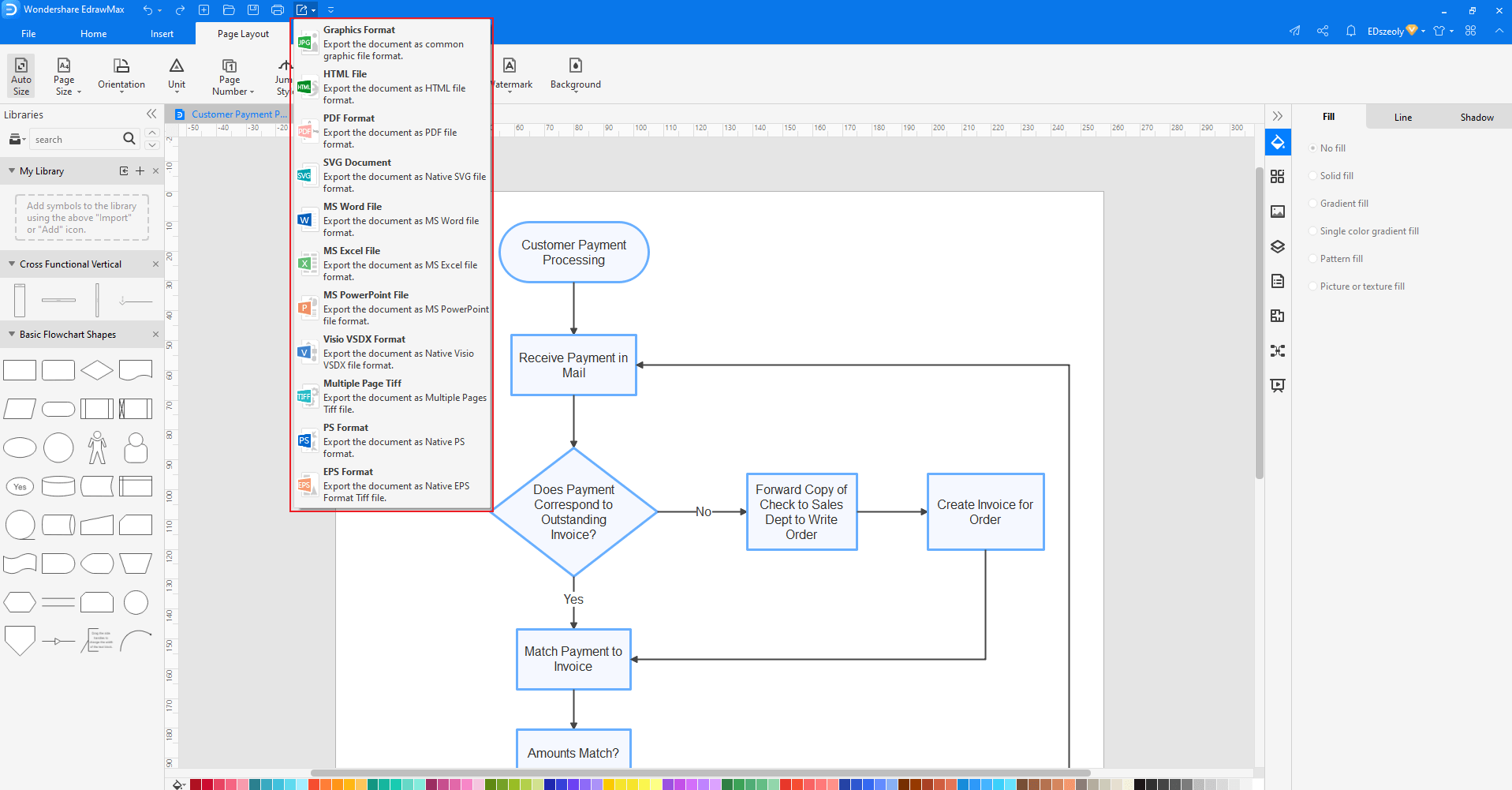 Step 4: EcrawMax allows you to publish your process flowchart diagram or share your complete design with others via a web page and social media.
EdrawMax
All-in-One Diagram Software
Create more than 280 types of diagrams effortlessly
Start diagramming with various templates and symbols easily
Superior file compatibility: Import and export drawings to various file formats, such as Visio
Cross-platform supported (Windows, Mac, Linux, Web)
Security Verified |
Switch to Mac >>
Security Verified |
Switch to Linux >>
Security Verified |
Switch to Windows >>
Part 6: Tips for making Process Flowchart
• If you are new to the process flowchart diagram, you should first start by gathering enough information. You can use a sheet of paper or sticky notes to capture your information.
• After you are well acquainted, PFDs move on to EdrawMax software to create professional-looking diagrams.
• Avoid confusion by being consistent with your symbols since your process flowchart is designed for the audience.
• Use standard symbols such as ISO 10628 for a sophisticated PFD to communicate and collaborate effectively.
• To improve your diagrams clarity, ensure to include a symbol key.
However, there exist different flowchart classifications. This is according to several flowchart experts like Andrew Veronis, Marilyn Bohl, among others.
Part 7: Process Flowchart Example
The diagram below is an example of a process flowchart for Audit processing. This diagram shows how several sequential steps and the decisions needed for the entire process to be completed. In the diagram, we can see several steps taken in every category and the arrows that show process connection and flow direction. This diagram utilizes the Cross-functional vertical library rather than horizontal library to categorize different phases (i.e., I initiated audit, audit request, and computer-Assis audit procedures).