How to Make a Network Diagram in Visio?

A computer network diagram is a visual representation of the various elements of a computer network connection. The diagram makes it easy for an individual to understand how connecting devices form a computer network. It maps out the structure of a computer network using different symbols and connectors. A network diagram is a visual way of picturing a task, process, or path. It graphically shows and displays the workflow in a series of steps of creating a network system.
This guide extends steps to create a network diagram with pre-made templates and libraries of symbols that you might need and introduces a visio alternative so that you can create Visio Network Diagrams for FREE!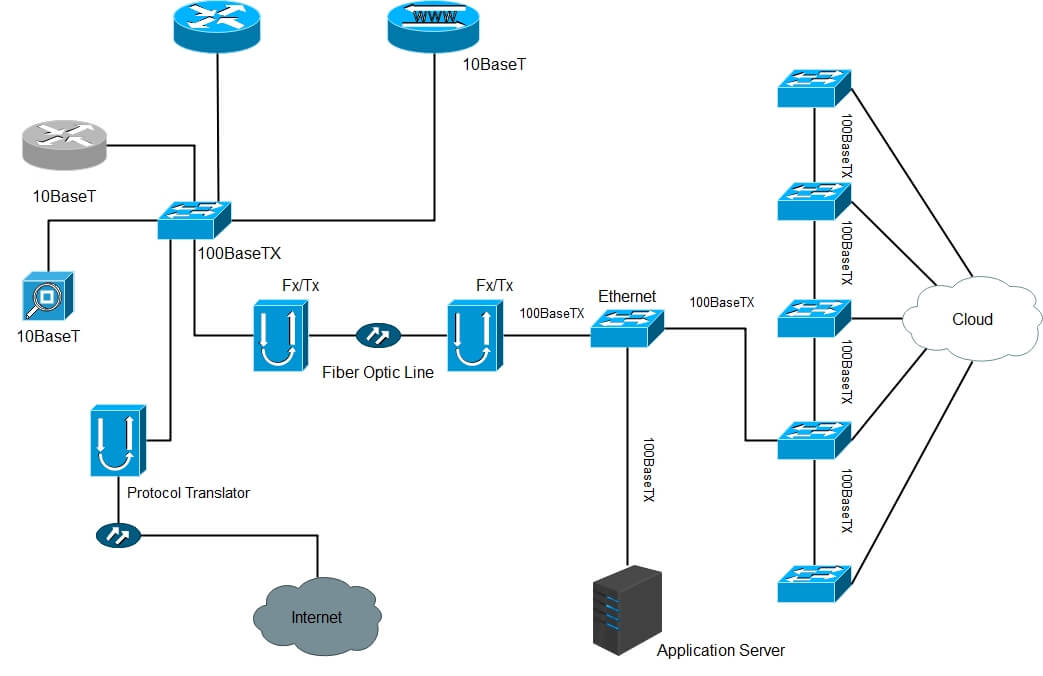 How to Make a Network Diagram in Visio
The Network diagram template in Visio includes shapes for computers and other parts of the network system.
Open a Network Diagram Template Available in Visio
Select File > New.
Select the [Network] category you want.
Select [Basic Network Diagram], then select [Create].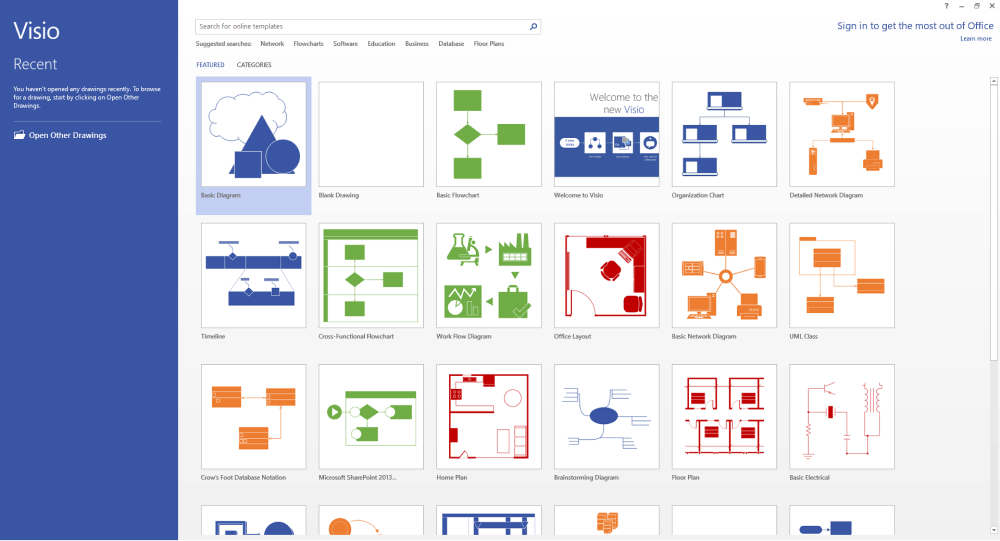 Switch on AutoConnect
Go to View, then select AutoConnect.
Show Connection Points
Go to View, and select Connection Points.
Add More Shapes
From the Network and Peripherals and Computers and Monitors stencils, drag shapes onto the drawing page. Select a shape on the page, and label it. To finish, select a blank area of the drawing page.
Select [Home] > [Connector]. Draw a line between two shapes. To finish, select [Home] > [Pointer Tool].
From the Network and Peripherals stencil, drag the legend shape onto the drawing page. Select Legend Subtitle, and type a new subtitle. To finish, select a blank area of the drawing page.
In the end, remember to save your network diagram in the file types you want.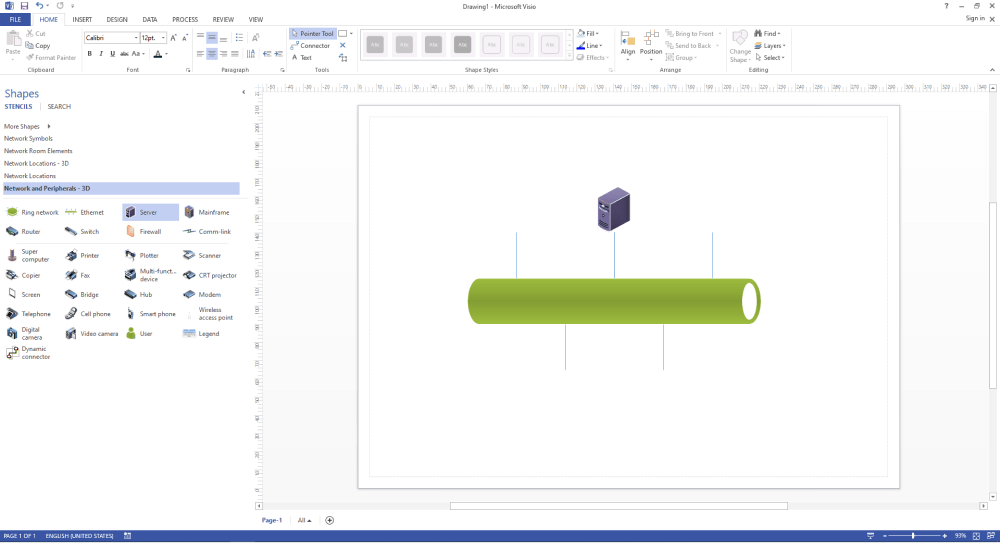 EdrawMax
All-in-One Diagram Software
Create more than 280 types of diagrams effortlessly
Start diagramming with various templates and symbols easily
Superior file compatibility: Import and export drawings to various file formats, such as Visio
Cross-platform supported (Windows, Mac, Linux, Web)
Security Verified |
Switch to Mac >>
Security Verified |
Switch to Linux >>
Security Verified |
Switch to Windows >>
How to Make a Network Diagram More Easily Without Visio?
Follow the simple steps to make a network diagram in minutes and export it as a Visio file quickly.
Step 1: Open a Network Diagram Template
Install EdrawMax on your computer or visit EdrawMax Online. Here are different types of visual data will appear. Click on the [Network Diagram] you want to work on and free pre-made Network Diagram templates will appear on the screen.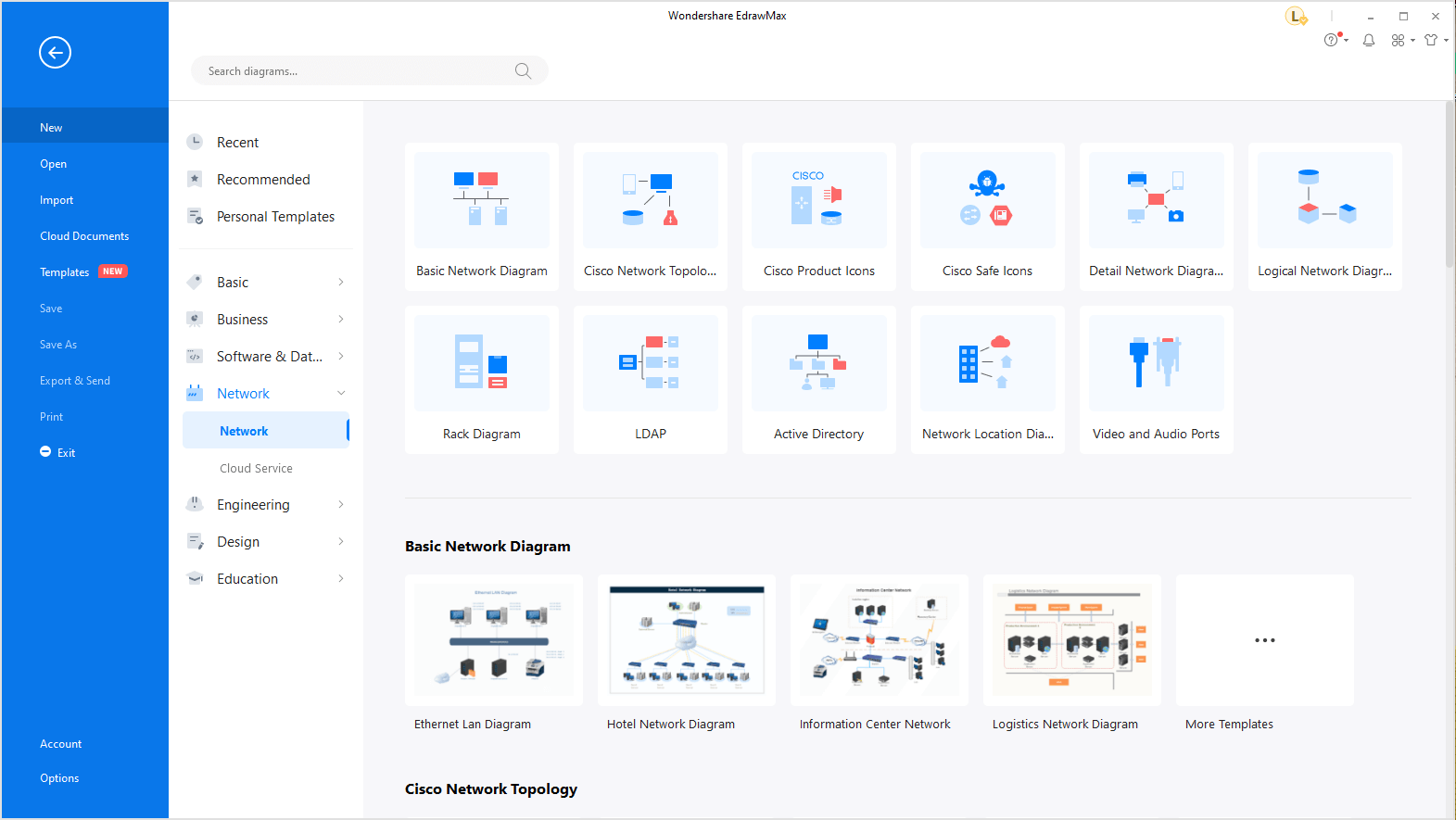 Click [Templates] on the File menu and you will find a great number of network diagram templates that are created by Edraw and Edrawers (our users). Choose the one you like you can edit and customize it with ease.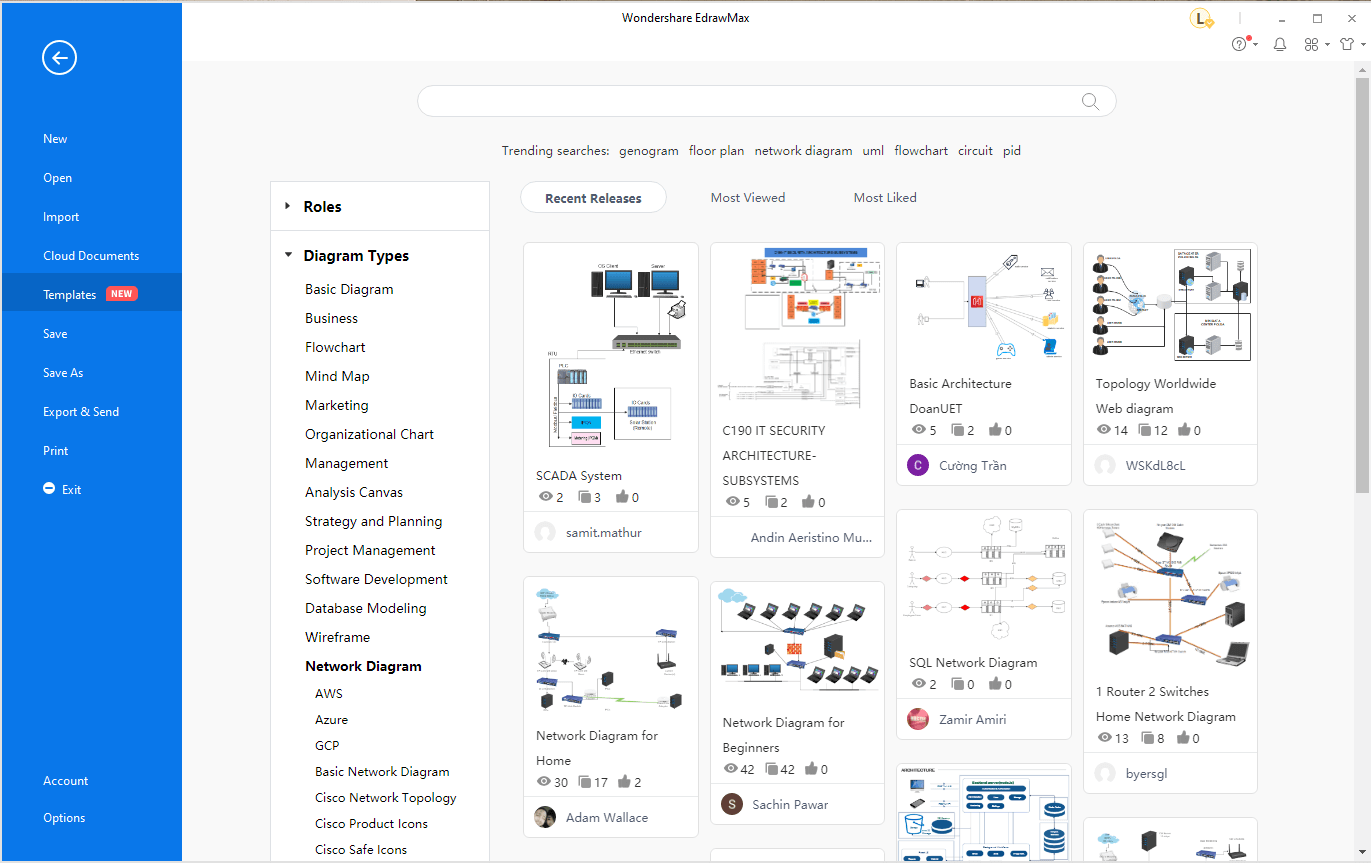 Step 2: Open Network Diagram Symbol Libraries
Start making your diagram on the blank sheet. To use symbols, drawing, and other visual tools on Edraw, go to the [Symbol Library] on the left of the screen. You can search for more by clicking on the icon in the Symbol Library. Now scroll down to the category of [Network Diagram], select Cisco Network or other options, and then click on OK.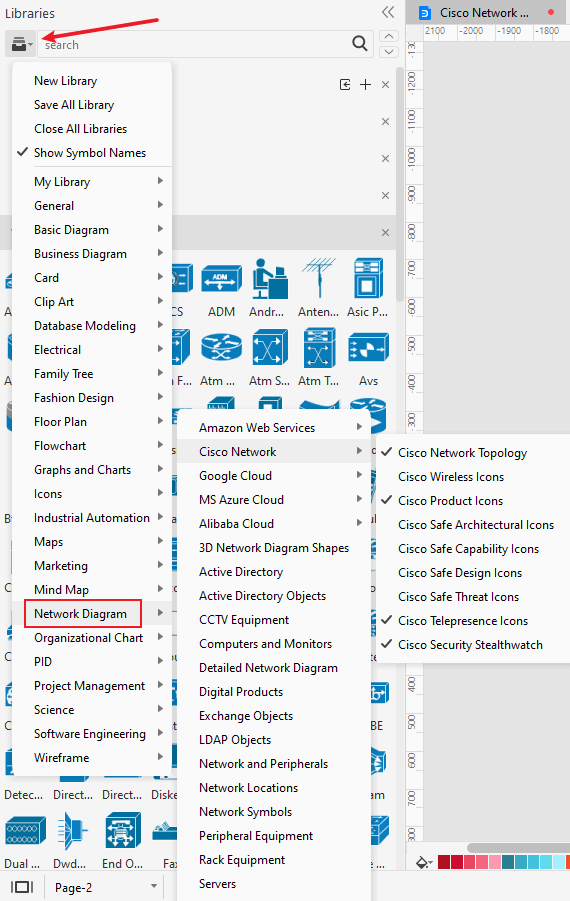 A computer network diagram may include dozens of symbols to represent servers, hubs and routers, etc. The EdrawMax's network diagram symbol libraries provide all kinds of symbols needed.
3D Network Diagram Shapes
Servers Library
Computers and Monitors
Other Libraries for Network Diagrams
With a large amount of symbols, you can create all kinds of network diagrams you need, whether it is for a personal computer or for an entire company network. Place all symbols of devices you need on the diagram such as computers and servers. Then add other important components, too. Use connectors with the help of directional arrows to mark out how the computer network is connected.
Step 3: Tailor the Network Diagram Template
Keep making, editing and formatting your network diagram according to the need of your plan.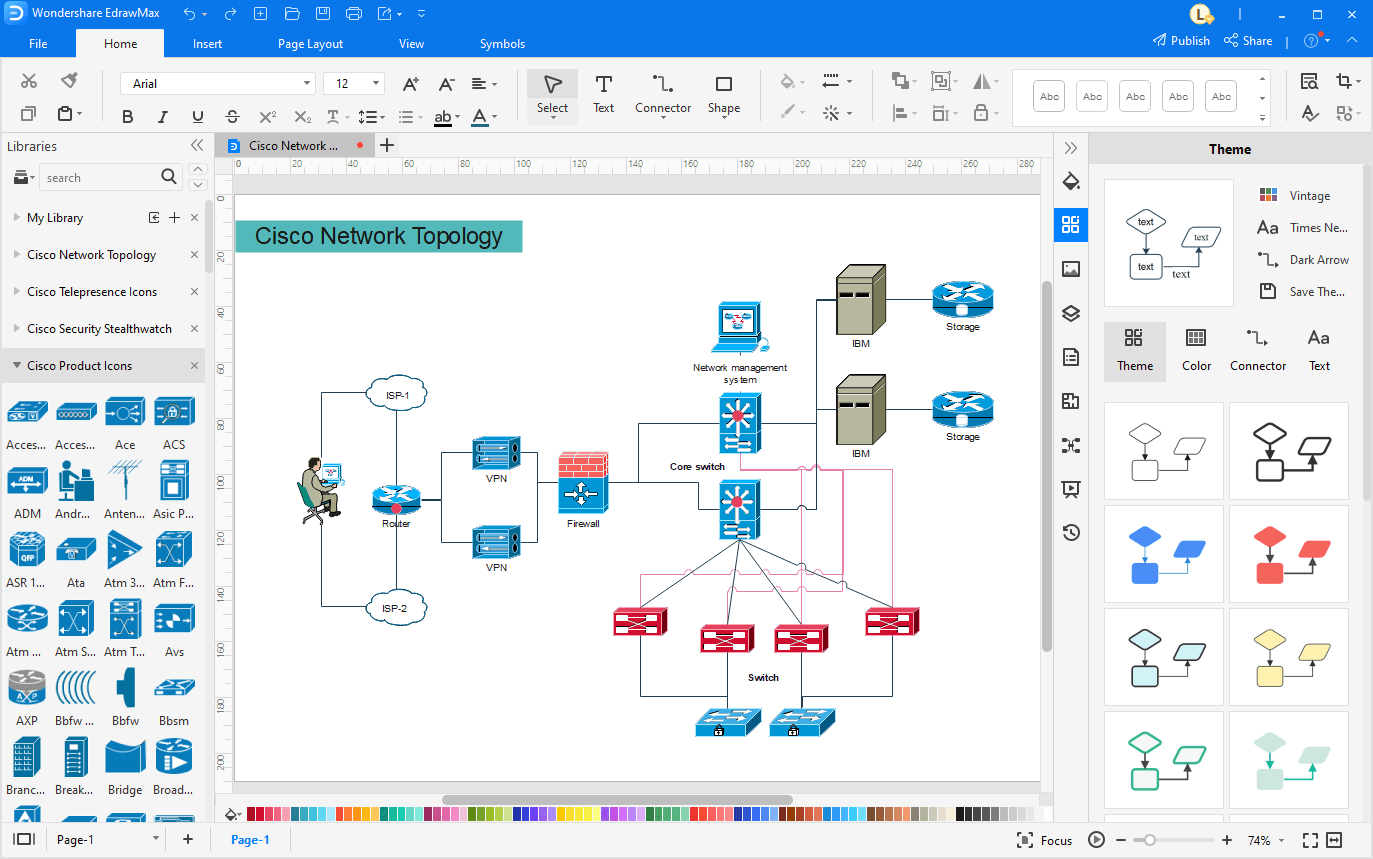 Step 4: Save and Export the File
Once you have designed a network diagram; you can save it for more edits and online sharing. EdrawMax lets you export commonly-used file types such as Visio, Excel, PDF, Graphics, PowerPoint, and Word. To save an Edraw file, click on [File] and then select [Export & Send]. Choose the file type you want to export.
To export a document as Visio file: Go to the [Export & Send] > [Visio]. Select Visio VSDX Format and your network diagram will be exported to the VSDX file format.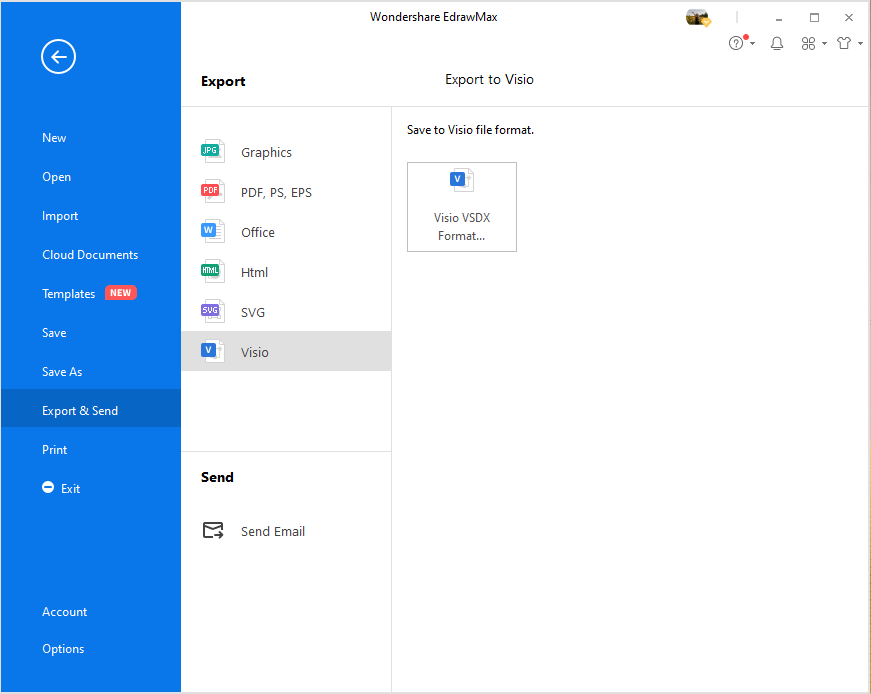 In fact, EdrawMax also supports our users to import the Visio files and convert your Visio network diagrams in seconds.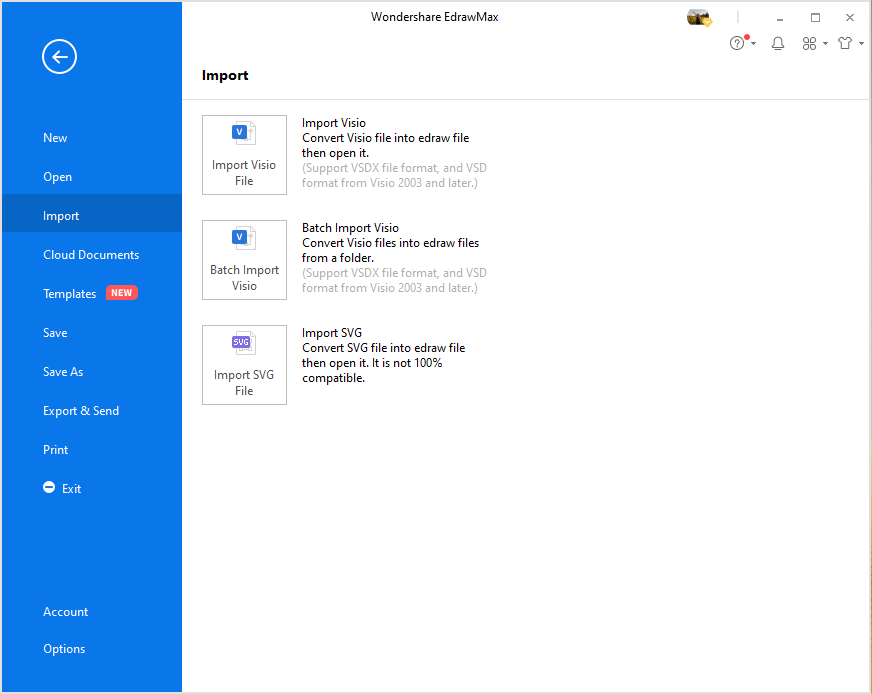 You can watch the video below and learn more details!
Visio Alternative for Network Diagram
EdrawMax is a software offering worth templates for all scenarios, from flowchart, to UML, presentations templates, and many more. Now it's time to transform your ideas into visuals to better picturize what you are looking for. It helps to schedule and track your plans, business projects, and processes for all industries. You can make more than 280 types of diagrams, from technical diagrams to dynamic infographics. It includes a huge number of professionally designed templates and symbols, which helps you to create and better visualize your ideas.
Are you looking for a budget alternative to Visio network diagrams and examples? Try EdrawMax!! EdrawMax has a massive capability of providing all kinds of professional network diagram templates, symbols, and shapes. In addition, all diagrams can be converted to MS Visio with ease. Significantly, it's free!
More Resources