How to Plan a Trip with Mind Maps

Mind mapping a trip plan enables you to know the budget, places to go and time schedule anytime. Want to learn
how to plan a trip
with mind maps easily in no time? Enjoy a well-organized trip with the help of
EdrawMind
!
Download this excellent mind mapping software and view lots of built-in mind mapping templates.
EdrawMind
Full-Featured Mind Mapping Software
33 predefined themes to make your mind map stand out
12 different structures to meet your need
Cross-platforms supported (Windows, Mac, Linux, Web)
Brainstorming mode and presentation mode
Group & real-time collaboration
Security Verified |
Switch to Mac >>
Security Verified |
Switch to Linux >>
Security Verified |
Switch to Windows >>
Mind mapping is an effective brainstorming tool for organizing ideas. A mind map is a hierarchical diagram with a focused topic in the center to connect related ideas and information. Branching off from the center topic, those subtopics could be added layers after layers. Thus, it is an incredible tool for planning for an issue.
When it comes to the uses of mind mapping, you may consider it for brainstorming and organizing ideas initially. However, mind mapping for a plan is also a vital choice as it could make the plan more intuitive and complete. With a vivid planning mind map, your trip could be arranged and organized in advance. A great mind mapping software could not only help you map your trip activities but also prepare a schedule, collaborate and share with your friends and all available for printing. So I will take EdrawMind as an example for designing a trip mind map step by step.
Brainstorming your Trip before Mind Mapping
Mapping out your trip is important, but brainstorming your trip before designing is also a key step for comprehensive ideas. Out of a trip, there are several other ideas needing to be considered. You should ask yourself in advance:
Which reason motivates me to take a trip?
What do I want to experience on this trip?
Which destination suits my vacation time and seasons?
What kind of activities could meet my physical and emotional feelings?
Who do I want to travel with?
How long do I plan to travel?
All those questions will indicate your inner desires when making a trip mind map. For planning your travel, understanding all the answers will help you have a confirmed judgment and cleared thoughts in designing your own trip mind map.
Steps of Creating an Exquisite Trip Mind Map
Now you can begin to plan your trip mind map with EdrawMind step by step.
1. Selecting your Traveling Mode
Before planning where to go for a trip, you ought to make a determination whether you go by DIY your itinerary or choose an agent. If you DIY your plan, you can cover any activities you want to participate with and control your time freely. While if you join in an agent, you do not need to spend time on preparing for a long time and do everything by yourself. So you should select from those two traveling modes to meet your requirements. The whole decision-making process needs to be noted down.
2. Finding a Destination
Destination decisions should be considered thoughtfully. Not only should you consider your traveling time and seasons but also the costs are also limitations when finding a trip destination. For instance, if you want to have a 3-day trip, you may select domestic attractions while for a long trip you could choose from out bounded countries or a domestic place for deep traveling. Type down your alternatives and mark your final choice of destination in the blank canvas.
3. Making a Preparation List
The preparation list contains several parts including transportation ordering, luggage packing, money exchanging, activity planning and file arrangements. With an agent, you do not need to worry while if you design by yourself, you need to check several reviews and compare prices. All those ideas could be added for further arrangements.
4. Planning your Schedule before Traveling
After an overall trip plan, you ought to make a schedule with Gantt chart function of EdrawMind. This action enables you to manage the whole trip time in a controllable way.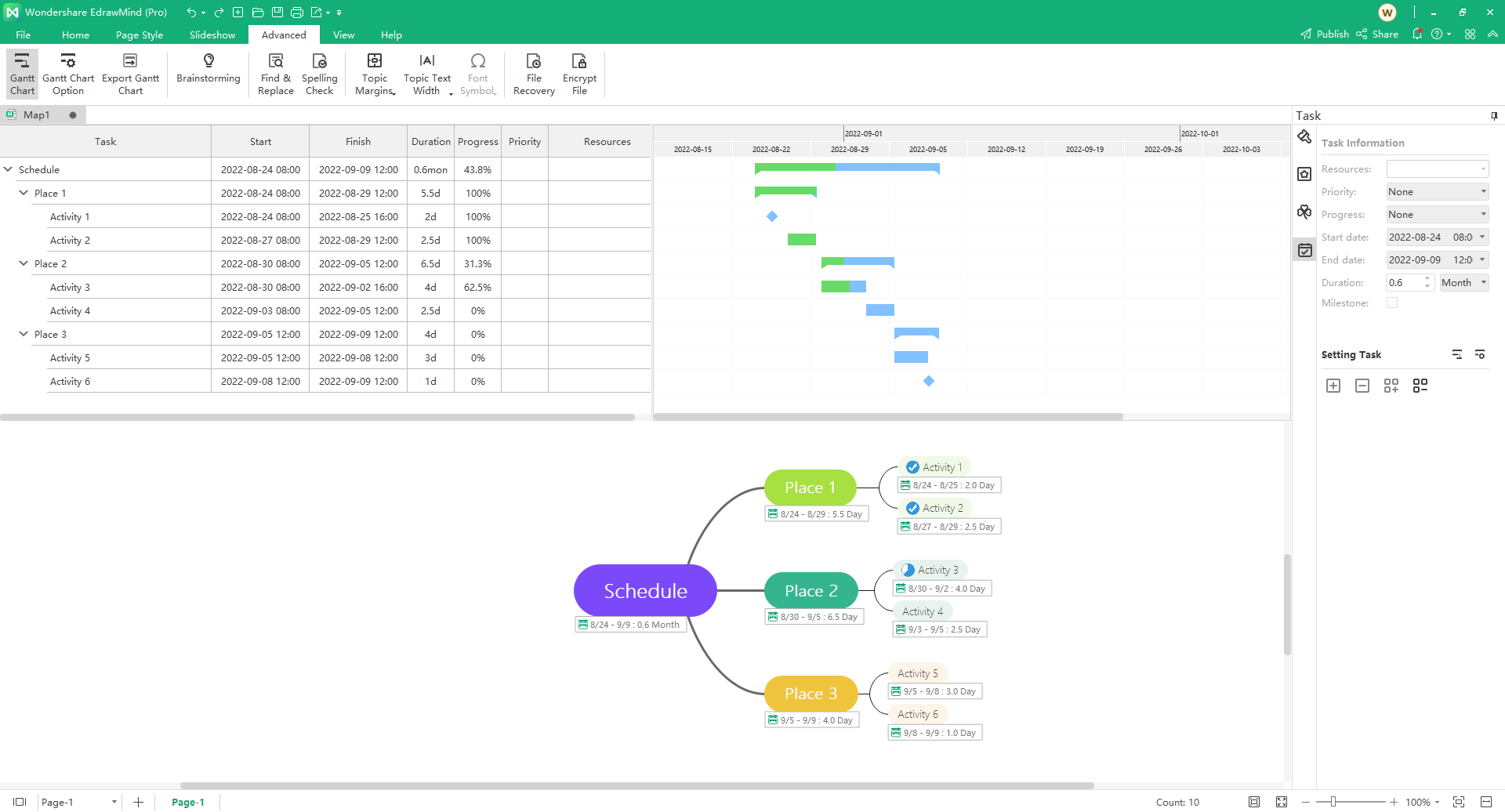 5. Move all the Inspirations into your Map
All your ideas are in this canvas, and now you should move these inspirations as a branch and fulfill the contents accordingly. By connecting those items together, your trip planning mind map is created with a rough but comprehensive structure.
6. Decorate your Trip Planning Mind Map
Use EdrawMind editing tool for changing the background, texts, and images if necessary, add more exquisite built-in icons and clip arts with Edraw icon libraries and modify the schedule and activities with its Gantt chart function. All these procedures will make your trip planning mind map intuitively and vividly to share.
Key Takeaways
Different people might design a unique trip planning mind map which has various styles. All those differences make the trip planning mind map more creative and practical when planning your traveling. It is well worth trying this powerful mind mapping software. Check this 2-minute video to learn how it can helps quickly.
EdrawMind Apps
12 structures & 33 themes & 700+ cliparts
Support Win, Mac, Linux, Android, iOS
Advanced import & export options
On-premises software for business
Enterprise-level data security
EdrawMind Online
12 structures & 33 themes & 700+ cliparts
Access diagrams anywhere, anytime
Team management & Project management
Related Articles:
How to Use Mind Maps for Better Meeting Management
Top 6 Practical Mind Map Uses in Business Field