How to Mind Map Your To Do List: Several Tips for You
>
Edraw How-To
>
How to Mind Map Your To Do List: Several Tips for You

Learn how to draft an engaging and thoughtful to-do list in this extensive article. It has also included a step by step tutorial to use a free to-do list planner tool. Okay – let's be honest! We all have some or other kind of to do lists – whether in our mind or the ones that we have actually drafted. If you are a planner who likes to keep everything sorted, then you must be familiar with the idea of task manager or to do list. Though, if your work or daily chores are all over the place – then you are up for a treat.
It doesn't matter if you wish to finish your pending work, complete your bucket list, or simply create a weekly organizer – a to do list planner will help you in more ways than you can imagine. In this thoughtful post, we will teach you every essential thing about to do list organizer that will certainly come handy to you in the future.
How to Create an Ideal To Do List via EdrawMind
Now when you know the benefits of creating a to do list planner, you must be excited to give it a try. Now, go through these suggestions:
There are different ways to create a to do list mind map. Firstly, you need to pick an ideal to do list planner or tool. We recommend using EdrawMind by Edraw as it is equipped with tons of high-end features. As the name suggests, the application lets us create all kinds of mind maps, including in-depth to do lists. There are tons of readily available templates that users can explore or simply start fresh to create a to do list of their own. It features numerous icons, vectors, and shapes that will make the entire experience so much interesting for you.
Here's how you can also create a to do list planner on the go using EdrawMind:
Step 1. To start with, just launch the EdrawMind application on your system. Go to the "New" section to work on a new map and select any readily available template from the list. If you want, you can work on a fresh canvas as well.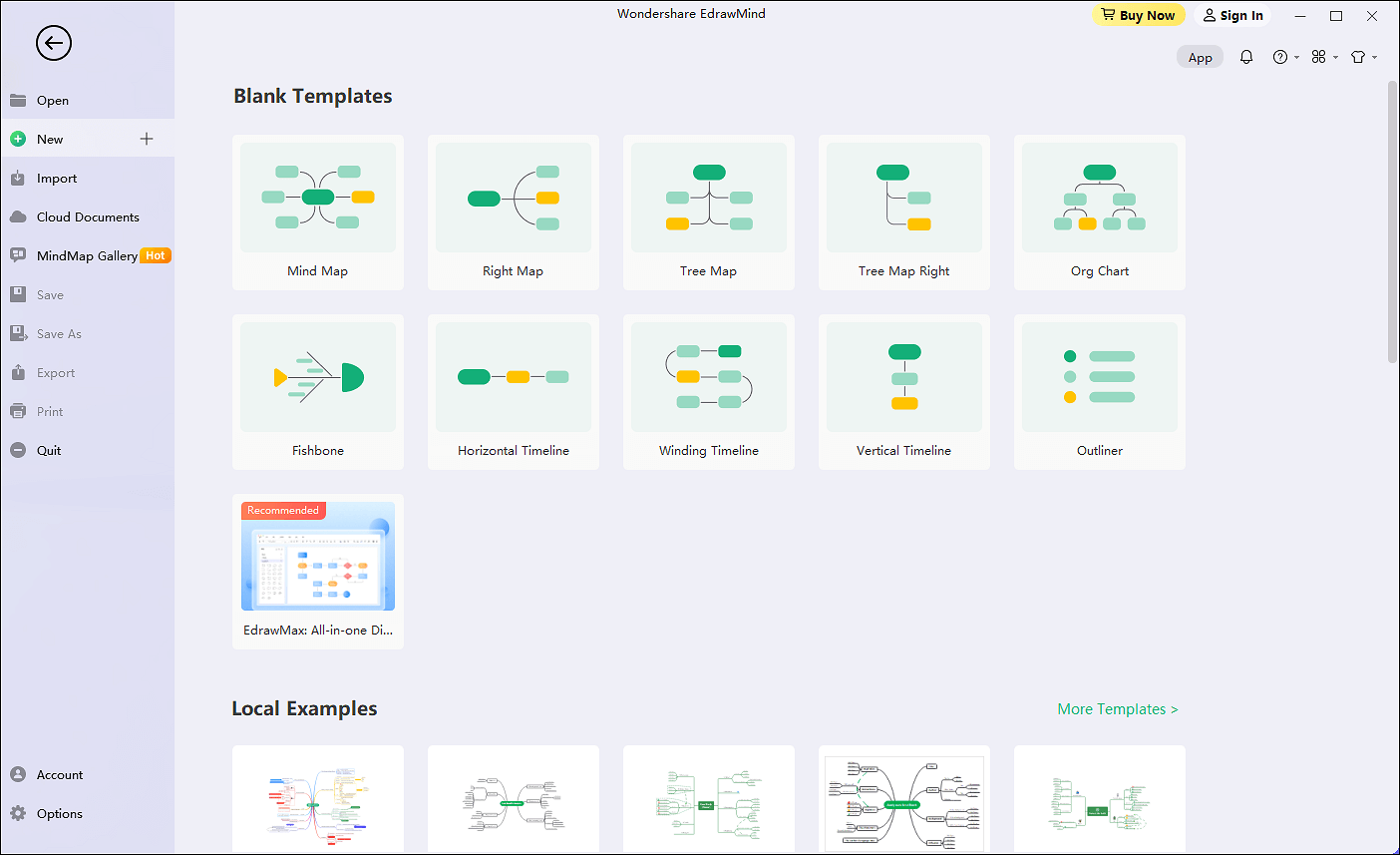 Step 2. Simply enter the main topic on the first vector. For instance, in this case, we are creating a to do list of goals/dreams. You can access all kinds of options and features from the sidebar. In order to add a sub-topic, you can click on the "+" icon adjacent to the vector. In this way, you can branch out the mind map into different sub topics.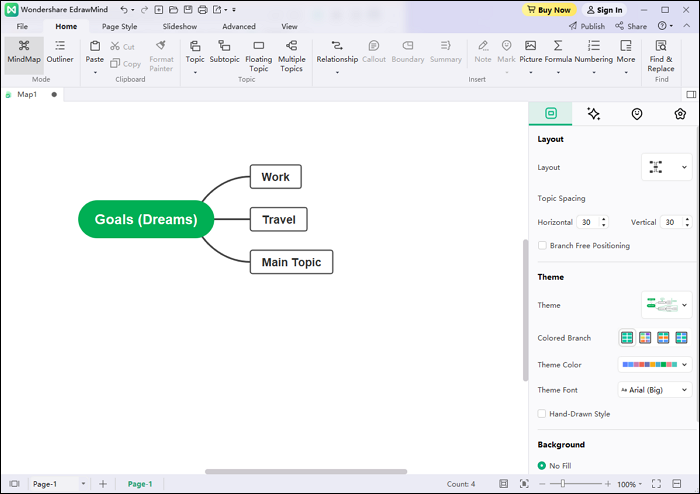 Step 3. If you want, you can just drag and drop a vector the way you like. This will let you customize the map and make it look symmetric.
Step 4. Once you have created the sub-topics, you can further branch out by clicking on the "+" icon. Following the same drill, we have categorized our mind map into different sections – each vertical is further branched with their respective entries. To color code your mind map, you can just select the vector and choose a color palette from a bar at the bottom dedicated to it.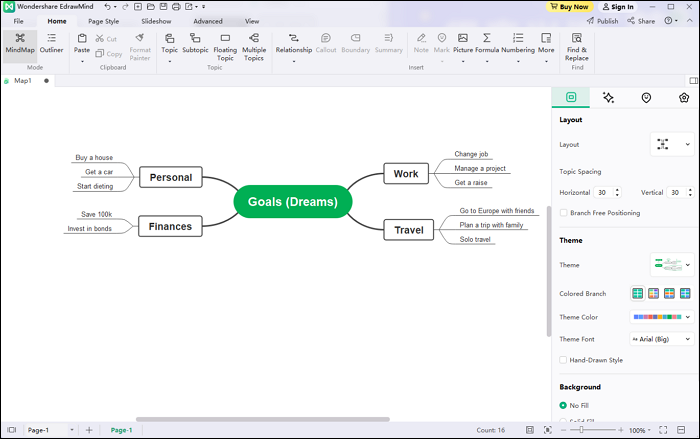 Step 5. That's it! Once you are done, click "File" > "Save As". Browse to the location where you wish to save the map. You will also be given a chance to export the illustration in different formats. Select its resolution and make other related choices to finally export the graphic.
In the end, you can just go to the location where you have saved the mind map and access it the way you like.
That's a wrap, folks! I'm sure that after reading this extensive guide, you would be able to create engaging to do lists like a pro. If you want to save your time and resources while working on impressive to do list planner, then consider using a dedicated tool. EdrawMind can be used as an offline or online to do list maker. It is a freely available tool, which comes with tons of other additional features as well that will help draft impressive mind maps!
Why Should You Create To-do Lists?
If you haven't worked on to do lists before, then you might be having a similar doubt. From better organization to boosting your productivity, a to-do list can help you in several ways. Here are some of the major reasons for creating different to do lists.
Your organizational skills and productivity go hand in hand. Since you would have better control over your time, your productivity will increase on its own. You would be able to do more and achieve all the listed targets.
A lot of times, we forget some important things that we need to do. For instance, you might have to complete an assignment or bring something for your kids from the store. Never format an important thing like this by maintaining a task manager.
As you would have all the tasks that you need to do right in front of you, you can easily prioritize your time in a better way. Focus on more critical things first and leave the unimportant stuff for later.
Most importantly, you can see the things that you have already accomplished in a todo list, making you feel motivated to work on a new list again.
What Kinds of To-do Lists You Can Make?
When it comes to making to-do lists, the sky is the limit. It doesn't matter if you are a student who wants to finish all the assignments or an instructor looking after a meal plan – a to do list is for everyone. Here are some of the major types of to do lists to inspire you:
This is the most important list that you should have. It will let you know about the things that you need to work on a particular day or week. Apart from work, it can also have other things that you need to do.
Other time sensitive lists
Besides daily and weekly planners, there can other kinds of time sensitive lists as well. You can create a list of the things you need to do in a month, year, or before a certain age/date/time.
If you want to organize your finances, then consider making a budgeting list. This would include your monthly/yearly expenses and how much money you intend to spend on things.
Project and deadline list
This is a more professional list that would include all the important work that you need to take care of. You can include the deadlines for your projects to prioritize your work.
Don't be too occupied with work and be sure that you come up with a self care to do list. A meal plan is one of the best examples of it.
We all have a bucket list in our mind - it consists of all the important goals and the things we wish to do. Don't let your dreams be just dreams and take the first step of conceptualizing them into a list.
Do you have a big travel plan, a job interview, or a wedding coming along? Be prepared for it with an event specific to do list planner. For instance, if you are organizing your wedding, then you can come up with a to do planner like this, which help keep all the important things organized in one place.
Expert Tips for you to Mind Map a Perfect To-do List
As you know the benefits of creating a to do list planner, you must be excited to give it a try. Before you proceed, just go through these suggestions:
When you start, take a step back and ask yourself the whole purpose of creating a to do list. It should be based on a particular event, goal, time, etc.
Often, creating an extensive list can be time-consuming. Consider starting with the basics and the important things you can think of.
Once you have listed all the important things, gradually branch them into different verticals. This will make sure that you have covered every important aspect of the topic.
When you work on a to do list, make sure that you mark the important things. There are numerous ways to focus on certain key points that will help you prioritize your time.
While to do lists are supposed to be crisp and to-the-point, there is nothing wrong with adding some notes. This will help you remember certain important things related to an entry.
If your list is getting extensive and you can't seem to manage it, then consider color coding. Here, you can make dedicated verticals to focus on.
Gone are the days when we would create a to do list on a paper. These days, people like to sync their lists across multiple platforms and share it with others. To do this, you can use a to do list organizer tool. There are all sorts of offline and online to do list applications that you can try.
Download an excellent mind mapping software and view various built-in mind mapping templates:
Related Articles: