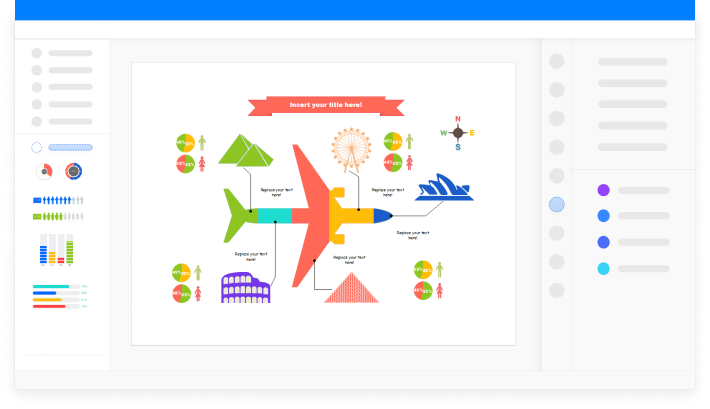 Offline Infographics Software -
Create Infographics Easily
EdrawMax can help you draw
infographics
like professionals as it It includes amazingly powerful functions for making highly personalized infographics.
Try it Free
Try it Free
Try it Free
Download for Windows 2000/2003/2008/XP/Vista/7/8/10
Download for Mac OS X 10.10 and later
Download for Linux Debian, Ubuntu, Fedora, CentOS, Mint and more
Chart Value Can Be Easily Modified
Most chart elements you search from the Internet should be static. They cannot show the exact value you need or the process of the change. But, the charts in EdrawMax are different. They are customizable as you can change the value by simply dragging the yellow handles, then the value will be altered. Very straightforward, isn't it?. A wide variety of charts are available and changeable, including the pie chart, bar chart, line chart, spider chart, gauges chart, bubble chart, etc.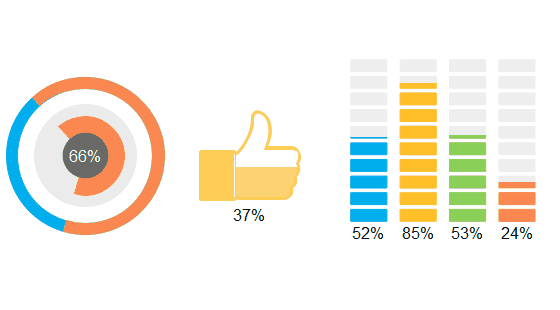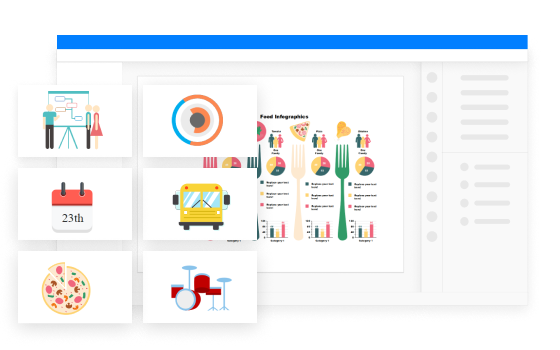 Numerous Editable Infographic Elements
Search the elements you need from the pre-defined symbol library. We have added 10000+ vector elements (or clipart images) that are well categorized in groups such as basic shapes, people, maps, business, etc. These elements, icons, and clipart images are all editable and free for use in EdrawMax. With the powerful drawing tools, You can easily change the style or the shape of an icon.
Create Any Graphic You Want
Most of the infographic makers provide you with built-in icons (some are costly), but few of them offer the drawing tools at the same time. Here EdrawMax has a complete toolkit to help you draw what you need. Why are drawing tools important? With them, you can draw whatever you want instead of wasting money to buy that. In addition, powerful features of customization in EdrawMax allow you to generate beautiful and high-quality infographic elements to fit all your unique demands.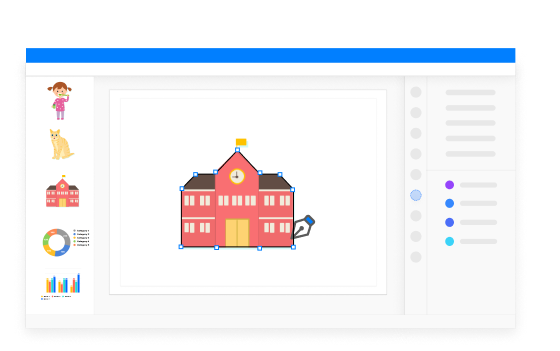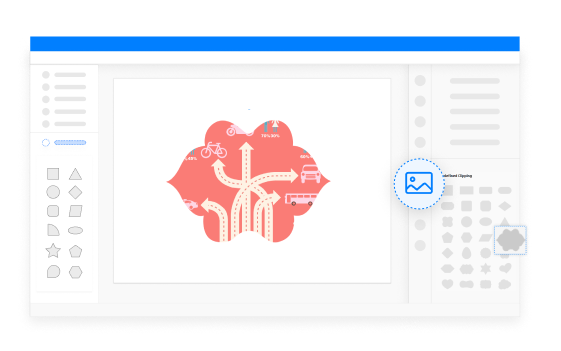 Crop A Picture to Any Shape Flexibly
Our offline infographic software also makes it easy to insert pictures into your infographic and support to crop a picture to a certain shape. You can use the cropping tools to trim and remove unwanted parts of images. There are also pre-defined clipping shapes for you to select so you don't need to spend extra time in search suitable shape.
Frequently Asked Questions
How can I make a simple infographic in EdrawMax?

You can select an infographic template from the gallery, or design one from scratch. EdrawMax provides a huge range of professionally designed infographic templates for you to choose from. Besides, you can also use abundant infographic elements to create your own infogrphic.

What are differences between EdrawMax and Edraw Infographic?

EdrawMax

is all-in-one diagramming software that can make over 280 types of diagrams and charts, including infographics, flowcharts, timelines, Gantt charts, mind maps, floor plans, UML diagrams, etc. While

Edraw Infographic

is focused on making beautiful and professional infographics or other visual representations. So when you are looking for a versatile diagramming tool, EdrawMax is the perfect suitable option. On the other hand, if you spend most of your time and energy, making different infographics, Edraw Infographic will help you a lot.

How long does the free trial of EdrawMax last?

EdrawMax offers a free trial that lasts for 15 days. You can use EdrawMax without much functional limitation.
See What EdrawMax Can Make for You
Over 15 Million Users Worldwide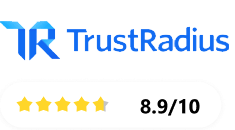 EdrawMax is an all-in-one diagram software designed to make it simple to create professional-looking flowcharts, org charts, network diagrams, building plans, mind maps, science illustration, fashion designs, UML diagrams, web design diagrams, electrical engineering diagrams, maps and more.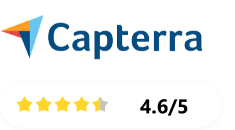 EdrawMax integrates the 100% functionality and libraries of all our other products. It is a versatile diagram software, with features that make it perfect not only for the professional-looking flowchart.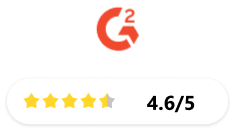 EdrawMax is a 2D business technical diagramming software that helps create flowcharts, organizational charts, mind maps, network diagrams, floor plans, workflow diagrams, business charts, and engineering diagrams.