If you're looking to boost your productivity, creativity, and memory, then mind maps are the way to go. Mind maps are an innovative visual tool to bring out the thoughts in your head out on paper to form plans, generate ideas, note-taking, etc. This article will discuss different ways of mind mapping, i.e., on paper and by using any software.
Making mind maps is actually a piece of cake with proper mind map maker. Mind maps are the optimal choice to stimulate flow of ideas. Learn how to create your own mind map via easy software to brainstorm, visualize, organize and strategize.
Part 1: What is Mind Map?
A mind map is used to organize information in a hierarchical manner. The central idea or theme is placed in the middle, with sub-themes and sub-categories branching out of them.
Mind maps are used by students and professionals as a popular tool for brainstorming ideas. They are useful for breaking down and analysing an idea, while helping one understand the relationships between different concepts.
Part 2: Preparation: How to Mind Map?
Mind maps in their truest form don't have a specified structure. However, certain elements are necessary for your mind map to be helpful and adequate. So, let's take a look at how we can ensure our mind mapping to be perfect.
Step 1: Have a Central Idea
The first and foremost component of a mind map is its central idea. Thus, the first thing you need to do is decide what the central theme is.
Now, write it down at the center of your page. You can also add any color or image associated with the theme. This will help you put your idea visually in front of you, and your brain will process it much more quickly.
Step 2: Add Subtopics
The second step is to write down the related subtopics that come into your mind. This will help you get your creative juices flowing. You can further explore each of the subtopics in detail by adding child branches.
You can add different associations. However, it is essential to restrict yourself to a maximum of seven subtopics. Any more than that are too much for our brain to handle.
Step 3: Add Keywords
The third step urges you to add the keywords that you can associate with the subtopics. This helps in the elaboration of the subtopics.
However, make sure you use single keywords or small phrases and make a different branch for every associated word/phrase. The use of single keywords helps in remembering a large amount of information. Moreover, with multiple branches, you can explore more possibilities.
Step 4: Color Coding
Our brains work in extraordinary ways. Since mind maps bring together the different cortical skills, they make the brain more synergetic.
Thus, linking these different aspects together by color-coding them helps the brain work more optimally. With the color codes, the brain can analyze, highlight information, and identify connections more efficiently.
Step 5: Add Visual Signifiers
The most crucial step is adding visual signifiers such as images or any other visual elements. Giving your brain some visual stimuli helps it in remembering information much more quickly.
Furthermore, they also overcome the universal language barrier. So, this is the generic process of mind mapping. Now let us look at the specifics of mind mapping on paper instead of mind mapping on software.
Part 3: Mind Mapping on Paper
Generally, paper is most readily available to us. So, when we think of writing or drawing something, we immediately take out a pen and paper. The same is the case with mind maps. So here, we will see how we can create a mind map on paper and its pros and cons.
To create a mind map on paper, follow the steps given below.
Step 1: Gather Information
The first step is to make an outline of your topic in the form of a list. Do a personal brainstorming session and think of all the things that will be a part of your topic.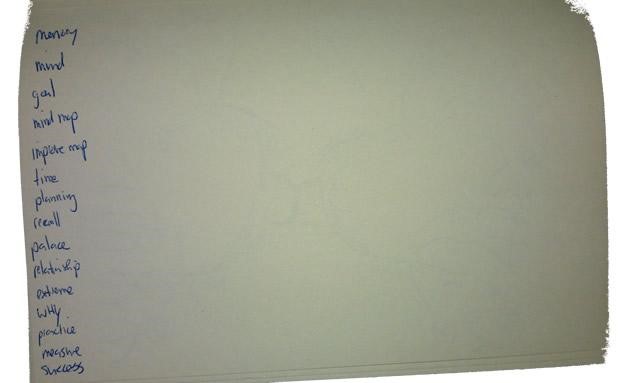 Source: mindmapsunleashed.com
You will know that you have the correct list of topics when they will be aligned with the goal or aim that you are trying to achieve.
Step 2: Organize the Information
Once you have the keywords, the next step is to identify the main topic and the subtopics. Then draw them in the form of a mind map with the main topic in the center and its subtopics.
Add all the related keywords in their appropriate positions. You can also use a single keyword in more than one position.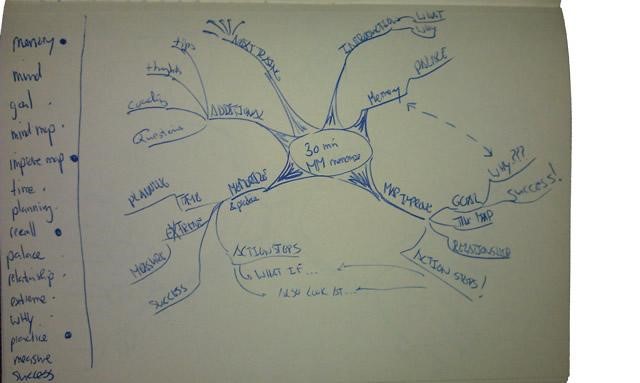 Source: mindmapsunleashed.com
Step 3: Add Colors and Images
This is where you add colors and images to make your map more visually appealing. However, not everyone is good at drawing by hand, so you don't need to worry and use colors only.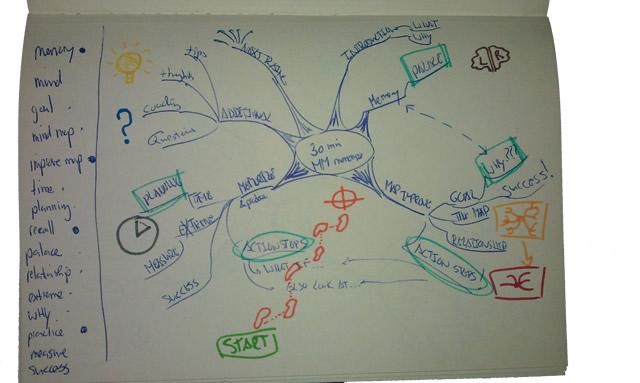 Source: mindmapsunleashed.com
And your mind map is ready!
Pros and Cons of Making Mind Maps on Paper
Now that you know how to make a mind map on paper let's look at some of its pros and cons.
| Pros | Cons |
| --- | --- |
| Things written by your hand are more easily remembered/memorized. | Paper mind maps can be messy. |
| All you need is a pen and paper. You don't need any technology. | They take more time because you don't have ready-made templates. |
| Paper mind maps are great for making a rough sketch. | Drawing images is not easy for everyone. |
| You can take quick meeting notes. | You cannot add large chunks of text. Have to keep it short. |
From this pros and cons list, judge according to your needs whether paper mind mapping is suitable for you or not.
EdrawMind
Full-Featured Mind Mapping Software
33 predefined themes to make your mind map stand out
12 different structures to meet your need
Cross-platforms supported (Windows, Mac, Linux, Web)
Brainstorming mode and presentation mode
Group & real-time collaboration
Security Verified |
Switch to Mac >>
Security Verified |
Switch to Linux >>
Security Verified |
Switch to Windows >>
Part 4: Using Free Mind Mapping Software
Although paper is more readily available, mind mapping software is a more sensible option.
How to Create a Mind Map with EdrawMind?
An effective mind map should be organized and clear, which can classify and present ideas in an easy to understand way. Do you want to make a mind map effortlessly? Your wisest choice is to use a user-friendly software - EdrawMind.
Step 1: Open EdrawMind
Download and install EdrawMind on your PC or try EdrawMind Online. Open EdrawMind, there present several types of mind maps and common diagrams like fishbone diagram and timeline. Below are the free inbuilt templates created by our amazing designers.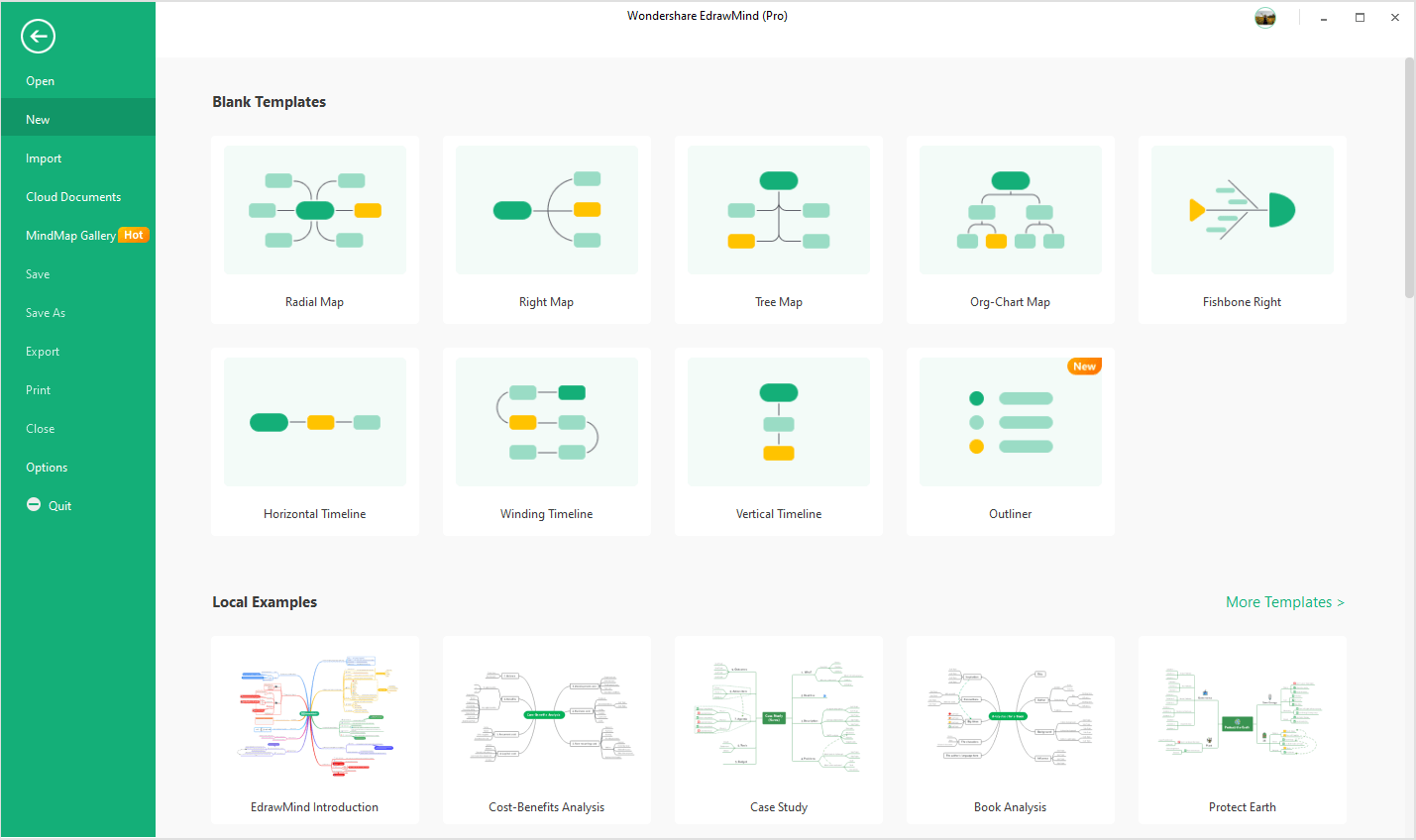 Step 2: Add Topics
To add subtopics, there are several ways for you to choose from.
Click on the buttons on the top menu;
Use the shortcut keys;
Click the floating button on the topic.
Use [Add Multiple Topics] function to add more than one topic each time.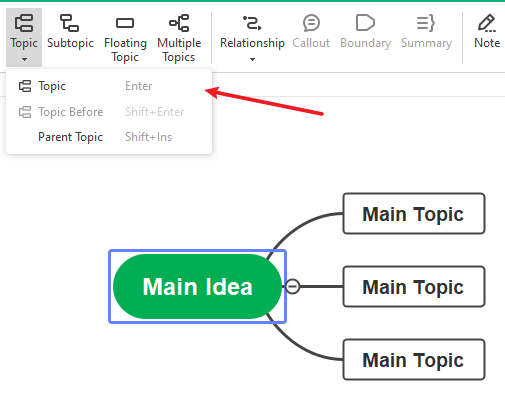 Step 3: Change the Layout and Theme
Find the menu and panel as the below image shows, you can click on the layout style and theme that you like and change it onto the diagram instantly.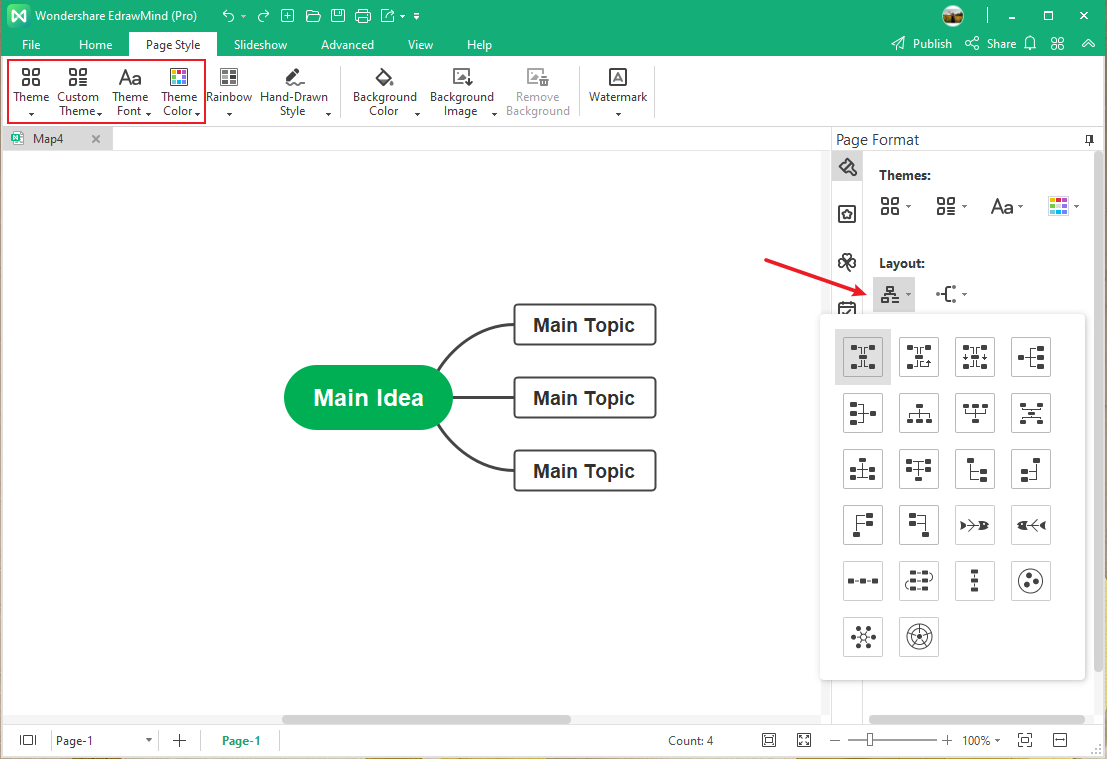 Step 4: Add Annotation
If you want to add a hyperlink/note/comment/attachment to a mind map, click on the topic and choose one of the options on the top menu that show on the below image. Fill in the information in the pop-up dialogue box.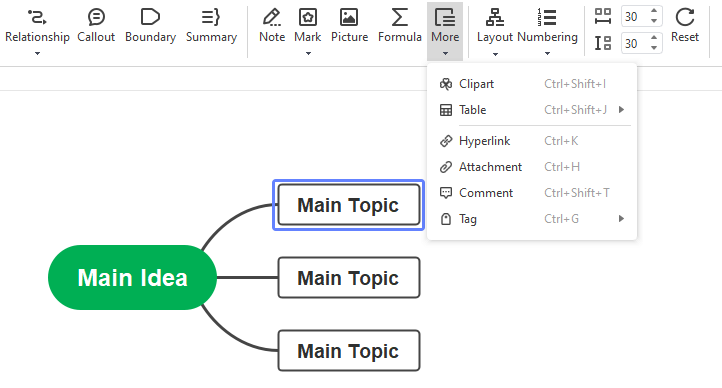 Step 5: Add Images and Marks
To make the mind map appealing, you can add images and pre-designed marks. Select the topic, and click [Image] to add the image to the topic. You can select and add marks in topics, which is very easy to use.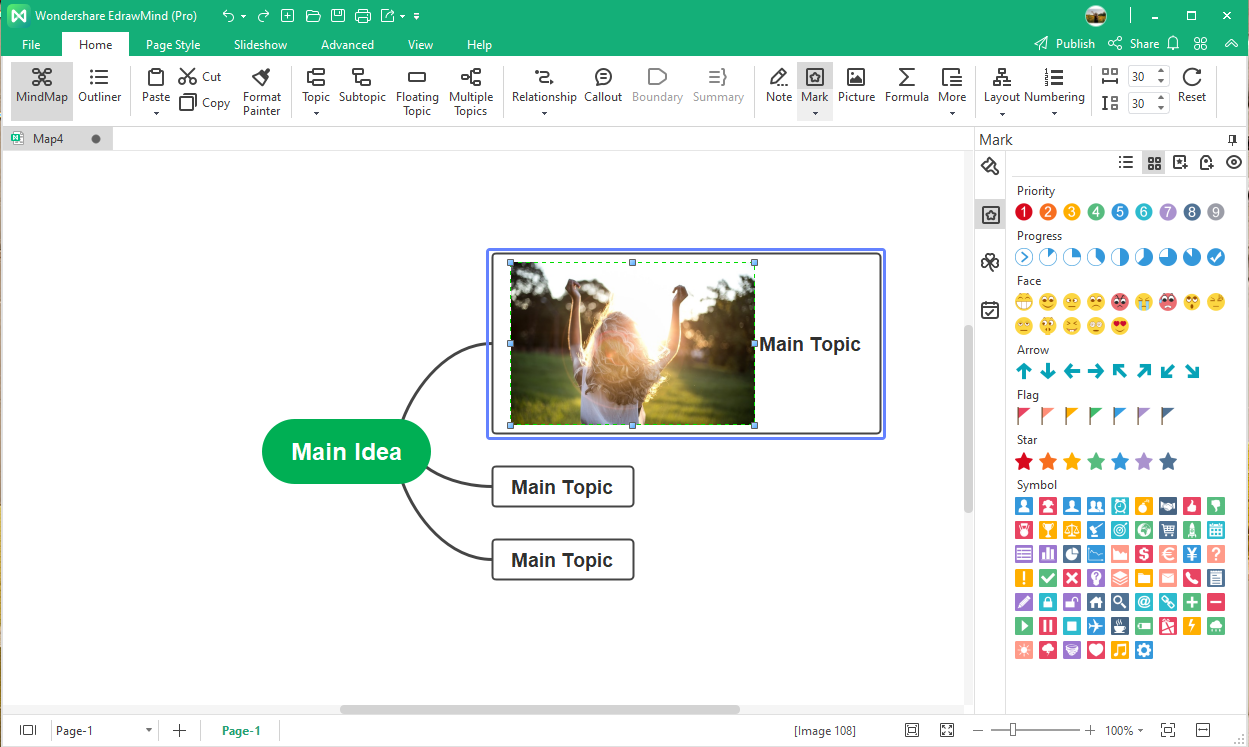 Step 6: Export and Share Your Mind Map
Once you've finished your mind map, you can download it, expot it as different file formats or post it on the social media channel. Share your mind maps with your best team members, friends or family!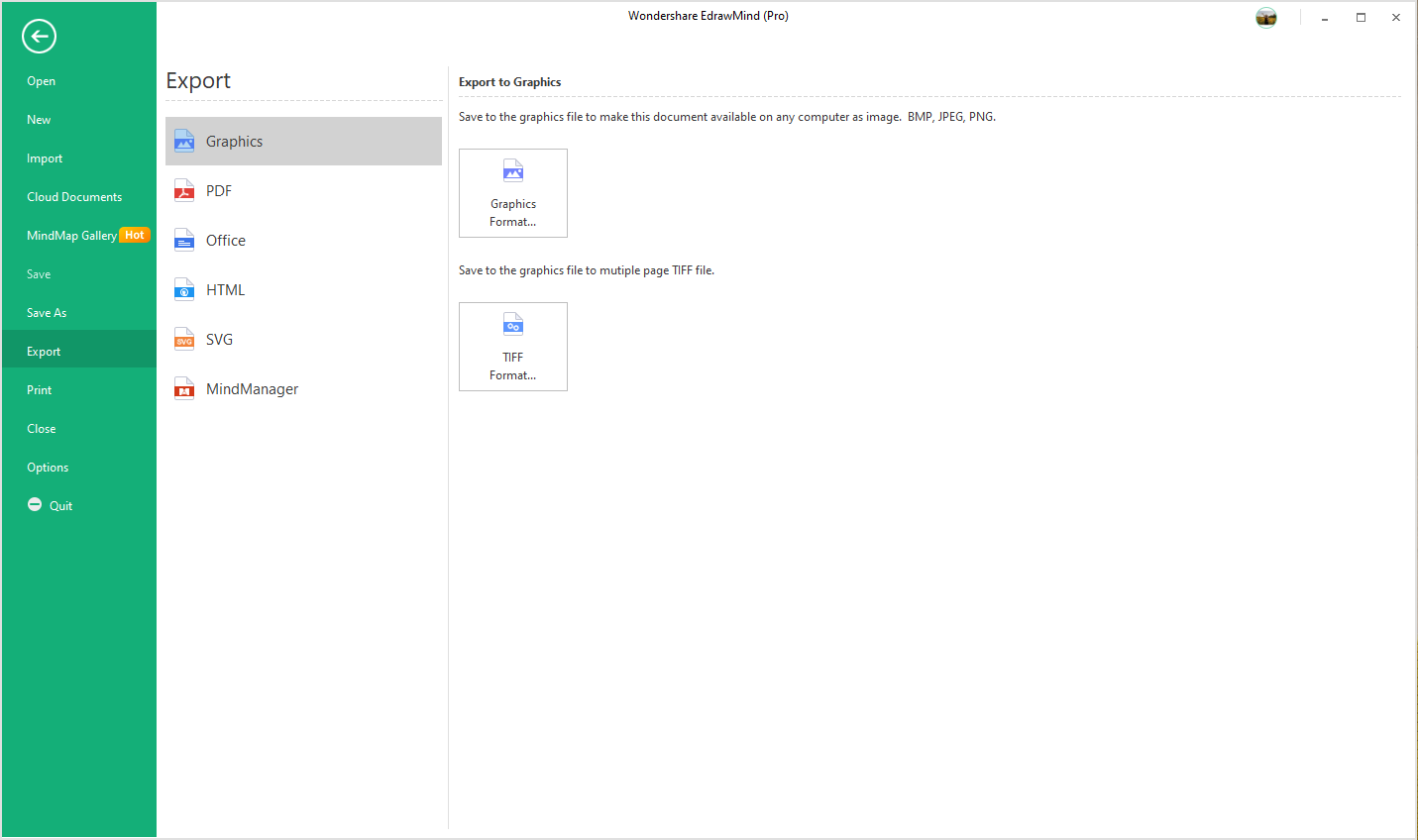 Pros and Cons of Using Mind Mapping Software
| Pros | Cons |
| --- | --- |
| You can add more information with the help of notes, tags, comments, and hyperlinks. | You have to follow some predefined rules as compared to freestyling on paper. |
| Easier to add images and colors. | Have to learn to use the software. |
| Lots of templates to choose from. Saves time. | - |
| They are neater and much easier to understand. | - |
The above pros and cons list give you an idea of how helpful mind mapping software can be for you. It is now up to you to make the final decision, as per your requirement.
Part 5: Popular Mind Mapping Skills
Lastly, let's take a look at a few popular mind mapping skills. These are some of the different techniques you can use in your mind map.
1. Branch by Branch
In the branch-by-branch technique, you fix the central topic and then add a subtopic. Then you add keywords to that branch until you have added everything related to that subtopic.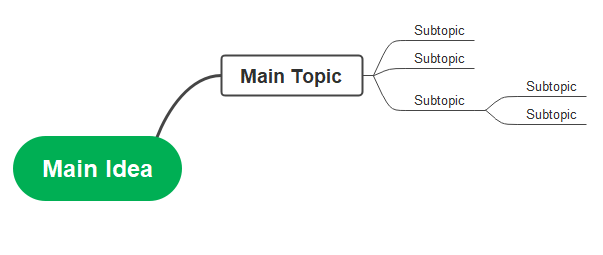 Then you design every branch step by step until the mind map is completed.
2. Level by Level
This is where you add the central topic, add all the subtopics, and further expand the mind map level by level. The central topic and its subtopics is level 1.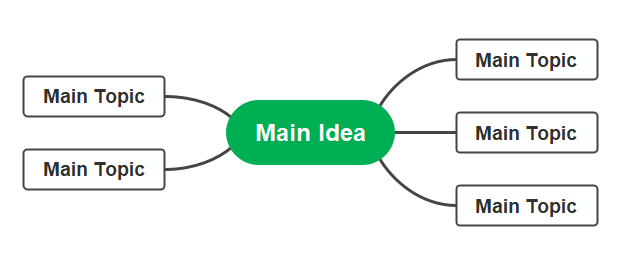 Then level 2 and level 3 are added.

You can add as many levels as you want.
3. Free Flow
In this technique, there are no rules or regulations. You can go with the flow and make the mind map however you want.

The only thing you need to be mindful of is that you add the right thing at the right level – is it a central topic or a subtopic?
Part 6: Mind Map Examples
Example 1: Top 5 Ways to Use Mind Maps for E-Learning
Mind Maps are one of the most important aspects of any student's early academic years. There are several reasons why every student should use a mind map when they are undergoing their e-classes, including but not limited to a higher-rate of collaboration and participation.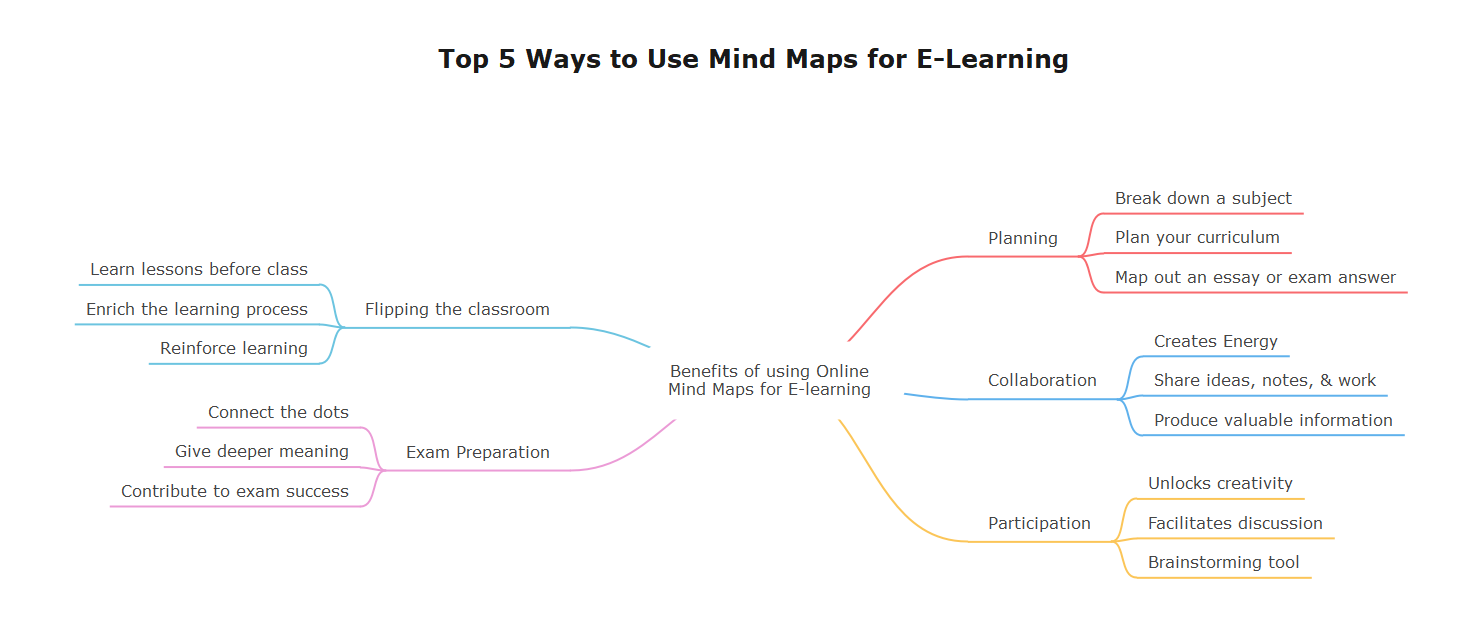 Example 2: A Straight Mind Map About Vegetables
A straight mind map consists of one central idea and several hierarchical nodes that introduces the main types of vegetables, such as legumes, gourd, cruciferous, allium, and composite.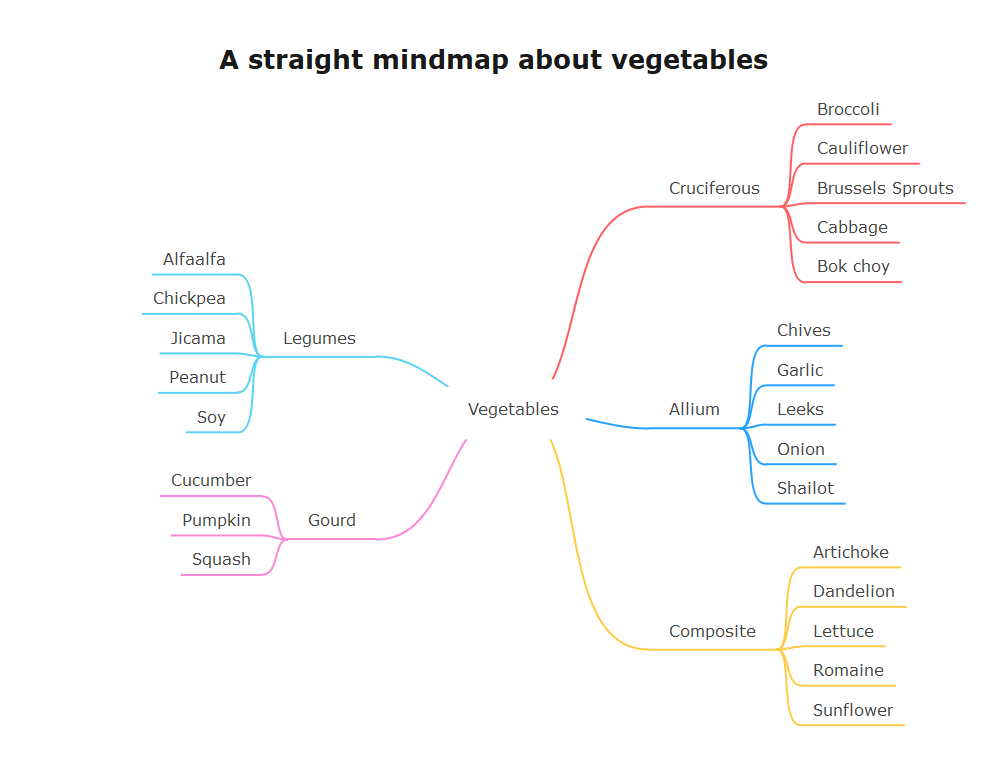 Part 7: Mind Mapping Made Quick and Easy in EdrawMind
Although mind mapping is not that common, it is best to incorporate it into your life now that you know about it. Without a doubt, mind mapping will make your life easier and more efficient. You will feel more in control of your life and your mind. So, help yourself out with EdrawMind, which makes mind mapping quick and easy for you! Install it now!