Create Circuit Diagram for Excel

With pre-designed electrical symbols, Edraw allows you to create any circuit diagram and export to Excel document on Mac, Windows, and Linux systems.
Create professional circuit diagrams and schematics with high-quality symbols and easy-to-use tools. Edraw helps you present your electrical schematic, circuit and logic diagrams and blueprints on the canvas in minutes. When finished, you can export the diagram to Excel format with a few clicks. Edraw circuit maker works fine on Windows, Mac OS X, and Linux systems.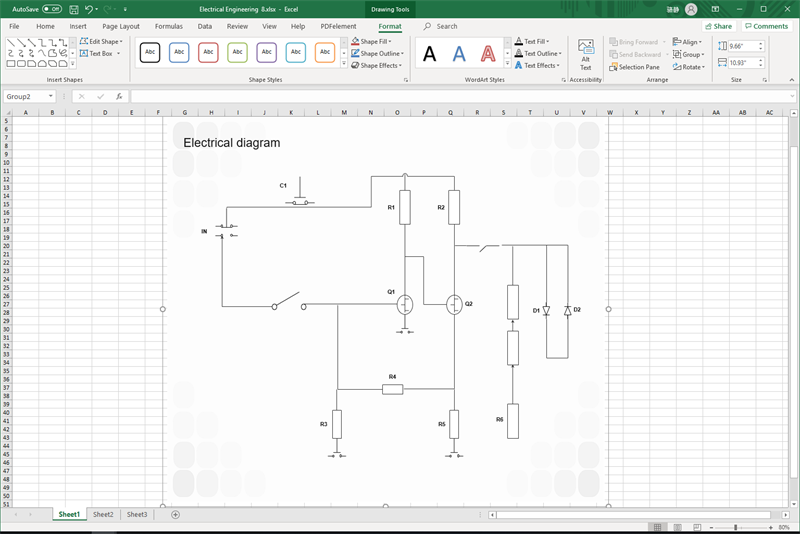 EdrawMax
All-in-One Diagram Software
Create more than 280 types of diagrams effortlessly
Start diagramming with various templates and symbols easily
Superior file compatibility: Import and export drawings to various file formats, such as Visio
Cross-platform supported (Windows, Mac, Linux, Web)
Security Verified |
Switch to Mac >>
Security Verified |
Switch to Linux >>
Security Verified |
Switch to Windows >>
Introduction of Circuit Diagrams
Circuit diagrams make it easy for technicians to understand how a circuit works. It uses industry-standard symbols to show all of the components of an electronic circuit and the connections between them. The arrangement of the components' interconnections on the diagram will correspond to their physical locations in the physical devices.
How to Create a Circuit Diagram
Edraw Max is an all-in-one diagram software that can make over 260 types of diagram. With easily-formatted templates, you can save time drawing out easy-to-read circuit diagrams im minutes. So first you need to get into the circuit diagram drawing page, which is located under the Engineering category.
Open Edraw, choose to use a pre-made template or build electrical diagrams from scratch.
Drag and drop electrical symbols from symbol libraries onto the left of the canvas, such as switches, relays, semi-conductors, etc.
From the Transmission Path library, choose suitable transmission path to connect the symbols.
Using Connectors to connect different components on the canvas
The symbols could be edited through changing the line and fill color.
Adjust the position or size of the symbols to make the diagram look better.
Export Circuit Diagram into Excel
Finally, you need to export the circuit diagram to Excel format. On the File tab, click Export and Send button. You will see lots of export options. Choose Office -> Excel to convert your file to XLSX format. You can open the exported Excel file in MS Excel 2013 or more advanced versions.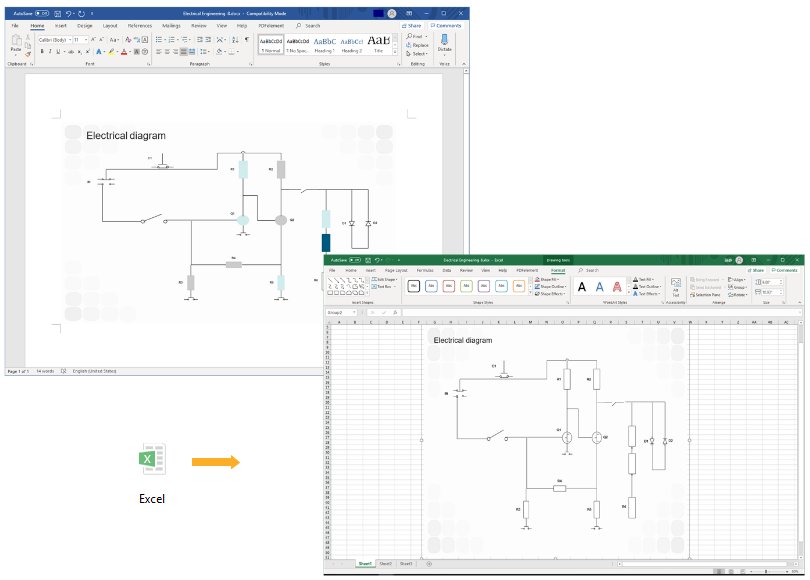 Edit Circuit Diagram in Excel
The exported circuit diagram can be edited and personalized in the MS Excel. You can change the symbol format, edit text and apply quick styles in the Excel document.
Discover why Edraw is an excellent program to create circuit diagram. Try Circuit Diagram Software FREE.
More Related Articles
Create Circuit Diagram for Word
Create Circuit Diagram for PDF