EdrawMax is a software that can help you create complicated cabinet designs even if you don't have any CAD drawing skill. You can design your own cabinet with EdrawMax in a few minutes.
A well-designed cabinet can make your home look neater. You can visualize your own cabinet with EdrawMax easily and quickly.
Compared with other similar tools, EdrawMax is one of the most capable, flexible, and easy-to-use software. People can use EdrawMax to design and decorate cabinets from scratch. Users can get instant visualization and observe cabinets from different views. Generally speaking, EdrawMax is very useful for individuals, small cabinet shops, as well as large manufacturers.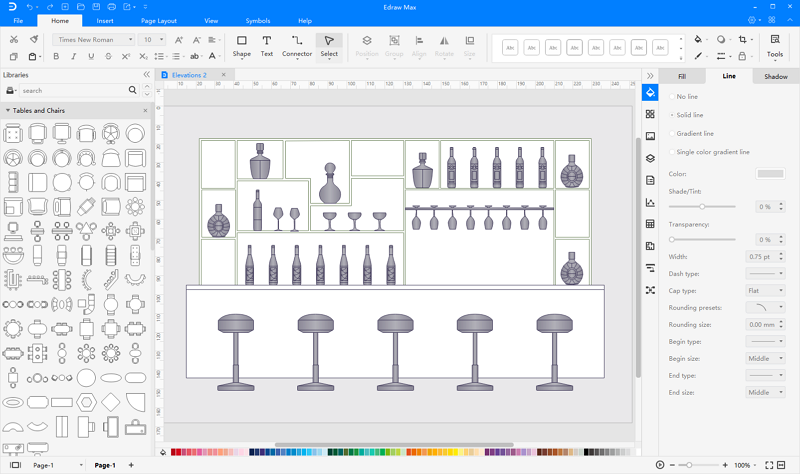 Part 1: Advanced Features in Edraw Cabinet Design Software
Even if you are a novice, you can handle the creation process easily.
Microsoft-style operating interface can help you get started more quickly.
An extensive library of templates and symbols.
Learn how to create your own custom cabinets without any difficulty.
Import pre-designed objects from your computer and set up your own symbol library.
Import realistic textures for seeing different appearances of custom cabinets.
Calculate width, height and angle with the scale tool accurately and automatically.
Free technical support and a free 15-day trial without limitation to let you know how powerful EdrawMax is.
Using EdrawMax to draw the cabinet is like creating real cabinets - the user operates on cabinets, arranging them in the virtual space as if they were real. You can create your own catalogs of elevations, cabinets, and materials or just use the symbols included in the program directly. Users can do cabinet designs quickly and easily with EdrawMax. This powerful tool with the features mentioned above can dramatically increase your efficiency and make you enjoy designing your own cabinets.
EdrawMax
All-in-One Diagram Software
Create more than 280 types of diagrams effortlessly
Start diagramming with various templates and symbols easily
Superior file compatibility: Import and export drawings to various file formats, such as Visio
Cross-platform supported (Windows, Mac, Linux, Web)
Security Verified |
Switch to Mac >>
Security Verified |
Switch to Linux >>
Security Verified |
Switch to Windows >>
Part 2: Built-in Symbols For Designing Cabinet
The designer can use the pre-defined elevation symbols, wall elevations, and dimension symbols in EdrawMax to draw cabinet plans easily and efficiently.
Here are some of the symbols that are pre-made in the shape library.
1. Cabinets and Bookcases
2. Elevations

3. Windows and Doors (Elevation)

4. Kitchen (Elevation)

Part 3: Cabinet Elevation Examples
There are plenty of cabinet elevation examples in EdrawMax and you can use them for free.
Example1: Bar Cabinet Elevation
This is a bar cabinet elevation example created by EdrawMax. You can easily customize it in EdrawMax.
Example2: Laundry Cabinet
This is an example of a laundry cabinet that is customizable in EdrawMax. Click the picture below and download EdrawMax for free.
The following examples can be edited and customized in EdrawMax. They all belong to Floor Plan category.
More Related
Change Drawing Scale in Floor Plan