Business Context Diagram Examples & Templates
Do You Want to Make Your Business Context Diagram Examples?
EdrawMax specializes in diagramming and visualizing. Learn from this article to know everything about business context diagram examples and templates. Just try it free now!
Do you know what causes constant improvement of a business? It is a better analysis of the framework. Undoubtedly, you won't be able to highlight the errors if you can't track your business pace. Considering that fact, you'll agree with the statement that without identifying beneficial interfaces, improvement in a business is impossible.
So, what's the best way to improve? A business context diagram example is the answer to that question. With optimum external and internal element connections, these can help you identify the factors you must consider for improvement.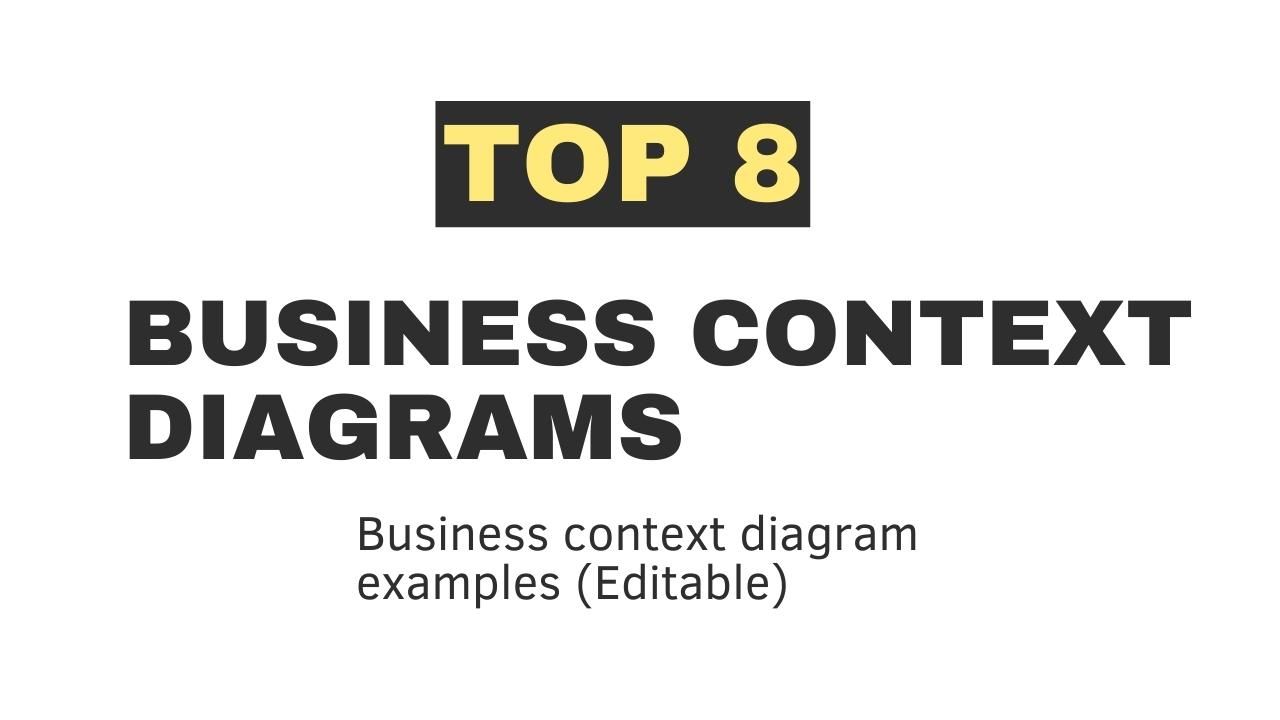 1. Top 8 Business Context Diagram Examples
Here are some examples that can serve the purpose of your business.
Example 1: Procurement Context Diagram
Due to complex cost analysis and management, it's a fact that regulating the process can be difficult. A business context diagram example can be the ideal solution in that regard. Starting from its physical display, you can see it links external entities with the internal procurement process. Plus, unlike other unidirectional flowcharts, it gives an idea of how the responses and requests flow within organization elements.
You may be wondering why we need it at all. Well, it isn't that easy to wrap your head around business spending for purchasing the goods. Especially, if the data is in all numbers and listing sheets, it gets tough for company personnel.
However, things change when you add a touch of visual presentation. It inserts an element of interest in the employees. Exactly that's what this procurement business context diagram example does. To understand the fundamentals of top-level industry procurement spending, you need to assess three vital processes.
Preparation
Payment processing
Solicitation
The basic physical connection shapes inside this example make it easy to understand these basic processes in minimum time. Want to know the best part?
Want to know the best part?
Better judgment of these processes helps supply the right responses at the right time. As a result, it makes your basic procurement strategy an ideal supply chain management system with minimum effort. All the facts of this procurement context diagram refer to business spending strategy improvement. Therefore, if you say it is more of a business context diagram example, you won't be wrong at all!
Example 2: Bus Booking Context Diagram
The bus booking business can become complicated if not organized in a simpler way. A bus booking context diagram serves the purpose by linking the company's inlets and outlets. At the same time, this example can help you point out the directional flow of information between the internal framework and external entities.
But that's not the only part of the story: Being a booking business owner, you must deal with constant customer data. You need an ideal strategy to organize and deal with all that information. This bus booking business context diagram example paves the way to that strategy. So, what's the secret? The example can link customer, admin, and user relationships with the internal framework. A better connection helps you track the flow of all scheduled responses and login requests. Plus, it helps you deal with them in a snap.
All the above facts state that a bus booking context diagram is the best way to assist your users in unrestricted ticket booking. The given business context diagram example for bus booking depicts how a high-level data flow diagram (DFD) works.
Example 3: Online Community Context Diagram
Let's be honest, managing an online community without any interaction can be pretty difficult. You cannot connect appropriate tasks with the right people without physical interaction. Coping up with content creators, community users, and advertisers is possible only if you can link them with optimum traits.
Here's the deal:
Making those connections is easier when you have a pre-made layout in front of you. It helps you do the work fast and improve your task reliability. Plus, if a single business context diagram example can help you highlight boosting connections between external entities and the internal system, then why ignore it? In the fundamental significance of this online community diagram, the above facts are just the tip of the iceberg. Being a 0-level data flow diagram, it can help you assess the whole business model with a single glance. So, we can say that its linking diagram with external elements gives an abstract view of the complete framework. The business context diagram example for an online community can benefit you in many ways. Improvement of existing business is one of them.
And how does that work?
Getting a better idea of advertisers, managers, and users' connections can help you highlight the errors within the system. In that way, you can create better strategies that aren't prone to mistakes anymore. As a result, you will bring a better system framework for your business, helping in every way.
Example 4: Insurance Process Context Diagram
The insurance process becomes difficult if you miss its vital procedural steps. To control the success of your insurance business, you must keep track of service steps. That is possible only if you have a roadmap of strategic processes through appropriate links.
Here's how:
The insurance process context diagram is a 0-level data flow diagram that outlines the entire process for employees. It gives you an idea of the whole model, from buying agent to the mortgage originator. That's not it! It links all these external entities through different elemental traits. The best way to create one for your business is through a business context diagram example. Creating these isn't easy, especially if you are starting from scratch. The best way to reduce time and effort is through a process context diagram example. The business example above is a basic yet effective layout to create a suitable linking flowchart for your business.
Example 5: Book Ticket Context Diagram
The book ticket business context diagram example somewhat resembles the bus booking business DFD. Therefore, same as the bus booking business diagram, this one also focuses on external links with booking associations that help boost the system scope. Simply put, a book ticket context diagram is a general 0-level data flow diagram. The flowchart focuses on the complete business model. However, it revolves around a single node, an accounting service table.
Every external element has an indirect or direct link with the internal accounting system. To connect these framework departments, this business context diagram example uses different directional information traits. For instance, the voucher is an informational asset between passengers and their ticket-checking system. The ticket voucher connects these two, which makes this subprocess crystal clear.
The bottom line? If you need an organized system that keeps improving from time to time, the book ticket business context diagram example is a must for you. You might be searching a way make it all possible. The easiest way is through an example template that you'll find here for free.
Example 6: Company Intranet Context Diagram
As the name states, the company intranet system helps deliver information within the company. So, you may say that it is a private digital area for the company's data sharing. Obviously, you think that sharing data is simple, especially as it is all within the business.
So, what's the catch?
It isn't possible to cross a road without a bridge. Same as that, without any links and relationships, you can't share anything. The best way to share information between business framework entities is through an organized connection system. All of that is possible through a company intranet business context diagram example. To cut a long story short, it is a top-level data flow diagram. It gives you a complete overview of the system model, allowing you to control data flow.
But wait, it gets better:
It isn't just a boring visual flow chart. Instead, it takes things up a notch through simple yet effective shape data flow diagrams. If I have to explain it through the example, the best way to say it is that these 0-level DFDs are ideal roadmaps for your intranet information system. How's that possible? Suppose you have a roadmap in front of you where you can control the information flow from one external entity to the other with a single touch. That's how easy it becomes with the business context diagram examples. The best part is that you won't have to start from scratch to create all that mapped flowchart. You have it all for yourself in the example link given above. You'll find the company intranet business context diagram there that will make work easy for you.
Example 7: Restaurant Management Context Diagram
Restaurants must deal with two main external service providers; customers and suppliers. However, that doesn't mean their informational flow within the framework becomes easy. Instead, there are tons of sub-processes that make things difficult to manage departments.
Here's how to deal with them:
The best way in the market is through the accurate connection of the right things with the proper departments. It is possible only if you clearly track your supplies and their destination. That is easier with a context diagram for restaurant management system. This context diagram links the customer and supplier departments to the main restaurant management. Moreover, it helps regulate the sub-processes within the business. The example of a restaurant management diagram here focuses on the whole restaurant supply chain system. That means everything from the food order to inventory management is in the spotlight with this business context diagram example. Besides, it highlights different service characters through which external entities link with the restaurant.
Example 8: Transaction Request Context Diagram
Requests regarding transactions make their way to the customer through a sequenced pathway. While traveling across, the transaction request faces diverse details, validation, rejection, and assessment channels. Considering that every one of these poses a serious impact on the request result, making you can say that adequate management is obligatory.
But how?
Transaction request context diagram is the way of ideal request assessment. Unlike other context visualizations, it not only links the entities but also gives a detailed analysis of the business model. The context diagram does so by breaking down the model into separate smaller sections. All in all, the business context diagram example for transaction requests expands the aggregated system to validate the request ideally. Above stated facts make it clear that improving request assessment is possible if you integrate context diagrams in business analysis.
Conclusion
To put it in a nutshell, context diagrams are ideal for business improvement. All the above business context diagram examples are perfect in their own way. Every one of these focuses on a particular business sector. As a matter of fact, these layout examples make your work easier and your business successful by giving you a pre-made flowchart for free.
EdrawMax Desktop
Create over 280 types of diagrams
Windows, Mac, Linux (runs in all environments)
Professional inbuilt resources and templates
On-premises software for business
Enterprise-level data security
EdrawMax Online
Create over 280 types of diagrams online
Access diagrams anywhere, anytime
Team management and collaboration
Personal Cloud and Dropbox Integration
Frequently asked question
1. What is a business context diagram?
A business context diagram highlights the connection between internal framework and external associations. Through appropriate links, it helps keep every aspect of a business in the spotlight. So, its analysis can help improve existing problems within your system.
2. What are the 3 common components of a context diagram?
What are the 3 common components of a context diagram?
External entities
Data flow
Data flow
The A context diagram is a sub-entity of a data flow diagram. Therefore, you can say these components are more of information level channels.
3. What is the difference between a data flow diagram (DFD) and a context diagram?
context diagram is an essential information flowchart that shows a basic detail level. On the contrary, a A data flow diagram focuses on much more complicated data channels. Unlike the context diagram, DFD has diverse levels. As the level goes up, the details also increase exponentially.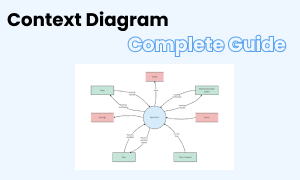 Context Diagram Complete Guide
Check this complete guide to know everything about context diagram, like context diagram types, context diagram symbols, and how to make a context diagram.