Add Dotted Line to Organization Chart

Adding dotted lines to an organization chart is a snap in our diagram program. With advanced formatting tools, you can make an outstanding org chart faster than ever.
Part 1: Solid and Dotted Line Reporting Relationship
Lines in an organization chart can be in the form of solid lines or dotted lines. A dotted line is also called a broken line or a dashed line. They represent different types of reporting relationships. The line's weight is meant to represent the level of power and influence of the different managers.
The solid line reporting relationship is similar to a traditional line management role. The solid line manager tends to look after the goal setting and performance evaluation processes. In the event of a dispute, individuals will tend to defer to this manager. The solid line role is often given to either the functional manager or a manager who is geographically close to the individual, which is to make supervision easier.
The dotted line relationship is weaker than solid line relationship. The dotted line manager still has rights to certain parts of the individual's time and attention and usually set some goals.
For example, the special assistant to the CEO also reports to the board of directors. The assistant's direct supervisor is CEO. The reporting relationship between the assistant and board of directors is represented by the dotted line in the organizational chart.
Another example is the reporting relationship between the HR director and managers from other departments.
Part 2: How to Add Dotted Line To an Organization Chart
In our organization chart program, you can easily add a dotted line. Follow these steps to add a dotted line to an organization chart.
Step 1: Switch to Home tab, click Connector and then choose a connector style.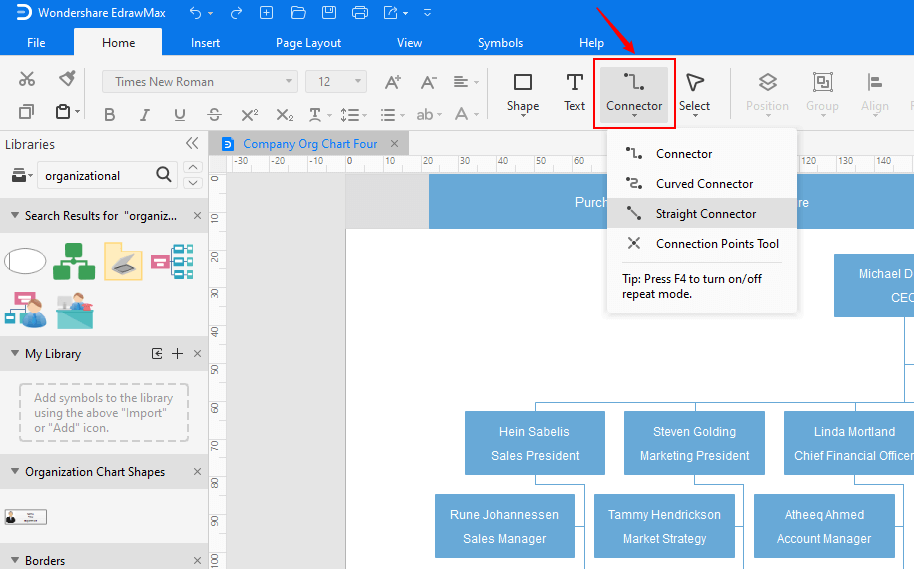 Step 2: Draw a connector between the two shapes that have a dotted line reporting relationship.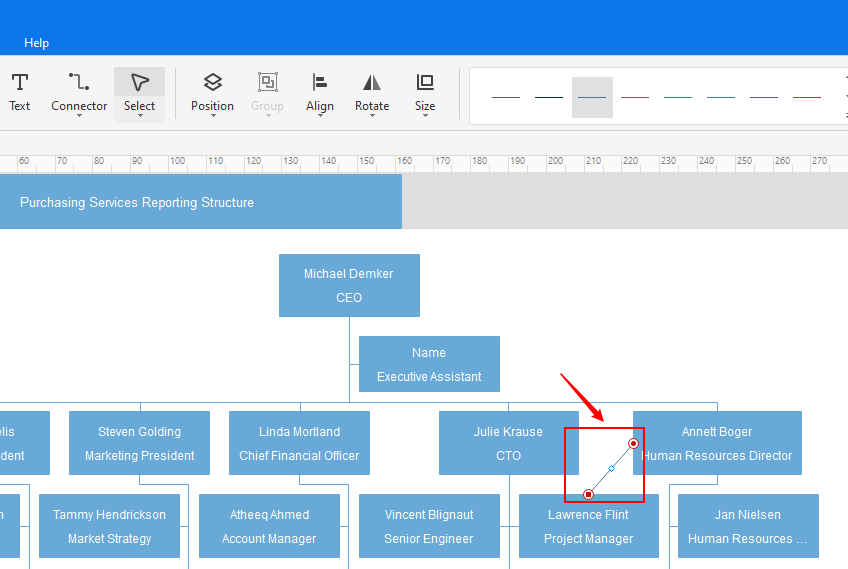 Step 3: Click Line to show the dropdown menu. Move your cursor down and rest it above Dashes. Choose your desired style of the dotted line.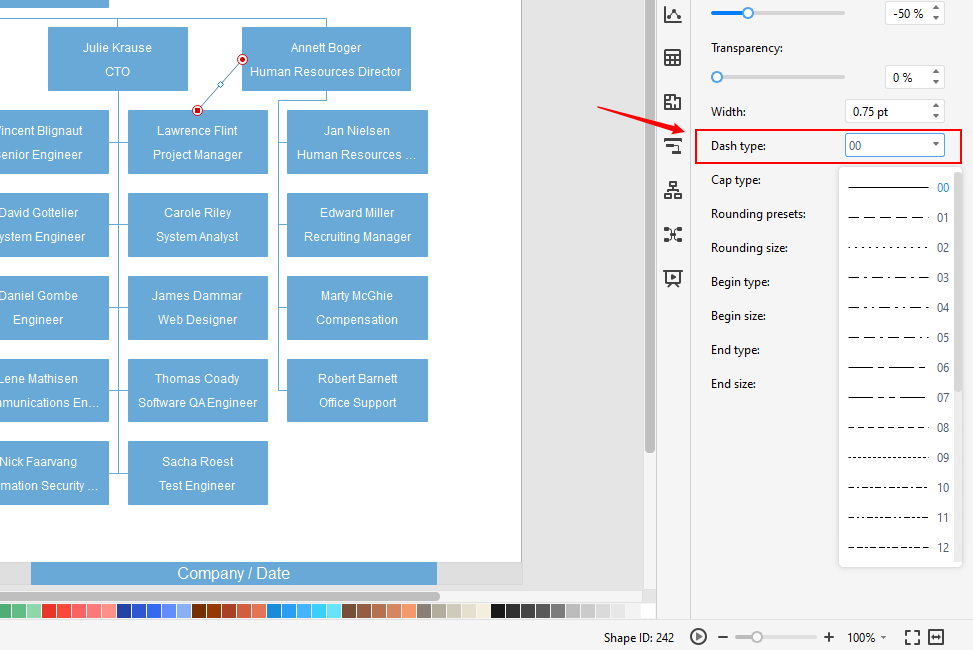 Step 4: Choose an end type.
Try the easiest Org Chart tool - Edraw to build an organizational chart: Try it FREE.
EdrawMax
All-in-One Diagram Software
Create more than 280 types of diagrams effortlessly
Start diagramming with various templates and symbols easily
Superior file compatibility: Import and export drawings to various file formats, such as Visio
Cross-platform supported (Windows, Mac, Linux, Web)
Security Verified |
Switch to Mac >>
Security Verified |
Switch to Linux >>
Security Verified |
Switch to Windows >>
You May Also Like:
Examples of Organizational Chart