View, Edit, and Create Visio Diagrams without Visio
>
Edraw Diagram
>
View, Edit, and Create Visio Diagrams without Visio

Creating diagrams and charts is an essential part of an organization to get a bird's eye view of all the activities in it. Because such drawings are complex in nature, programs like Microsoft Visio are used to prepare them. Post creation, if any changes are needed in the illustrations, an efficient Visio editor can be used. Such a Visio editor may not necessarily be from Microsoft itself but can be a product from a third-party developer that can efficiently edit Visio files.
Furthermore, some Visio online editor apps are also available that enable you to edit Visio files using your favorite web browser.
What is Visio?
Visio is one of the products from the Microsoft Office suite. It is used to draw diagrams, charts, and many other graphical representations to give detailed information about a system, concept, or plan at a single glance.
Microsoft Visio is equipped with several libraries, where each library consists of various related shapes that help you draw the domain-specific illustrations with ease. For instance, the Floor Plan library is populated with symbols to draw walls, doors, windows, etc. Likewise, the Flow Chart library has the Start, Stop, Processing, etc., shapes to prepare a visual illustration of how a particular application should process the data post-development.
Because Visio is a Microsoft product, it can easily integrate with Microsoft SharePoint and other corporate solutions offered by the vendor.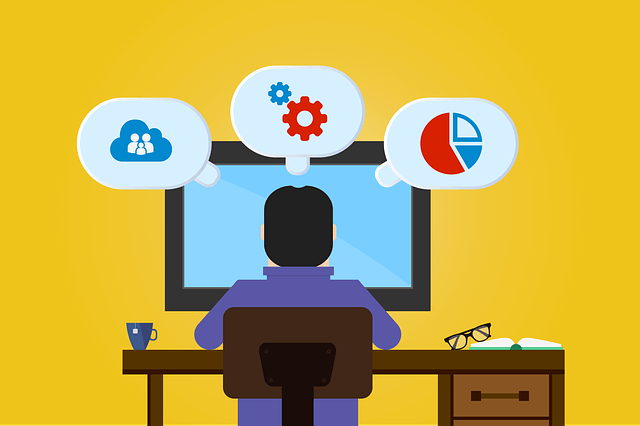 Microsoft Visio – Pros and Cons
Microsoft Visio is an industry-standard diagramming software and a decent VSDX editor that is used by many professionals across the globe. However, as with any other application, there are some advantages and disadvantages that the app comes with.
Some most significant pros and cons of Microsoft Visio include:
Pros
Has sufficient number of libraries, tools, and shapes to prepare simple to highly complex diagrams and charts.
Offers complete control over all the functionalities of the app.
Being a product of Microsoft, Visio can be trusted, and the technical support team can be counted on in case of any inconsistencies or crashes.
Cons
Microsoft Visio is pretty expensive as compared to other third-party drawing tools available in the market.
Requires a decent amount of training to be able to use flawlessly.
Requires a dedicated professional or a team of professionals to prepare charts and diagrams.
Visio is not available for PCs running Mac or Linux operating systems.
Visio editor is needed to edit a file created with Microsoft Visio.
Import VSDX, VSD, and VSSX Files
Keeping the above points in mind, you can clearly understand that Microsoft Visio is suitable only if you are technically skilled and have a hefty amount of money kept aside to invest in the app.
However, if you are a freelancer or work in an organization looking for an easy and comparatively cheaper solution that can produce identical outputs and even supports files created in Microsoft Visio, a product called EdrawMax developed by Wondershare would be your best bet.
EdrawMax not only costs lesser than Visio, but it also has more libraries, tools, and shapes that make your model creation experience fairly simple. Furthermore, the application is smart enough to recognize the files created in both pre and post-2010 versions of Microsoft Visio.
Microsoft Visio File Types
Before proceeding any further, it is important to know the different file extensions that Microsoft Visio files have as per their nature. These extensions are:
VSDX - The drawing projects created in Microsoft Visio 2013 or above versions use *.vsdx file extension.
VSD - The drawing projects created in Microsoft Visio 2010 or earlier versions use *.vsd file extension.
VSSX - When you save a Visio drawing as a stencil, *.vssx extension is assigned to such a file.
After understanding the different Visio file types, it's now time to see how they can be imported to EdrawMax to use the program as an efficient Visio editor.
To use EdrawMax as a VSDX editor, you can:
Launch EdrawMax on your computer.
Click Import from the navigation pane in the left of the main window.
Click the Import Visio File button from the Import window in the right.

Locate, select, and import the VSDX or VSD file from your PC to the program.
To import a VSSX file to EdrawMax, you can:
Initialize EdrawMax.
Click to select New from the navigation bar in the left.
Click the + button from the right window to open a new drawing project. Alternatively, you can also click the thumbnail of an existing template or open an already created EdrawMax project file.

When the new (or an existing) drawing project opens, click Import symbols from the right side of the My Library title bar.

Go to the Import VSSX tab on the Import Symbols box.
Click Select VSSX Files from the center

Select and import the VSSX Visio Stencil file from your PC to EdrawMax.
How to Edit Visio Files?
In order to edit Visio files in EdrawMax, you can follow the steps given above to import the VSDX or VSD drawings to the app, and then:
Click to select any shape of the diagram in the canvas.
Use the options in the right to make the required changes to the shape.

Add more shapes to the diagram by dragging them from the Library in the left.

Go to File, and click Save As or Save to save the project as an EdrawMax file with *.eddx extension on your local hard drive or to your personal cloud
How to Create Visio Files without Visio?
After you have created a drawing in EdrawMax, you can even export it as a VSDX file so that the people who are comfortable with Microsoft Visio can import the project and make the required adjustments. To export an EdrawMax (*.eddx or *.edx) file as Visio, you can:
Go to File > Export & Send from the navigation bar in the left.
Click to select Visio from the Export bar in the center.
Click Visio VSDX Format from the Export to Visio window in the right.

Choose a location on your local hard drive, and save the file.
Note: At the time of this writing, EdrawMax only supports VSDX format when exporting the projects for Visio. As mentioned earlier, the VSDX files are compatible with the 2013 or later versions of Microsoft Visio.
EdrawMax – Easier than Visio
Even though Visio is a product by one of the industry's leading vendors, it has a steep learning curve, and only technically skilled people can use it to produce highly advanced diagrams. On the other hand, when it comes to EdrawMax, the app comes with several advantages, including
Available at a lower cost as compared to Microsoft Visio.
Can import Visio files seamlessly, thus working as an efficient Visio editor (VSDX editor).
Can import Visio stencil files as custom/personal libraries.
Is populated with more symbols, icons, and shapes than there are in Microsoft Visio.
Offers extremely intuitive interface, and therefore even the novice users can create projects and diagrams.
Can export the project files with *.vsdx extension that can be used in Microsoft Visio.
EdrawMax
All-in-One Diagram Software
Create more than 280 types of diagrams effortlessly
Start diagramming with various templates and symbols easily
Superior file compatibility: Import and export drawings to various file formats, such as Visio
Cross-platform supported (Windows, Mac, Linux, Web)
Security Verified |
Switch to Mac >>
Security Verified |
Switch to Linux >>
Security Verified |
Switch to Windows >>
Conclusion
When it comes to creating charts and diagrams, the shapes, symbols, and connecting lines play a vital role in producing a clean illustration. While Microsoft Visio might sound advanced and allows its projects to be integrated with SharePoint, EdrawMax is equipped with comparatively more objects in each of its libraries.
In addition, because EdrawMax can import VSDX projects, it can be used as a decent Visio editor to edit Visio files. The best part is, EdrawMax can be downloaded and tried for free, and if found useful, its licensed copy can be purchased later from the official website.