P&ID Valves Symbols and Their Usage

Provide various lifelike valves symbols, including ball valve, check valve, control valve, motor valve, hand valve, and 3D valve. Vector valves symbols help you create high clarity P&IDs.
A wide range of pre-drawn P&ID valve symbols are included in Edraw. Fully editable, you can use these symbols to make professional and good looking piping and instrumentation diagrams.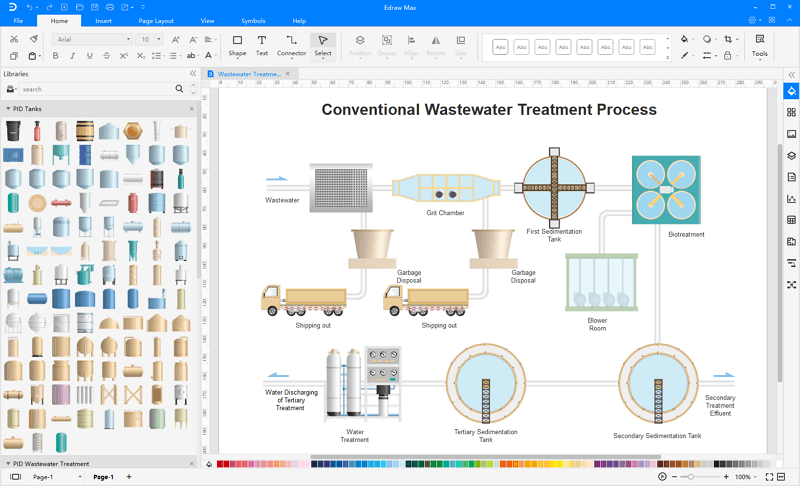 EdrawMax
All-in-One Diagram Software
Create more than 280 types of diagrams effortlessly
Start diagramming with various templates and symbols easily
Superior file compatibility: Import and export drawings to various file formats, such as Visio
Cross-platform supported (Windows, Mac, Linux, Web)
Security Verified |
Switch to Mac >>
Security Verified |
Switch to Linux >>
Security Verified |
Switch to Windows >>
Free Download P&ID Software and View All Examples
Valves Shapes
You can find comprehensive valve shapes with a variety of styles and functions, including ball valve, check valve horizontal, check valve vertical, control valve, control valve flange, control valve gray fit, etc.

Ball valve is a form of quarter-turn valve which uses a hollow, perforated and pivoting ball to control flow through it.
Check valve is a valve that normally allows fluid to flow through it in only one direction.
Motor valve is the valve with motor serving the purpose of fully opening or fully closing in pipelines.
Control valve is used to control conditions by fully or partially opening or closing in response to signals received from controllers whose value is provided by sensors that monitor changes in such conditions.
Pinch valve is full bore or fully ported type of control valve which uses a pinching effect to obstruct fluid flow.
Valves Symbols
In this stencil, you will find a collection of 3D valve symbols, such as 3D 3-way-solenoid, 3D 3-way-valve, 3D ball valve, 3D butterfly valve, 3D control valve, etc.
The symbols are in vector format, thus highly customizable. You can add own texts, resize or move shapes, and change the colors.
How to Use Valve Shapes and Symbols
This set of symbols are included in Industrial Automation category of the symbol library. When you start a Process P&ID drawing template, the symbol library will open automatically. You can drag a required shape from the library and drop onto the canvas.
The shapes you've got are vector graphics, which are highly customizable.
Shape Scalable
You can scale the shape to any size without loss of the clarity. No blur image anymore.
Color Changeable
You can change the filling color to any color you like.
Tips:
To change the filling color for a part of a shape, first you need to select the sub shape. Click on the sub shape you want to change color for a few times until it is successfully selected (there will be a blue selection frame), then you can change this sub shape with a new color, and with other parts unchanged.
Or you can ungroup the shape first (go to Home menu, and click Ungroup button), and change the color for any sub shape freely.
Shape Separable
You are able to pull out the drawing components to create new symbols. To do this, first you need to click Ungroup button to ungroup the shape under Home menu.
Using Valves Symbols to Design P&ID
Some samples are provided to illustrate how to use the symbols. Everyone can make similar piping and instrument diagrams with no professional experience required.
Asphalt Production PFD
Power Generation PID
Deoxidization Process Flow Diagram
More P&ID Design Materials