P&ID Pump Symbols and Their Usage

Pre-drawn P&ID pump symbols include pump, air-operated diaphragm, centrifugal pump, chemical pump, etc. These vector symbols will help you develop accurate and high-quality P&IDs.
From the P&ID pump symbols library in Edraw P&ID Software, you will gain a great range of high-quality P&ID pump symbols. These symbols are great resources when you create piping and instrumentation diagrams. Here you will have a general overview of the symbols on how they look and how to use them in diagrams.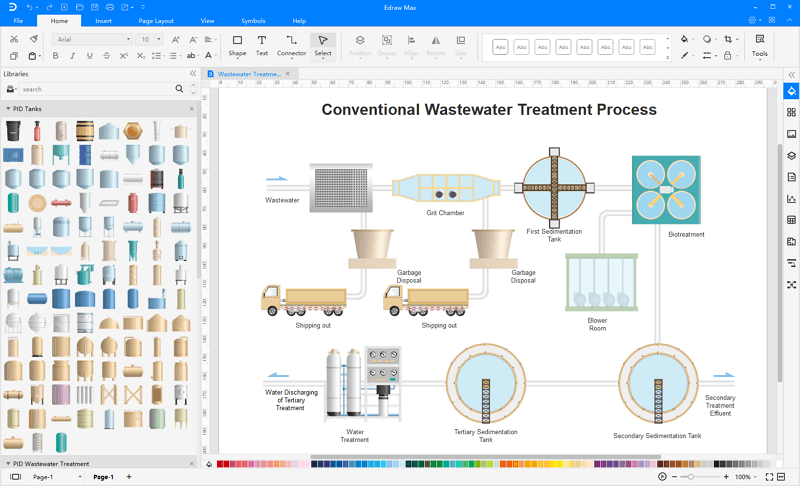 EdrawMax
All-in-One Diagram Software
Create more than 280 types of diagrams effortlessly
Start diagramming with various templates and symbols easily
Superior file compatibility: Import and export drawings to various file formats, such as Visio
Cross-platform supported (Windows, Mac, Linux, Web)
Security Verified |
Switch to Mac >>
Security Verified |
Switch to Linux >>
Security Verified |
Switch to Windows >>
Pump Symbols
A great diversity of pump symbols are included in Edraw library for different purposes and themes. You will find the ordinary pump, air powered pump, air-operated diaphragm, centrifugal pump, chemical pump, classic pump, cool pump, diaphragm pump, flanged pump, high volume pump, horizontal pump, mag drive pump, oil pump, vacuum pump, vertical pump, raw water pump, plunger pump, etc. To know more about using symbols, you can read this guide and learn how to design a P&ID.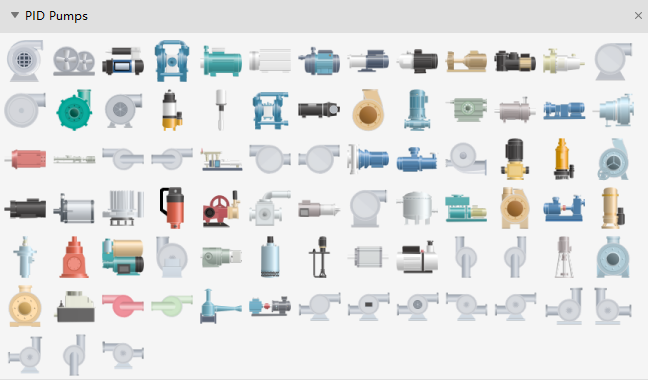 Pump is a device for raising, compressing, or transferring fluids.
Centrifugal Pump is a pump having a high-speed rotating impeller whose blades throw the water outwards.
Chemical Pump is a skid-mounted pumping unit used to feed chemicals into the power oil to reduce corrosion in the system and to assist in water removal when the power oil and well-produced oil reach the ground-level wash tank.
Diaphragm Pump is a pump which uses a diaphragm to isolate the operating parts from pumped liquid in a mechanically actuated diaphragm pump, or from hydraulic fluid in a hydraulically actuated diaphragm pump.
Vacuum Pump is a compressor for exhausting air and non-condensable gases from a space that is to be maintained at subatmospheric pressure.
How to Use Pump Symbols
Where to get the symbols?
Start Edraw, choose Industrial Automation category, and double click Utility-Generation P&ID template to start a new drawing page. The pump symbol library will open automatically on the left of the canvas together with some other libraries.
If your Edraw is already open, you can also click the library button on the top left corner, and navigate Industrial Automation->PID Pumps.
Drag and Drop Symbols
When you successfully get access to the symbols, now you can drag and drop required symbols onto the canvas.
Change the size of the symbol
You are allowed to scale the shape to any size without loss of the display resolution. There is no blur image anymore.
Change the color of symbols
It's easy to change filling colors to better fit your own theme.
Tips: If you want to change the filling color for a part of a shape, first you need to select the sub shape. Click on the sub shape you want to change color for a few times until you successfully select it (there will be a blue selection frame), then you can change this sub shape with a new color, and with other parts unchanged. Or you can ungroup the shape first (go to Home menu, and click Ungroup button), and you can change the color for any sub shape freely.
Separate Shape Components
You are able to pull out the drawing components to create new symbols. To do this, first you need to click Ungroup button to ungroup the shape under Home menu.
Using Pump Symbols to Design P&IDs
The samples below are created using Edraw P&ID pump symbols. You can discover more P&ID examples, and learn how to use the symbols effectively. With our pre-defined P&ID symbols, there will be no difficulty for users to create professional-looking piping and instrumentation diagrams and process flow diagrams.
More P&ID Design Materials