P&ID Motor Symbols and Their Usage

Vector P&ID motor symbols represent 3D motor, actuator, brake motor, brushless motor, servo motor, smart motor, speed reducer, stepping motor-driver, etc. Lifelike symbols help develop presentation-quality P&IDs and PFDs.
For users who need to document piping and instrumentation diagrams or process flow diagrams, here we provide a large range of vivid P&ID symbols and illustrations, from machines to ductwork, which greatly saves your precious time and enhances your efficiency. This page presents a group of motor symbols together with some simple instructions on how to use them.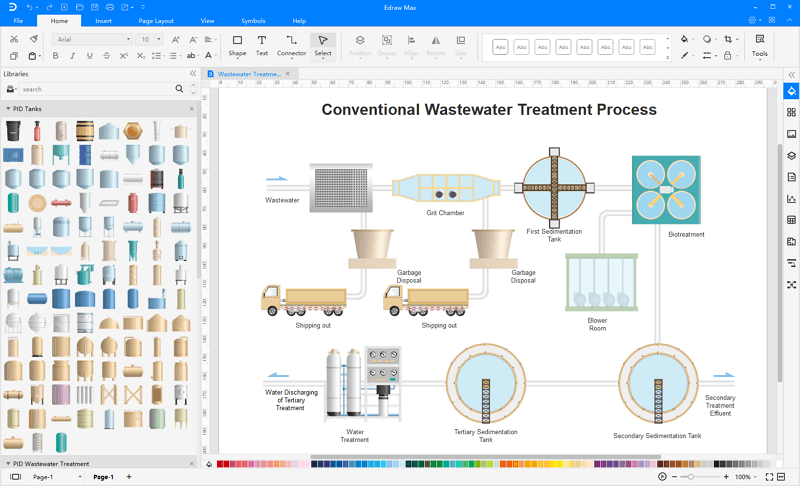 EdrawMax
All-in-One Diagram Software
Create more than 280 types of diagrams effortlessly
Start diagramming with various templates and symbols easily
Superior file compatibility: Import and export drawings to various file formats, such as Visio
Cross-platform supported (Windows, Mac, Linux, Web)
Security Verified |
Switch to Mac >>
Security Verified |
Switch to Linux >>
Security Verified |
Switch to Windows >>
Motor Symbols
The following picture shows a screenshot of the motor symbol library in Edraw. You can find a comprehensive collection of vector P&ID motor shapes, such as 3D motor, actuator, brake motor, brushless motor, servo motor, smart motor, speed reducer, shaft encoder, stepping motor-driver, and more.

Motor is a mechanical or electrical device that creates motion.
Actuator is a type of motor for moving or controlling a mechanism or system.
Servo Motor is an automatic device that uses error-sensing negative feedback to correct the performance of a mechanism.
Speed Reducer is a train of gears placed between a motor and the machinery which it will drive, to reduce the speed with which power is transmitted.
How to Use Motor Symbols
With just a few instructions, you can easily handle the shapes and proceed your drawing. This group of symbols are included in Industrial Automation category of the symbol library. When you start a Utility P&ID drawing template, the symbol library will open automatically.
Drag and Drop
When the library is open, you can drag and drop any shape you want onto the drawing page.
All shapes are in vector format, which are fully customizable.
Shapes Scalable
You are allowed to scale the shape to any size without loss of the display resolution. There is no blur image anymore.
Color Changeable
You are able to freely change filling colors to suit your own theme.
Tips: If you want to change the filling color for a part of a shape, first you need to select the sub shape. Click on the sub shape you want to change color for a few times until you successfully select it (there will be a blue selection frame), then you can change this sub shape with a new color, and with other parts unchanged. Or you can ungroup the shape first (go to Home menu, and click Ungroup button), and change the color for any sub shape freely.
Shape Separable
Each shape is a unit combined with many sub shapes. You are able to pull out any sub shape to create new symbols. To do this, first you need to click Ungroup button under Home menu to ungroup the shape.
Using Motor Symbols to Design P&ID
Below are some samples illustrating the usage and application of P&ID power symbols. Edraw pre-defined P&ID symbols provides a fast and easy way to design piping and instrumentation diagrams. To discover more examples, you can visit P&ID examples and PFD examples.
More P&ID Design Materials