Free and Editable Network Diagram Templates

Perfect Network Diagram Templates - Draw detailed Computer Network Diagrams, Designs, Schematics, and Network Maps with Edraw in no time!
Edraw is used as a network diagram software coming with ready-made network diagram templates that make it easy for anyone to create a beautiful network diagram. The network diagram templates are easy to use and free. Edraw can also convert all these templates into PowerPoint, PDF, or Word templates.
EdrawMax
All-in-One Diagram Software
Create more than 280 types of diagrams effortlessly
Start diagramming with various templates and symbols easily
Superior file compatibility: Import and export drawings to various file formats, such as Visio
Cross-platform supported (Windows, Mac, Linux, Web)
Security Verified |
Switch to Mac >>
Security Verified |
Switch to Linux >>
Security Verified |
Switch to Windows >>
Edraw Network Diagram Templates for MS Office and PDF
Start From Free Edraw Network Diagram Template
Creating a network diagram in Edraw is easy. It only takes a few seconds to choose a basic template, arrange and connect the shapes, and customize its appearance. If you want to use a ready-made template, go to the network diagram templates page and choose the best one.
Free Download Network Diagram Template
PowerPoint Network Diagram Template
Easy to Create Network Diagram in PowerPoint
When you finish creating your network diagram in Edraw, one click on the Export button will transfer your drawing into MS PowerPoint presentation. You need to consider a few things when creating a network diagram to visualize complete network infrastructure with a live network map.
Word Network Diagram Template
Personalize your Network Diagram and Give it the Look and Feel that You Want
In order to save the template as a design template, you need to download Edraw and edit it. All templates in the software gallery windows can freely change in color, theme and effect.
PDF Network Diagram Template
Create Network Diagram for PDF
All are simple, a simple click on the Export PDF button will transfer your network diagram template into a PDF file.
Standard Symbols in Network Diagram Template
Draw all kinds of computer network diagrams, designs, schematics, and network maps with Edraw in no time! Pre-drawn shapes representing computers, network devices plus smart connectors help you create accurate diagrams and documentation. Here are special and highly detailed libraries, accurate shapes and computer graphics, servers, hubs, switches, printers, mainframes, faceplates, routers, etc. for Computer Network, Telecommunications, Wireless Internet, Power, Storage, and other equipment.
3D Network Diagram Shapes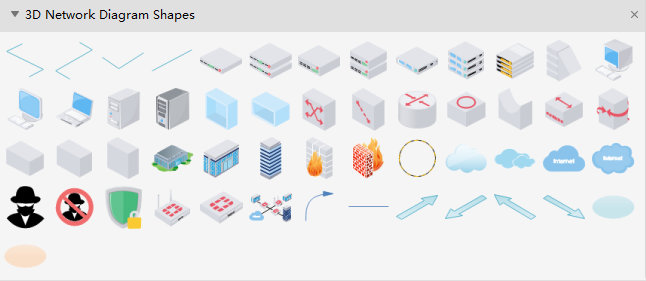 Detailed Network Diagram Shapes

Network Location Shapes
Network and Peripherals Shapes

Computer and Monitor Shapes

Servers Shapes

More Related
Activity Network Diagram - Draw Activity Network Diagram Easily
Basic Network Diagram, Free Examples, Software and Templates Download