Chemical Laboratory Equipment Shapes and Usage

Part 1: Laboratory Equipment Shapes
While performing any experiment, you would come across different chemical laboratory equipment. Therefore, before you start demonstrating an experiment, make sure you are aware of the following laboratory equipment.
The following laboratory equipment shapes are included in professional scientific illustration software - EdrawMax. Every chemical lab symbol is "smart". The designers can easily create the chemical lab diagrams with the shapes.
Dropper: The basic laboratory equipment is used to insert drops of a liquid into any other solution.
Gas Jar: It acts as a container in which we prepare a solution or store liquids.
Beaker: This is the most widely used chemical laboratory equipment used to mix and move solutions.
Flasks: Made of glass, this laboratory equipment works as a container to store liquids. They can be of different types like conical, pear-shaped, flat-bottomed, etc.
Test Tube: They are used to observe samples and create mixtures to perform a test.
Measuring Cylinder: This chemical laboratory equipment is used to store and measure liquids of different kinds.
Acid Burette and Alkaline Burette: Both acid and alkaline burettes are used to transfer and measure liquids easily.
Condenser: This useful chemical laboratory equipment stores and cools hot liquids. It is made up of a small glass tube inside a larger one to condense liquids.
Kipp's Apparatus: The laboratory equipment takes a solid material and converts it into a gaseous state via liquid actions.
Funnel: This popular laboratory equipment can store, measure, or transfer liquids.
Desiccators: is a short glass jar fitted with an air-tight cover, containing some desiccating agent such as sulphuric acid or calcium chloride, above which the material is suspended to be dried, or preserved from moisture.
Crucible: This equipment can store a small amount of substance while heating them. during heating at high temperatures.
Alcohol Burner: It provides a consistent flame to heat liquids that are stored in any other equipment.
Desiccators: This chemical laboratory equipment stores unstable substances. It has an air-tight container to preserve them from drying or moisture.
Thermometer: Just like the standard thermometer, this is used to measure the temperature of a solution.
Ladle: It is like an elongated spoon with a long hand that helps us transfer hot liquids.
Glass rod: This handy laboratory equipment is a stirrer that is used to mix solutions.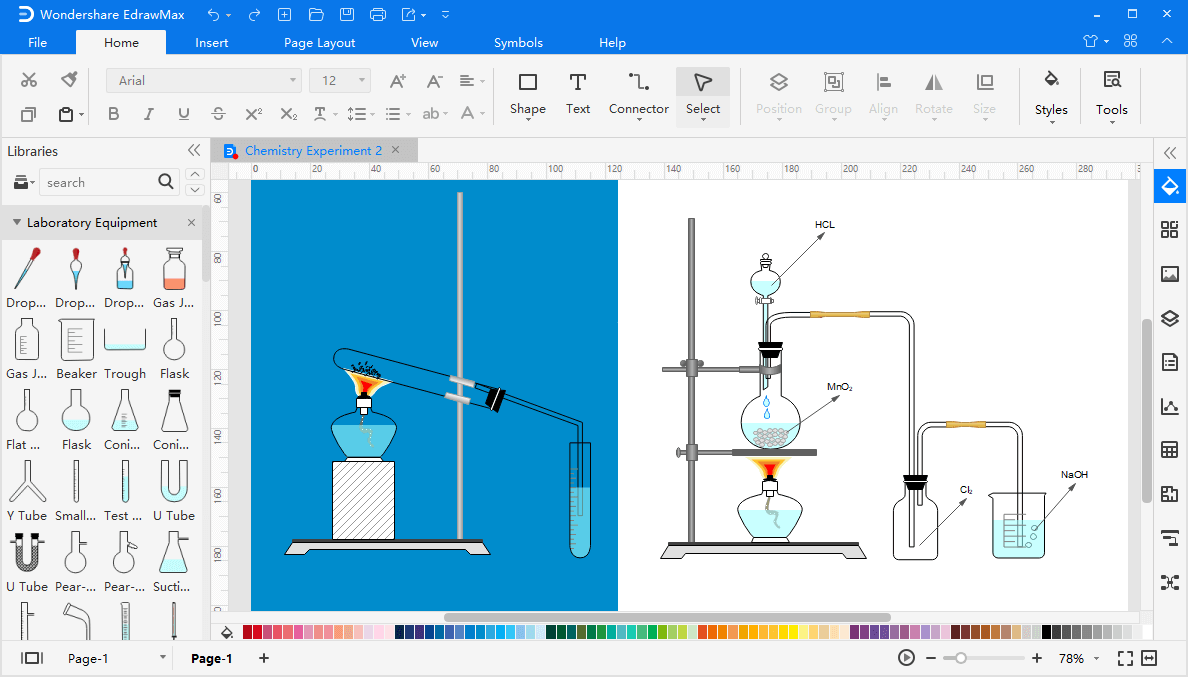 Part 2: Smart Lab Equipment Shapes
A chemical test is a qualitative or quantitative procedure designed to prove the existence of, or to quantify, a chemical compound or chemical group with the aid of a specific reagent. The chemical laboratory equipment diagrams use special shapes to represent different types of the chemical tester. It's easy to design a chemical test with these pre-defined lab equipment shapes for students and teachers.
All shapes are vector and can be grouped, ungrouped, and recolored. There are glue dots and connection points so that it's easy to create diagrams of lab equipment and lab setups of science experiments.
For example, you can select the tube then click the action button. As the option item shows, you can decide whether to show the granule, solid matter, liquid, or scale mark in the tester process.
Part 3: Laboratory Equipment Diagram Templates
Lab Apparatus List Template
Chemical Experiment of Middle School Template
Lab Equipment Uses Worksheet Template
Reaction of Copper with Nitric Acid Template
More Related
Laboratory Equipment Diagram Software
Chemistry Laboratory Instruments
Chemistry Laboratory Glassware
Examples - Chemical Tester Diagram
Mathematics Symbols for Easier Math
How to draw electrical engineering diagram