1: What is Force Field Analysis?
Force Field Analysis is an analytical technique used to determine the driving and restraining forces affecting the chief problem or question. This technique can be used to represent the different points of views, action and consequences, or any kind of opposites that exist within or may occur to the proposed plan or problem.
2: Purpose and benefit
Since it is a multipurpose tool, we have, therefore, highlighting some of its main purpose and benefits below:
For analyzing all aspects before making change
To compare ideal situations and reality
Used to distinguish which factors can affect the plan and how
To help make informed decisions to make the desired change acceptable
To help understand what makes people resist and why in order to value their experiences
It can be utilized individually or as a group
Allows people to list their pros and cons, thus making it a fair analysis tool.
3: What are the Components of Force Field Analysis?
According to Lewin's force field model, there are four elements or components of Force Field Analysis: driving forces, restraining forces, forces for change, and the forces resting change. Each of these forces has a different impact on the decisions to be or being made.
So, what does each force really stand for?
Forces for change: The are the forces that make a person or company react towards change
Forces resting change: are kind of forces that makes entities involved act or react against change.
Driving forces: Denotes forces that make an organization or individual aspire for change.
Restraining forces: refers to forces that restrict people or organizations from making change despite the positive impact it may have.
4: How to create a Force Field diagram in EdrawMax
Fellow the steps below to create a Force Field Analysis diagram in EdrawMax.
Step 1: Open the EdrawMax software or web-based application and log in to your account.
Step 2: On the left blue navigation pane click [New] > [Basic Diagram] > [Arrows] and let it load.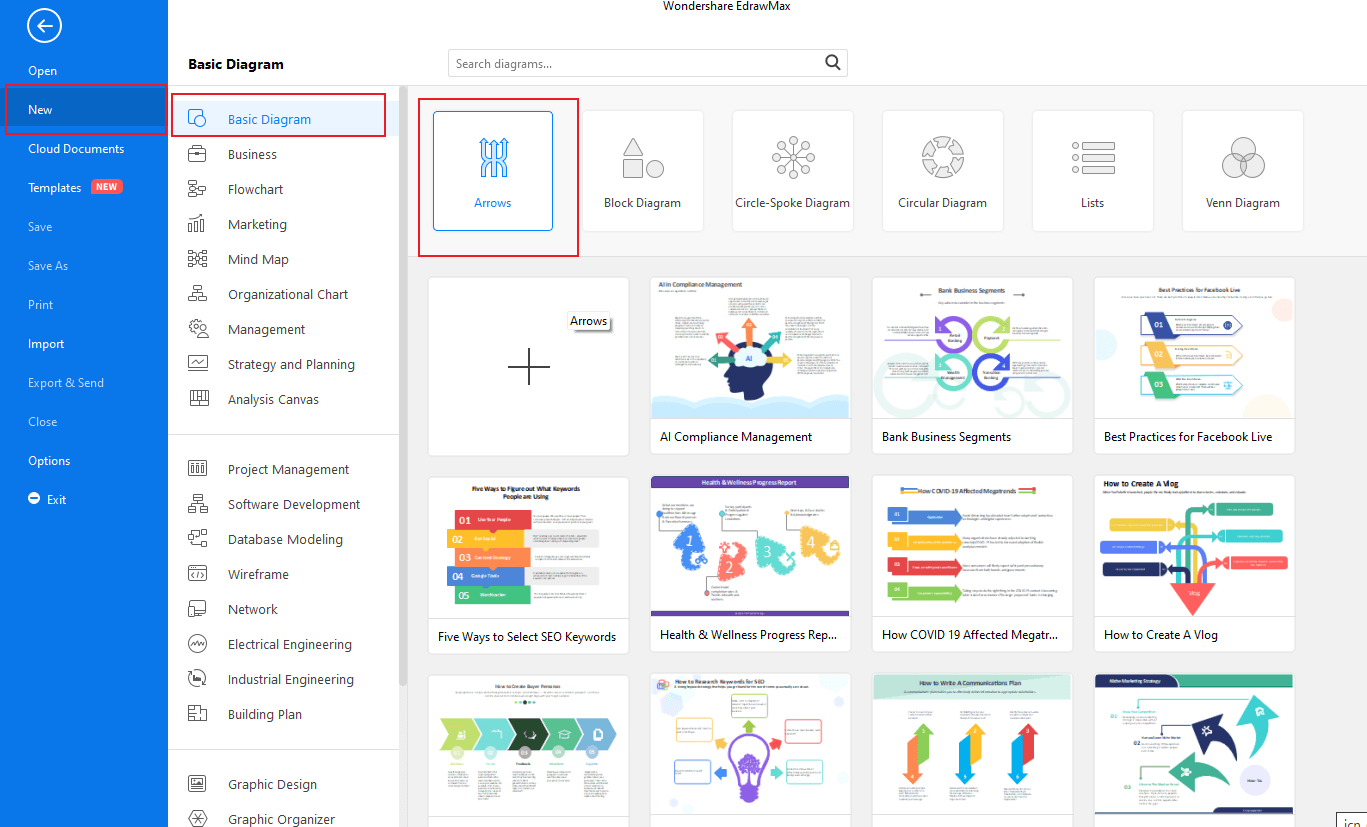 Step 3: Select templates or Create from scratch
Well, in this step, you will choose which way will you like to create your diagram. You can either browse through the available templates and select to edit the design you like or click [+] to create your Force Field diagram from scratch.
If you choose to create from scratch, all the symbols will be available on the symbols library, and you can simply drag and drop them on the canvas. There different designs of arrows there so be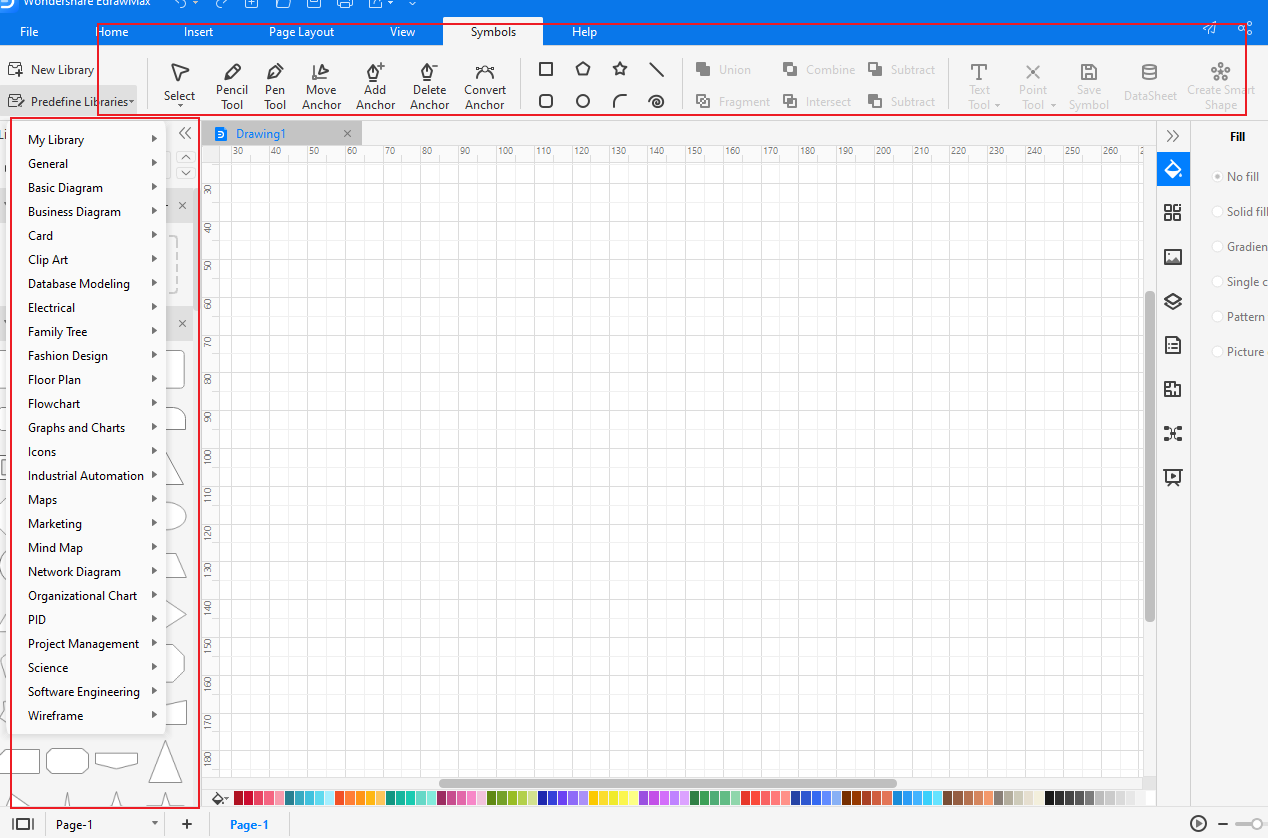 Step 4: Editing
Whether you chose to use a template or create a whole new diagram, you will still need to edit or design that diagram to fit your requirements. The editing or designing process is quite simple; it entails a simple drag and drop process with more freedom like editing the size, color, rotating, aligning, and even grouping.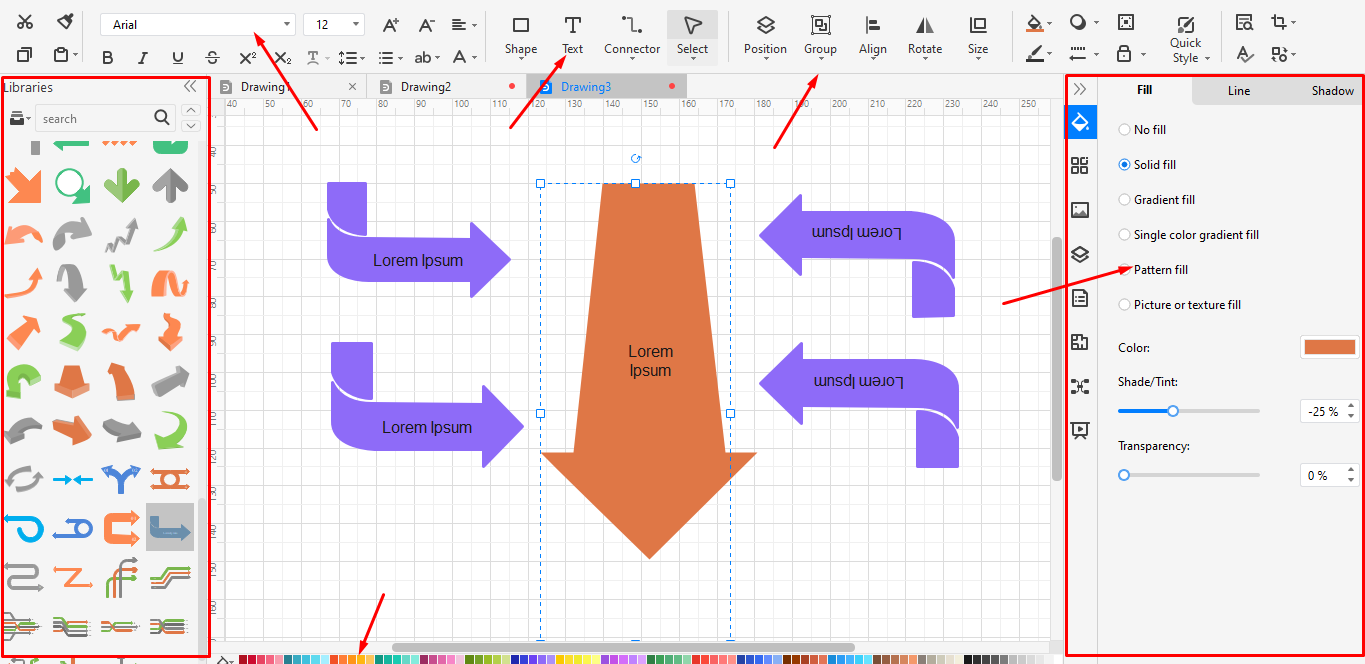 Step 5: Save, Export or share
This is the final step. So, when you're done editing your diagram, you can save, export as well as share it with your group or colleagues. Furthermore, EdraMax allows you to export your files in different formats.
To do so, click on [File] at the top left corner of your screen that scroll down the blue navigation pane, and choose what you want to do.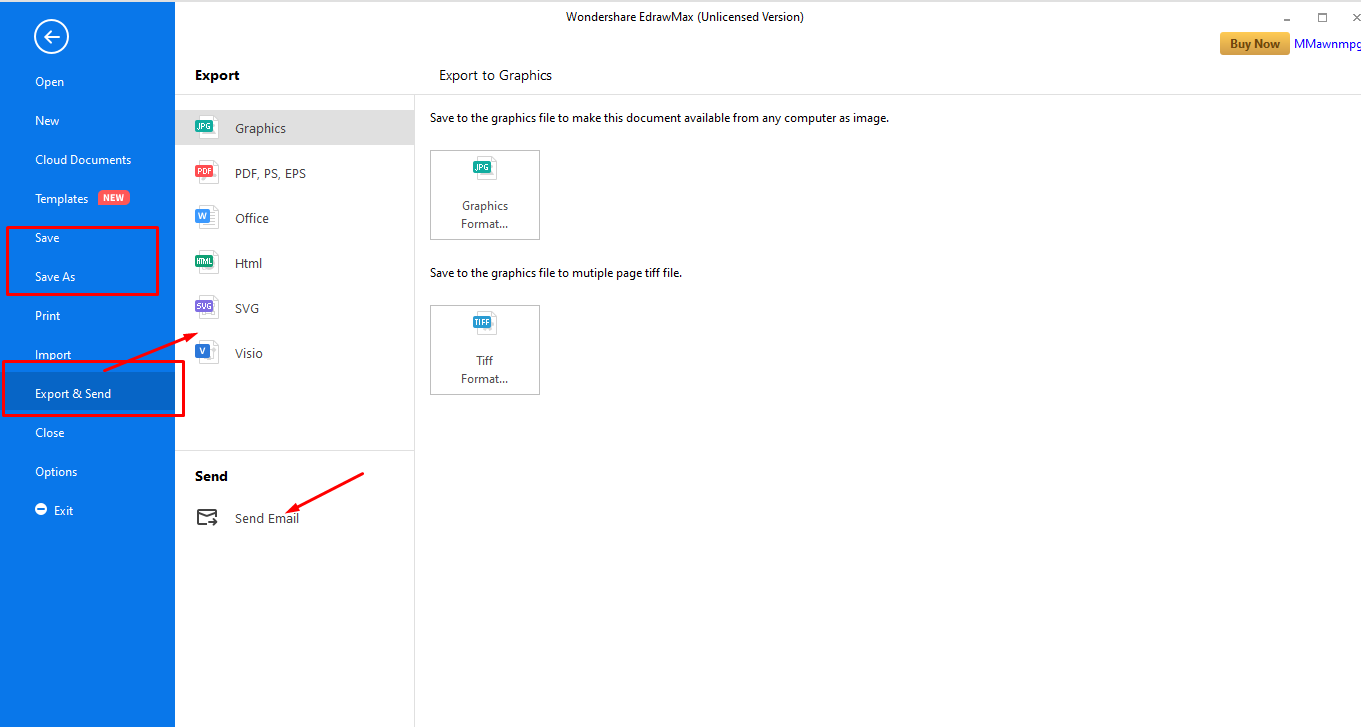 EdrawMax
All-in-One Diagram Software
Create more than 280 types of diagrams effortlessly
Start diagramming with various templates and symbols easily
Superior file compatibility: Import and export drawings to various file formats, such as Visio
Cross-platform supported (Windows, Mac, Linux, Web)
Security Verified |
Switch to Mac >>
Security Verified |
Switch to Linux >>
Security Verified |
Switch to Windows >>
5: Tips for Creating a Professional Force Field Analysis
To create a professional yet easily understandable diagram then you should follow the tips below.
When it comes to conducting force field analysis, you should:
Closely evaluate the current situation
Define the objective of your analysis
Identify and classify all forces involved
Analyze the forces you highlighted above
And finally, design an action plan
6: Examples of Force Field Analysis
Example 1
This is a good example of a force field analysis diagram highlighting the forces influencing the proposed marketing strategy. With this analysis tool, a company can create objective research and analysis on the playing field, which helps them understand the competitive landscape that they set to play in or are playing in.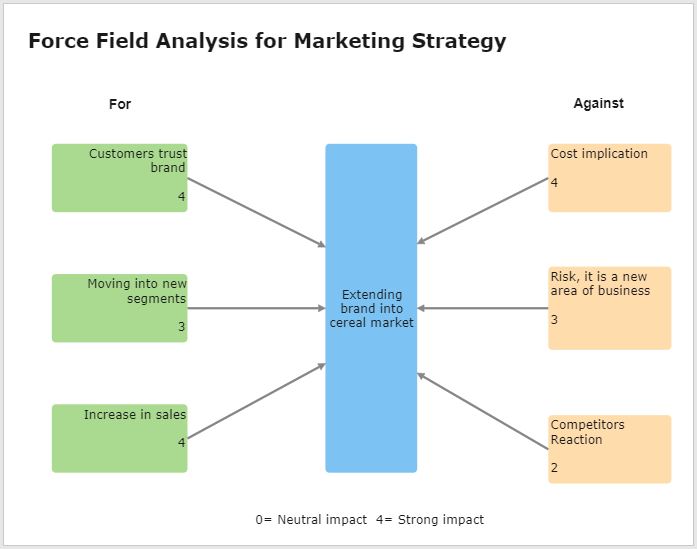 Example 2
Here is an example for a basic Force Field Analysis Diagram created by Edraw. As shown in this picture, when creating a diagram for force field analysis, list the driving forces and restraining forces, then come up with a solution after comparison. Click to view more force field analysis examples.
More Information
Force Field Analysis Templates
Advantages and Disadvantages of Force Field Analysis