The Benefits of Flowchart

Part 1: What is The Flowchart?
A flowchart is a diagrammatic representation that illustrates the sequence of operations to be performed to get the solution to a problem. It can be seen from the definition that flow always accompanies by business or transaction. However, not all the flows can be expressed by flowcharts, unless these flows are based on some fixed routines and stable links. Here is an example of the algorithm flowchart.
The definition of flowchart can be divided into the following two parts:
Flow: It is a representation of a series of logic operations to satisfy specific requirements. It can be irregular, naturally, unfixed or full of problems. For this reason, it may apparently be absent in some situations.
Chart: It is a presentation or a written description of some regular and common parts of the flow. A chart is conducive to communication and concentration, and offers references for process engineering.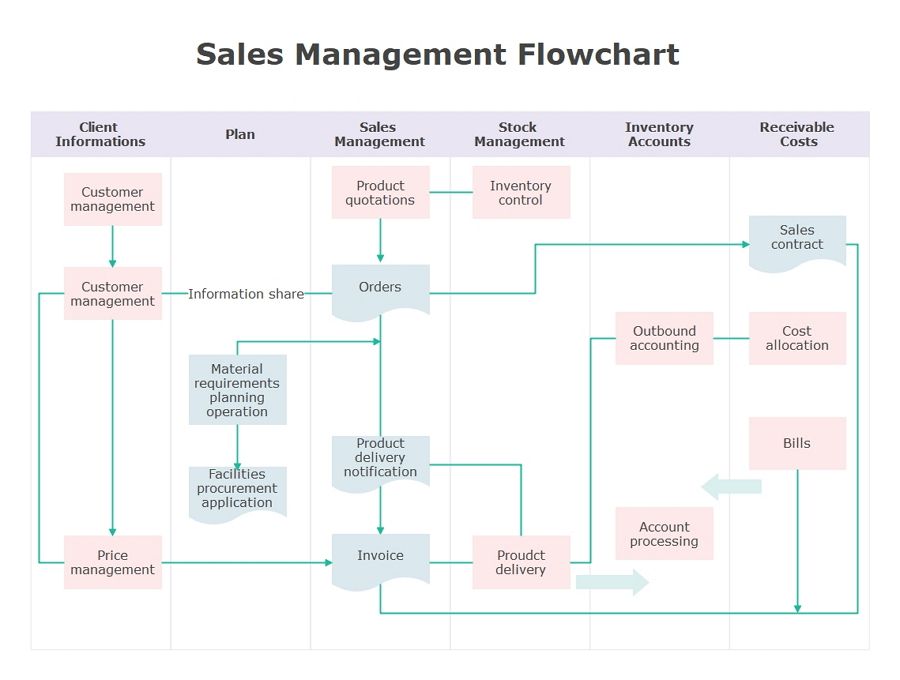 Part 2: Top Benefits of Flowchart
The following are the benefits that flowchart can effect:
Visual Clarity

One of the biggest benefits of a flowchart is the tool's ability to visualize multiple progresses and their sequence into a single document. Stakeholders throughout an organization can easily understand the workflow while finding out which step is unnecessary and which progress should be improved.

Instant Communication

Teams can use flowcharts to replace meetings. Simply clarifying progresses offers an easy, visual method to help team members instantly understand what they should do step by step.

Effective Coordination

For project managers and resource schedulers, the benefits of a flowchart include the ability to sequence events and reduce the potential for overburdening team members. Eliminating the unnecessary steps help to save time and resources.

Efficiency Increase

Efficiency increases are a significant benefit of flowcharts. The flowchart lists each step necessary to perform a process. The flowchart helps a designer remove unnecessary steps in a process, as well as errors. The flowchart should only include the steps that are requirements to reach the endpoint of the process.

Effective Analysis

With the help of flowchart, the problem can be analyzed in a more effective way. It specifically shows what type of action each step in a process requires. Generally, a rectangle with rounded edges defines the beginning or end of the process, a diamond shape shows the point at which a decision is required, and a square block shows an action taken during the process.

A flowchart may also include symbols that show the type of media in which data is stored, such as a rectangle with a curved bottom to show a paper document or a cylinder to symbolize a computer hard drive.

Problem-Solving

Flowcharts break a problem up into easily definable parts. The defined process displayed by the flowchart demonstrates the method of solving a complex problem. A flowchart reduces the chance that a necessary step for solving a problem will be left out because it appears obvious. In this way, it reduces cost and wastage of time.

Proper Documentation

Digital flowcharts serve as a good paperless documentation, which is needed for various purposes, making things more efficient.
Part 3: Flowchart Maker - EdrawMax
One of the most powerful programs that can compete with Microsoft Visio, EdrawMax is yet another diagramming software available for Windows, macOS, and Linux. The tool has several categories for almost all types of industries, and each category further has numerous templates to choose from, thus saving you a lot of time that you would otherwise waste in structuring a diagram, flowchart for this example, from scratch.
EdrawMax is a powerful but easy-to-use flowchart software that makes it easy to create professional-looking flowcharts based on pre-formatted flowchart templates and examples - with no drawing required. The smart vector symbols are designed with auto generation arrows, allowing users to add and connect shapes easily.
EdrawMax
All-in-One Diagram Software
Create more than 280 types of diagrams effortlessly
Start diagramming with various templates and symbols easily
Superior file compatibility: Import and export drawings to various file formats, such as Visio
Cross-platform supported (Windows, Mac, Linux, Web)
Security Verified |
Switch to Mac >>
Security Verified |
Switch to Linux >>
Security Verified |
Switch to Windows >>
Part 4: Flowchart Examples
Following are a few flowchart examples that would help you understand the flowchart versatility.
Source: EdrawMax Template
This is the flowchart of hiring process, from which the process goes from identification staff needed to the final confirmation. After writing the job responsibility, and sending a personal request from HR, the candidates will have an interview with HR. If all conditions satisfy the requirement listed, the candidates will have the offer to the company.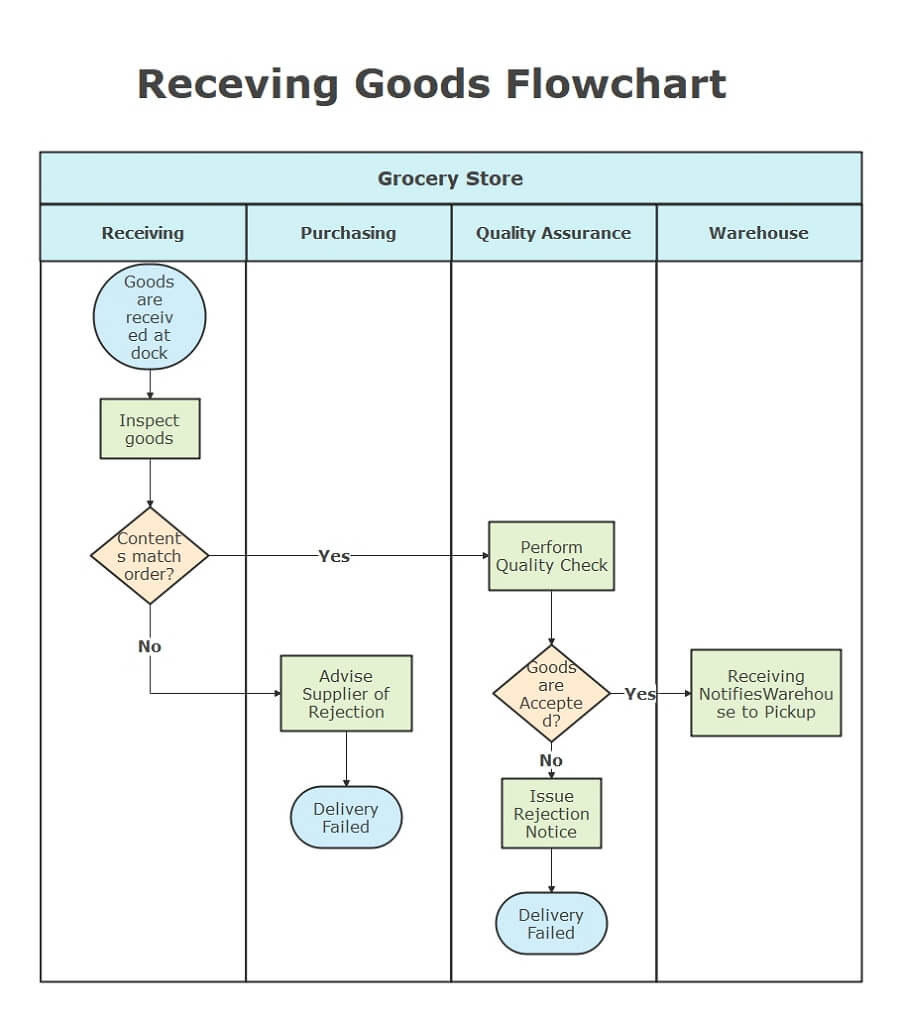 Source: EdrawMax Template
This flowchart illustrates the process of how a product is sent to the product. When the seller is received the message that a certain product has been picked by customers, then the product will inspect its quality. If the quality pass the check, then the product will send from the warehouse.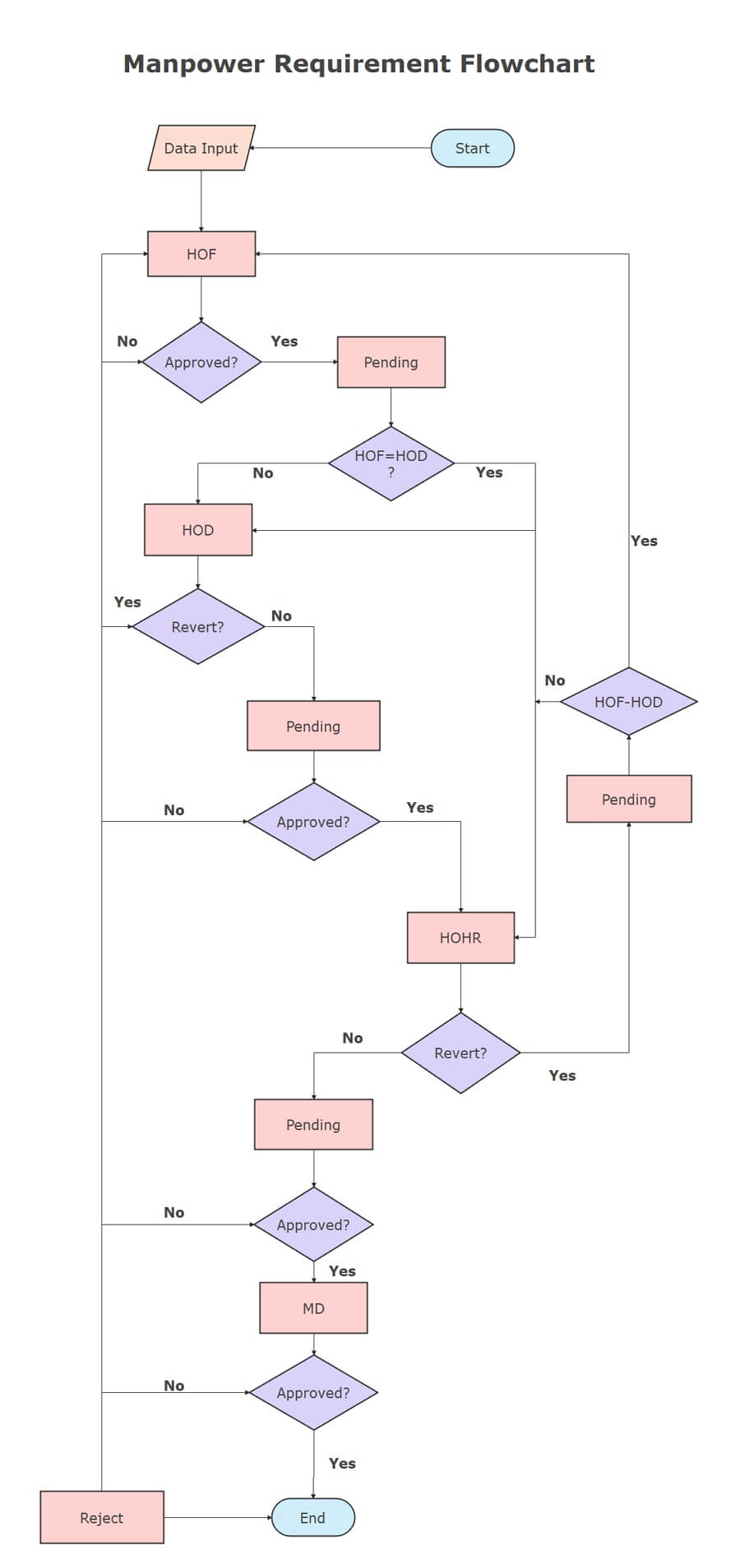 Source: EdrawMax Template
This is a manpower requirement flowchart, from which the data input in the system, when it is correct it will pass, but when the data is incorrect, the data will go pending or reject directly.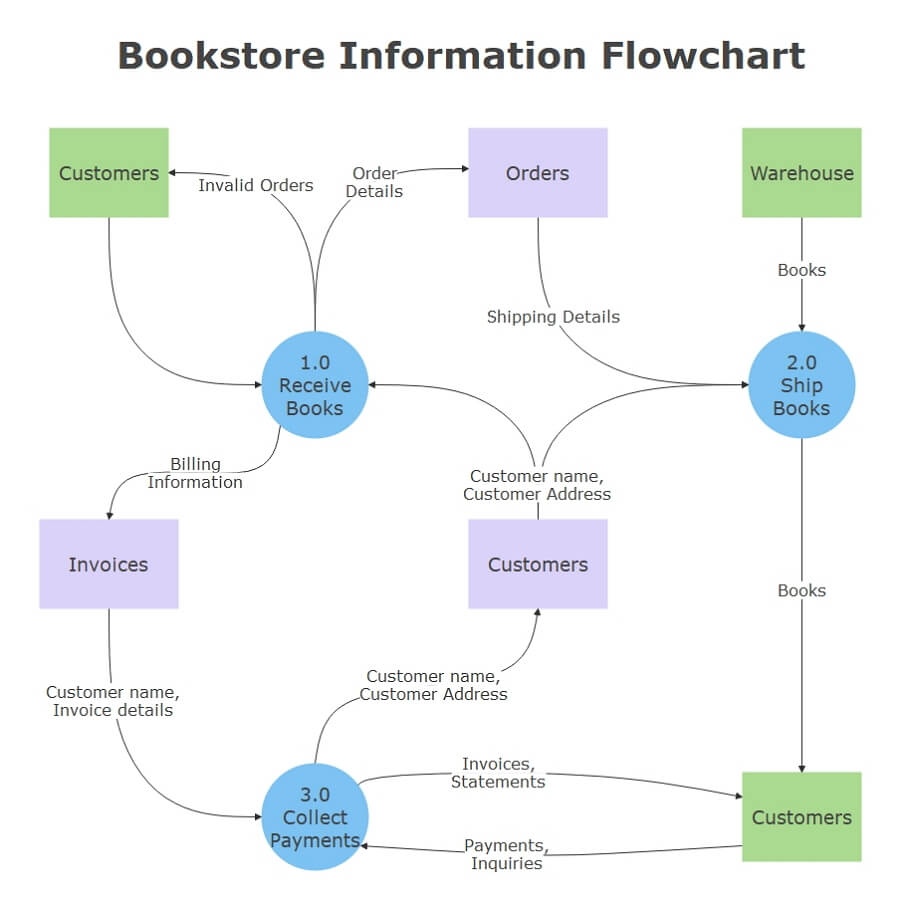 Source: EdrawMax Template
This flowchart example shows how the bookstore transaction works. From this example, when customers select their books, the bookstore will get the information, it will add the customers information and make the invoices. In the meantime, the bookstore may check the warehouse for the stock. Finally, the books give to customers, and they finish the purchase.
Part 5: Conclusion
According to this article, there are mainly three parts to illustrate what is the flowchart, to tell you the benefits of using flowchart, and to show you how easy and helpful EdrawMax flowchart tool is, then shows some flowchart examples. Creating a perfect flowchart with EdrawMax is an effective way to design, like the following illustration.
EdrawMax is the easiest all-in-one diagramming tool, you can create flowcharts and any other type diagrams with ease! With substantial flowchart symbols and clip arts, making flowchart could be as simple as possible. Also, it supports to export your work in multiple formats and share your work with others. Get started to create your flowcharts now!