Floor Plan Software - Create Floor Plan Easily From Templates and Examples
>
Edraw Knowledge
>
Floor Plan Software - Create Floor Plan Easily From Templates and Examples

EdrawMax
is quick and easy-to-use floor plan software for creating and sharing great-looking floor plans, building plans, office layouts, and blueprints. With the help of Edraw Floor Plan Maker, you can draw a floor plan in minutes without hassles.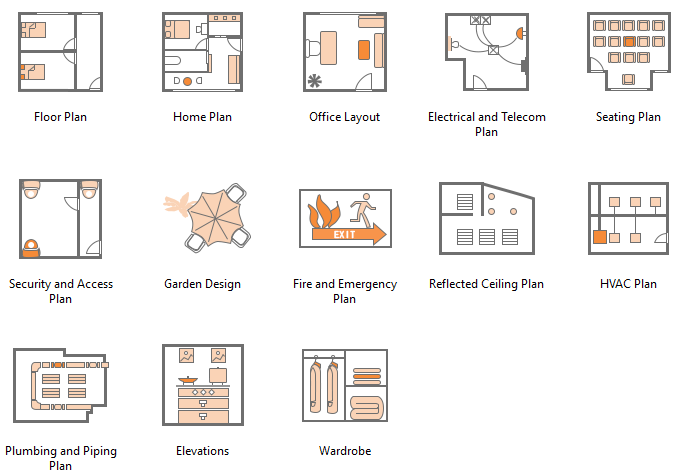 Floor Plan Software
EdrawMax is an efficient, easy-to-use and drag-and-drop floor plan design tool. Whether you are an experienced expert or just a novice that has never drawn floor plans before. With pre-designed symbols and examples in Edraw Max, you can draw a floor plan yourself with a few clicks.
Once your floor plan has been made, you can save, export, share, and print your high-quality drawing in different ways. Edraw Max allows exporting floor plans in commonly used file formats such as JPG, PNG, PDF, Word, PPT, Excel, HTML, etc. In the meanwhile, you can choose to save your creations into Google Drive and Dropbox and access to your floor plans at any time.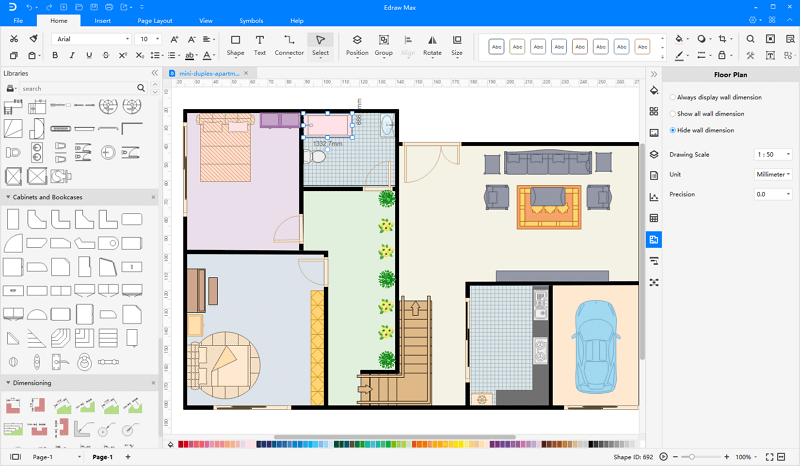 EdrawMax
All-in-One Diagram Software
Create more than 280 types of diagrams effortlessly
Start diagramming with various templates and symbols easily
Superior file compatibility: Import and export drawings to various file formats, such as Visio
Cross-platform supported (Windows, Mac, Linux, Web)
Security Verified |
Switch to Mac >>
Security Verified |
Switch to Linux >>
Security Verified |
Switch to Windows >>
System Requirements
Works on Windows 2000/2003/2008/Vista/7/8/10 (32bit/64 bit)
Works on Mac OS X 10.11 or later
Works on Linux distributions such as Debian, Ubuntu, Fedora, etc.
More Features in Edraw Floor Plan Software
Provide rich floor plan symbols and examples to make the process of designing floor plans easily and quickly!
Allow you to expand, shrink, rotate, move, and make a lot of changes to the entire floor plan and its elements without hassles.
Custom properties for storing detailed information of the floor plan elements.
Rich text capabilities to annotate your floor plan and different backgrounds to make the home plan look nicer.
Thousands of pre-drawn and customizable shapes for drawing building plans.
Drawing is much easier! Just drag and drop ready-made symbols from the built-in libraries on your canvas.
No drawing skill is required. Align and arrange everything automatically to make your floor plans look great and neat!
Freely export to graphic formats (JPG, PNG), PDF, SVG, HTML, Visio, Office without limitations. And save your floor plans into Google Drive and Dropbox.
Best of all, Edraw is easy to use and has no learning curve so that you can enjoy the drawing power of a floor plan maker, but without the hassles!
Look at the video tutorial to know how to create a floor plan with Edraw
Ready-made Symbols for Floor Plan
Edraw provides thousands of pre-made symbols to support users to create floor plans efficiently and easily. The floor plan symbols in Edraw Max includes the below different types:
Floor Plan Examples
The picture below shows different types of floor plan examples that EdrawMax can provide. Free download and use examples in your designs from Edraw Template Center!