How to Create Custom Clothing & Accessories
>
Edraw How-To
>
How to Create Custom Clothing & Accessories

Part 1: Steps of Creating Fashion Design
1. Drag a model from the model library.
Open the model library on the left of the canvas, and drag and drop a model. You can also use models from the built-in fashion design examples or draw a new one on your own.
2. Sketch out the clothes outline upon the model using the drawing tools.
Switch to Symbols menu, and you will see a set of drawing tools containing "Pencil Tool", "Pen Tool", "Move Anchor", "Add Anchor", "Delete Anchor", "Convert Anchor", and more. It will take you a few minutes to get familiar with these tools. You can always turn to the Dynamic Help on the right side of the canvas.
First, use the Pen tool or Pencil tool to sketch out the clothes. Then use Move Anchor and Convert Anchor tool to fine adjust the lines.
3. Apply fill colors and line colors.
Go to Home menu and find Fill and Line buttons. Select the shape and apply a fill color and line color.
4. Add more patterns and embellishments.
Repeat the above step to add more patterns and embellishments. Under Fill button, there is a pattern gallery with dozens of existing pattern to fill.
EdrawMax
All-in-One Diagram Software
Create more than 280 types of diagrams effortlessly
Start diagramming with various templates and symbols easily
Superior file compatibility: Import and export drawings to various file formats, such as Visio
Cross-platform supported (Windows, Mac, Linux, Web)
Security Verified |
Switch to Mac >>
Security Verified |
Switch to Linux >>
Security Verified |
Switch to Windows >>
Part 2: Fashion Design Software
The biggest advantage of EdrawMax is its simplicity. As you see from the following picture, it has a rather straightforward interface that resembles Microsoft programs. You can start to use it even as a beginner, as we have provided user guides in the software.
On the left of the drawing canvas, there are libraries of models and design samples to use. A set of sketching tools under Symbol tab help you draft out any shape you want; and with rich color fill options, you can visualize all your design ideas.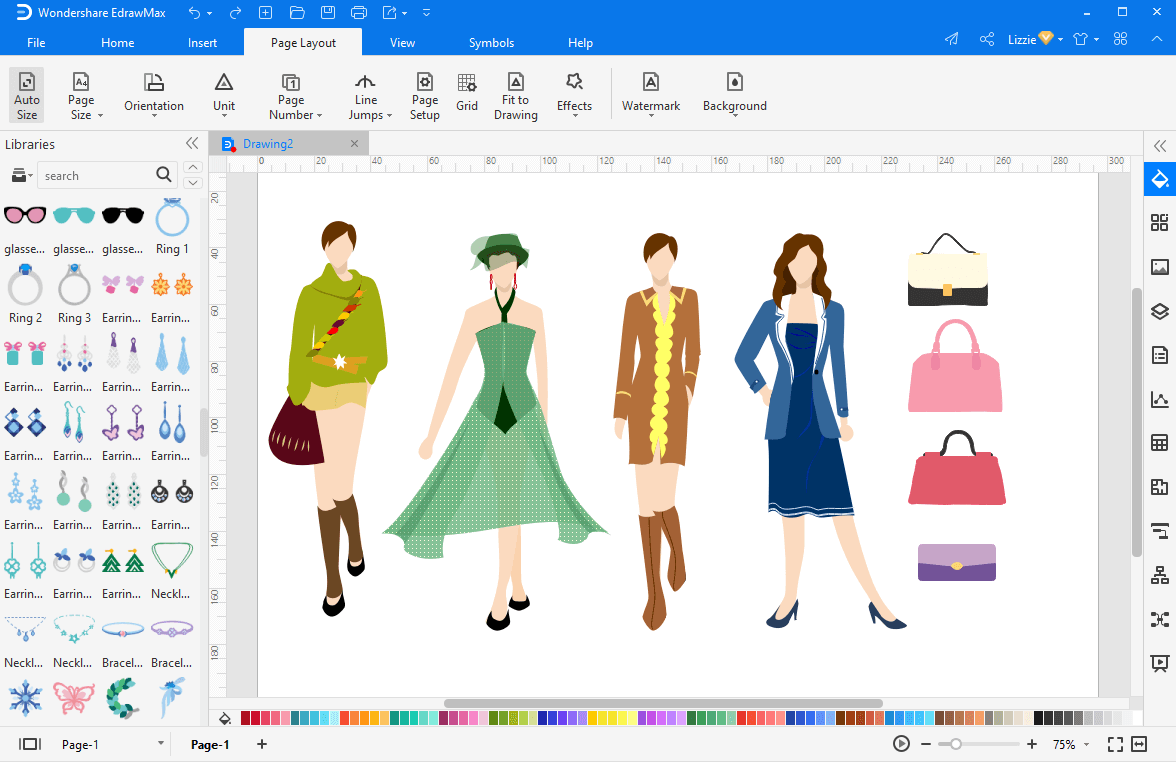 Part 3: Fashion Design Examples
Hundreds of fashion design examples available in the program. You can find men suit design, kids fashion design and women fashion design examples.
Women Casual Clothing Design
Women Dress Design
Men Fashion Design
Related Articles
Clothing Design Software - Design Clothes As You Desire
Fashion Design Software for Beginners