A Beginner's Guide to Andriod Wireframing

Part 1: What is Android Wireframe?
Android is a mobile operating system developed primarily by Google for a wide range of touchscreen devices, namely smartphones, tablets. Applications run on these devices and Android wireframes are used by developers and UI designers to illustrate the design elements of an Android application. Before any content or visual features are added, a wireframe is used to form the structure of the application, including its functionalities and user interactions.
By nature, wireframing is used at the beginning of a project by developers and UI designers. It is an essential element of UI design, as it visually shows what elements will be on the application. Additionally, its simple layout makes it easy for non-technical clients to understand and give feedback on.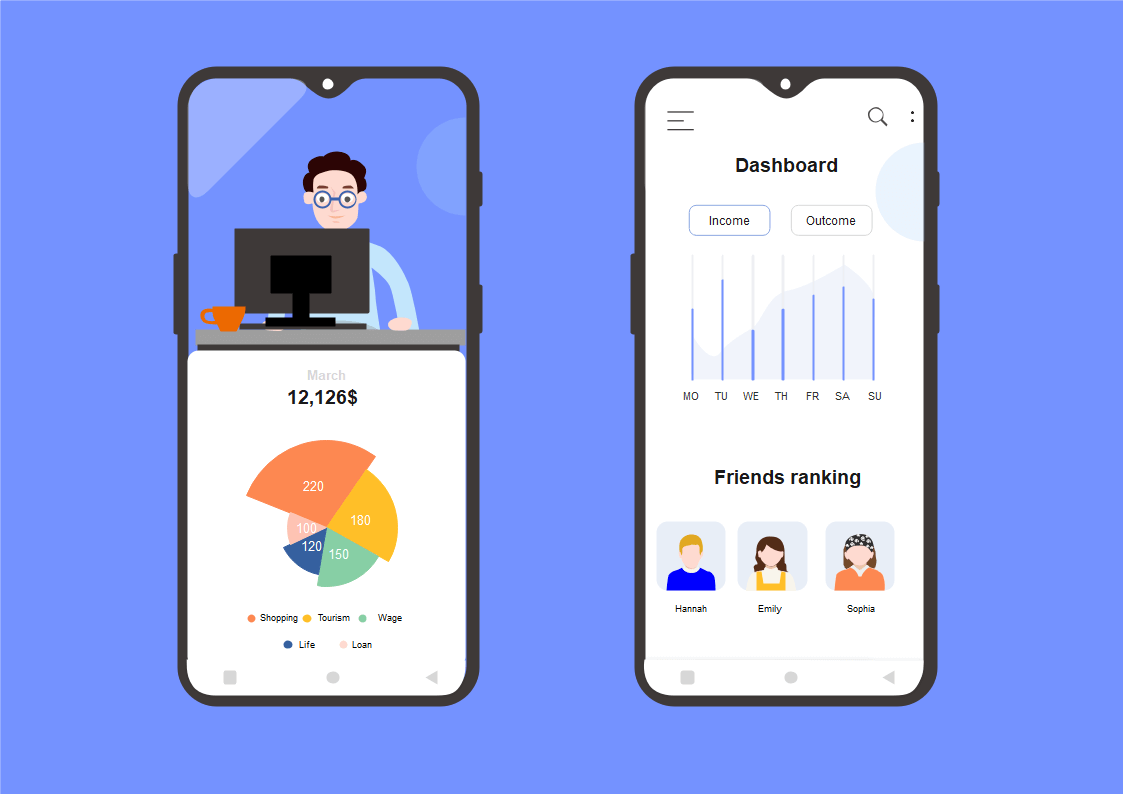 Part 2: Vector Android UI Wireframing Icons
Since Android APP UI design often uses icons, it's essential to use standard icons to represent key actions. EdrawMax provides a nice collection of icon sets, including over 300 pre-drawn vector Android widgets that will help you go through this process with ease.
You can get customizable Android icons such as status bar, navigation bar, search bar, slider, progress bar, circular progress, on-off switch, button, keyboard, label, voice message, calendar, phone number, touch gestures, etc.
EdrawMax: a swiss knife for all your diagramming need
Effortlessly create over 280 types of diagrams.
Provide various templates & symbols to match your needs.
Drag and drop interface and easy to use.
Customize every detail by using smart and dynamic toolkits.
Compatible with a variety of file formats, such as MS Office, Visio, PDF, etc.
Feel free to export, print, and share your diagrams.
Part 3: How to Draw a Wireframe for Android Apps
Step 1: Open EdrawMax from your cpmputer, and navigate to [New] > [Wireframe].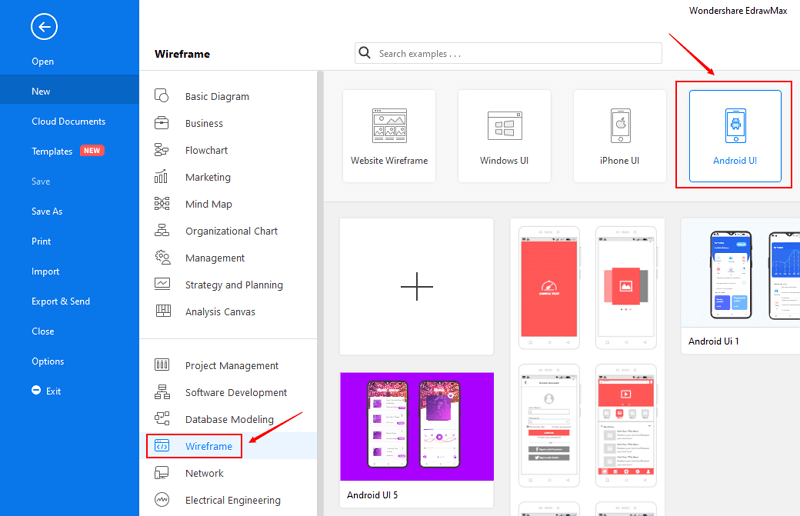 Step 2: Open and modify an Android wireframe template from the inbuilt template gallery, or you can create a new one as you like. There are plenty of wireframe icons to design an Android UI in EdrawMax. The handy and powerful editing and formatting tools will also help you build the structure in minutes.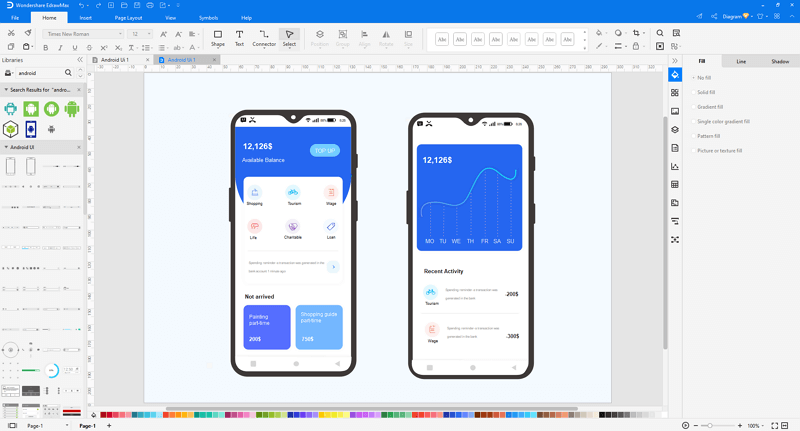 Step 3: When you complete your wireframe for an Android App, you can save and export the file to graphics(JPG, PNG), PDF, editable MS Office file format, SVG, Visio vsdx file format, etc.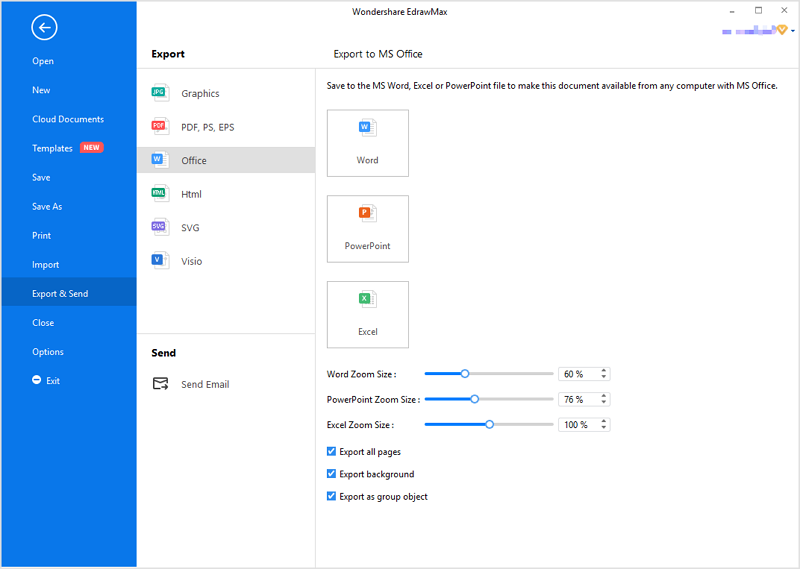 Step 4: You can also share your design with others via social media and embed it on your website. In addition, you can publish your wireframe into EdrawMax's online template gallery and present it to more UI designers.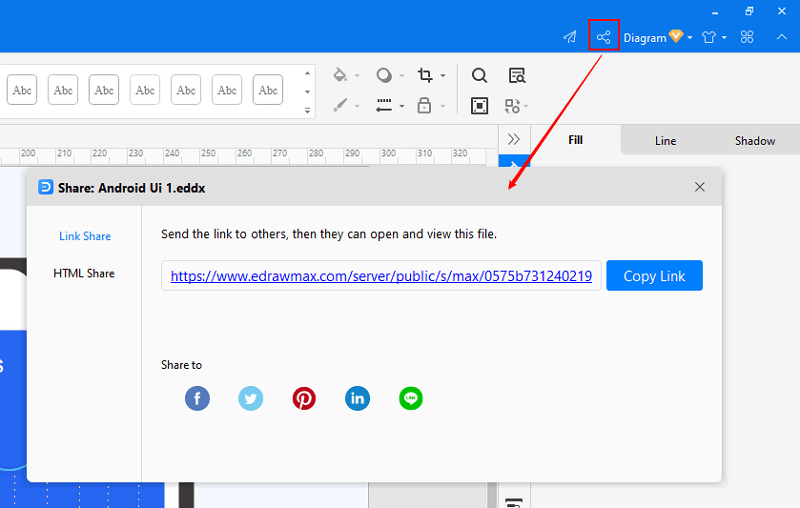 Part 4: Android UI Wireframe Examples
Example 1: Android Wireframe
Each Android wireframe consists of basic graphic elements of any Android mobile application. Any mobile application has specific layouts and screen components, easily illustrated by creating an Android wireframe diagram.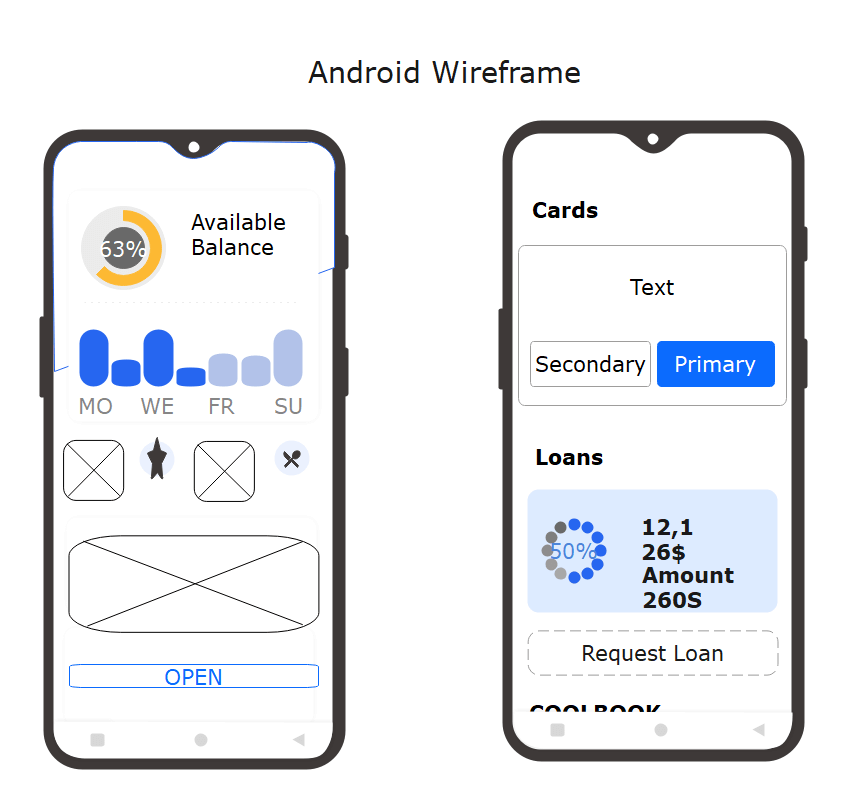 Example 2: Android Mockup Template of a Notepad App
A notepad Android mobile app will have a login window that will allow the user to access the previously written notes or save new notes. The proper UI of the home page, a login window, and a screen that shows the UI of Personal Notes pages, and Android Mockup template will help the developers to create the application accordingly.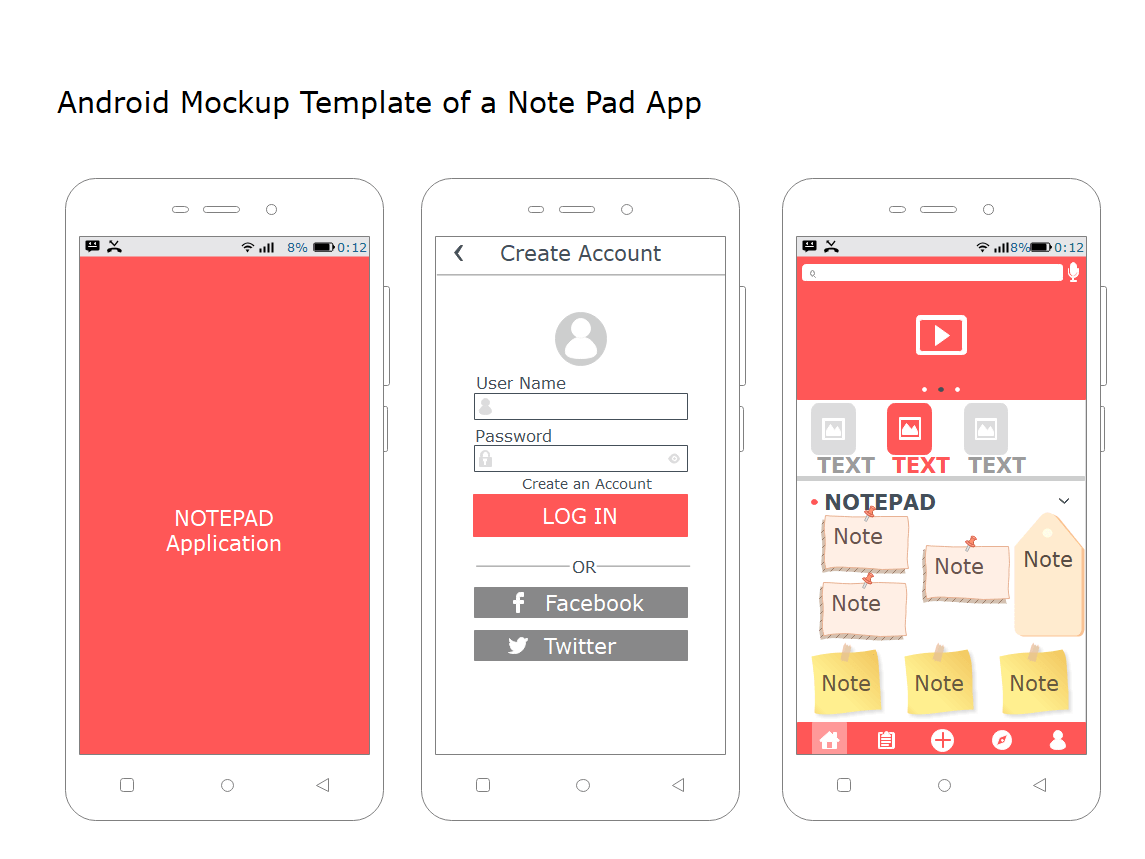 You May Also Like:
Simple and Smart Android UI Wireframe Software
How to Create iPhone UI Wireframe